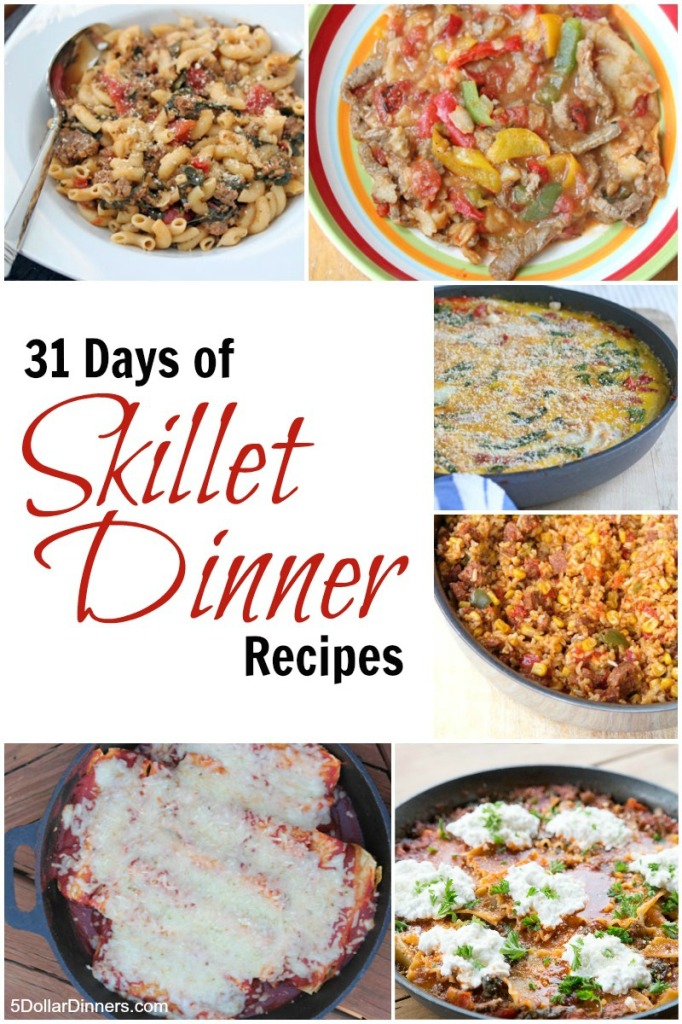 Skillet dinners are easy to prepare, dinner can be ready and on the table in 20-30 minutes, and they can almost all be one dish dinners that include the protein, starch, and veggie all in one dish.  Check out the recipes featured in our Skillet Dinners series!!
Tips & Tricks for Skillet Cooking:
Invest in a good skillet. You want one with a good tight fitting lid, and one that is large enough to fit 4 hearty servings.
Be sure to keep the heat at medium-medium low to keep things from getting burned or crusty on the bottom.
Take good care of your skillets so they last you many, many years. I've detailed how to do this in my One Dish Dinners Cookbook, but you could also get some good tips here: How to Season and Care for Cast Iron Skillet.
Recommended Skillet Dinner Supplies:
Follow $5 Dinners' board 31 Days of Skillet Dinners on Pinterest.
The Skillet Dinner Recipes (with new ones added each day in January):
Other "31 Days of" Series to check out:
Disclaimer: As an Amazon Associate, I earn commissions on qualifying purchases. Reviews, opinions are my own.