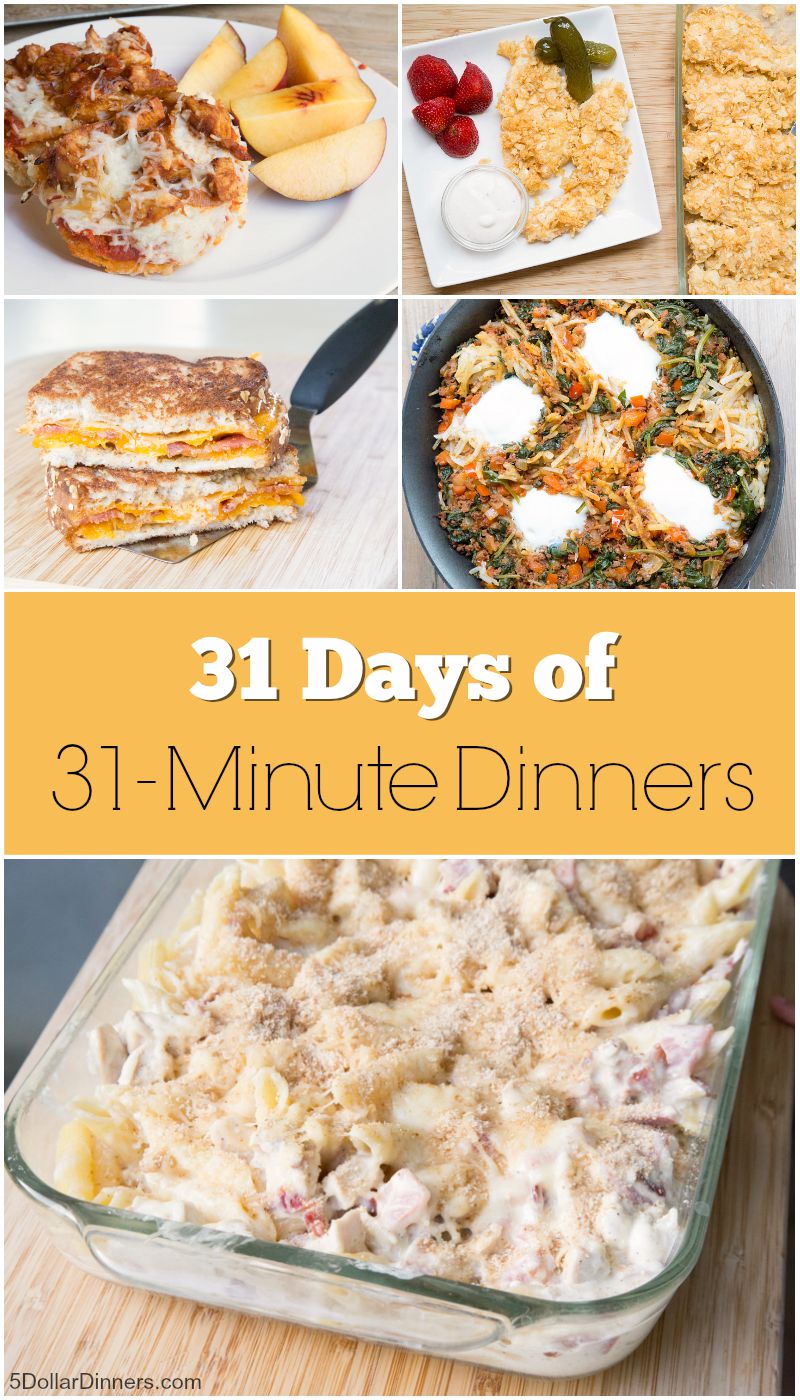 Welcome to the NEW 31 Days series in August 2015…this series is all about getting meals on the table in under 30 minutes…start to finish.
No precooked ingredients.
No time to waste.
31-Minutes…start to finish.
You're a busy mom or dad. You have little time to get dinner on the table. And worse, by the time dinner prep time rolls around, you are out of energy and brain space. I'm here to help.
This month, I'm planning to teach you how to be more efficient in the kitchen and how to get a complete and balanced meal on the table in under 31 minutes.
Why 31 minutes?
Because it matches the number of days in this 31 days series. And because I think anyone can spare 31 minutes in their afternoon to make a home cooked meal. And because it would probably take you 31 minutes to get the car loaded, go through the drive thru and get home to eat. And because it would probably take 31 minutes for a pizza you ordered to arrive.
So, 31 it is.
31 Minutes….ready, set, go!
Before we get to the speedy recipes, I wanted you to know that I have designed a meal plan for you containing all meals that you can have on the table in 30 minutes or less.
Yes, I have timed them. And no, I wasn't running through the kitchen like a crazy person to get them done in 30 minutes. These are fast, delicious and healthy recipes that won't take you a ton of time to prepare. And they aren't complicated either, so don't worry about wasting brain space or whatever mental energy you have left come dinner time.
Check out the details (and find out how to get a discount on this new meal plan) here.

Just want to order the plan without joining the $5 Meal Plan, click below.
Pin all of our 31 Days of 31-Minute Dinners here!
Follow $5 Dinners' board 31 Days of 31 Minute Dinners on Pinterest.
Erin's Personal Recommendations for 31-Minute Recipe Supplies:
The 31-Minute Dinner Recipes (with new ones added each day in August):
Other "31 Days of" Series to check out:
Disclaimer: As an Amazon Associate, I earn commissions on qualifying purchases. Reviews, opinions are my own.