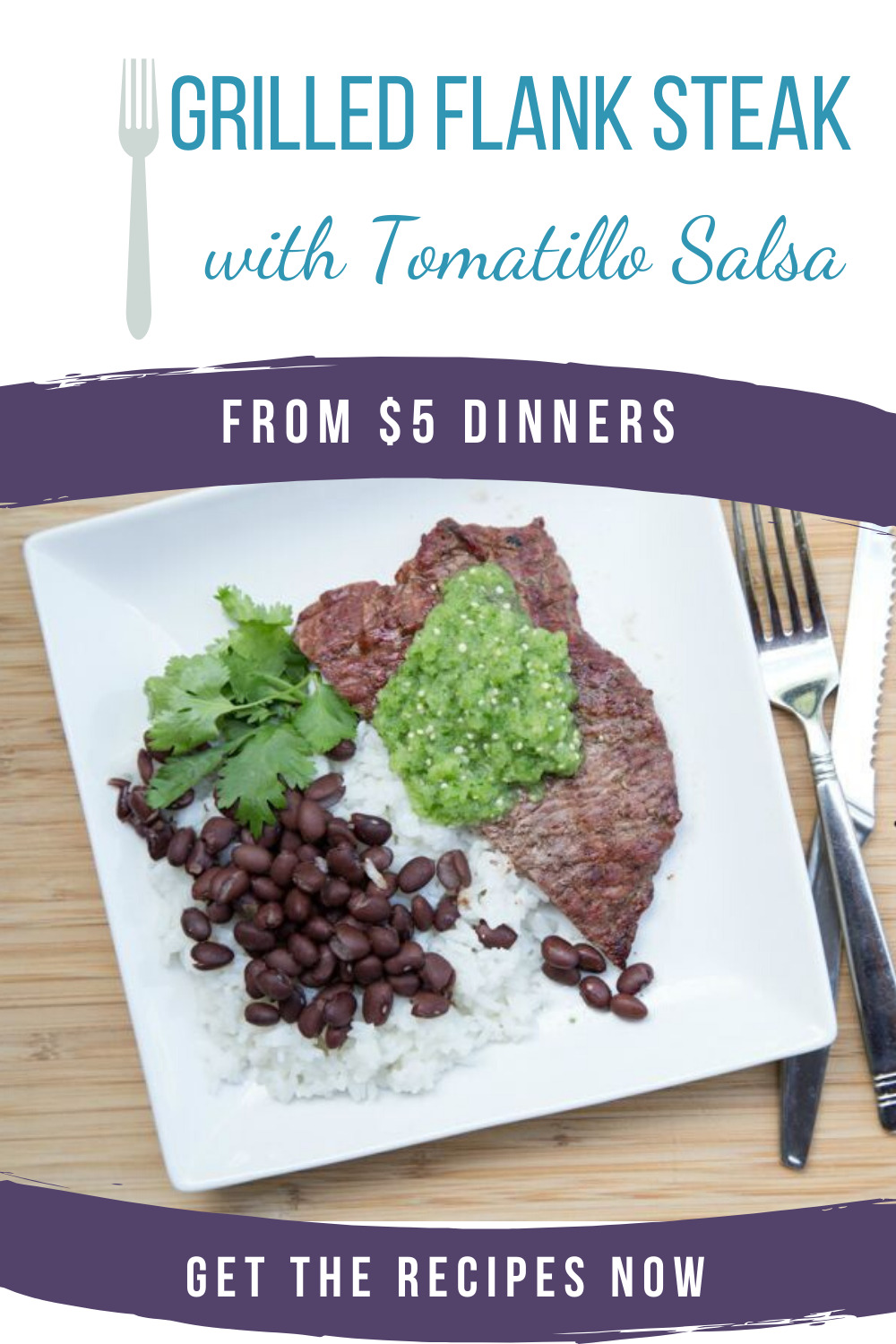 This, my friend. This meal was so so so so scrumptious.
The rice, the beans, the steak…and the spicy, fresh tomatillo salsa. The spicy part is entirely optional, so don't let that scare you away.
Flank steak is a fantastic cut of meat – it's inexpensive, takes on flavor well and grills up in a matter of minutes.
And tomatillos – they have such a rich and fresh flavor. If you've never purchased tomatillos before, they look like tiny green tomatoes and usually have their leaves still attached and wrapped around the green fruit part. You want to buy tomatillos that are uniform in pale green color, and are fairly hard. (Not soft like a ripe tomato.) Once you buy them, you'll pull off the leaves, slice off the top and then you can use them to make your fresh, raw tomatillo salsa.
Now, make this simple and fresh dinner for a fraction of what you'd pay if you went out for TexMex!
And also…welcome to the NEW 31 Days series…this series is all about getting meals on the table in under 30 minutes…start to finish.
No precooked ingredients
No time to waste
31-Minutes…start to finish
You're a busy mom or dad. You have little time to get dinner on the table. And worse, by the time dinner prep time rolls around, you are out of energy and brain space.
This month, I'm planning to teach you how to be more efficient in the kitchen and how to get a complete and balanced meal on the table in under 31 minutes.
Why 31 minutes?
Because it matches the 31 days in the series. And because I think anyone can spare 31 minutes in their afternoon to make a home cooked meal. And because it would probably take you 31 minutes to get the car loaded, go through the drive thru and get home to eat. And because it would probably take 31 minutes for a pizza you ordered to arrive.
So, 31.
31 Minutes….ready, set, go!
P.S. Read the directions carefully, to make sure you go in order and don't waste any time!
A simple and fresh dinner for a fraction of what you'd pay if you went out for TexMex!
Ingredients
1

cup

white rice

1

lb

flank steak

Salt and pepper

6

small

tomatillos, leaves removed

1

small

jalapeo, seeded and diced

(omit if you don't want it to be spicy!)

Leaves from 6 stems of cilantro

Juice from 1 lime

1/2

tsp

salt

1/2

tsp

pepper

1

15 oz. can black beans, drained and rinsed
Instructions
Start the grill and start cooking the rice. (I use my rice cooker and it takes 20 minutes, start to finish. You can absolutely make this with brown rice, but it takes 50 minutes to cook, so that's too long for a 31-Minute Dinner!)

Season both sides of the flank steak with salt and pepper. When the grill is hot, add steak to the grill and cook 6 to 8 minutes per side. Cooking time will depend on thickness of the filet, heat of the grill and how done you prefer your steak.

While the steak is grilling and the rice is cooking, add the tomatillos, jalapeno, cilantro leaves, salt and pepper to a small food processor and puree into fresh tomatillo salsa.

Drain the black beans and slice the cooked steak. Note: If you prefer (and have time), you can warm the beans. I just served them room temp with the warm rice.

Serve Grilled Flank Steak with Tomatillo Salsa on top with side of rice and black beans.