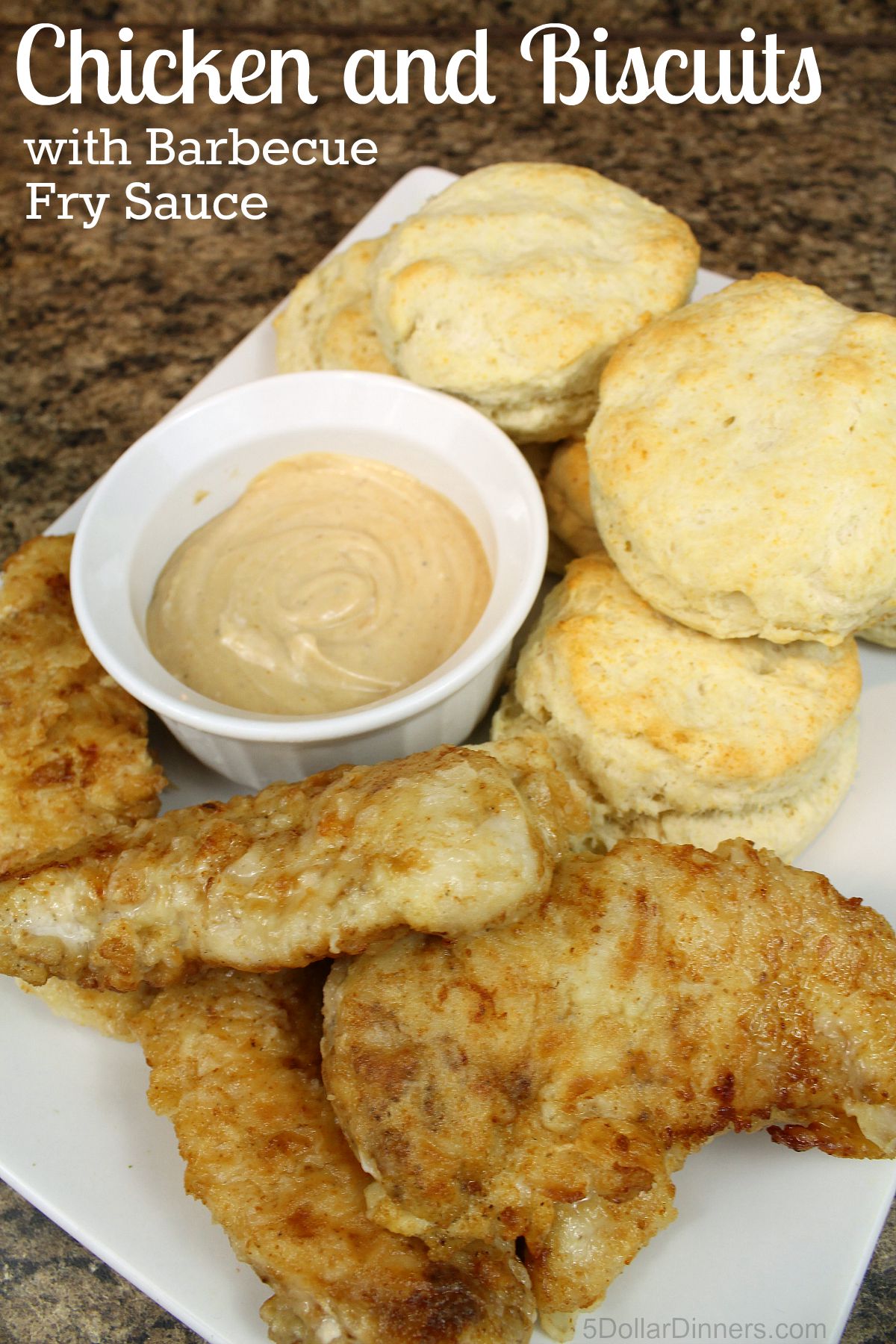 Did someone say "comfort food?"
"QUICK, delicious Southern comfort food" that is?
Everything about this recipe and this meal just screams delicious. From the easy to whip up BBQ Fry Sauce (I bet you have both ingredients in your fridge already!) to the homemade battered chicken strips. To the homemade biscuits.
The key with getting this done quickly is doing the steps in the right order…
Preheat the oven and whip up the biscuits.
While the biscuits are baking, fry the chicken.
Somewhere in there, mix up the fry sauce. And in 30 minutes, dinner is served!
(I might have made mine into little fried chicken sliders!)
Enjoy y'all!
Ingredients
2

cups

flour + 1/3 cup flour, divided

2 teaspoons baking powder

3/4 teaspoons salt + 1 teaspoon salt, divided

1/2

cup

butter

1 teaspoon Better Than Bouillon Chicken Base

3/4

cup

milk + 1/4 cup milk, divided

1/4

cup

oil

1/4 teaspoon cayenne pepper

1/2 teaspoon black pepper

1 pound chicken breast tenders

1 egg

1/4

cup

barbecue sauce

1/2

cup

mayonnaise
Instructions
Preheat oven to 425 F.

In food processor, combine 2 cups flour, baking powder, and 3/4 teaspoon salt. Pulse 2 times to combine. Add butter and bouillon base. Pulse 5 times to combine. Dont overwork this part to the point that the butter starts melting.

Add 3/4 cup of milk and pulse 4 - 5 times until the dough comes together in a ball.

Roll out the dough with your hands to about 1-1/2 inch thick. Cut into 3 inch biscuits. I was able to cut out about 6. Place the biscuits about an inch apart on abaking sheet.

Bake the biscuits for 14 -15 minutes at 425 degrees. Biscuits will be very lightly golden brown.

While the biscuits are baking, heat oil on the stovetop in a large frying pan.

In a small bowl, combine the tenders with the 1 teaspoon salt, cayenne, and black pepper. Mix together to coat the chicken.

In another small bowl, whisk together the egg and 1/4 cup of milk until frothy. Pour the egg mixture over the chicken and stir to coat.

Place the 1/3 cup of flour in a shallow dish. Remove a single piece of chicken from the egg mixture and allow any excess egg to drip off into the bowl. Dredge the chicken lightly in the flour. Tap to remove excess flour.

Gently place in the hot oil in the frying pan. Cook for 5 - 6 minutes on each side until lightly golden brown.

Combine barbecue sauce and mayonnaise to make the fry sauce.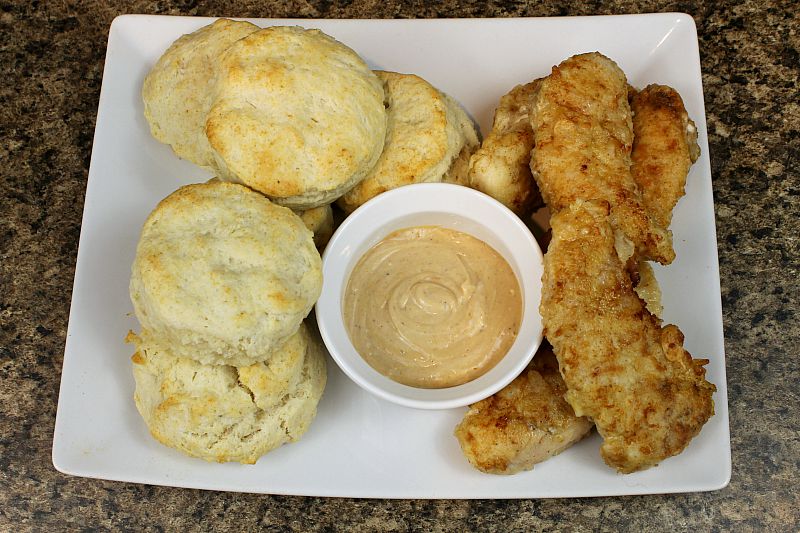 Erin's Personal Recommendations for 31-Minute Recipe Supplies: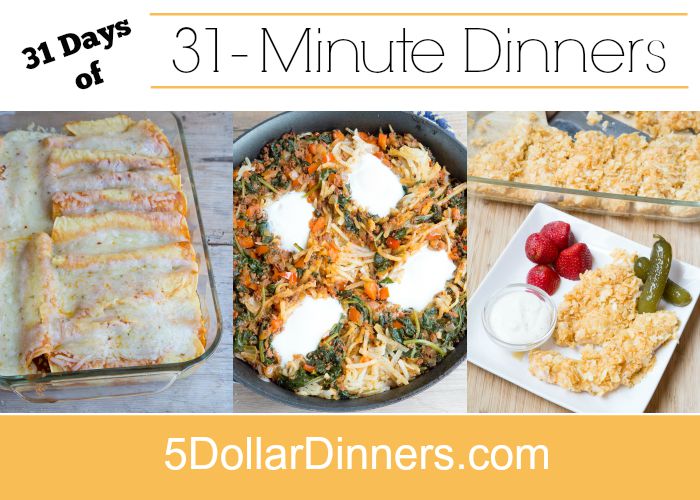 Other "31 Days of" Series to check out:
Disclaimer: As an Amazon Associate, I earn commissions on qualifying purchases. Reviews, opinions are my own.