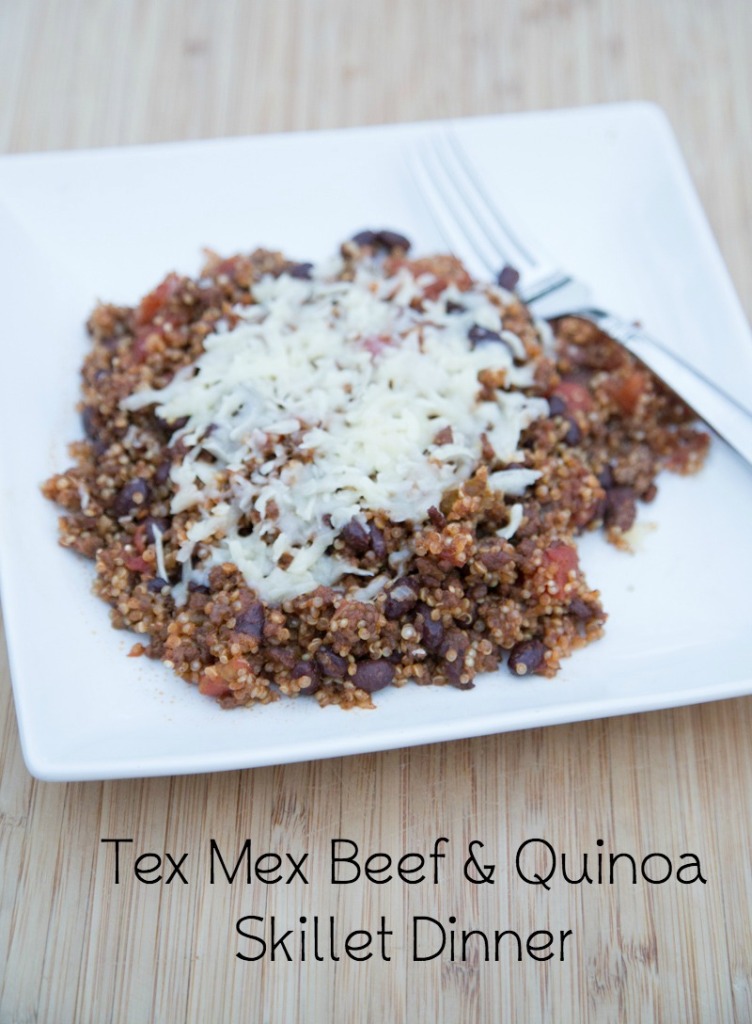 Tonight we're revamping an old recipe from 2010 for this month's 31 Days of Skillet Dinners series. It's p.a.c.k.e.d. full of protein and will fill up the bottomless pits that show up at your dinner table every night. Beef + beans + quinoa = protein-town!
(My older 2 boys must be going through growth spurts…because boy can they eat! It's a good thing that I know how to cook on a budget because when they are teenagers…….)
We all loved this one, including my bean averse oldest. He politely moved them to the side, while Cuatro shoveled the beans on his plate right into his mouth. It sure would be easier if all the kids would just eat all the food. (We can dream, right!) Overall, we all loved this one!
Alrighty…another photo rundown for you. Hope this helps you 'see' how this comes together so quickly and easily!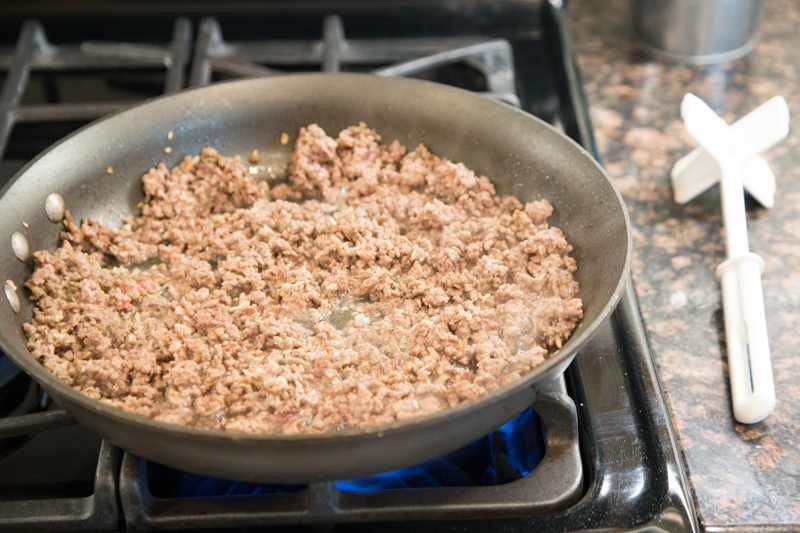 Brown the beef.
With some onion and garlic.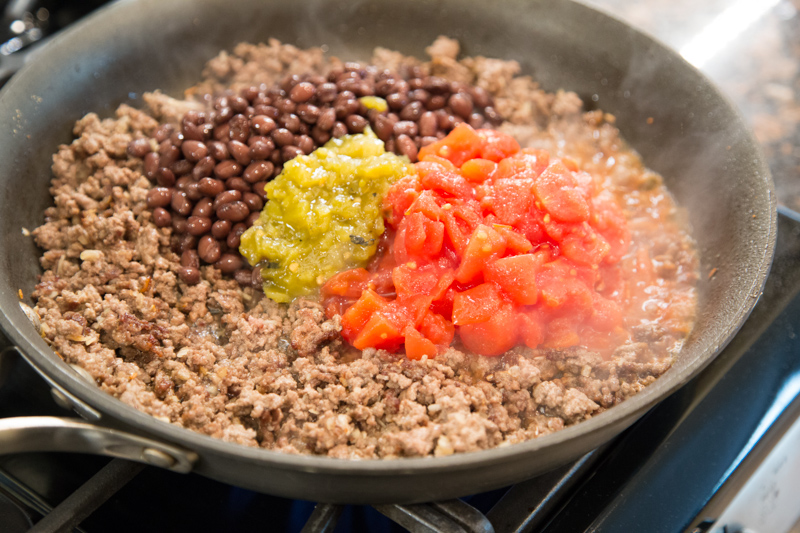 Add in the tomatoes, undrained. They will sizzle, as you can see.
Add the green chilies.
And the black beans. I like to rinse mine, but you don't have to.
Mix it all up.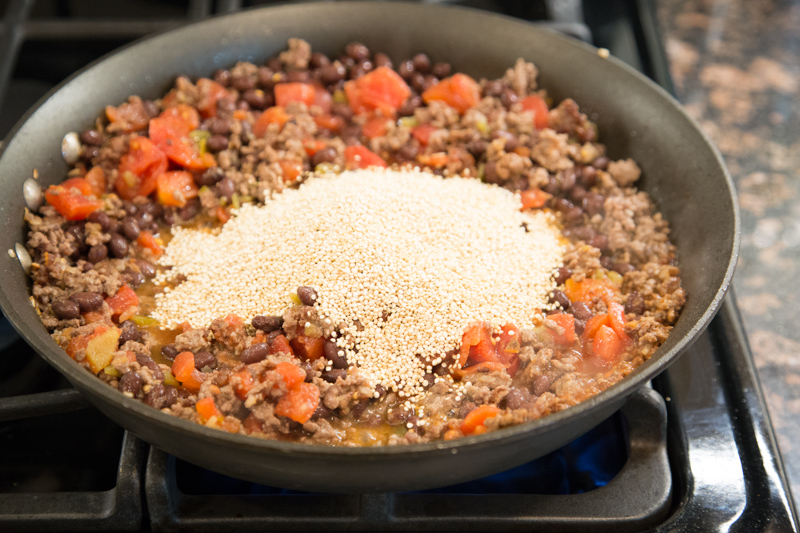 Add the quinoa.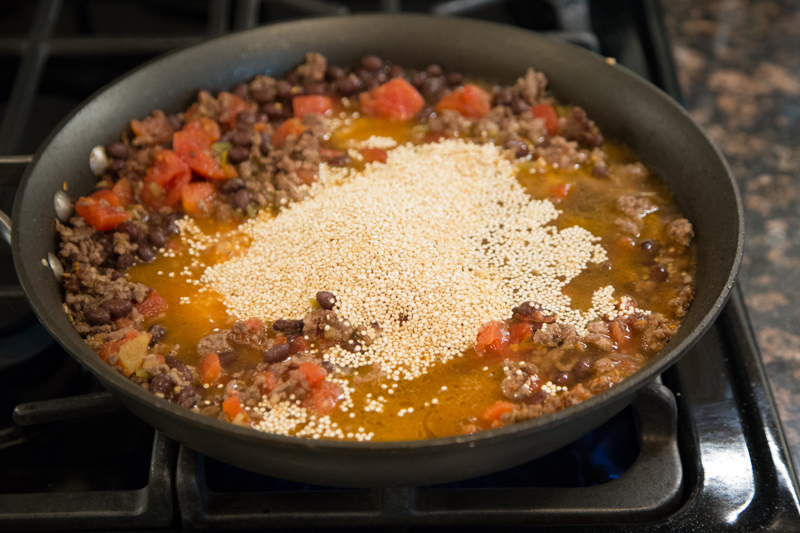 And some water.
Or broth. Beef or chicken. Whatever you have on hand. I know you have water on hand, so just use that!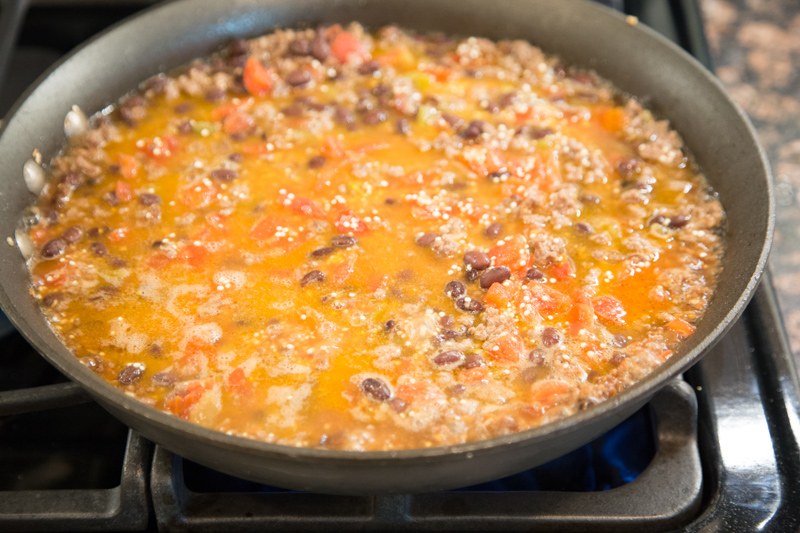 Stir to submerge the quinoa.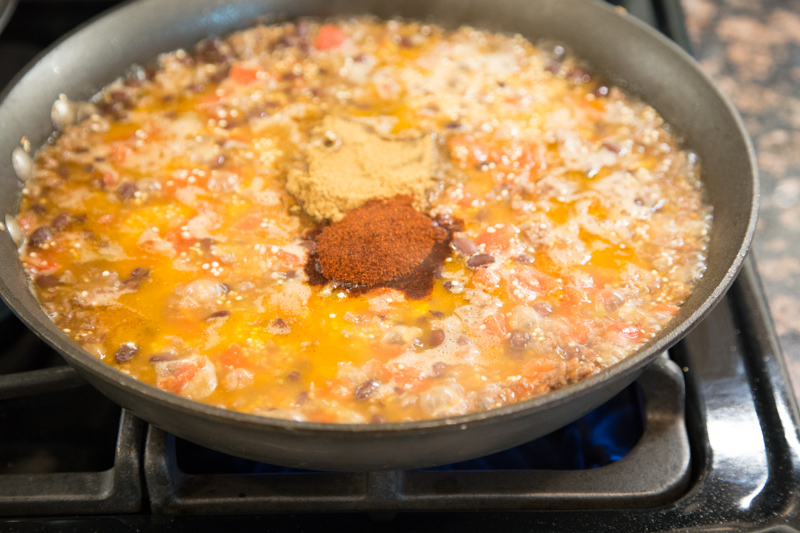 Stir in that flavor.
Smoky, spicy flavor.
Cover. Simmer.
Stir it once, but do it quickly. You don't want too much liquid to escape.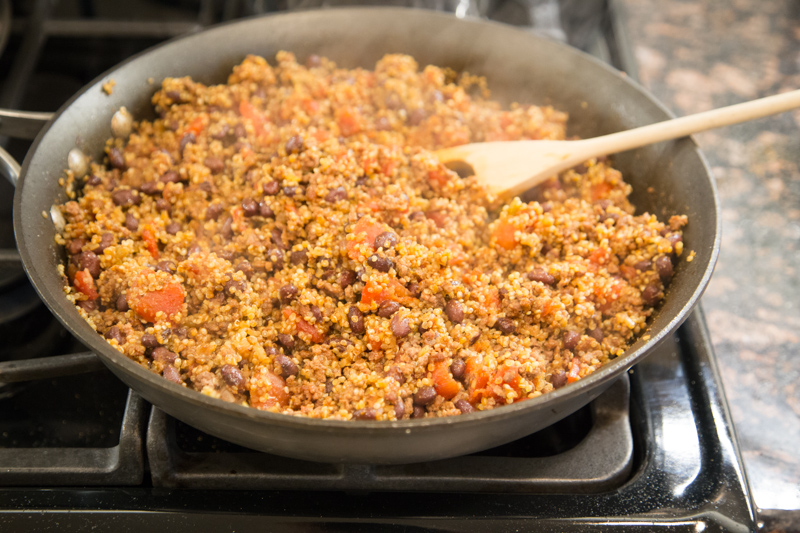 Fluff and serve with some shredded cheese on top. Cotija cheese would also be good. So would some sour cream. Anything creamy to help balance the powerful flavors and protein.
Buen provecho!
It's p.a.c.k.e.d. full of protein and will fill up the bottomless pits that show up at your dinner table every night.
Ingredients
1

lb.

ground beef

1/2

cup

chopped onion

15

oz.

diced tomatoes

undrained

15

oz.

can black beans

drained and rinsed

4

oz.

can chopped chilies

1

cup

quinoa

1 1/2

cup

water or broth

1 1/2

Tbsp

chili powder

1

tsp

ground cumin

Salt and pepper to taste

1

cup

shredded Jack or cheddar cheese

garnish

Fresh veggies

side dish
Instructions
In a large skillet, brown the ground beef with the chopped onion. Drain and return to the skillet.

Rinse quinoa in sieve/colander.

Add tomatoes, black beans, green chilies, quinoa, water and spices to ground beef mixture. Cover and simmer for 15 to 20 minutes, or until the quinoa is tender.

Prepare fresh veggies.

Serve Tex Mex Beef & QuinoaSkillet with a little shredded cheese on each serving and a side of veggies.