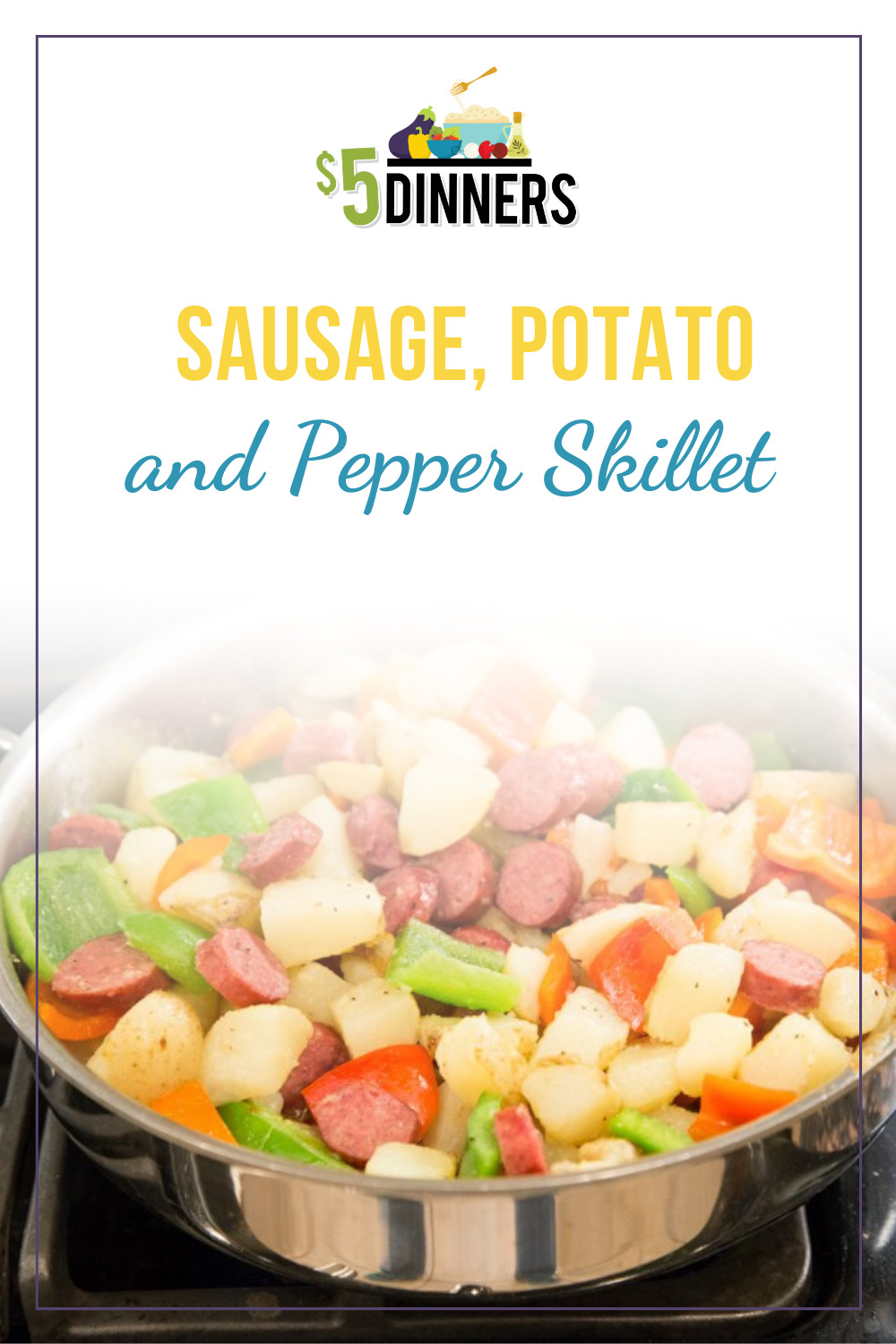 I am raising a bunch of meat and 'taters boys in this house….the proof being in the way that they polished off their sausage and potatoes. This is a meal that I turn to often…whether I make it in the skillet or a slow cooker version, we all love it!
Couple notes and modifications for this recipe:
Add a chopped onion. I usually do. Completely forgot to this time.
Use whatever kind of sausage link that's on sale at your store this week. I've seen brats as low as $2.49/lb recently; kielbasa as low as $2.99/lb. Keep an eye out! Sausage freezes well…so grab a few packages when you see your favorite brand/variety go on sale!
Use frozen Potatoes O'Brien in place of the potatoes and peppers. Cook as directed on the bag and then mix in the sausage.
Pretty simple process here…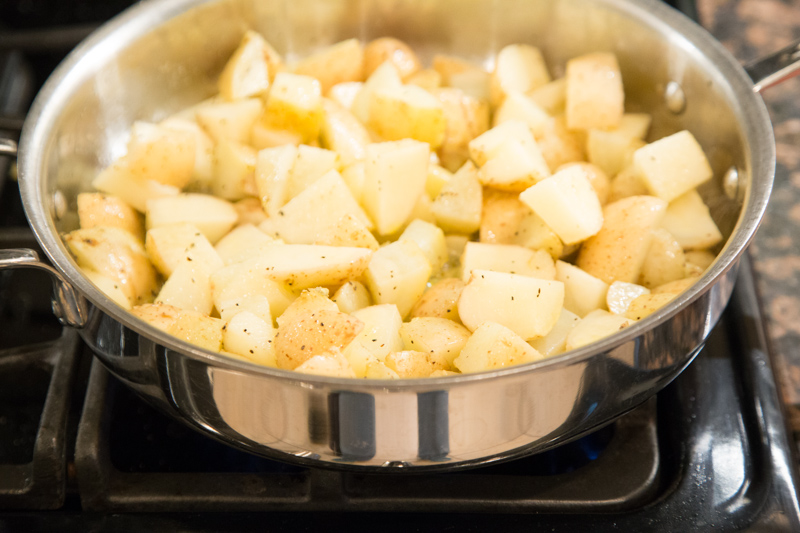 Saute the potato chunks in some oil.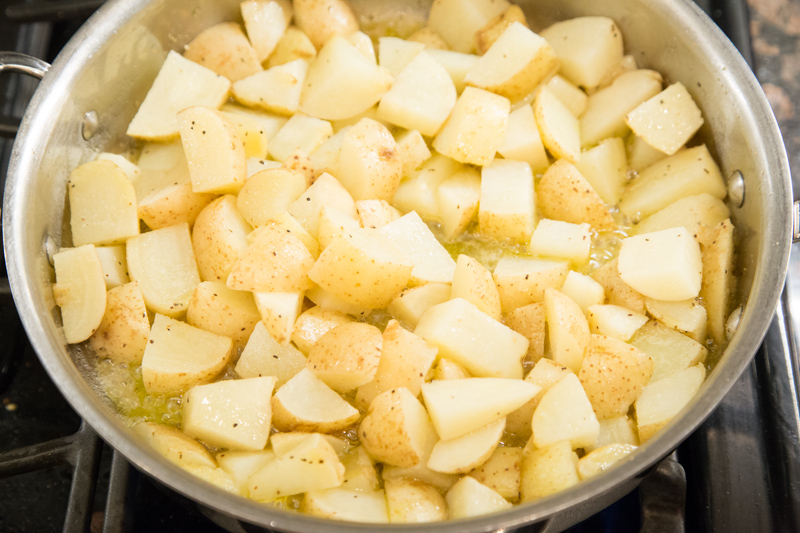 I usually add a little water to help them 'steam up a little' and keep the bottom of the skillet from becoming a burnt mess.
Also, one of the reasons that I prefer to use gold potatoes is that I don't have to remove the skin…because it's really thin and doesn't affect the cooking process or time. But it's really because I'm lazy and don't want to peel them.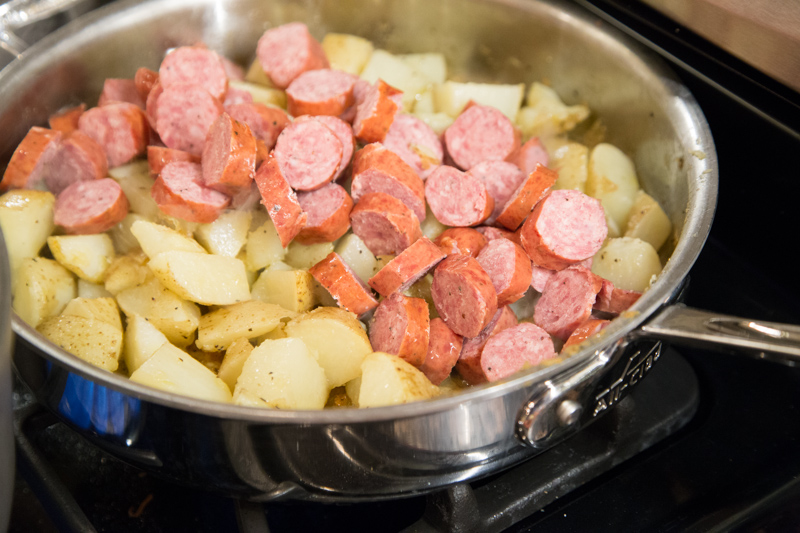 Toss in the sausage.
If you are using raw sausage, you'll need to stir it in well so that it can saute and cook through with the potatoes. I'd slice it 1/3″ or thinner so it will cook quickly.
Toss in the chunks of peppers and let them saute a few minutes with everything else.
I like them sorta soft, sorta crunchy…so I only cook them for a couple minutes.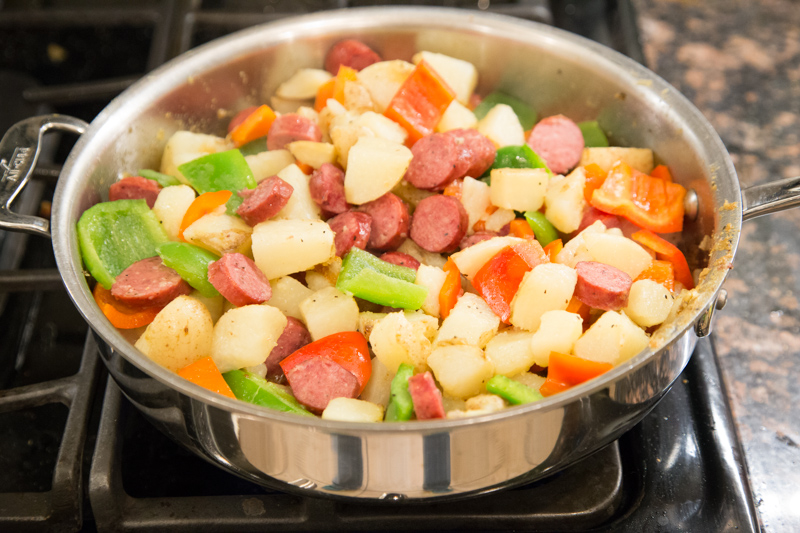 Done. Ready like this. Or with another veggie or fruit.
See…told ya it was simple. I hope you enjoy!
This Sausage, Potato & Pepper Skillet Dinner is the perfect meal for the meat and potato lover in your family! It's simple, quick, and cooks in one skillet!
Ingredients
2

Tbsp

olive oil

3-4

lbs

small gold potatoes

quartered

1

tsp

garlic powder

Salt and pepper

1

lb.

sausage links

1

red bell pepper

seeded and diced

1

green bell pepper

seeded and diced

Optional side: veggies or fruit
Instructions
Add the olive oil to large skillet with lid. Saute the quartered potatoes for about 6 minutes. Season with garlic powder, salt and pepper. Add 1/2 cup of water halfway through if needed. Cover tightly for 3 minutes.

Stir in the sliced sausage links. If raw, saute 8-10 minutes to cook through. If cooked sausage, saute with the potatoes for 3-4 minutes to warm them up.

Toss in the diced bell peppers and mix them in with the potatoes and sausage. Saute for no more than 4 minutes. Add a little extra salt and pepper to taste.

Serve Sausage, Potato, Pepper Skillet Dinner as is, or with some fresh fruit or veggies.