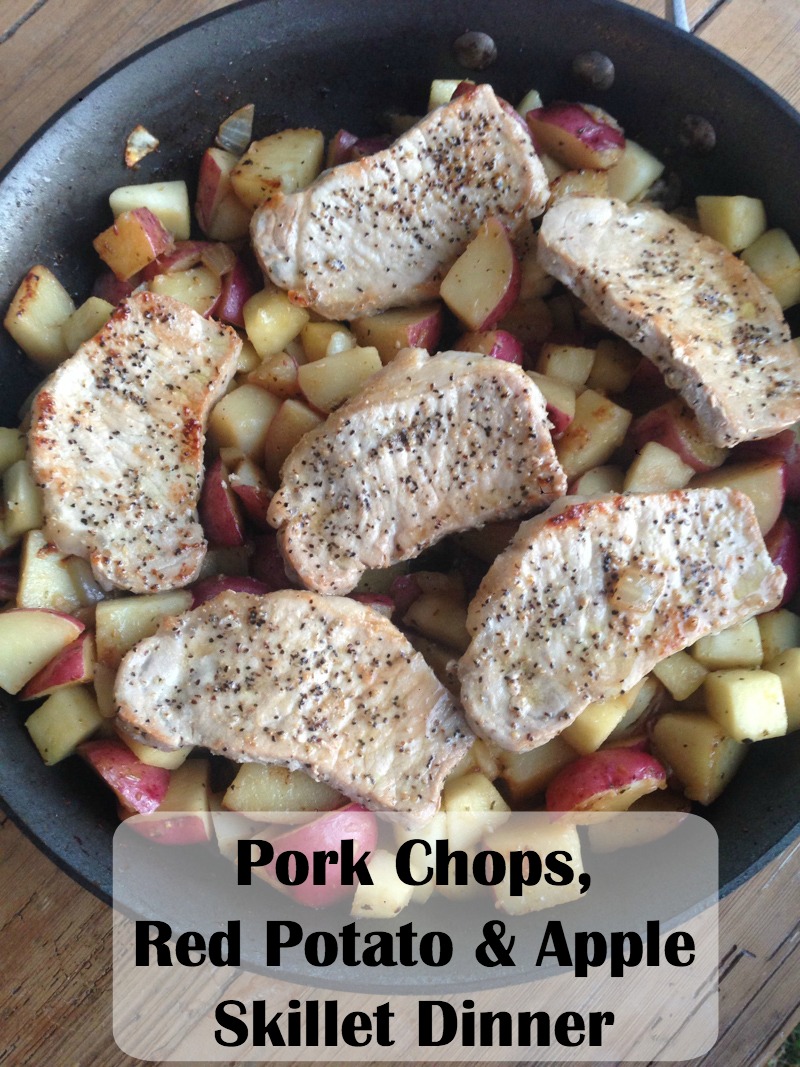 My boys love pork chops. I like pork chops with apple sauce. Because it just seems like the right thing to serve with pork chips.
Well, here's a non-applesauce version of pork chops…using fresh apples instead. Because I'm a rebel like that.
Seriously, this is some amazing food.
Also, please pardon the iphone photos here. The baby ran off with my SD card for my camera and I'm still looking for it. I figured iffy photos were better than none. So here goes…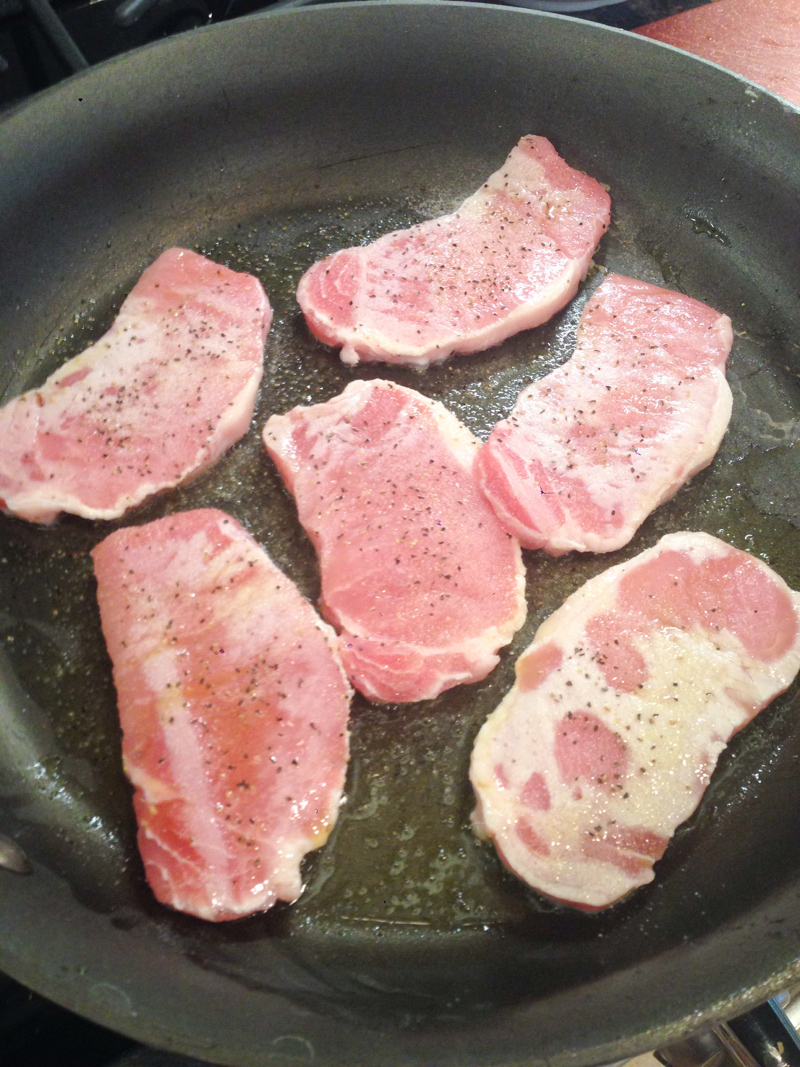 Super thin pork chops.
Couple reasons…they are easier to cut after cooking, they saute better than the thick ones and don't dry out at all. And every minute counts when I'm cooking and have a toddler underfoot and 3 other boys running around like hungry wild banchees. The thin ones cook faster!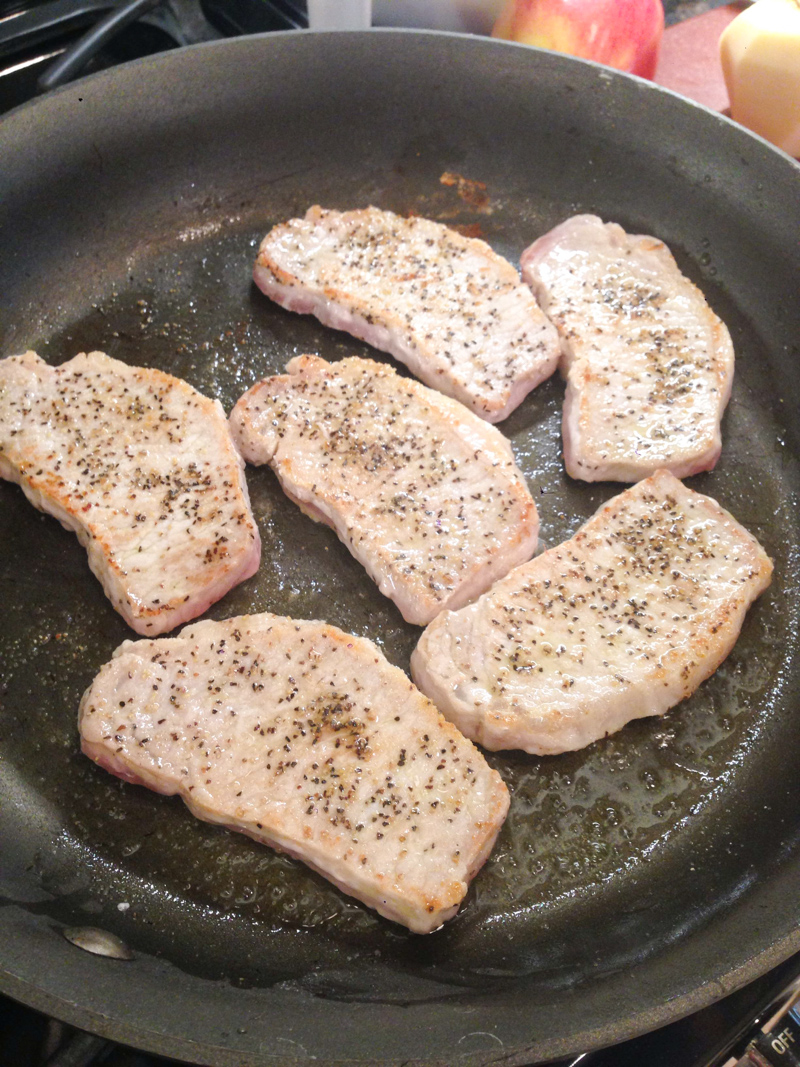 Give both sides a good seasoning.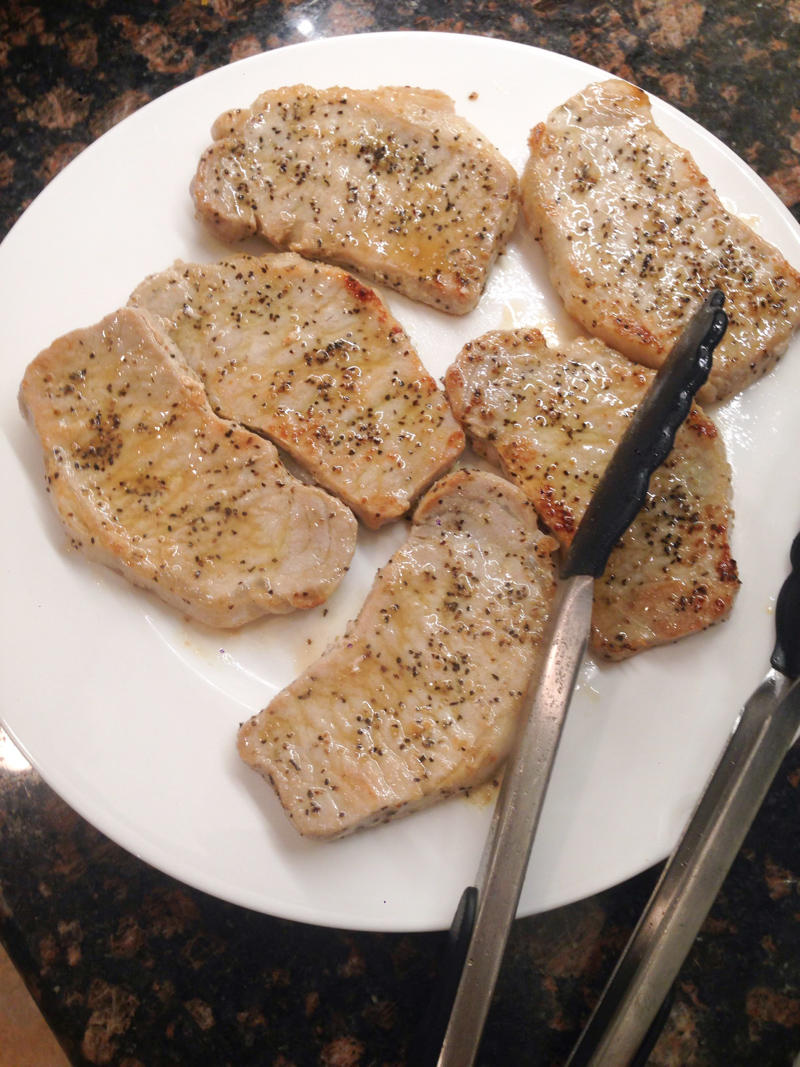 Once they are done, transfer to a plate to let rest while you prep the potatoes and apples.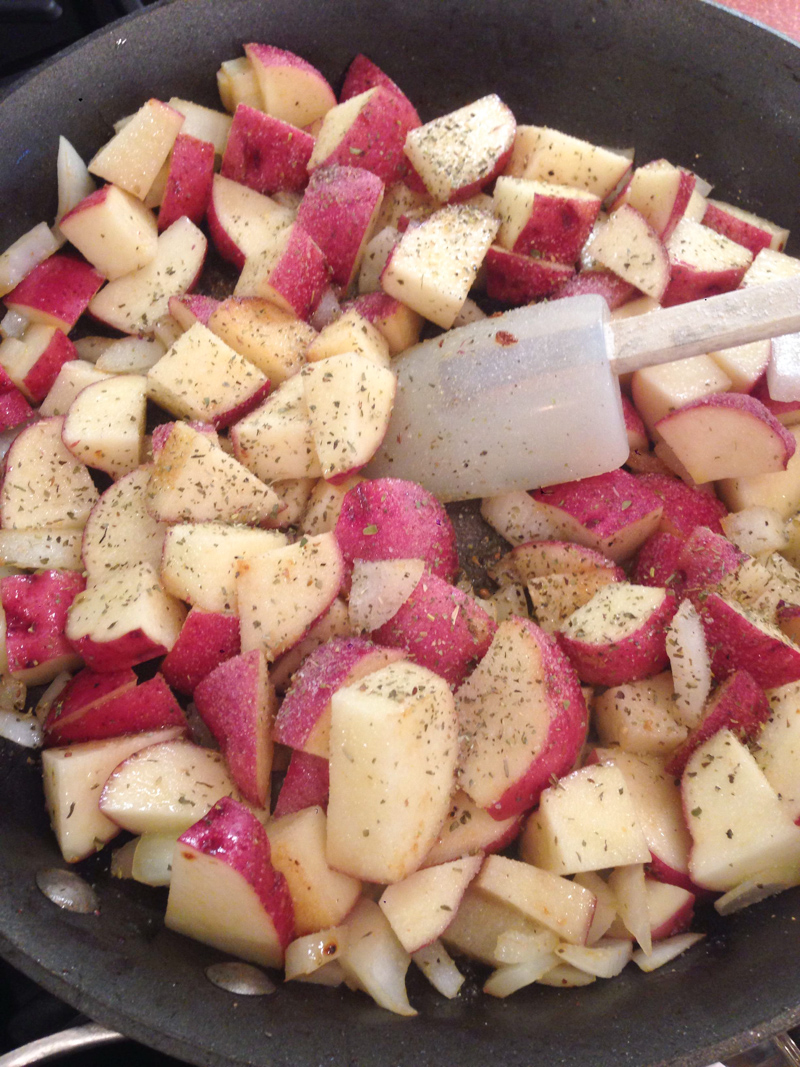 Saute quartered red potatoes and chopped onion. With a bunch of seasoning.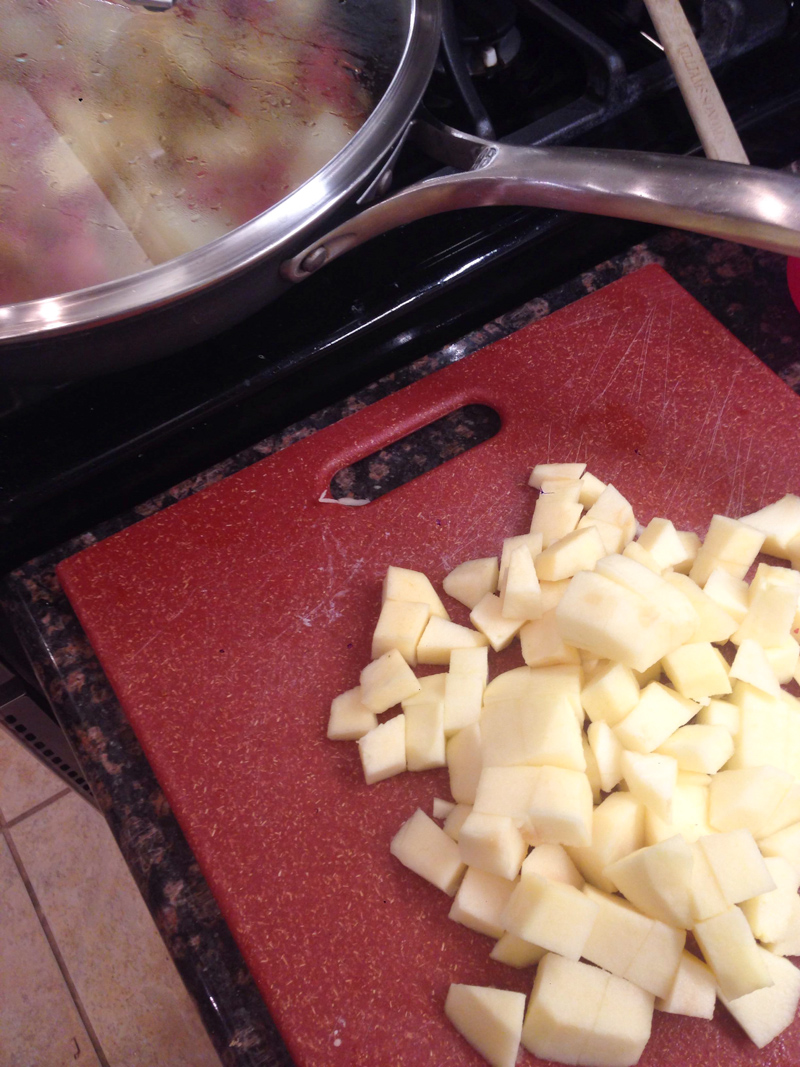 Add a smidge of water to help the potatoes steam as they cook. Cover and let cook for a couple minutes while you chop the apples.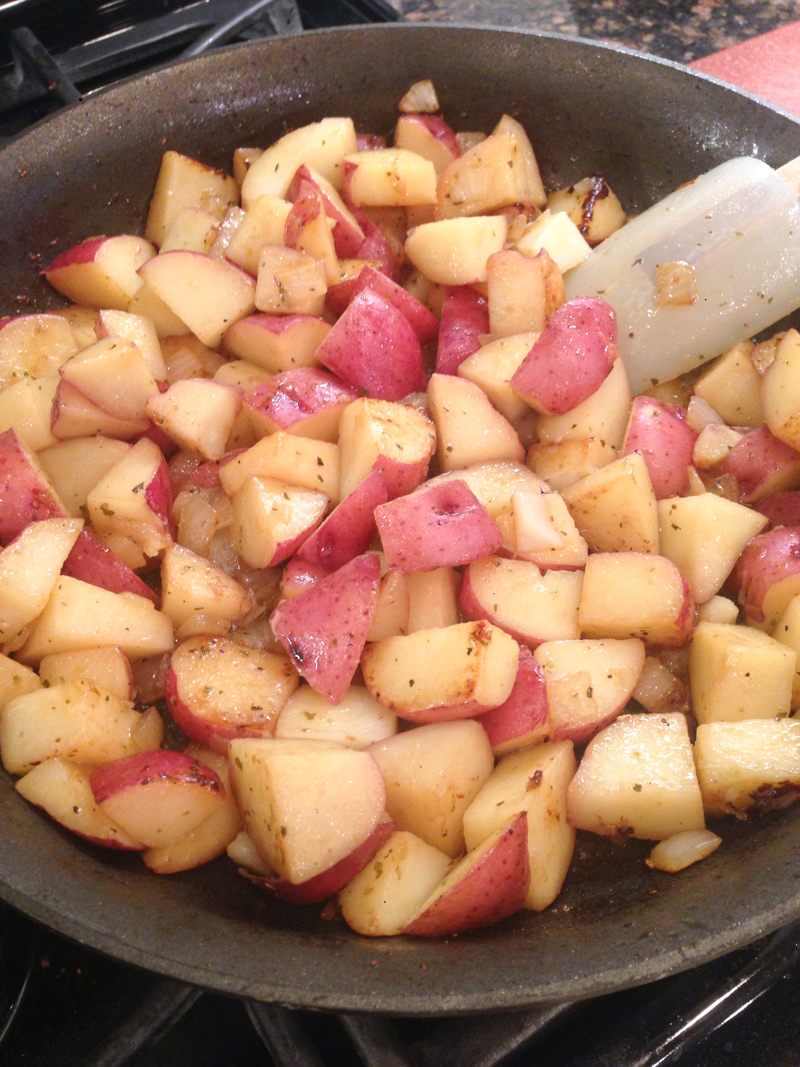 Perfectly golden but not fried to the bottom of the pan!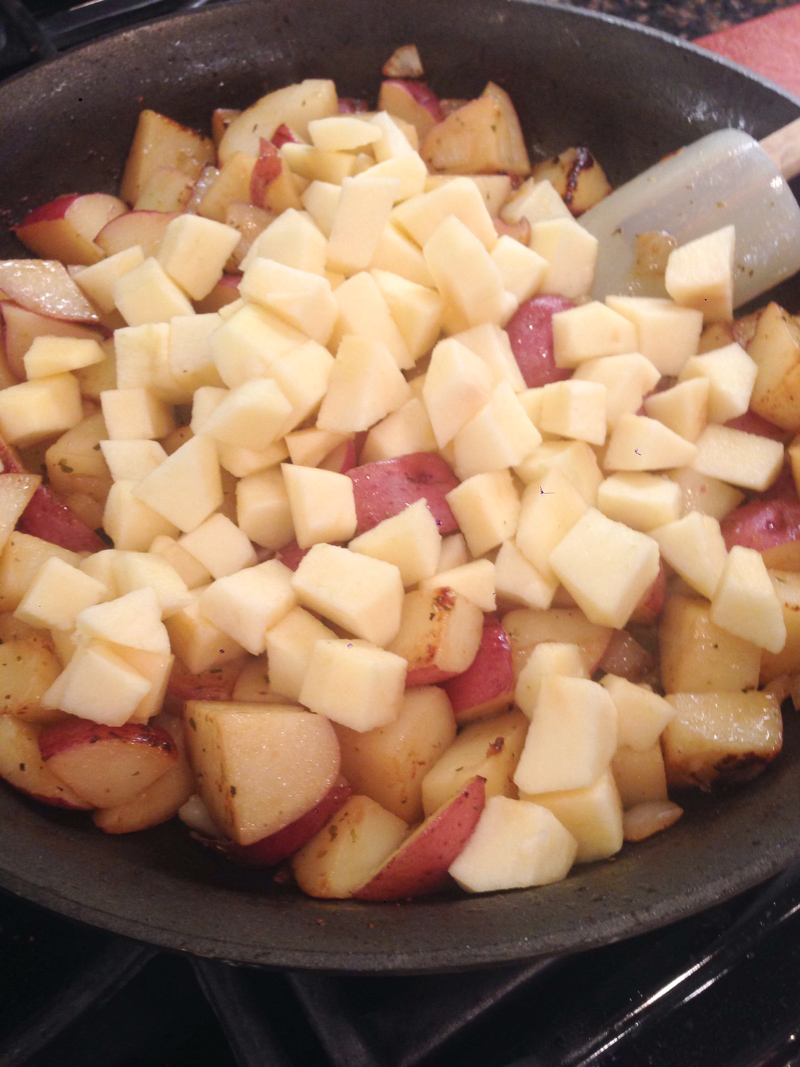 Toss in the apples.
"How 'bout them apples." #namethatmovie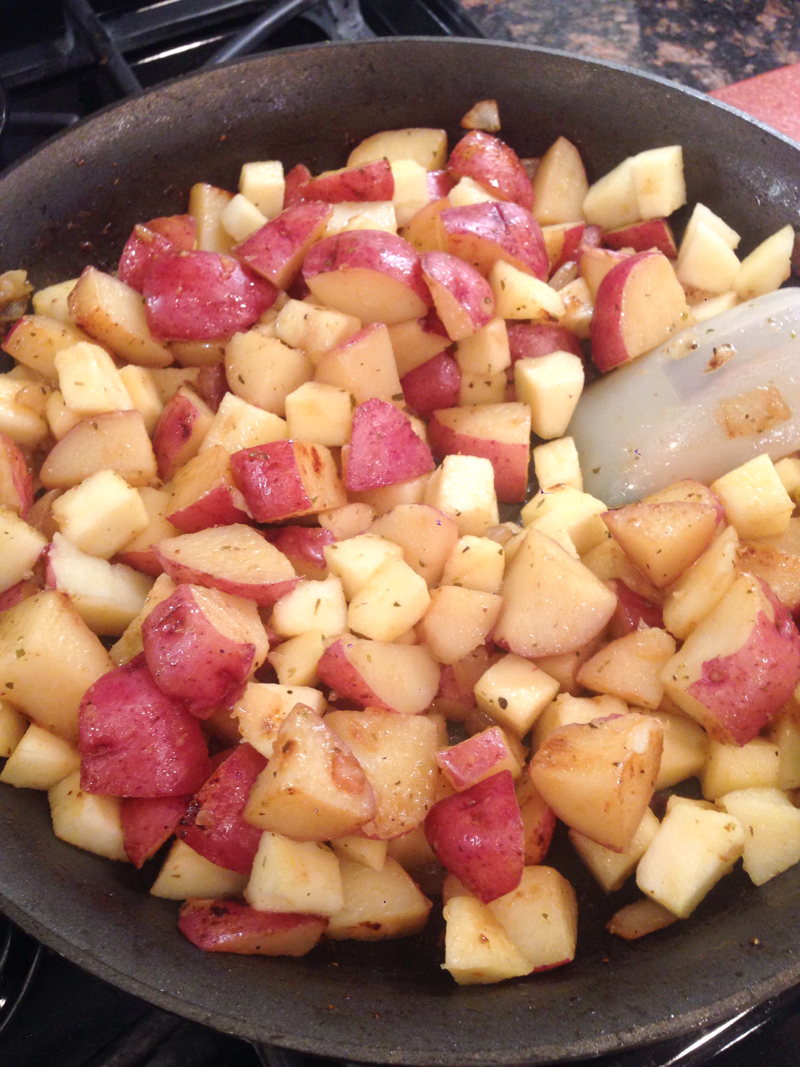 Mix all together and saute for a few minutes. I did about 3-4 minutes.
I didn't want the apples to be too soft. Just a little softened with a little crunch in the middle.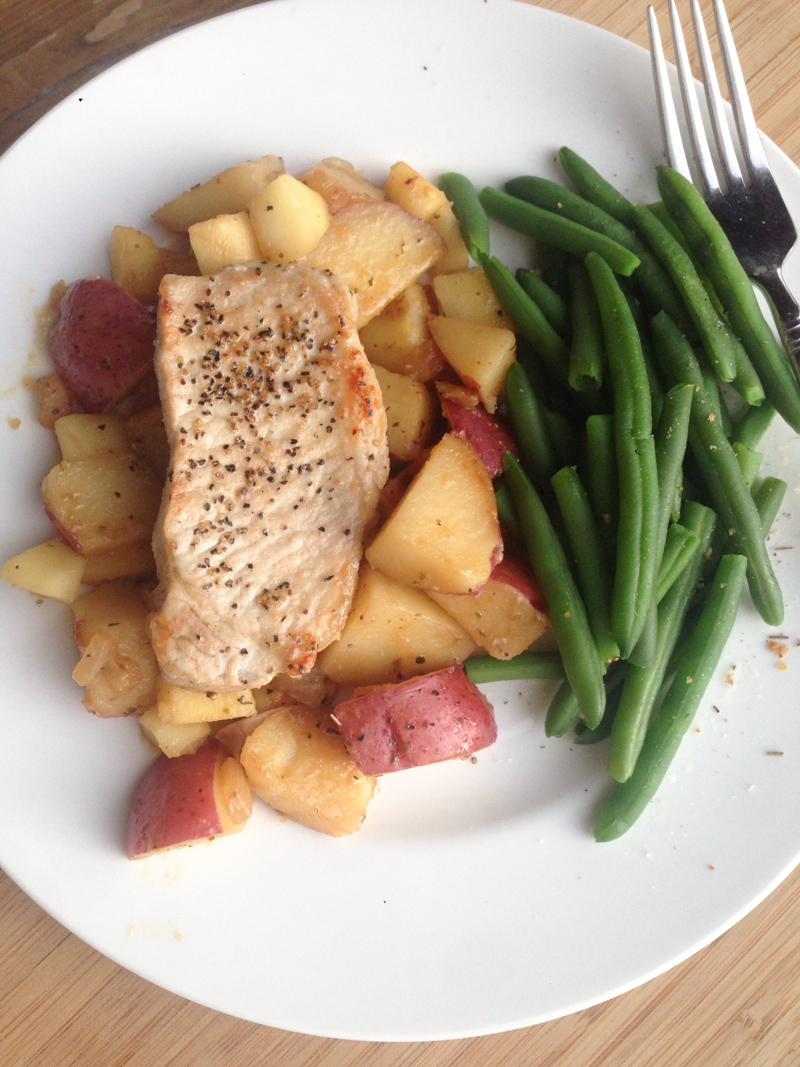 Serve with a pork chop on top. And some veggies.
I had a bite of potato, bite of apple and bite of pork on each scoop. Perfect balance of flavors and textures!
Perfect balance of flavors and textures!
Ingredients
1

Tbsp

olive oil

1 1/4

lb

thin cut pork chops

Garlic powder, salt and pepper

2 1/2

lbs. small red potatoes, quartered

1

small

white onion, chopped

1

tsp

Italian seasoning or other herb seasoning mix

2

large

sweet apples (Honeycrisp, Jonagold, Golden Delicious), cored and diced

Salt and pepper to taste

Fresh veggies, as side dish
Instructions
In a large skillet, add the olive oil and saute the pork chops. Season both sides of the chops with garlic powder, salt and pepper. Once cooked through, set on a plate to let them rest.

In the same skillet, saute the red potatoes and chopped onions for 8 to 10 minutes with the Italian seasoning, or until softened. If need be, add 1/2 - 3/4 cup of water to help deglaze the skillet and 'steam' the potatoes to help them soften faster.

Once the potatoes are mostly cooked through, add the apples pieces and saute for 3-4 minutes. Remove from heat to keep the apples from overcooking.

Prepare veggies.

Serve Pork Chops, Red Potatoes and Apple Skillet meal with a side of veggies.