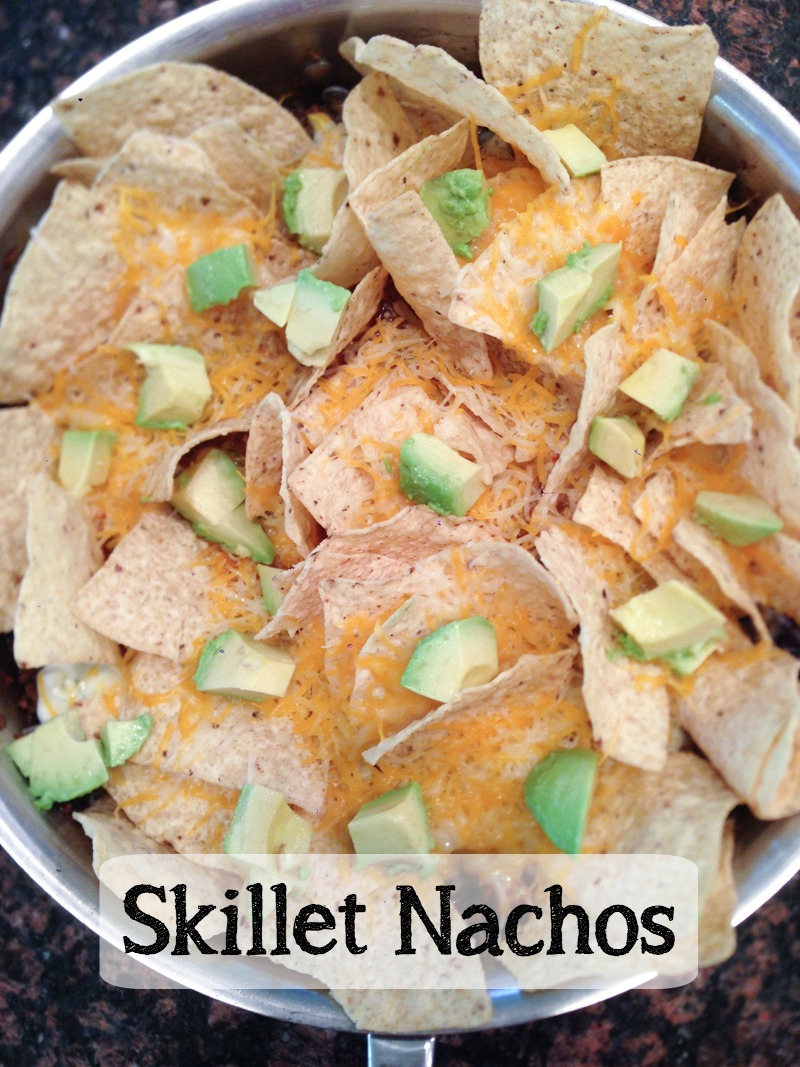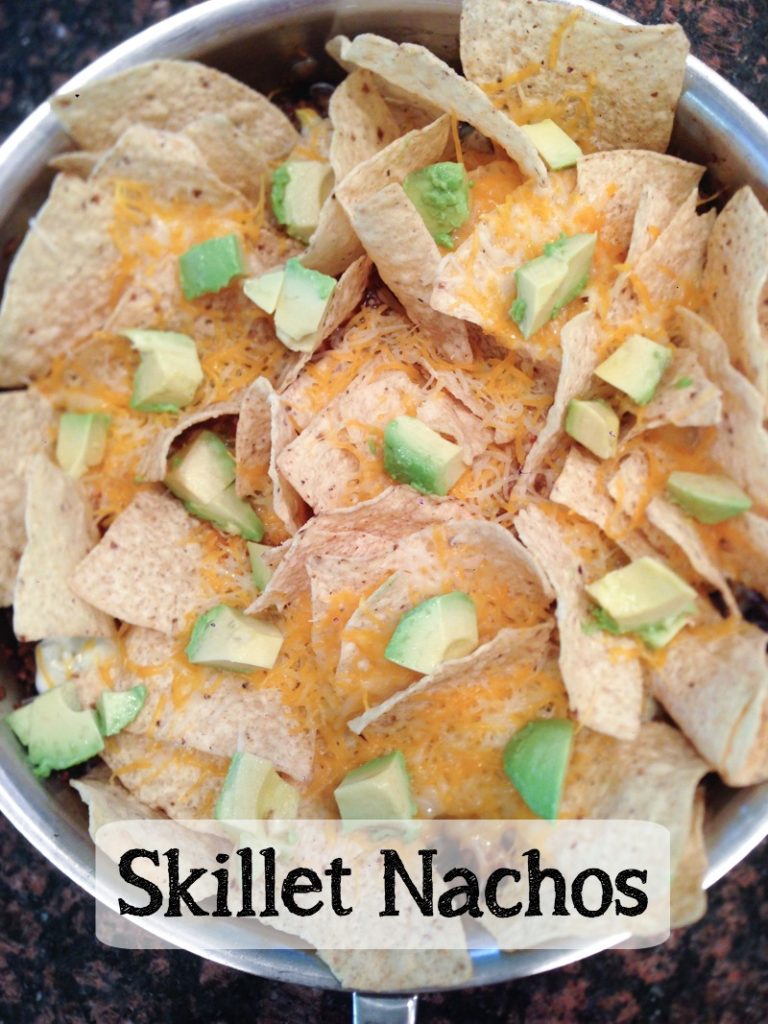 Ok. More iphone picts. I apologize that they aren't as great as what we usually share. I have found my SD card and will get back to regular photos in Feb!
Let's talk about these skillet nachos and why we love them.
It's all in one pan. You know how I love One Dish meals. I devoted an entire cookbook to them.
This is basically all the flavors of 7 Layer Dip…just assembled in a different way.
They are a great 'counter snack' – as long as your people know that the pan might be hot and to not touch it.
PERFECT Game Day food! (The big game is this Sunday…in case you've missed all the whole deflategate thing. With all the theories flying around and now Bill Nye weighing in, I've pretty much decided that it's all been a big publicity stunt! #conspiracytheorist!)
But seriously…I'm only into the Super Bowl game because of the yummy snacks I get to pull together, and the commercials!!! THE COMMERCIALS!
I've already seen a few 'teases' come through my inbox from different food brands. I think we're in for a treat this year!
Back to the nachos…
I was worried about the chips getting soggy while they baked to melt the cheese. But they really didn't. A tiny portion of the chips soaked up a little liquid, which I thought was fine. If you're worried about it, you could just skip the chips, top with cheese and melt it like a 7 layer dip. Then scoop out with chips!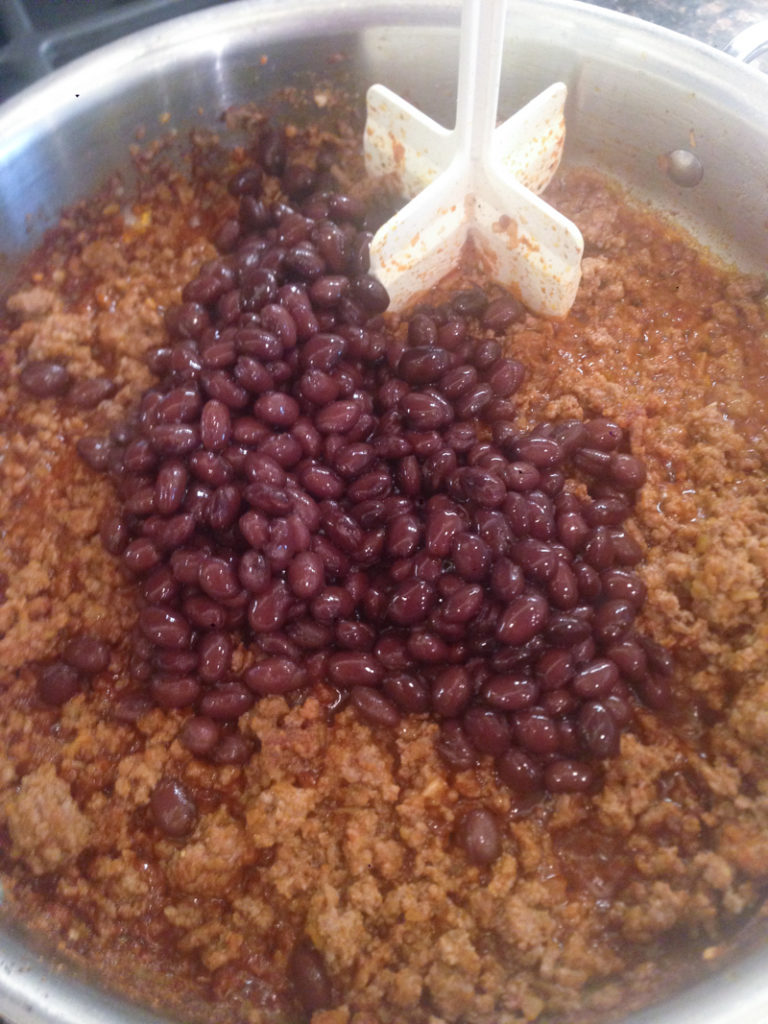 Brown ground beef with taco seasoning.
Add black beans, well drained. To keep the amount of liquid down.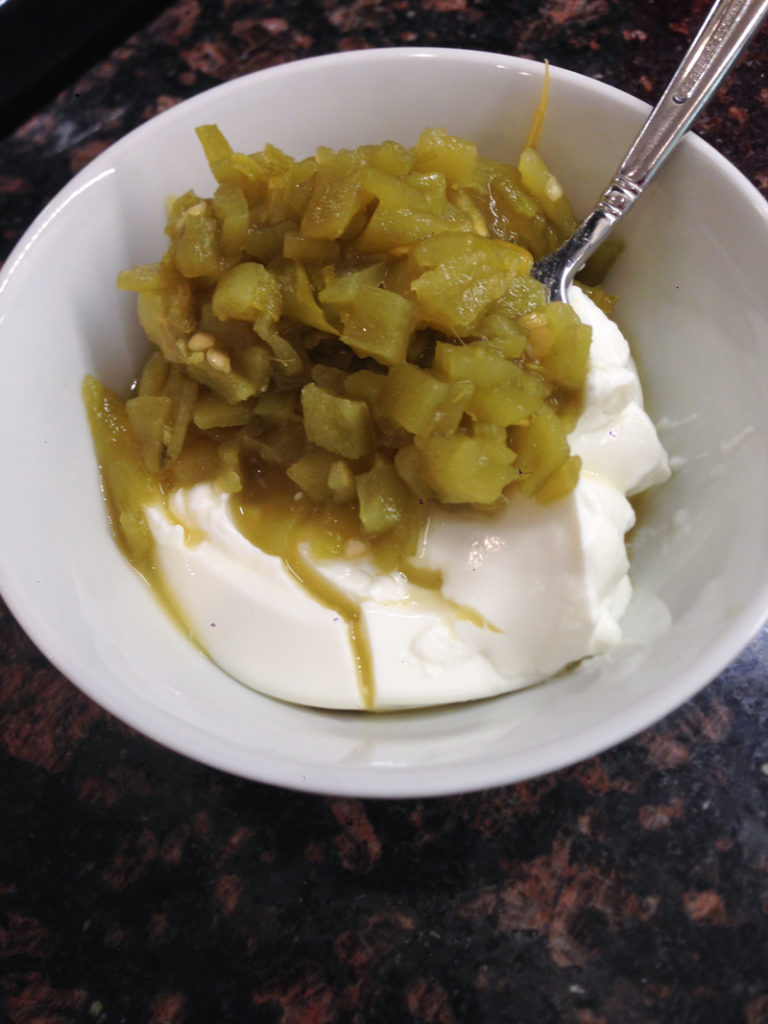 Mix sour cream and green chilies.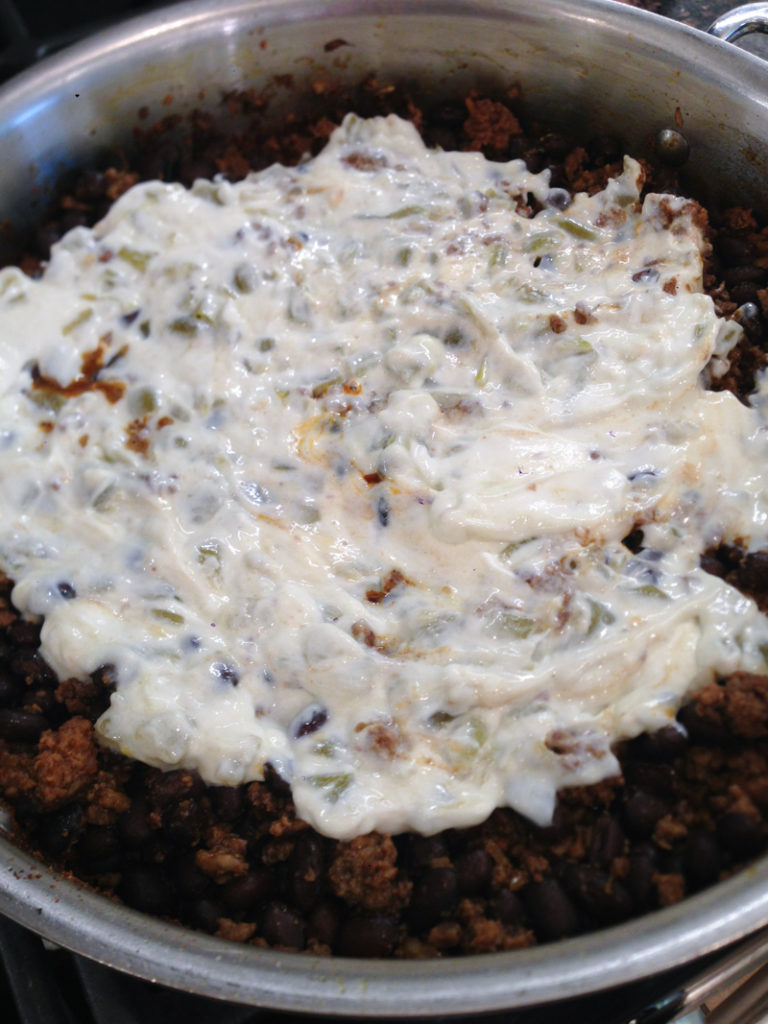 Add a layer.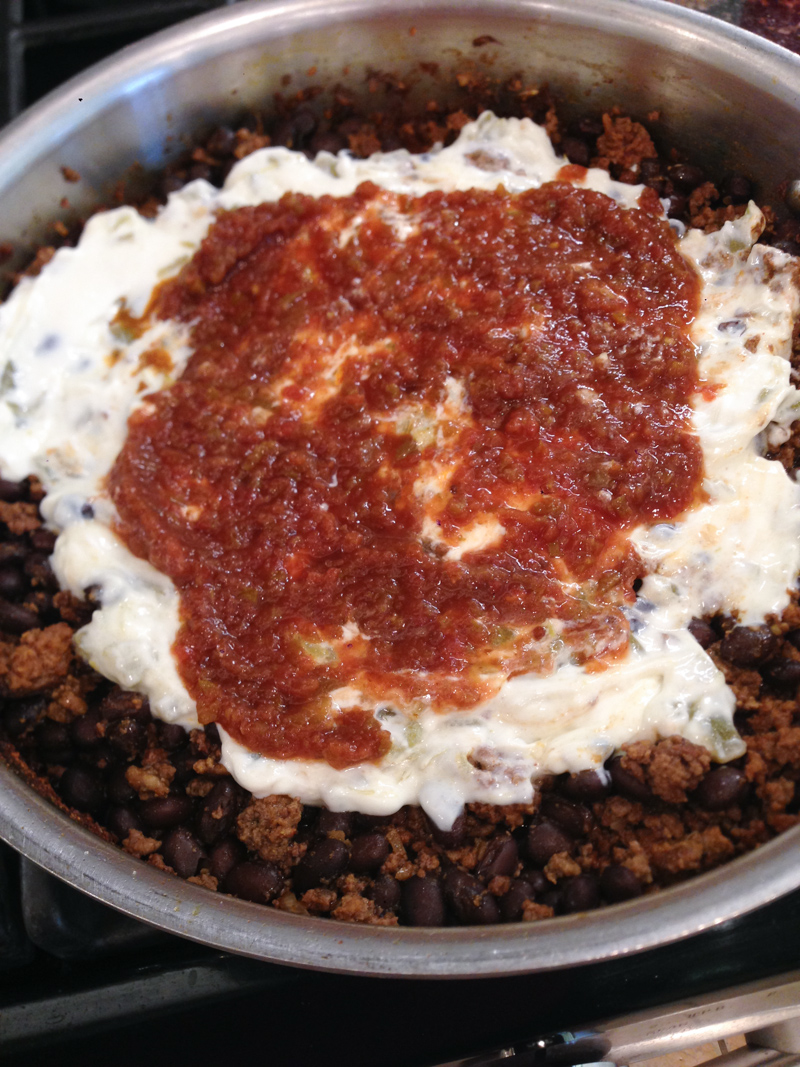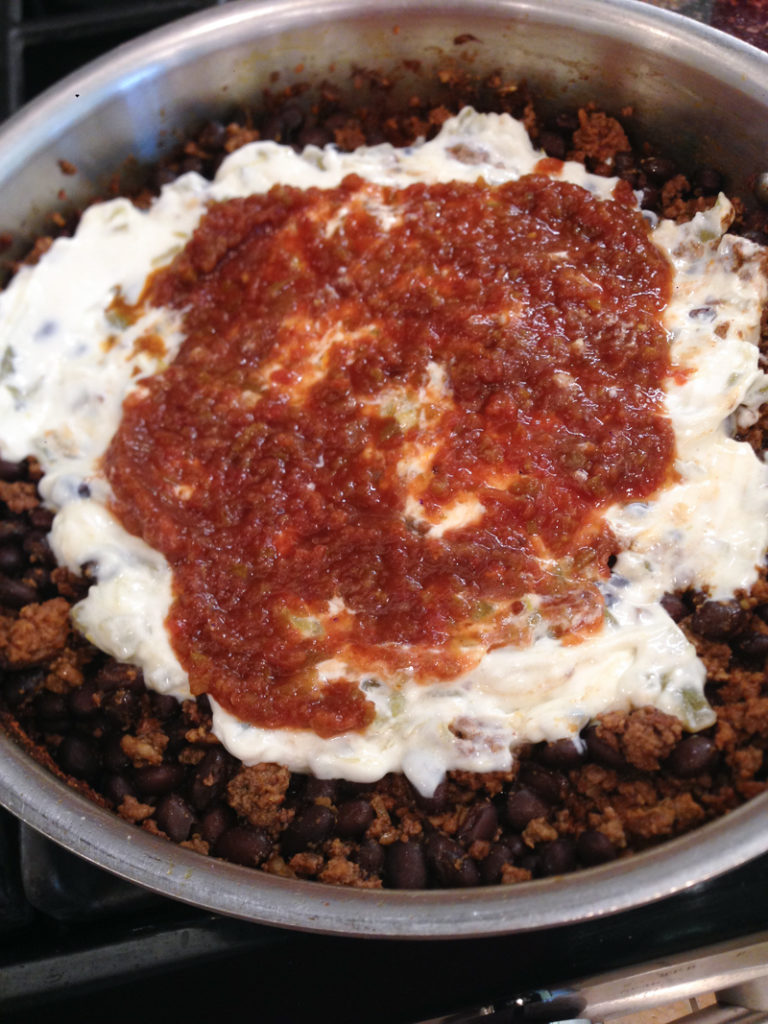 Layer of salsa.
Add the chips.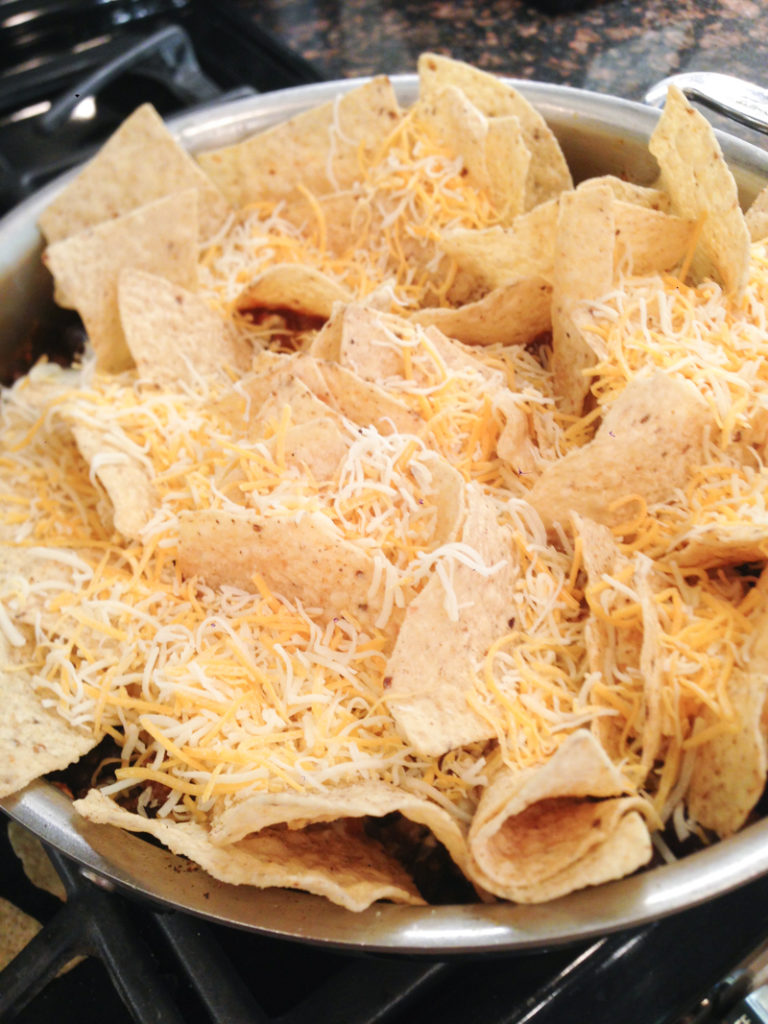 Top with cheese.
Melt.
Add diced avocado or guacamole.
Devour. These are just as addicting as 7 Layer Dip. You've been warned!
Check out all the other great recipes in our 31 Days of Skillet Dinners series!
Layers of nacho ingredients in one simple skillet meal!
Ingredients
1

lb.

ground beef

2

Tbsp

taco seasoning(or 1 packet)

15

oz

black beans, well drained

8

oz

light sour cream

4

oz

can green chilies

1/2

cup

salsa

Tortilla chips

1

cup

shredded cheese

2

avocados, diced or mashed into guacamole
Instructions
Preheat oven to 350. Brown the ground beef in an ovenproof skillet and mix in the taco seasoning. Mix in the black beans.

In a small bowl, combine the sour cream and green chilies. Spread into a thin layer over the beef. Spread another layer of the salsa over the sour cream.

Add the chips to the mixture and top with the shredded cheese. Place the skillet into oven and bake for about 10 minutes, or until cheese has melted. Carefully remove from the oven. Add diced avocado or serve with side of guacamole.

Serve Skillet Nachos.