The New Whis-Kid Student Guidebook is NOW AVAILABLE!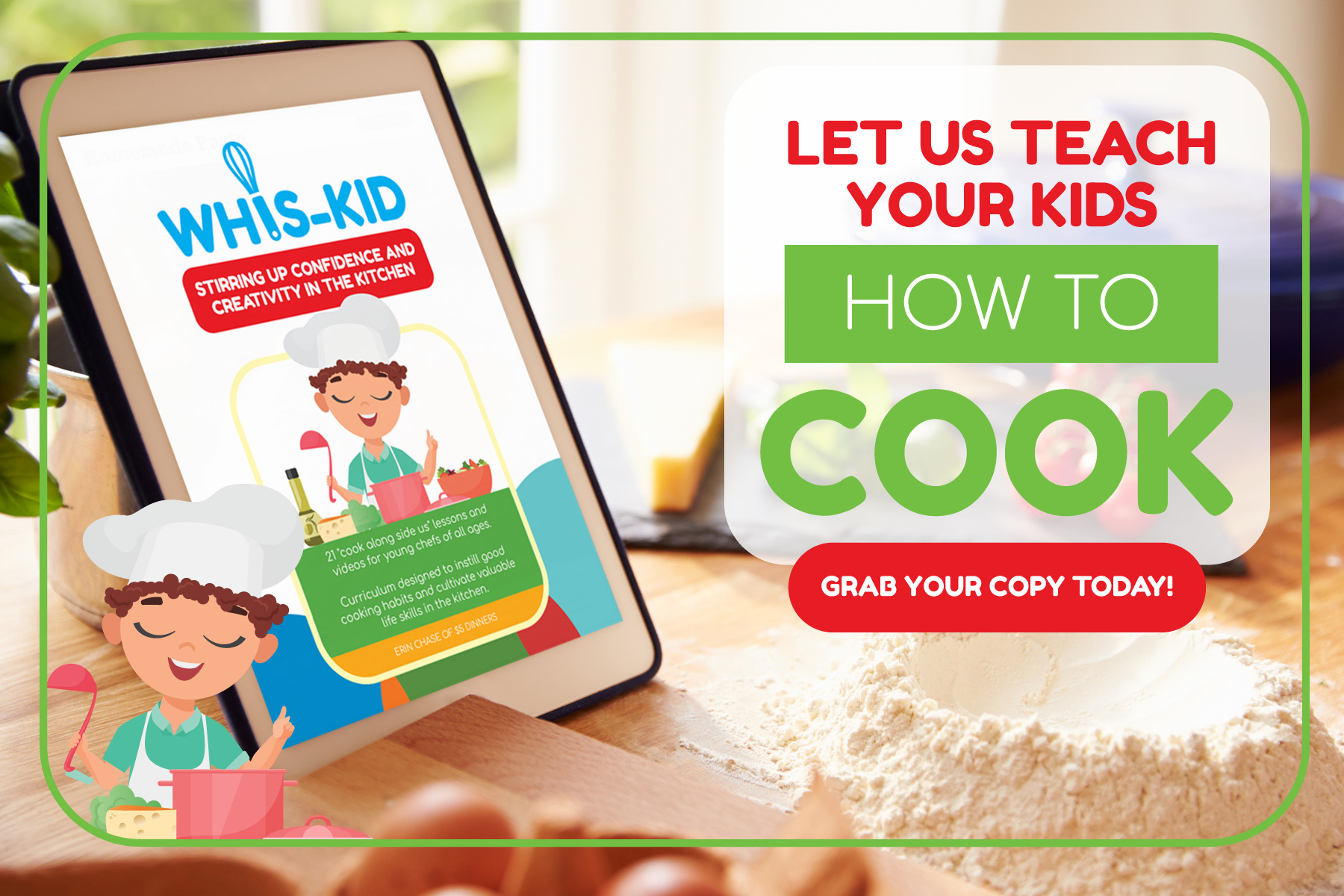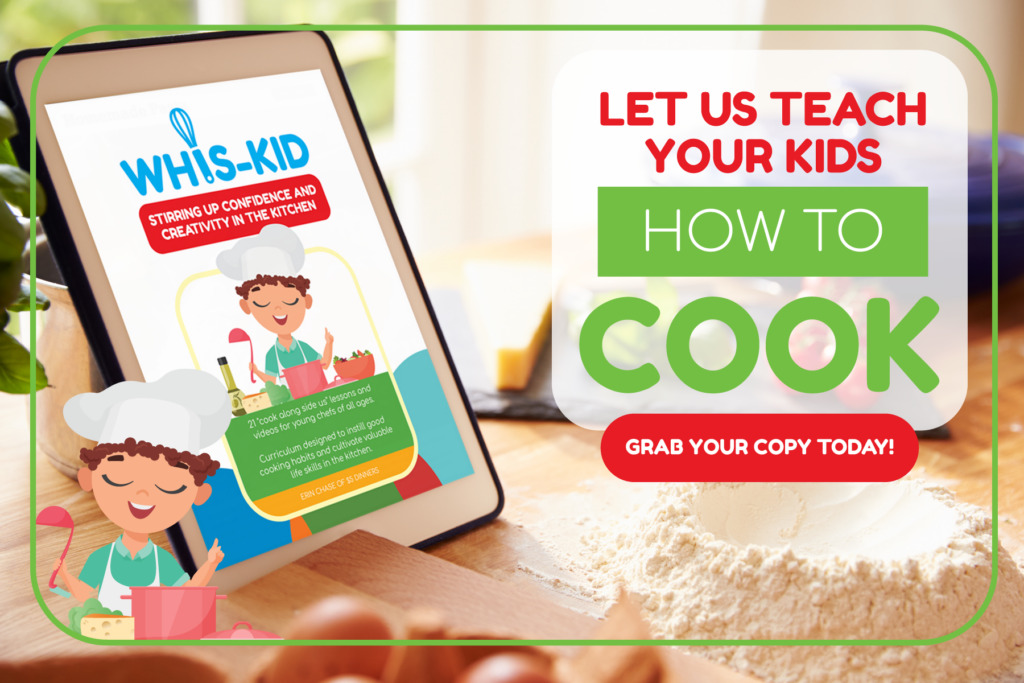 I want to turn your kid into a WHIS-KID in the kitchen.
Get it – see what I did there.
We are going to WHISK UP CONFIDENCE and CREATIVITY in the kitchen!
My boys and I have loved teaching your kids how to cook in the School Cancellation Kids Cooking Lessons. I wanted to make things a little more "formal" by creating the Whis-Kid Guidebook that goes along with all of the video lessons.
IT IS AVAILABLE NOW and you can order right here!!!
(Or you can visit our shop to learn more about the different options we have available – tap here to learn more.)
xo
Erin

ORIGINAL SCHOOL CANCELLATION KIDS COOKING LESSON VIDEOS – Weeks 1 through 4!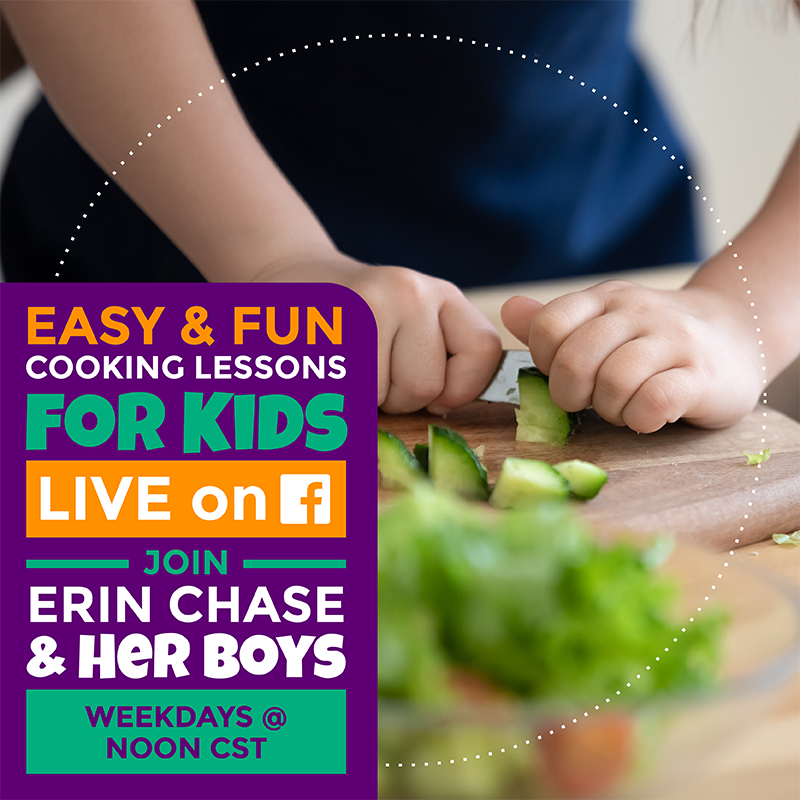 The perfect school cancellation activities for kids…learning to cook!
School cancelled?! WE GOT YOU!!
The boys and I will be hosting daily cooking lessons for kids at Noon CST on the $5 Dinners Facebook page.
If you can't watch live, the "replay" and video will stay here on the page and on our YouTube channel, as well as down below.
I know all of these cancellations are so stressful, and we want to help alleviate some of that for you with these educational and entertaining videos and lessons.
And by entertaining, I mean your kids can watch my kids call me cringe-y.
And by educational, I mean they will learn something useful and practical…and it's not about how to beat their favorite video games!
Towards the end of the Taco Soup lesson, I share an IMPORTANT word for parents and how to take your time teaching your kids to cook. Be sure to watch that part!
Happy cooking, and spending time together in the kitchen!!!
Week 1 Recipe List and Shopping List
If you'd like to cook along with us, here is the week 1 shopping and ingredient list.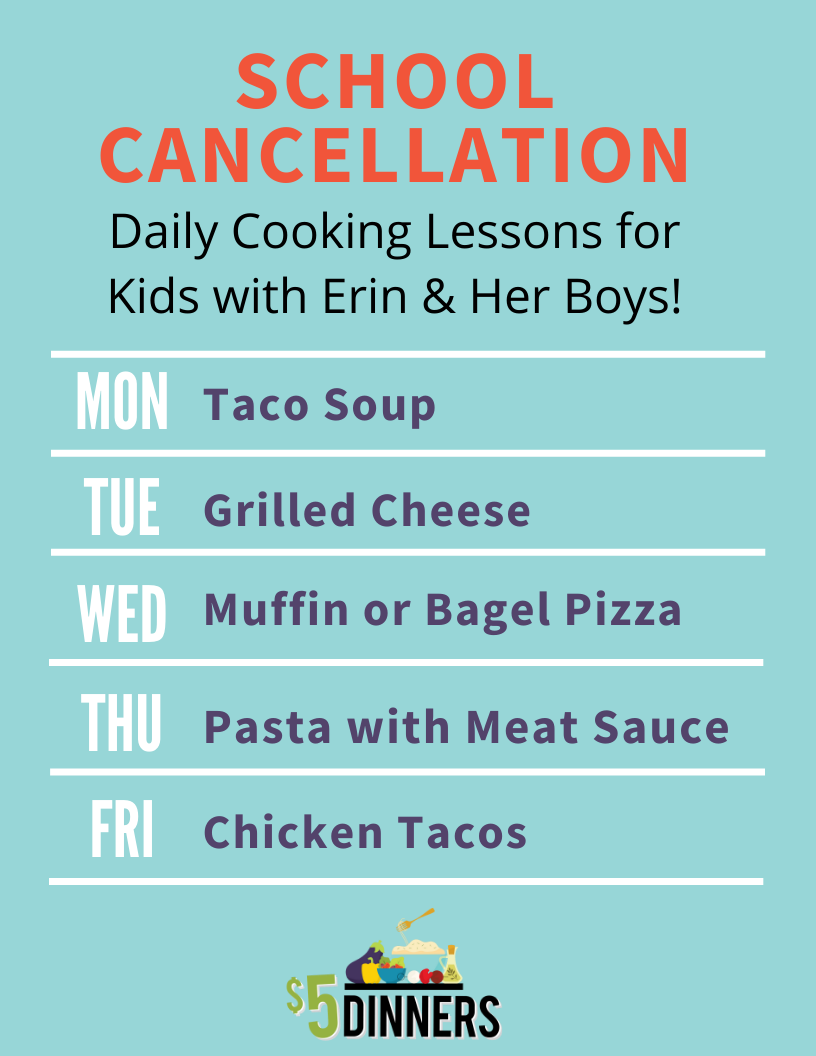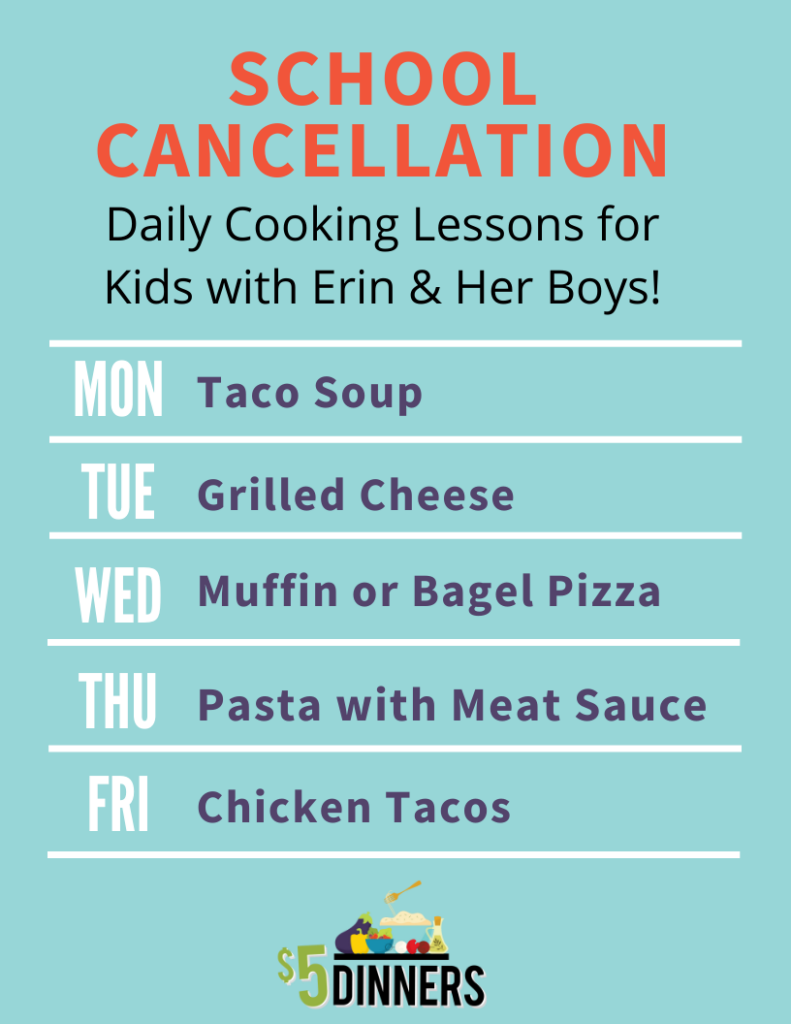 MORE MEAL PLANNING AND "LIFE IS CANCELLED FOR THE MOMENT" RESOURCES FOR YOU
We have added a new "Pantry Staples" friendly freezer meal plan from MyFreezEasy into our freebie library. You can access it when you join our free weekly email newsletter below 🙂
Taco Soup: Monday, March 16
Grilled Cheese: Tuesday, March 17
English Muffin or Bagel Pizzas: Wednesday, March 18
Pasta with Meat Sauce: Thursday, March 19
Shredded Chicken Tacos: Friday, March 20
WEEK 2 KIDS COOKING LESSONS
Potato Chip Chicken Tenders: Monday, March 23
Homemade Mac n Cheese: Tuesday, March 24
Chicken Quesadillas: Wednesday, March 25
Herb Crusted Pork Chops: Thursday, March 26
RECIPE: Coming soon on MyFreezEasy!
Cheesy Hamburger Pasta Skillet: Friday, March 27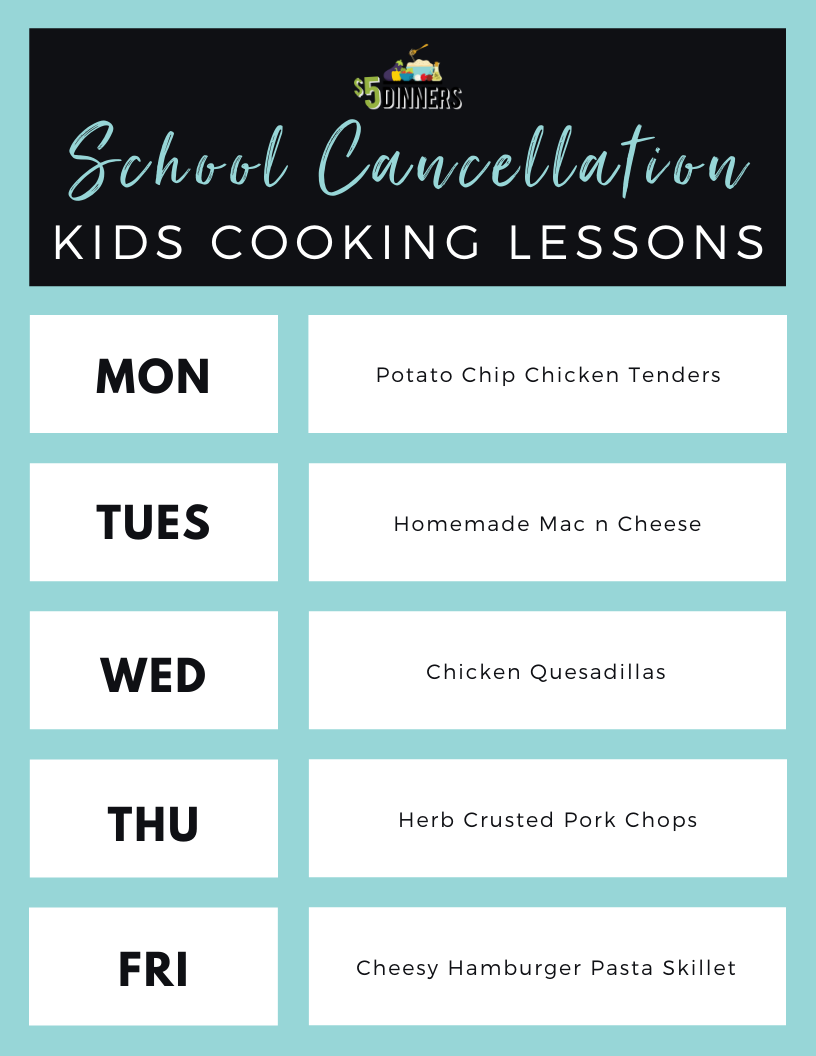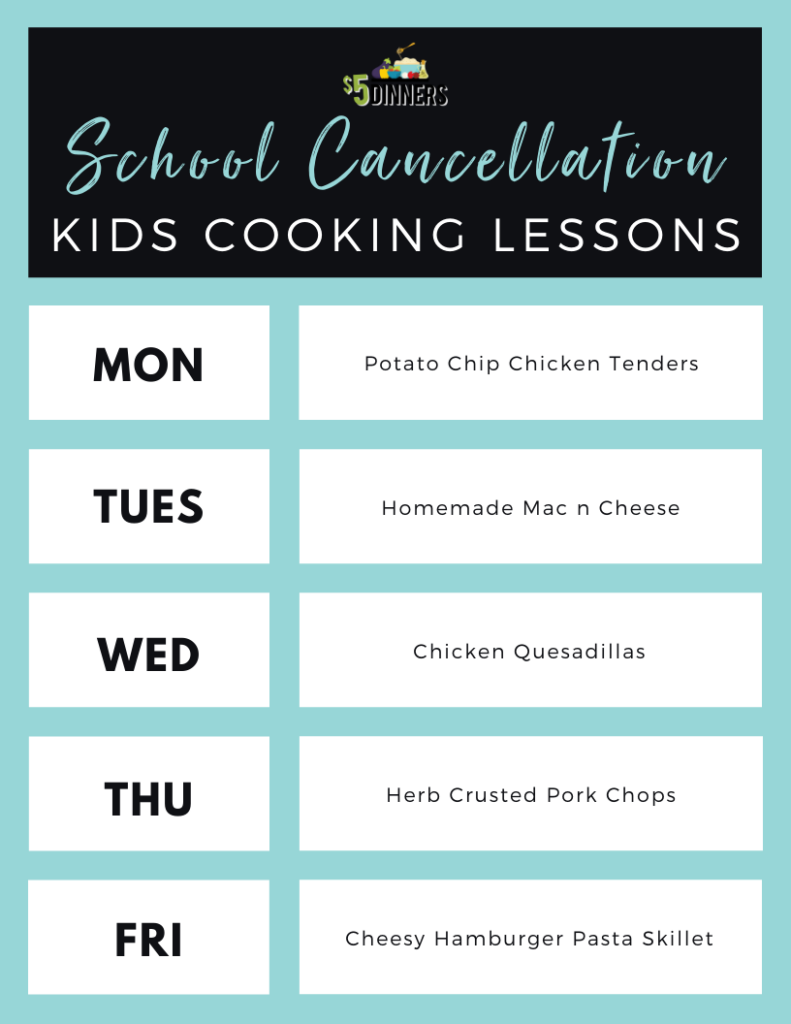 Kids Cooking Lessons – Week 2 Shopping List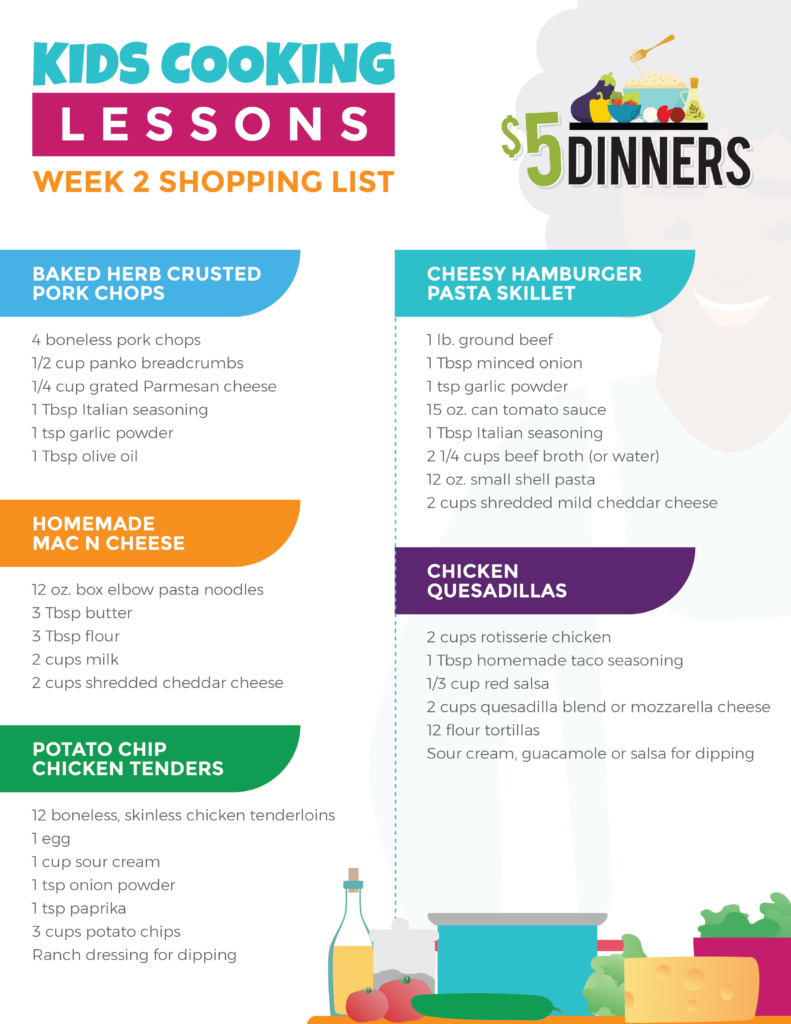 Week 3 Recipes and Shopping List
Week 3 is all about breakfasts! Let's learn how to cook a number of different meals for the most important meal of the day!
This week, Kids Cooking Lessons will air live at 4 pm CST. You can always watch the replays below and learn whenever you'd like.

Monday, April 6th – Scrambled Eggs and Bacon
Tuesday, April 7th – Amish Baked Oatmeal
Wednesday, April 8th – French Toast
Thursday, April 8th – Overnight Granola
Friday, April 10th – Sausage Quiche
Kids Cooking Lessons – Week 3 Shopping List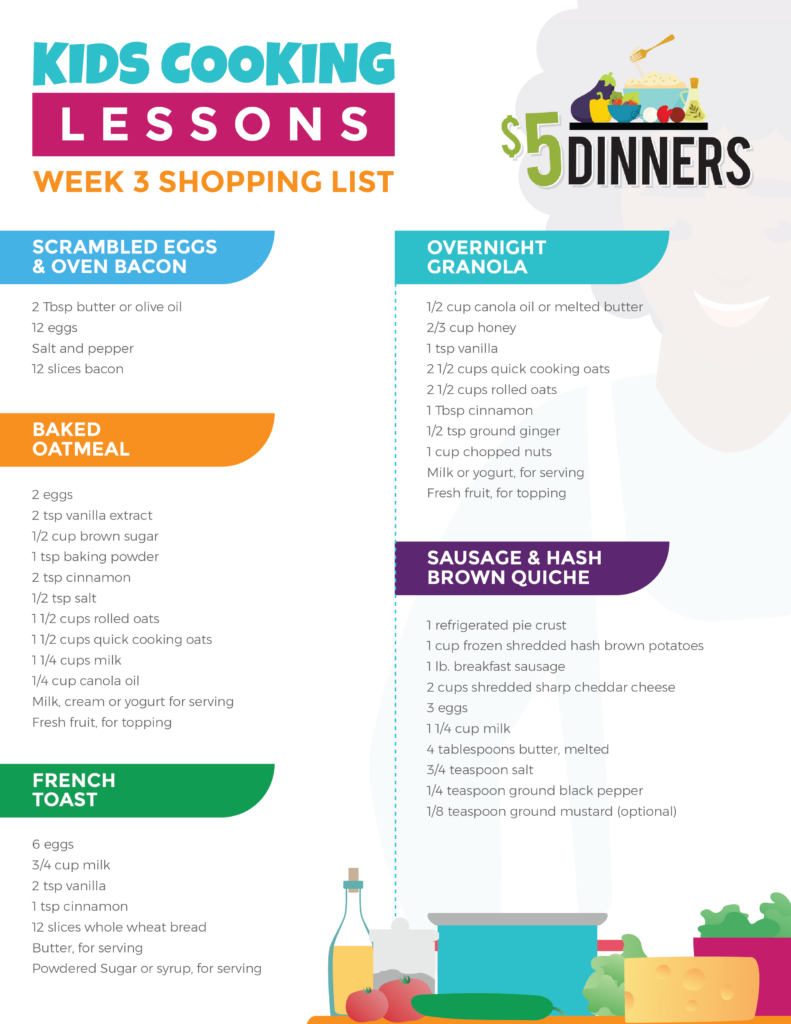 MORE SCHOOL CANCELLATION KIDS COOKING LESSONS!!!
Week 4 Lessons – Week of April 20th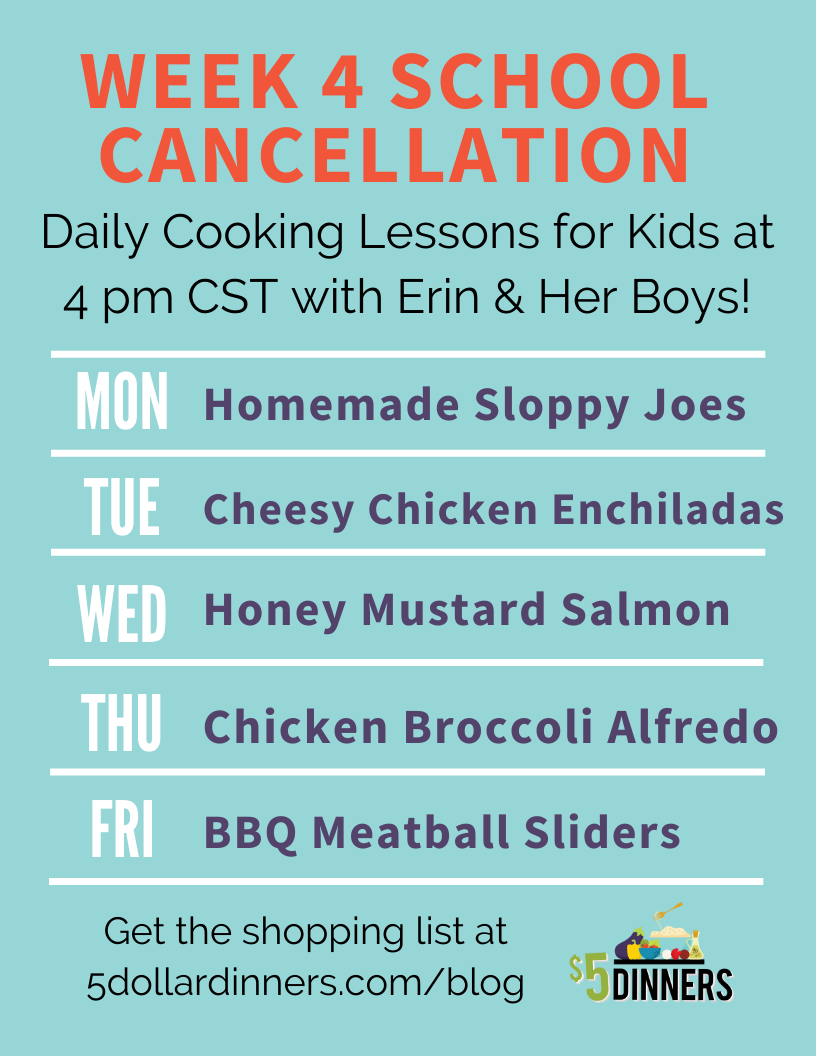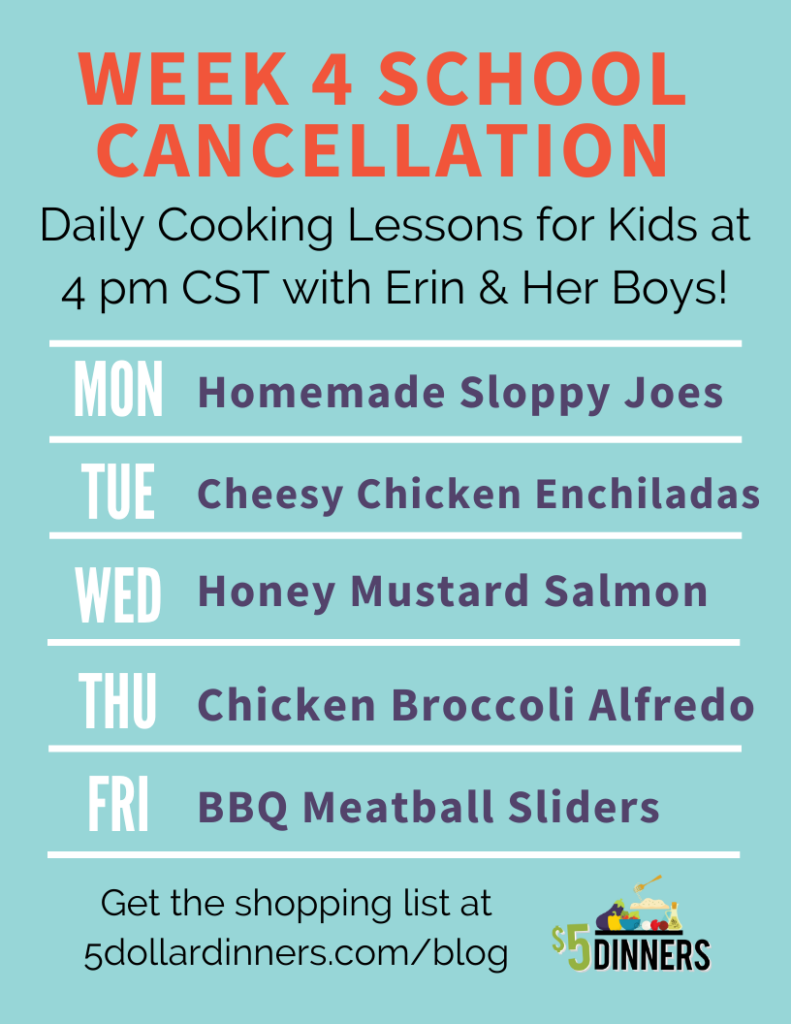 Monday, April 20th: Homemade Sloppy Joes
Tuesday, April 21st: Cheesy Chicken Enchiladas
Wednesday, April 22nd: Honey Mustard Salmon
Thursday, April 23rd: Chicken Broccoli Alfredo

Friday, April 24th: BBQ Meatball Sliders
Kids Cooking Lessons – Week 4 Shopping List