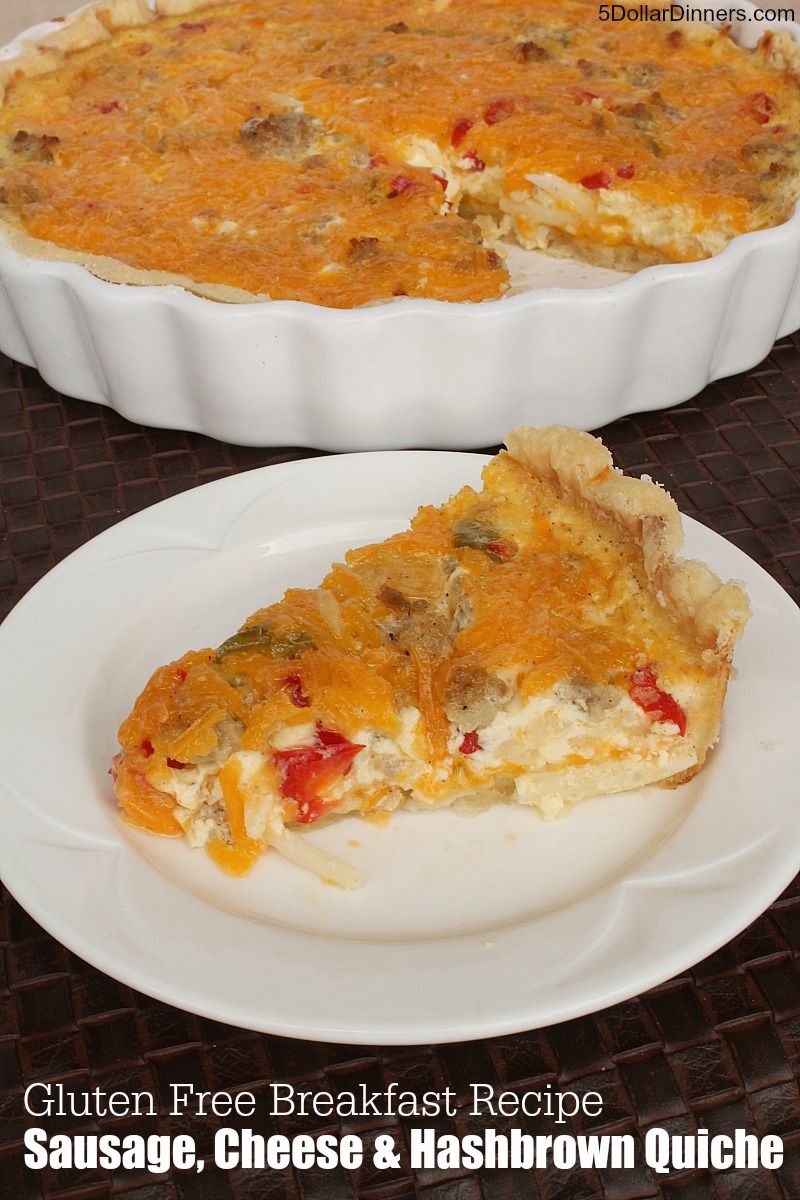 Brinner saves the day again! You know that I love breakfast for dinner (brinner) recipes and this is another new one that is on our permanent rotation.
It's super easy to make with a gluten free crust (or you can totally use a regular pie crust)! All of the ingredients are common items that you probably already have in your kitchen. And, it's a super flexible recipe, so if you want to use more or less onions and peppers or add a little kick with some spice or Tabasco sauce, then have fun!
Price tip: When I find sausage on sale for $2.50 or less then I stock up and throw them in the freezer. Or better yet, I'll go ahead and brown and crumble the sausage and then freeze it, so it's ready to use in a delicious breakfast recipe like this Sausage, Cheese and Hashbrown Quiche!
A delicious Gluten Free breakfast recipe!
Ingredients
1

gluten free pie crust

(bottom crust only - I use half a recipe of Bob's Red Mill Gluten Free Pie Crust Mix)

1

cup

frozen shredded hashbrown potatoes

3/4

cup

sausage, browned and crumbled

(make sure it's gluten free, as necessary!)

1/4

cup

onions and green or red bell peppers, diced

(I use a frozen blend. You can use fresh with the same great results.)

2

cups

shredded sharp cheddar cheese

3

eggs

1-1/4

cup

milk

4

Tbsp

butter, melted

3/4

tsp

salt

1/4

tsp

ground black pepper

1/8

tsp

ground mustard (optional)
Instructions
Prepare the pie crust as directed on the package. This will most likely include some time for the dough to chill. I used Bob's Red Mill Gluten Free Pie Crust mix and let it chill for 30 minutes. Use your judgement to chill long enough to make the crust easy to roll out without it falling apart.

Measure out the hashbrowns and frozen veggies and place them in a dish on the counter so that theyll begin to come to room temperature.

Heat oven to 350 degrees.

To prepare the 9-inch pie pan or straight-sided oven proof dish, spray the bottom and sides with non-stick cooking spray.

Roll out the pie crust to about about 12 inches round and lay it in the pan. Press it gently into the sides and trim the part thats hanging over. I usually just glide the rolling pin over the top edge of the pan. This trims it nice and evenly.

Cover the pie crust with parchment paper and place beans or weights on the parchment making sure it completely covers the bottom from edge to edge. Bake for 20 minutes. Remove the weights and bake for another 15 minutes until the edges begin to brown slightly. Set this on a cooling rack for 5 minutes before proceeding with the filling.

While the crust is baking, you can brown and crumble the sausage and dice the onions and peppers, if you are using fresh.

Sprinkle half the cheese over the bottom of the pie crust. Top with hashbrowns, crumbled sausage, onions, and bell peppers. Top with the other half of the cheese.

In a separate small bowl, mix the eggs, milk, butter, and salt. Pour into the pie pan.

Bake at 350 for 40 - 45 minutes until the edges of the filling (about an inch from the crust) are set, firm, and do not move when lightly shaken. The center will still be wobbly. Cool for 30 minutes. The filling will continue to firm up.

Serve warm.