I so wish I'd doubled this recipe while I was making it. Tripled, or quadrupled even!
These are so scrumptious…perfect for the fall season.
It's really simple…you just add some pumpkin puree and spices to the egg-milk mixture.
Then make French toast as you would.
See…easy, peasy…
The eggs, milk, pumpkin and spices.
Whisked.
It will be thick. Thicker than a "regular" French toast mixture.
Don't fret.
They will cook just fine.
Cook in skillet or on griddle.
Greased.
Well greased.
Grease in between batches too.
This is very important, as the denser egg mixture has more of a tendency to stick!
The flipped side with some drizzles of maple syrup.
With the leftovers, I cut them into "french toast sticks" and froze them.
They freeze beautifully and the kids got to enjoy them for lunch a few days later!
**The first 1 minute of this video had no sound (doh!), so fast forward a smidge to when the sound kicks on!
Pumpkin Pie French Toast

Yield – 4 servings

Preparation Time – 5 minutes

Cooking Time – 15 minutes

Ingredients

12 slices whole wheat sandwich bread
4 eggs
3/4 cup milk
3/4 cup canned pumpkin
Butter and syrup for serving
Fresh fruit or smoothie as side

Directions

Set out the bread for dipping.
In a medium mixing bowl, whisk together the eggs, milk, pumpkin and pie spice until smooth.
Dip each side of the bread and cook on a hot, greased griddle or skillet. Flip after 1 – 2 minutes.
Once all are cooked, serve with butter and maple. And a side of fresh fruit.
If freezing, let cool completely to reduce freezer burn.
Enjoy this perfect fall "breakfast for dinner"!

Cost $4.15
Want more great breakfast recipes from Erin?!?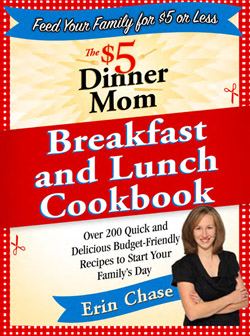 The $5 Dinner Mom Breakfast and Lunch Cookbook
With the same fool proof system she used to cut your weekly food budget and put a healthy and delicious $5 meal on the dinner table for your family, she takes it one step further with "The $5 Dollar Dinner Mom Does Breakfast and Lunch". Erin walks you through the time and money savings of batch cooking and making your own convenience foods.