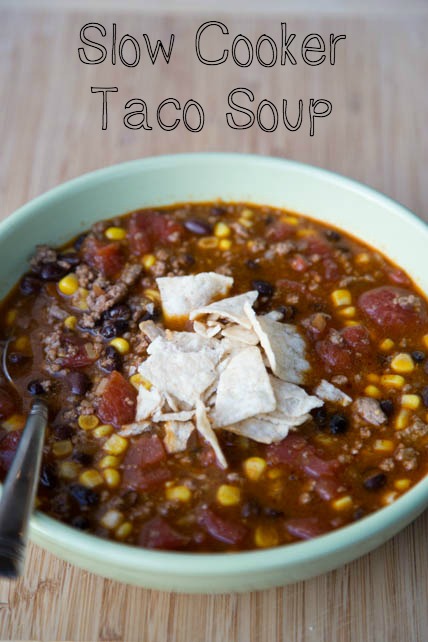 This recipe is part of our 6th Costco Meal Plan: 20 Slow Cooker Freezer Packs from Costco for $150!
A classic right here. An easy, no brainer, load and go kinda recipe. A family favorite. One we've been enjoying for years! This particular version is the one I made for the 20 Meals from Costco for $150 meal plan. Below are a few ideas and notes about this recipe and the plan.
Corn – Use frozen or canned – whichever you purchase from the shopping list.
Broth – I wrote in 2-3 cups of broth for this, but you'll need to make depending on how soupy you want it and how much steam your slow cooker releases. I make closer to the 2 cup range because my boys prefer to eat this 'chunky' as opposed to soupy. And my slow cooker doesn't let too much steam out. Feel free to adjust to your preferences and liking.
Box vs. Bouillon – it's much cheaper to go the bouillon route and super simple to add to recipes like this one. If you prefer the box, that works too! See note in the directions about whether or not to add the broth to the freezer bag.
Gluten Free Modifications: None needed! Already GF!
Whole 30 Modifications: Omit corn and black beans. Replace with chopped carrots and parsnips.
Our family eats this as a one dish dinner…the boys have chips on the side, or use them to scoop up their soup. Feel free to add another side of veggies, like sliced avocados!
Note: I've written the recipe below to be based on the shopping list for the 6th plan in the 20 Meals from Costco for $150 series.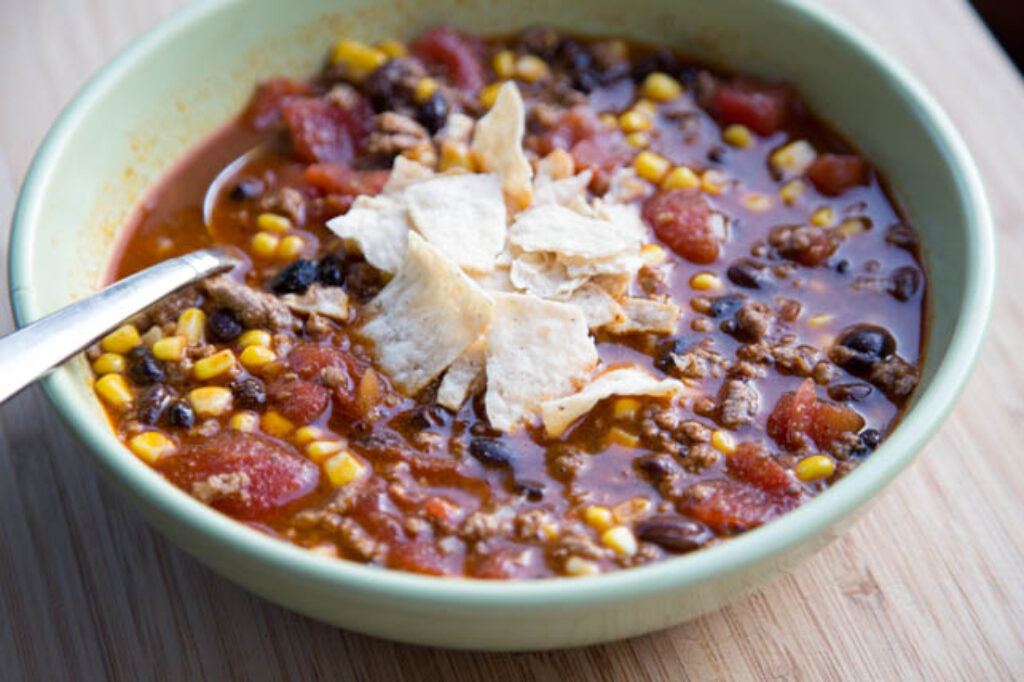 A classic right here. An easy, no brainer, load-and-go kinda recipe.
Ingredients
1

lb.

ground beef

15

oz

can black beans, drained and rinsed

15

oz

can diced tomatoes, undrained

15

oz

can corn (or 2 cups frozen corn)

2

Tbsp

chili powder

1

tsp

ground cumin

1

tsp

garlic powder

1

tsp

onion powder

2-3

cups

chicken broth (from bouillon or box)

Salt and pepper to taste

Optional, top with crushed tortilla chips
Instructions
Brown and drain the ground beef.

Add all the ingredients to the slow cooker.

Set slow cooker on low and cook for 8 hours, or high for 6 hours. If cooking from partially frozen, you'll need to cook on low for 8 to 10 hours, depending on how frozen the pack is when you start cooking it.
Freezer Meal Instructions
To pack into gallon size freezer baggie: Label. Then, follow the same directions in the first 2 bullets.

Let the browned ground beef cool for a few minutes before adding it to the bag.

If you wish to leave the broth out, then freeze without the broth and make a note on the bag that you need to add the broth. Place in the fridge to let the ground beef cool completely before adding to the freezer. (This will help prevent freezer burn.)

Remove as much air as you can and seal. Freeze up to 6 months in your fridge freezer or 12 months in a deep freezer.
To Thaw Freezer Meal
To thaw, place the bags in the fridge overnight. Or quick thaw in a bowl of warm water.
Best Gadgets for Weeknight Dinners