Granola is a fantastic and tasty breakfast…but I prefer to make it myself for a couple reasons. It's cheaper. I can control the flavor
I'm gonna share 2 secrets with you today that will help you make THE PERFECT GRANOLA. (I'm not exaggerating. I'm also not shouting, I'm just really excited because it really is the perfect stuff!) These are 2 tips that I've never shared on the website before…only in my cookbook or during news segments 🙂
First, let's talk about the types of oats that you need to use when making granola. I have found in making LOTS of granola batches, that you get the best 'chunks' and 'crunches' when you use half quick cooking oats and half rolled oats. The smaller quick cooking oats 'nestle' in with the bigger rolled oats and it just bakes together perfectly! (Genius, right?)
Second tip is this…don't bake it for 30 minutes and toss and turn it a couple times. That's too high maintenance and you STILL get the darkened and sometimes burned edges around the sides. This overnight method will keep your granola for browning too much or burning around the edge of the pan. AND you don't have to turn and toss the granola while it's cooking.
(Please read the directions closely to see how this works!)
Now, onto the process…
So this is what it looks like before you bake it. See how I pressed the oats down into a thin-ish layer. I used the back of my plastic spatula to make it as even as possible.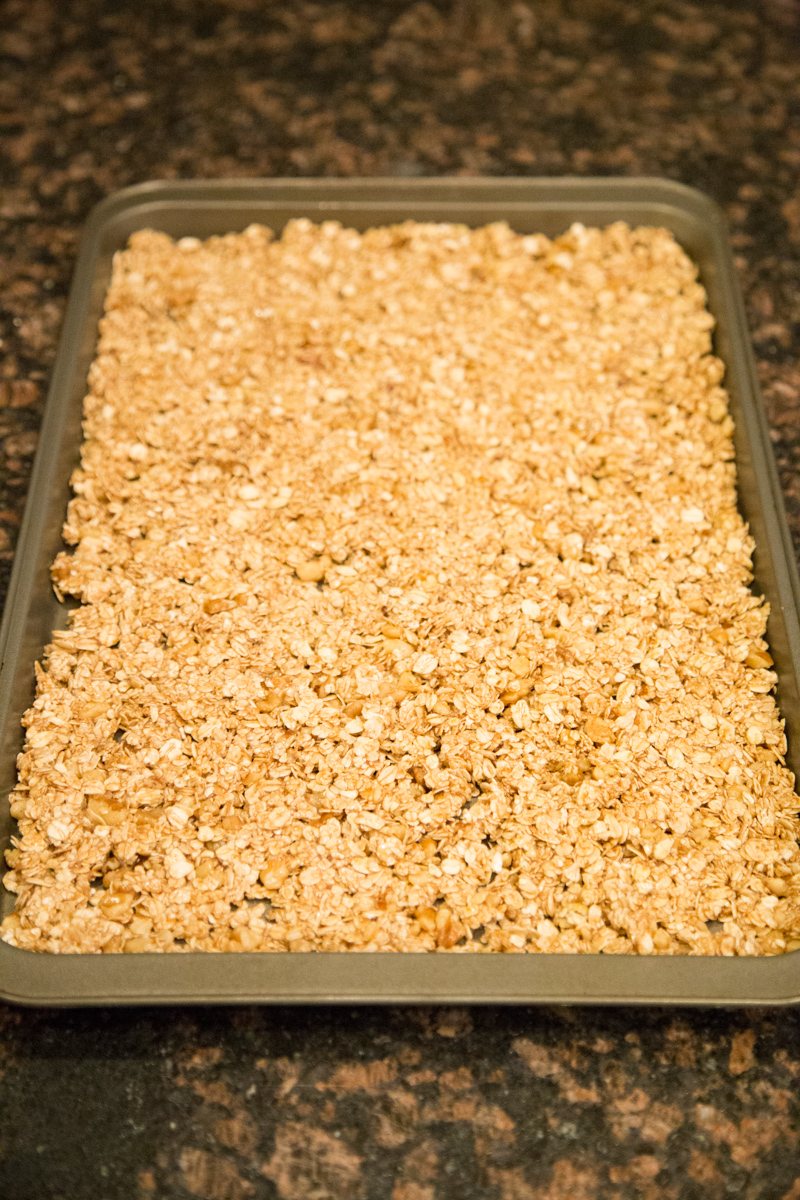 This is what it looked like the next morning. (Sorry about the bad lighting in the photo…it was still dark outside!)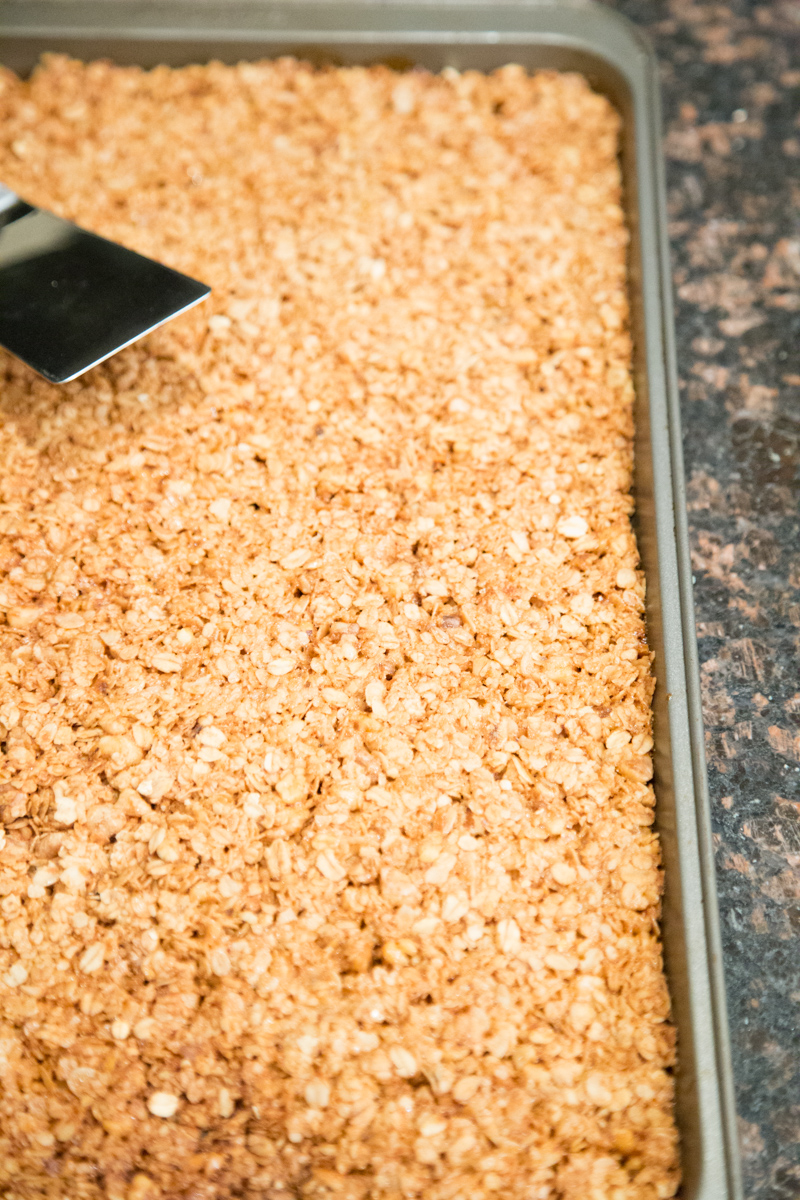 SEE!!! No dark, burned edges!!!!!
I used my metal spatula to 'scoop' out the granola and break it into chunks.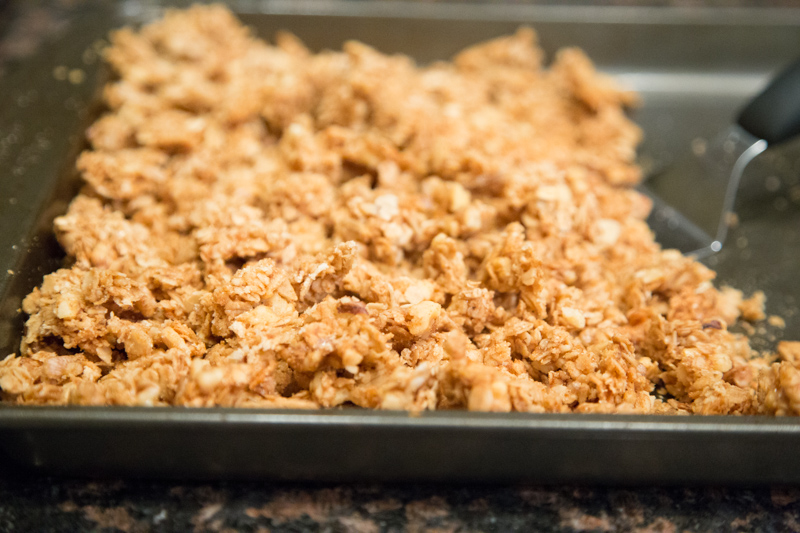 And this kid…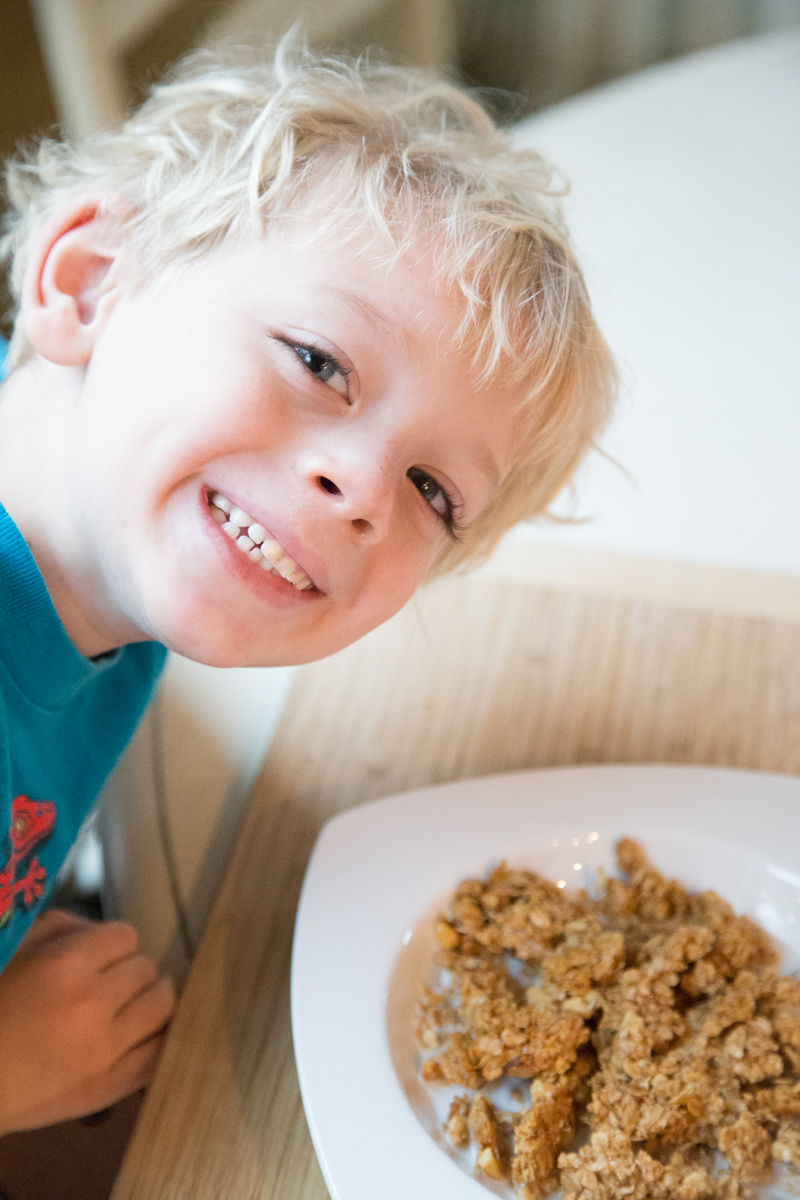 …this cute kid just wanted to say hi. Well, actually…he really wanted to photobomb the photo. And say hi. Which he succeeded in doing!
He downed this bowl of granola right after I snapped his photobomb, and then asked for more!
I hope my tips and tricks and this new cooking method change the way you make granola forever 🙂
P.S. Easy to make a gluten free version of this with the certified GF rolled oats and certified GF quick cooking oats!
Homemade granola is much cheaper and you get to determine the flavors!
Ingredients
1/2

cup

oil or melted butter

2/3

cup

honey

1

tsp

vanilla

(or use homemade vanilla extract!)

2 1/2

cups

quick cooking oats

2 1/2

cups

rolled oats

1

Tbsp

cinnamon

1/2

tsp

ground ginger

1

cup

chopped nuts, like walnuts or almonds

Milk or yogurt, for serving

Fresh fruit, on the side or mixed in
Instructions
Preheat the oven to 325. Spray 2 rimmed cookie sheets with non-stick cooking spray.

In a small mixing bowl, whisk together the melted butter or oil,honey and vanilla.

In a larger mixing bowl, toss together the quick cooking oats, rolled oats, cinnamon, ginger and chopped nuts.

Pour the honey mixture over the oat mixture and mix together.

Spread the granola onto the prepared cooking sheets and press to cover the bottom. If there is a little empty space on the cookie sheet, that's okay. You just want the granola not to be too thick in places and even all around, so it cooks evenly.

Place in the preheated oven and bake for 10 minutes.

Then turn off the oven after 10 minutes and let the granola finish cooking as the oven cools down. It's ready to eat the next morning. Use a metal spatula to loosen and break the granola into chunks for serving.

Serve Overnight Granola with milk or yogurt and some fresh fruit.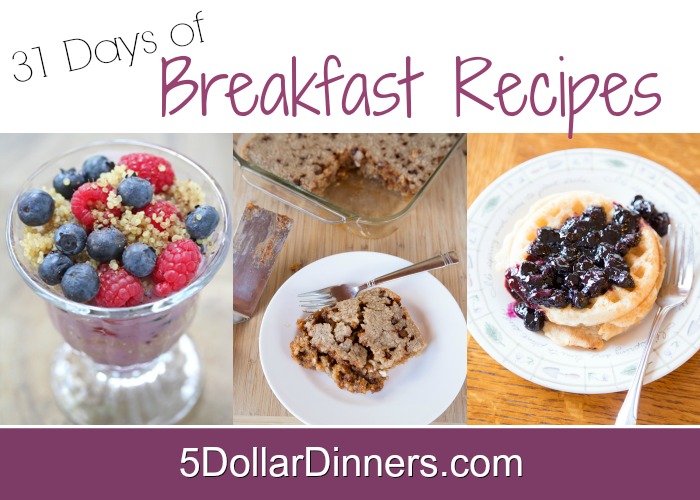 Other "31 Days of" Series to check out:
Disclaimer: As an Amazon Associate, I earn commissions on qualifying purchases. Reviews, opinions are my own.