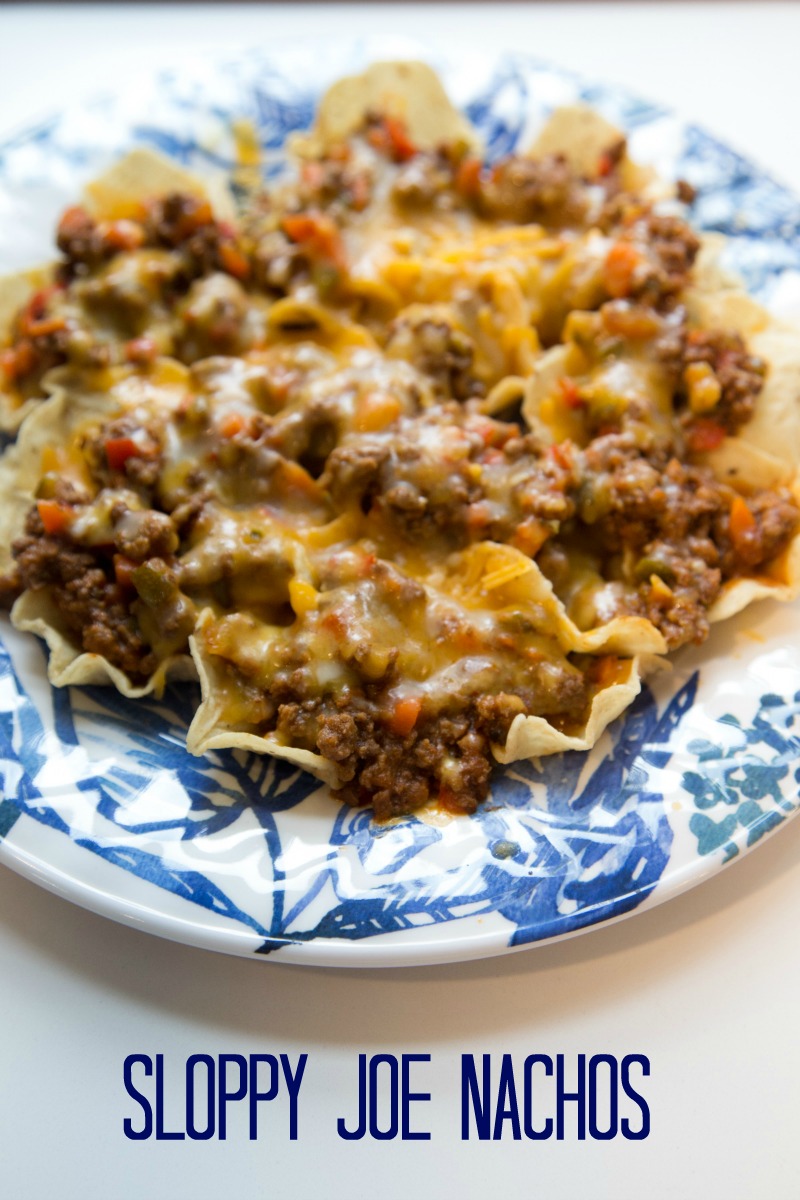 Really, Erin?
Yes….trust me!
This was one of those "happy accident meals" and I had to share this with you.
This past summer, our family spent some time at our family's lake cabin in Minnesota. I had a crash course in "country living" and being far away from the grocery store. I had to adjust my meal planning habits a little to be better prepared for the "long drive into town." I learned quickly that you HAD to be prepared – or you'd end up taking 2 hours out of your day to make a trip to the 'big grocery store.'
In an attempt to avoid said trip, these nachos ended up on the table.
I found some ground beef in the freezer and a can of sloppy joe meat in the pantry. And since there was an ENDLESS supply of chips and salsa at the cabin (I'm pretty sure this was my mom's doing and not mine!) and NO BUNS, we ended up having these for dinner and they WERE SO GOOD. We served them with mild shredded cheddar (because that's what we had), but I think they would be better with a sharp cheddar, or a white sharp cheddar!
This is our "happy accident meal" from the summer and I hope you enjoy this fun and tasty twist on sloppy joes!
Ingredients
1

lb.

ground beef

2

Tbsp

minced onion

1

tsp

garlic powder

15

oz

can sloppy joe sauce

1

Tbsp

ground cumin

1

bag

tortilla chips

2

cups

shredded cheese (cheddar, sharp cheddar, Monterrey Jack)

Garnish: sour cream

Side: fruit or salad
Instructions
Preheat oven to 350 F.

Open the can of sloppy joe sauce.

In a large skillet, brown the ground beef with the minced onion and garlic powder. Drain and return to the skillet. Stir in the sloppy joe sauce and cumin. Bring to bubbling over medium low heat to allow flavors to infuse.

Assemble the nachos on large, rimmed baking sheet. Add chips, then sloppy joe sauce, then shredded cheese sprinkled evenly on top. Bake in the preheated oven for 10 to 15 minutes, or until cheese has melted. Garnish with sour cream.

Prepare fruit.

Serve Sloppy Joe Nachos with some fresh fruit or salad on the side!