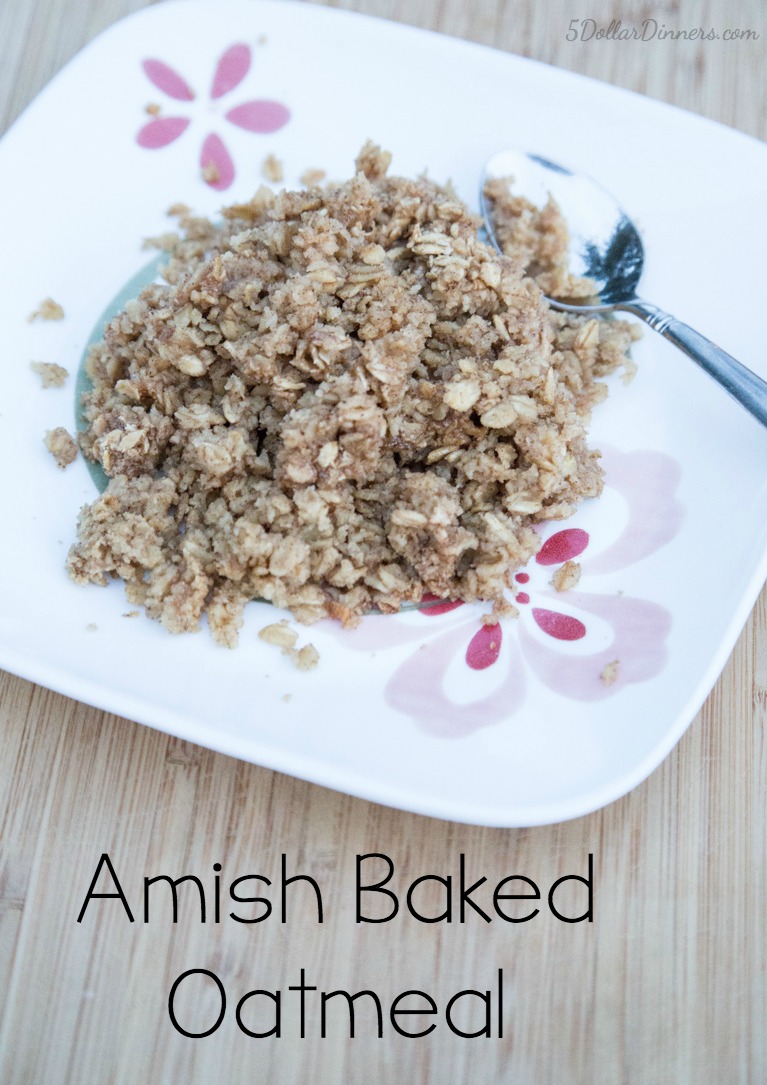 Yes, I realize this is the gazillionth baked oatmeal recipe that I've shared this month as part of the 31 Days of Breakfasts series. AND…I have another one to share on the Tuesday! At the rate we're going with baked oatmeal, I might be able to apply for a world record…"Food blog with most # of baked oatmeal recipes" – lol! Surely that's a valid category! Ok, so….I'm getting a little off track here…
If you've never had baked oatmeal my friend, you really need to try it. It's part-cake, part-oatmeal. It's more cake that oatmeal, and it's not overly sweet (usually!). It's nothing like oatmeal if you don't like the consistency of oatmeal. I always add a little flour to mine to make it more cake-like. It slices and serves like cake. And does a fantastic job of soaking up any milk or cream that you pour into the bowl with it.
This Amish Baked Oatmeal doesn't have any flour in it, so it will be a bit more crumbly than my regular baked oatmeals. You can totally serve it on a plate. (Like pictured above.) And you can serve it in a bowl, mash it up and pour milk or yogurt over the top. And of course, you can make it a 'one-dish breakfast' by adding some berries or sliced fruit on top!
YUMMERZ!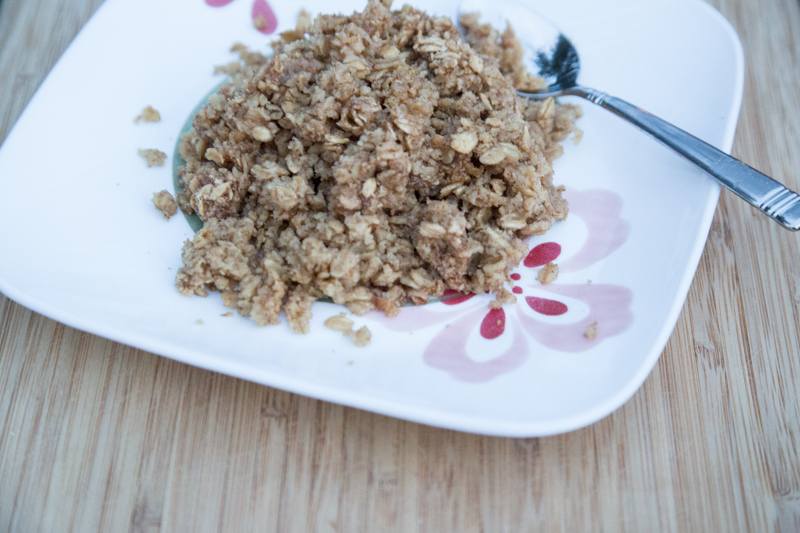 P.S. You can totally use certified GF oats to make this GF too!
Here's to happier, healthier and tastier mornings! *clinking orange juice glasses*
A slight twist on traditional baked oatmeal!
Ingredients
2

eggs

2

tsp

vanilla extract(or use homemade vanilla extract!)

1/2

cup

brown sugar

1

tsp

baking powder

2

tsp

cinnamon

1/2

tsp

salt

1 1/2

cups

rolled oats

1 1/2

cups

quick cooking oats

1 1/4

cups

milk

1/4

cup

canola oil

Milk, cream or yogurt for serving

Fresh fruit, topping
Instructions
Preheat the oven to 350. Lightly grease an 8x8-inch glass baking dish with non-stick cooking spray.

In a large mixing bowl, whisk together the eggs, vanilla and brown sugar. Add the baking powder, cinnamon, salt and both types of oats. (Note: If you want to use all of one type of oat, that's totally fine! I just like to mix mine up with this recipe and when making granolas!) Pour in the milk and oil and whisk well. Batter will be slightly 'loose.' Pour into the prepared baking dish and bake for 30 minutes, or until toothpick comes out clean in the middle.

Let cool slightly before serving.

Serve Amish Baked Oatmeal with milk, cream or yogurt and some fresh fruit.
Disclaimer: As an Amazon Associate, I earn commissions on qualifying purchases. Reviews, opinions are my own.