You likely have the ingredients needed to make this homemade sloppy joe mix and sauce in your fridge and pantry!
We make A LOT of sloppy joe type meals around our house and over time, I've developed this delicious homemade mix of spices to use to make my own homemade sloppy joe sauce.
It's a mix of common pantry spices, that get stirred in with ground beef, ground turkey, or ground chicken, along with a few other ingredients to complete the sauce.
This combination of dry spice with wet ingredients plus a can of tomato sauce makes for the perfect homemade sloppy joe sauce.
Check out the Sloppy Joe Mix Recipe and meal ideas below

We love Sloppy Joes (and Janes) at our house. We love them slider style (which is actually easier for the kids!), cheesesteak style, meatless style, as well as the with the store bought can and the DIY sauce. Regardless of how they are made, we love them.
I find in the summer months that they are an easy go to recipe for us…the kids love them, they are a perfect dinner after an afternoon at the pool (and the kids are s.t.a.r.v.i.n.g.), plus I can regularly find burger buns or slider/dinner rolls on sale during the summer months too! I'll grab a few extra bags to stash into the freezer. Also, cooked sloppy joe meat freezes really well…so even if we get home from the pool at 6 pm, I can have dinner on the table 20 minutes later!
(How? Quick thaw the sloppy joe meat, warm it in the skillet or microwave, serve!)
If I don't have a can of sauce in the pantry, this is my default homemade sloppy joe mix. It's perfectly smoky (thanks to the cumin and smoked paprika), perfectly tangy and perfectly sweet. Add onions, green peppers, red peppers, yellow peppers, or orange peppers if you have them on hand, or want to sneak in a few veggies.
How to Make Homemade Sloppy Joe Mix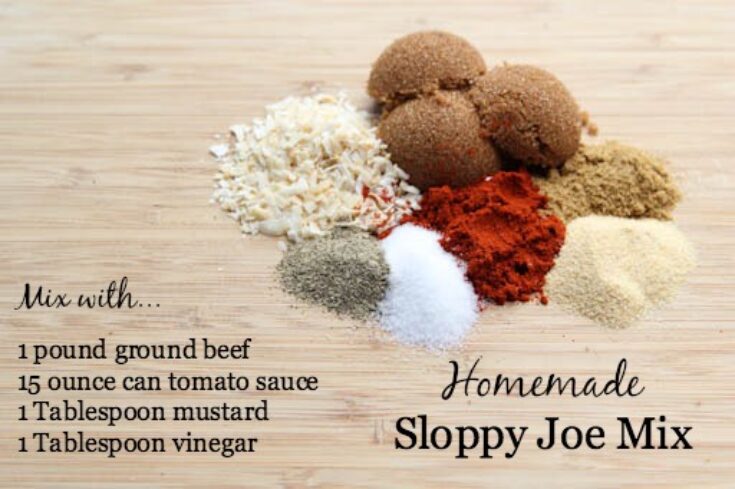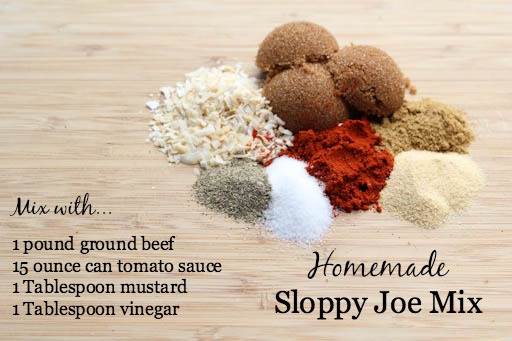 Check out this recipe, give it a whirl (chances are you have all the ingredients in your pantry…no need to run to the store!) and let me know what you think!
(Note: If you want to mix up a large batch of this, check multiply the top section of ingredients by however many batches you wish to make. Combine and mix well, then store in a resealable, airtight plastic container. When ready to use, scoop out 1/4 cup plus 1 tsp of the mixture and mix with the ingredients listed in the second section.)
Best Sloppy Joe Mix Recipes on $5 Dinners
You could use this homemade sloppy joe mix and homemade sloppy joe sauce in any of these recipes on $5 Dinners!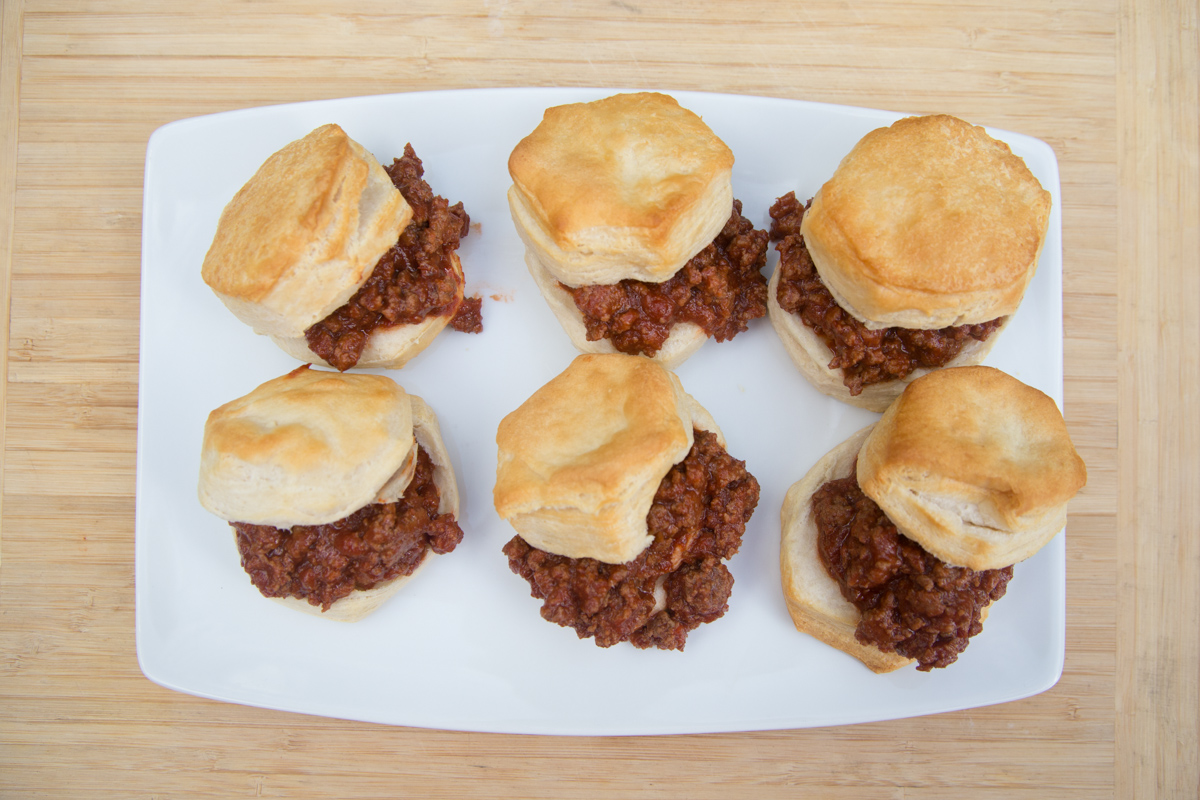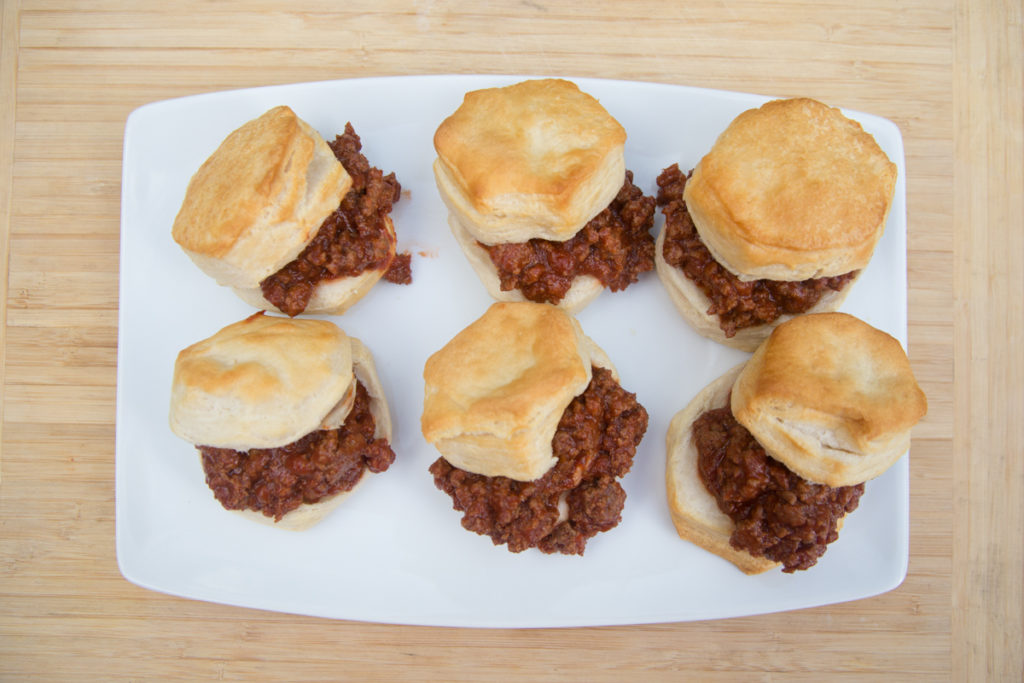 This homemade sloppy joe mix is easier to make than you think - you probably already have most of the ingredients you need in your fridge or pantry!
Ingredients
3

Tbsp

brown sugar

1

Tbsp

minced onion

1

Tbsp

smoked paprika (regular paprika works too!)

1

tsp

ground cumin

1

tsp

garlic powder

1

tsp

salt

1

tsp

pepper

MIX WITH...

1

lb.

ground beef

15

oz.

can tomato sauce, plus 1/2 cans worth of water

1

Tbsp

mustard

2 1/2

Tbsp

cider vinegar
Instructions
In a small bowl, combine the brown sugar, minced onion, ground cumin, smoked paprika, garlic powder, salt and pepper.

Brown the ground beef, then stir in the tomato sauce plus about 1/2 cans worth of water (more if you plan on simmering it a long time), the mustard and cider vinegar. Add in the spices mixture and stir into the sauce. Let simmer for 5-10 minutes, giving time for the flavors and spices to infuse into the sauce.

Serve Sloppy Joes on buns (or over rice) with favorite side dishes.