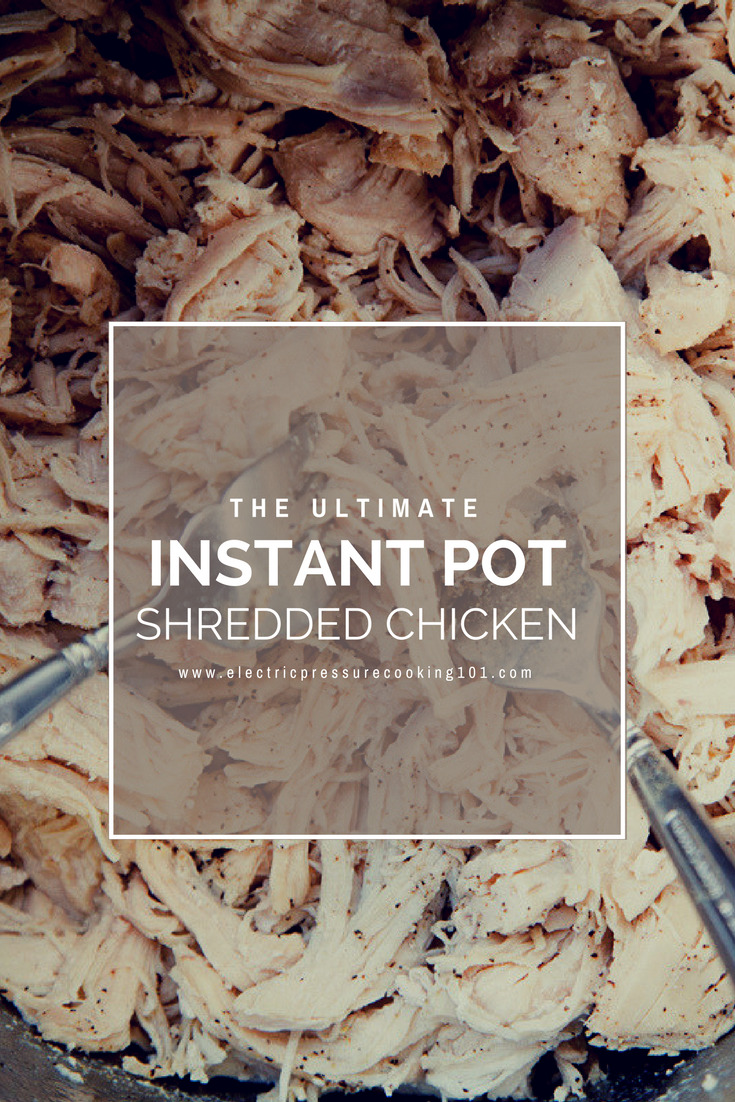 Yes, the Ultimate. THE ULTIMATE.
Today, I'm sharing my ultimate shredded chicken recipe with you.
Why?
Because I need to have shredded chicken on hand. I like to have shredded chicken on hand. And I NEED to have shredded chicken on hand.
Reason being…we love meals that call for shredded chicken, but I NEED for it to be made "ahead of time." I need to have it ready to go.
So I cook it in larger batches, and freeze it in 2-4 cup portions (depending on what I might be using it for.) Then, when it's time to make a chicken chili, or roll up enchiladas, or throw together a quick 'stack-ee-s' kind of meal, the chicken is ready to go.
Yes, having this 'little step' (it's actually a big step, that takes up quite a bit of time) done in advance makes a HUGE difference on a frantic weeknight.
Generally, I'll make a larger batch of this during my afternoon "time block," when I need to re-stock the freezer with shredded chicken.
It's the easiest and most 'hands off' to do in the Instant Pot. I've got an important secret to share about this…an ingredient that is essential to help cut that plain chicken-y flavor. Read the recipe closely 😉 Also, I like to mix white and dark meat – but you could absolutely use all white or all dark meat!
And tomorrow, I'll share 10 ways to 'flavor-ize' this shredded chicken!
If you have no idea what an Instant Pot is, or how to use yours to the fullest, I'd highly recommend signing up for my new EPC101 class and joining our "hotline" Facebook group!
Ingredients
4

small

boneless, skinless chicken breasts

8

boneless, skinless chicken thighs

1

cup

water

1/2

cup

chicken stock

1

Tbsp

vinegar

Salt and pepper
Instructions
Add the chicken breasts, chicken thighs, water, chicken stock and vinegar to the Instant Pot or EPC insert.

Set to Sealing.

Manual, High for 15 minutes.

(If cooking from partially frozen or frozen, cook on Manual, High for 22-25 minutes.)

Quick Release.

Shred with 2 forks, strain off excess liquid. Season with salt and pepper to taste.

If you plan to freeze it, let it cool completely before adding to baggies with bag holders and freezing.