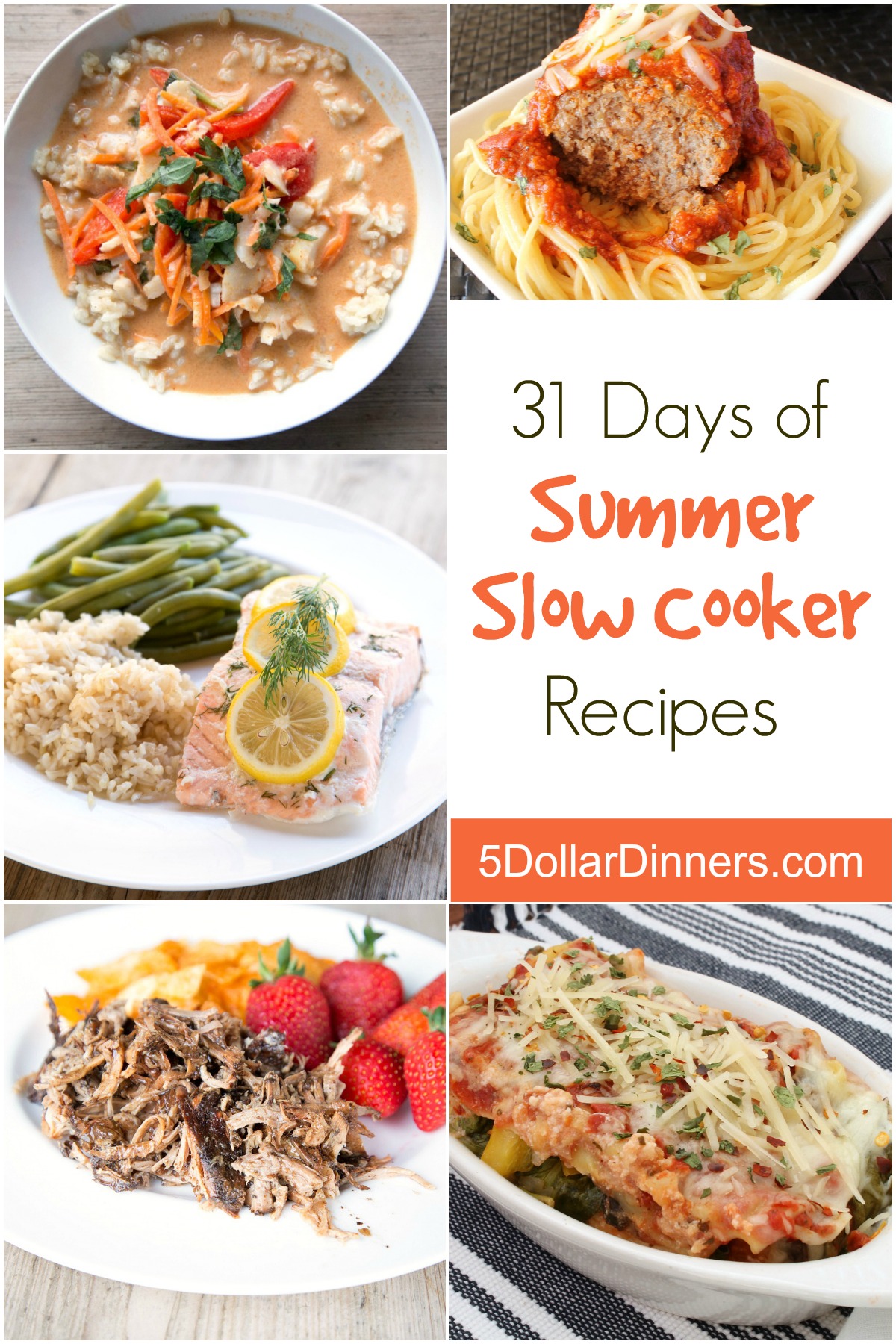 Here we are in another month with 31 days…and we're ready again with another 31 Days series!
The theme for May 2016 is Summer Slow Cooker Recipes! We have compiled an amazing list of recipes – both brand new to the website and some great ones that we've shared in the past.
The reason I love to slow cook in the summer is two-fold. First, the slow cooker doesn't add much heat to your kitchen – like a skillet/stovetop meal or oven meal would. It does add a teensy, tiny bit…and if you're like me trying to converse every fraction of a degree, I have an idea for you. (Read on.)
Second, we are often spend the afternoon at the pool…mainly for the boys to burn off energy and me to take a breather (Yes, the water is super refreshing to me, even while tracking 4 busy boys!) While I'll treat us all to a dinner at the pool grill once or twice throughout the summer, it's obviously much cheaper for us to eat at home. So just like during the busy weeknights during the school year, I use the slow cooker to make dinner easier after we get back from the pool. And if it's not the slow cooker, then it's a simple sandwich and salad kind of dinner!
So about that heating up the kitchen thing…
I live in San Antonio, TX, where it's usually 100 degrees & 100% humidity throughout the summer. We keep the house fairly warm to conserve energy and save money, and run the A/C so the house isn't crazy hot but really just to cut the humidity down. (We lived overseas for 6 years without air conditioning, so we just tough it out!)
You can see why every degree counts for us. Even a half of a degree. All this to say…put your slow cooker out on the porch. (If it's safe of course!)
I have a table out of the covered deck in the backyard with an outlet nearby…boom, I can see the slow cooker out the window and I don't have to heat up the kitchen. Also, we don't have any pesky wildlife nearby who would be interested in this strange pot of delicious smells brewing within…so if you live on a farm, or out in the country, putting your slow cooker out on the patio, back deck or porch might not be a good idea 😉
Alright, here's where to pin recipes from to your boards. And my favorite slow cookers and accessories, and then the listing of the recipes after that! Happy summer-slow-cooking my friend!
xoxo
Erin
Pin all of our 31 Days of Summer Slow Cooker Recipes here!
Erin's Personal Recommendations for Slow Cooker Supplies:
The 31 Summer Slow Cooker Recipes (with new ones added each day in May):
Other "31 Days of" Series to check out:
Disclaimer: As an Amazon Associate, I earn commissions on qualifying purchases. Reviews, opinions are my own.