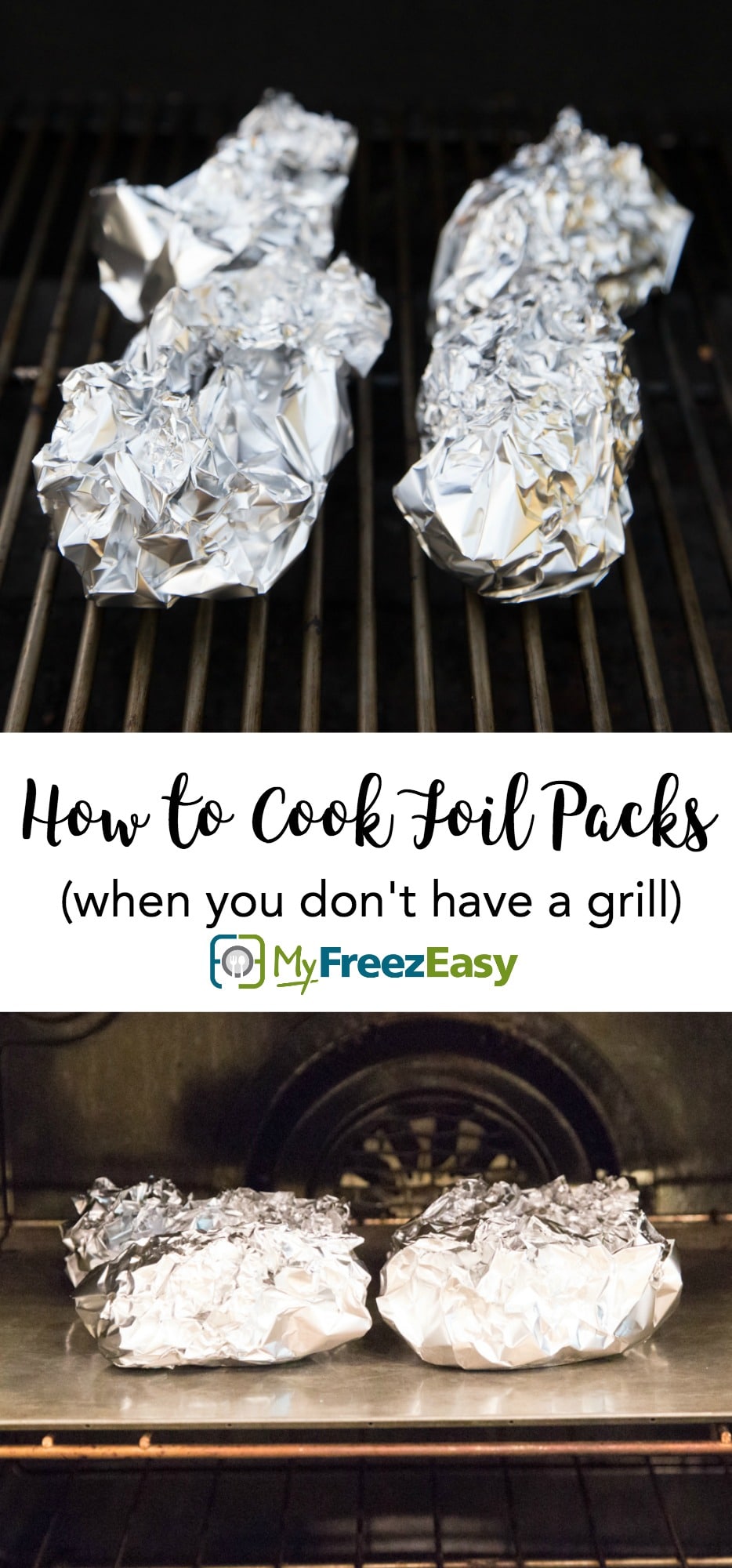 My favorite "freezer to grill" type of meal is the "foil pack." A foil pack is just as it sounds – a pack of food that is wrapped in foil. For the most part, they are meant to be cooked out on the grill. (Hello, hot summer months!)
But, you can also cook them in the oven. More on that below.
Before we get to the "but I don't have a grill and still want to make these part," I wanted to share the best way to get these foil packs to freeze.
How to Freeze Foil Packs for the Grill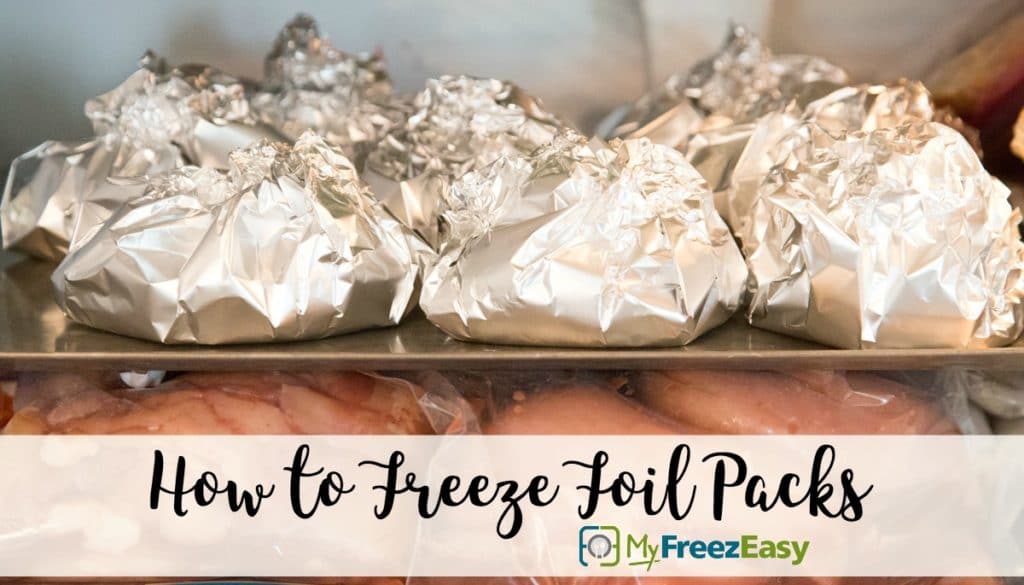 I prepare the packs as directed and then place them onto a flat baking sheet in the freezer. Let them freeze (2+ hours) and then transfer the frozen foil packs to a baggie and tuck back into your freezer. Freezing them flat will help the food stay flat, and this also reduces the risk of the foil tearing.
(Note: I use regular foil for these all the time, but heavy duty foil would be a great option.)
I love that these meals are pre-portioned and you can toss just about any side dish with them. (This is helpful for adjusting serving sizes! For example, you could pull out extra packs if you have company, or less if maybe some of your crew is out of the house for the evening.)
Most of the MyFreezEasy Foil Packs are a protein, sauce and veggie. We are sharing more and more into the Freezer Meal Plan Builder as we go through the summer.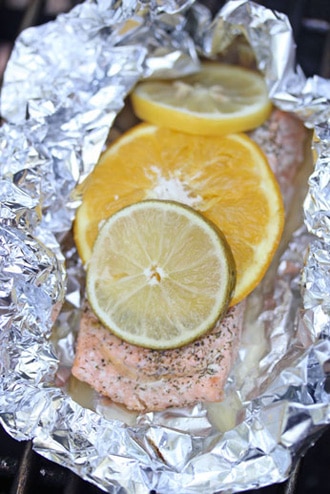 Now…what do you do if you don't have a grill to grill these foil packs???
You cook them in the oven….ON A BAKING SHEET!
Just about every foil pack contains a delicious sauce and you do NOT want that sauce dripping and burning onto the bottom of your oven. It doesn't happen often, but on occasion you might find a small tear in your foil pack and the sauce will start to seep out. You can double wrap it with another piece of foil, if you catch it in time.
But to be safe, place your packs onto a baking sheet.
I bake all my foil packs at 400 F, as that's pretty close to what an average grill will heat to (when lid is closed). Here are some rough cooking times for different types of meat in the foil packs. Note that cooking times will vary depending on thickness of the meat and the other contents in the foil pack.
These times below will give you a rough jumping off point:
Whole chicken breast – 40 to 45 minutes
Chicken tenderloins – 25 to 30 minutes
Stew beef (beef cubes) – 25 to 30 minutes
Salmon Fillet – 20 to 25 minutes
Cod Fillet – 15 to 20 minutes
Tilapia Fillet – 10 to 15 minutes
Opening Your Foil Packs
Whether you've cooked your foil packs out on the grill, or in the oven, you need to be careful when opening them as hot hot hot steam will release from the pack. You can slit the foil towards the top with a small knife, or you could carefully create an opening in the top of the foil. Let the steam escape before opening completely.
Check to see if the meat is done. If it is, get on with your meal. If it is not, quickly wrap it back up and return to the oven.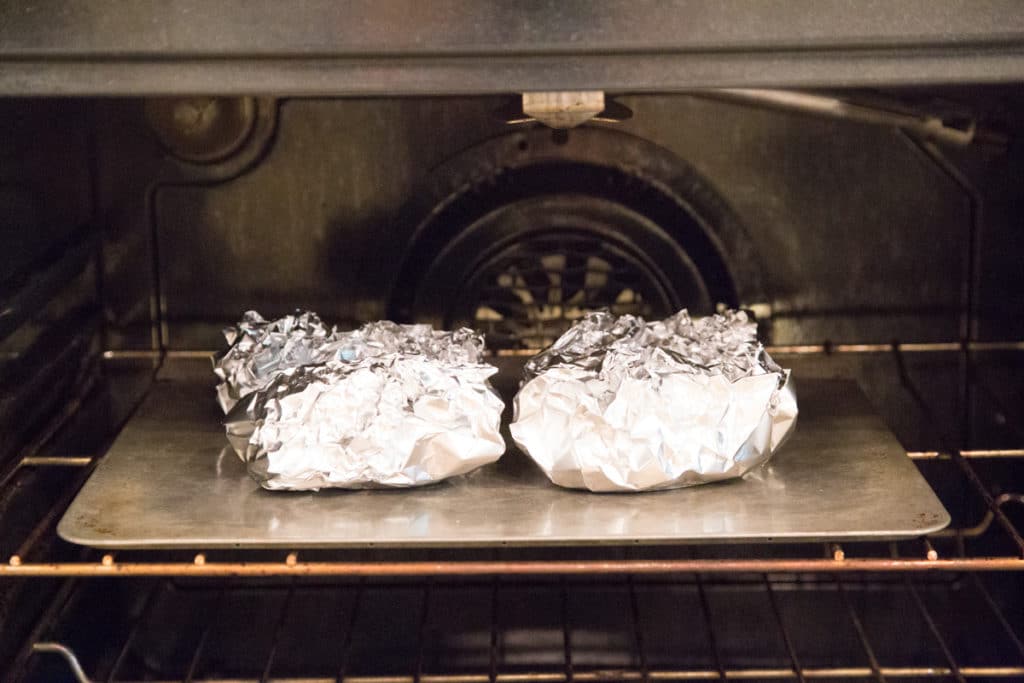 My Favorite Foil Pack Recipes
Happy Foil-Packing!!!
xo
Erin
P.S. Learn more about becoming a MyFreezEasy member and being able to choose your favorite foil packs recipes for your freezer meal plan!