If you love getting ahead with dinner prep, and you love cookbooks, these Make-Ahead Freezer Meal Cookbooks are the books for YOU!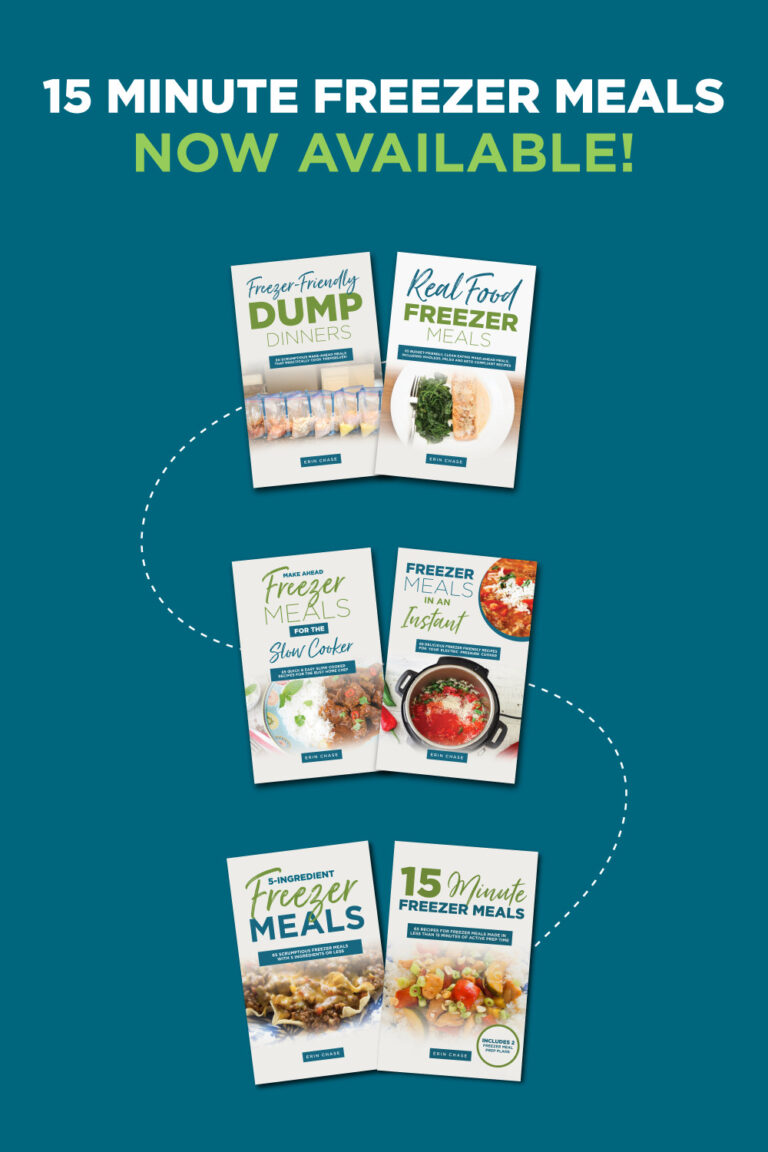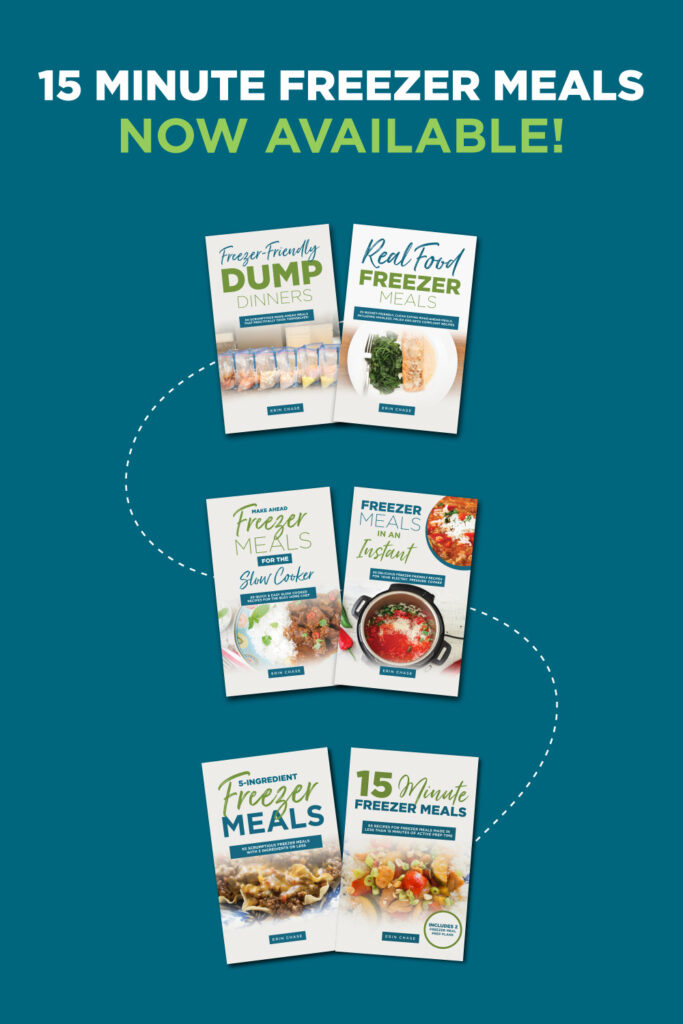 The Freezer Meal Stereotype
Often times when people think of freezer meals, they think of mushy casseroles. Or slow-cooker-only recipes. Or bland, tasteless, freezer burned meals.
It is also the assumption that these bland, mushy casseroles and slow cooker meals are only made with canned cream of mushroom soups.
But guess what? I'm here to CHANGE THE FREEZER MEAL STEREOTYPE!
My first step in flipping this stereotype was the creation of MyFreezEasy. I wrote up the method of freezer meal prep and planning I've cultivated over the years, then sprinkled a bit of my extra-efficient freezer meal hacks on top. Some software developers came in and somehow made it into a well-oiled machine, and viola!
We have our magical MyFreezEasy computer and mobile apps!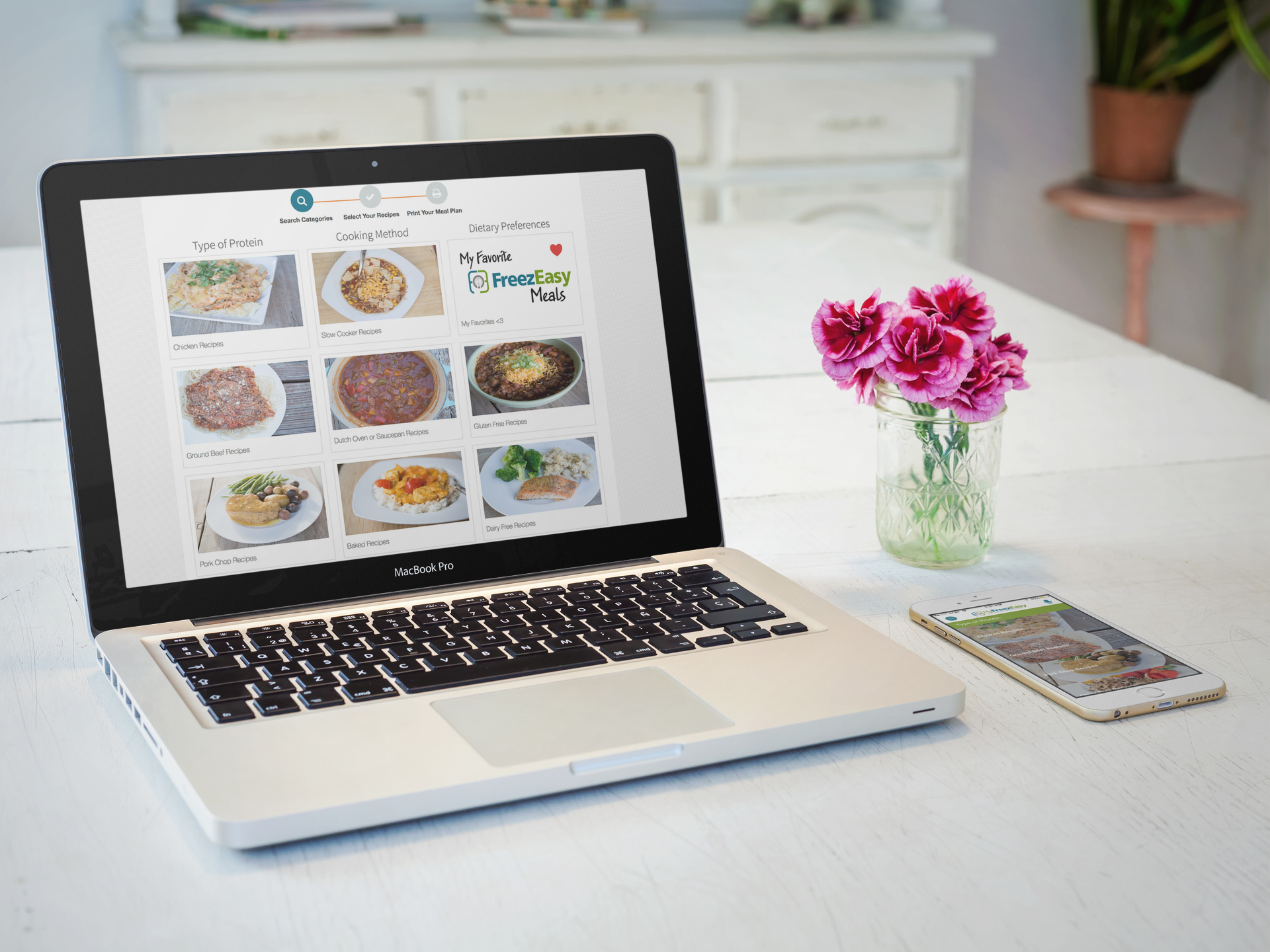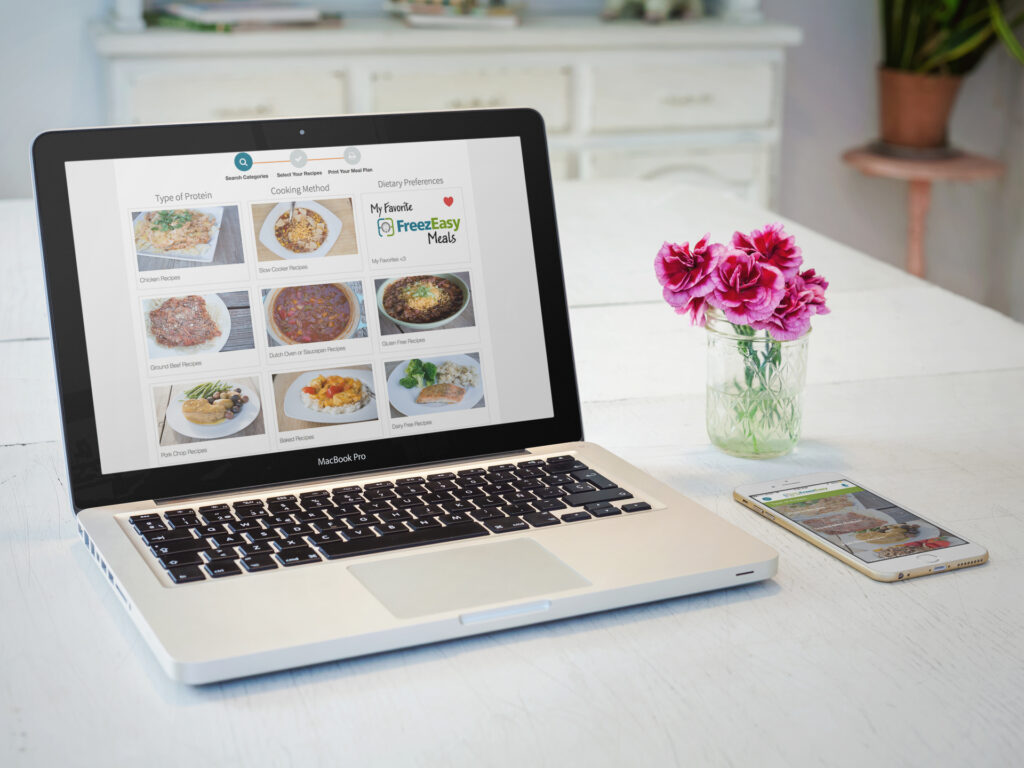 MyFreezEasy Freezer Meal Plans
MyFreezEasy freezer meal plans offer a variety of recipe types and cooking methods. We've used these recipes and meal plans to offer a handful of these options, and conveniently pulled them together into a collection of Make-Ahead Freezer Meal cookbooks for you. These cookbooks are the second step in flipping those silly stereotypes, with the hope that they offer an easy and efficient way for you to try out make ahead freezer meals of all kinds!
MyFreezEasy Cookbooks by Erin Chase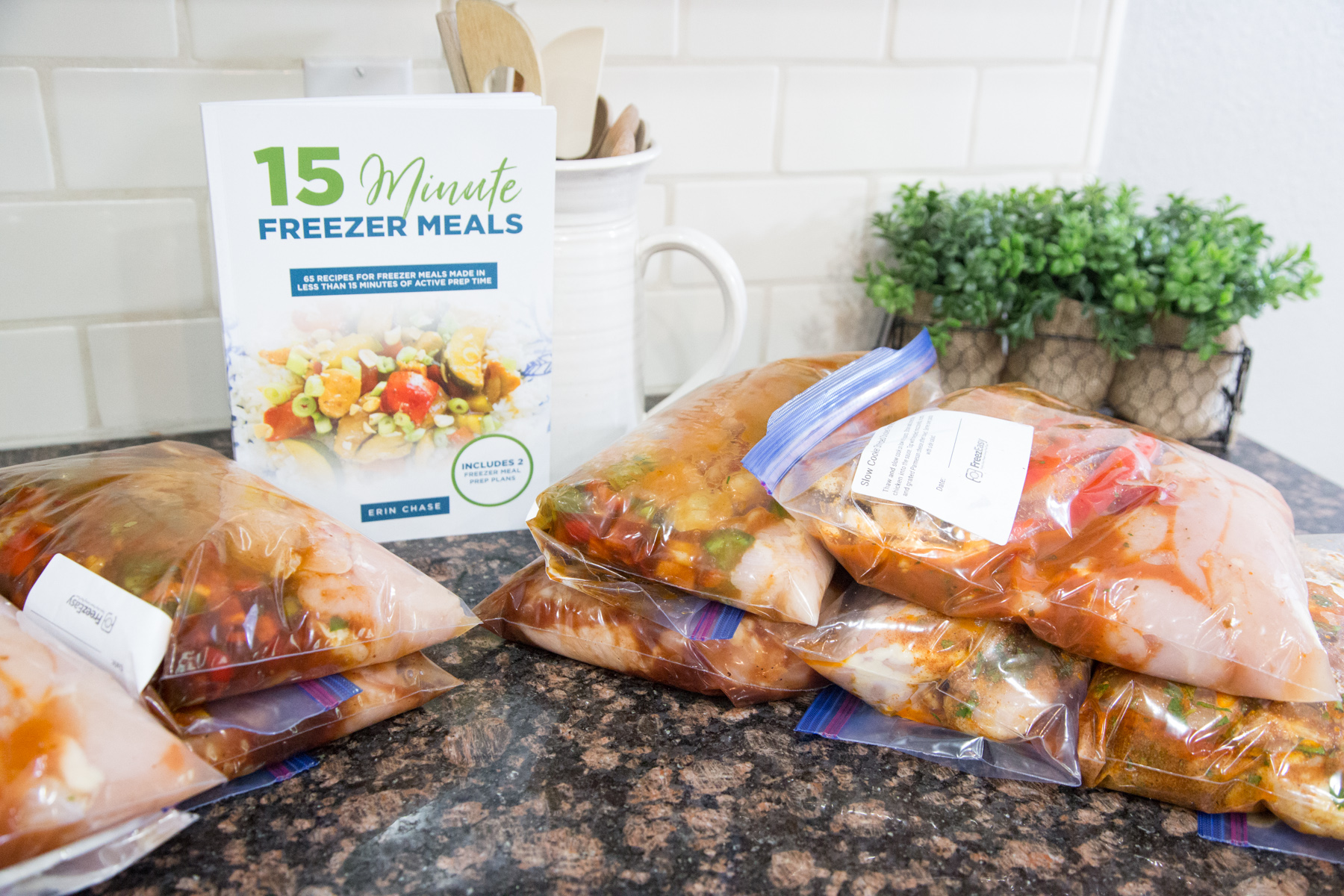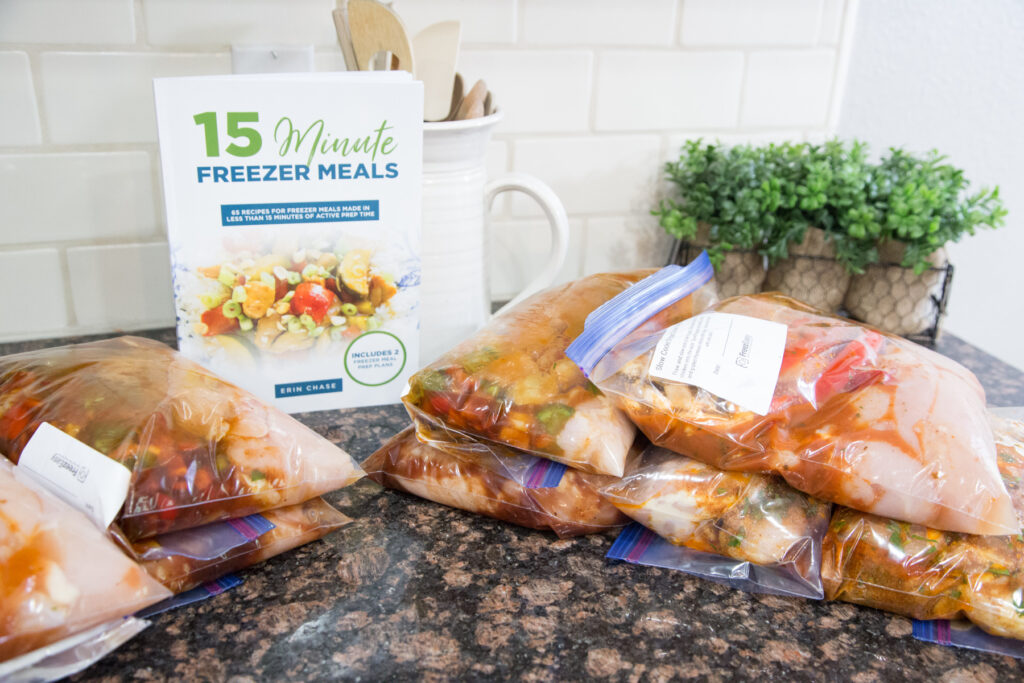 Here is a brief breakdown of each of the different cookbooks.
Every cookbook contains a collection of 60 to 65 recipes in their respective categories. Also in each book are 2 freezer meal plans from the MyFreezEasy apps – all of the recipes related to the theme of each book.
With each cookbook purchase, we also email you the freezer meal plan PDFs in digital format. The PDF freezer meal plan contains the recipes, shopping lists and step-by-step instructions for making 10 meals for your freezer at a time.
Dump Dinners
Dump Dinners are the EASIEST kind of dinners you will ever make. They involve very minimal prep. Hence the word dump, because you can essentially just dump in a few ingredients and dinner is done!
The Dump Dinner recipes in the cookbook include a variety of cooking methods like: Slow Cooker, Instant Pot, Baked, and Skillet.
Of course, all the recipes are family friendly, kid friendly, and have the kind of ingredients you would find at any grocery store. No fancy or weird ingredients here!
Freezer to Slow Cooker
These are also pretty easy meals. The recipes did come from MyFreezEasy, you know 😉 Freezer to Slow Cooker meal ingredients are prepped and added into a freezer bag.
The best way to add ingredients to the bag, is with my favorite bag holders. (You can order a set of 2 with your cookbook below!)
When you are ready to cook the meal, you just pull the bag from the freezer, thaw and then dump the ingredients straight from the freezer bag into the slow cooker.
Freezer to Instant Pot
Instant Pot freezer meals can go from frozen to dinner table in about 58 minutes. No, there's no magic or wizardry involved. Just the delightful capabilities of the pressure cooker. These meals are prepped almost exactly like the slow cooker meals we talked about above.
One slight difference in the prep for Instant Pot freezer meals is that I recommend freezing the bag (full of ingredients) within a bowl. The bowl should be a size slightly smaller than the insert of your Instant Pot. Freezing your prepped freezer meal bag inside of the bowl allows the ingredients and bag to take the shape of the bowl.
When you are ready to cook your Instant Pot meal, you simply thaw it enough for the ball-of-deliciousness to come out of the bag! Push a few buttons on your pressure cooker and dinner is on the table in a jiffy! You will likely feel like you should have a superhero cape after you have accomplished this.
Real Food Freezer Meals
What does real food mean?! For this cookbook, it means Paleo and Whole30 friendly recipes. It means Keto friendly recipes. It means you won't find ANY canned cream of mushroom soup in the ingredients. The Real Food recipes in this cookbook include a variety of cooking methods like: Slow Cooker, Instant Pot, Baked, and Skillet.
Just like the recipes in the other books – these are family friendly, kid friendly, and have the kind of ingredients you would find at any grocery store. We still aren't using any weird ingredients. We want you to be able to feed the whole family with these meals, because short order cooks are only found restaurants. And last time I checked, the home kitchen was not a restaurant 😉
5-Ingredient Freezer Meals
Ah, the lovely number five. Something about a recipe with an ingredient list longer than five sometimes makes you tired just reading it. So, we aren't dealing with long ingredient lists in this cookbook! We are putting our foot down. We know that delicious things can be conjured from a small amount of ingredients.
$5 Dinners.
5-Ingredient freezer meals.
5th cookbook in this series.
It's almost like I'm obsessed with the #5, huh?!
The 5-Ingredient count used for this cookbook is based on the core ingredients that are being prepared into the freezer meals. Essentially that means that I didn't include side dishes, garnishes, or toppings into the ingredient count. If you're thinking that those should absolutely be counted, then this is likely not the cookbook for you. And that's okay. Plenty of other cookbooks to choose from! 😉
15-Minute Freezer Meals
Every recipe in this book can be put together for the freezer and prepared for cooking in under 15 minutes! These super-fast freezer meals are all about the shortest amount of hands-on time.
15 minutes! 15 minutes is less time than that new episode of that show you want to watch. 15 minutes is about the same time it takes to put the laundry away. It's less time than it would take to make a full meal from start to finish.
You get the point. Quick is the theme! 65 recipes, a mixture of cooking methods and meat types. The family will love it. You will love it. And everyone will live happily ever after.
You should definitely snag this cookbook if you are all about getting in and out of the kitchen in record time!
Time to Get your Cookbook(s) Ordered!
You can get whichever book you want below…tap add to cart and checkout here on $5 Dinners!