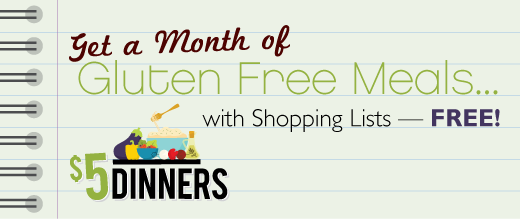 I've been asked many, many times by friends and members of $5 Dinners community about creating a gluten free meal plan…and it's finally here. And it's free.
You get a month's worth of meal ideas, along with the grocery lists for ingredients for each week. The recipes in the monthly meal plan are "clickable" and will take you to the recipe if you're not sure how to make it.
You will also notice that breakfasts and lunches are more or less the same through each week…I think having a structure and predictability in the a special diet meal plan really helps take some stress out of the equation.
(Please consult with your physician before cutting gluten out of yours or your child's diet.)
Below is a visual sample of the plan…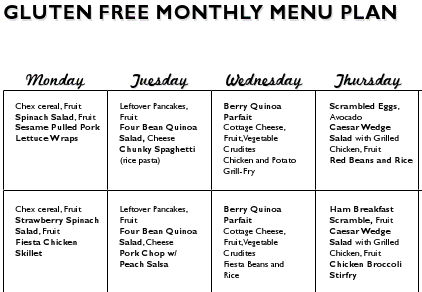 If you'd like to download and/or print this plan and the accompanying shopping lists, click the links below!
And please, please share this with those you know who are on a gluten free diet and struggle with planning meals or coming up with new recipes to try!
If you liked this plan, you might like the Gluten Free Meal Plan from $5 Meal Plan (my paid meal plan service). We offer a 14 day free trial, where you'll get a meal plan and shopping list every single Friday for two weeks. If you like it, upgrade. If you don't, the trial expires on its own.

Click to Start Your Trial
Many thanks and enjoy!
********
Our new Favado grocery savings app is now available! Get access to coupon matchups and store deals for all your favorite stores in your local area for free!  You'll be able to compare prices across local stores, quickly find all the coupons that are available for the items that are on sale, build your shopping list around the hottest sales and best deals and more!
Sign up for a free Favado account and then download for free in the iTunes store for iPhone or Google Play store for Android.