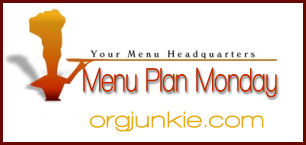 It's time to make a small (hopefully large) dent into what we've got in the pantry.  I'm hoping to clear some space for the holiday stockpiling that will soon be upon us!  (Remember, Thanksgiving is the "most couponable" holiday…so get ready to clip extra coupons and really save!)
Le Plan…
Monday – Slow Cooker Coconut Chicken
Tuesday – Janet's Pasta with Bolognese
Wednesday – Chicken Enchilada Chili
Thursday – Jamie's Cajun Meatball Stew
Friday – Chorizo and Black Bean Soup
Saturday – Grill (if it's warm enough!)
Sunday – Church Meeting and Dinner Out
I will post the recipes each night after I make the meal. If you see a meal you are interested in, please check back for the recipe later in the week!
Current Monthly Meal Plan can be found here! Need help with your weekly meal planning and grocery shopping…check out all the printable resources!
Thanks to Andrea at Savings Lifestyle and Marcy at Stretching a Buck for posting the best deals and coupon matchups at my stores each week! All the BEST menu plans can be found every week at OrgJunkie.com!