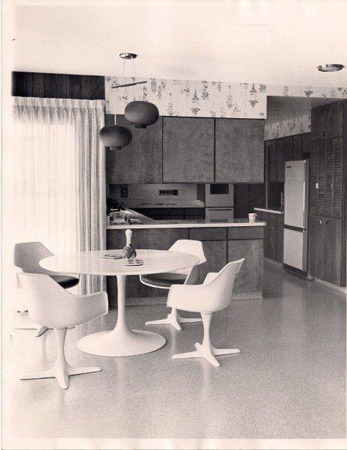 Look. What. I. Found!!!!
That's my grandmother's kitchen circa 1955.
That's the kitchen of the house that my mom grew up in. A kitchen that I knew or remember little of. (I knew the kitchen at her lake cabin inside and out. And I knew where she hid the chocolate too. Surprise, surprise.)
I visited this house just a few times and I have but one memory. The laundry chute.
You know…the one that goes from the top floor all the way to the laundry room in the basement.  They didn't have such things in the houses around us in Texas. But they had them in North Dakota! As early as the 1950s…or whenever the house was built.
Want to know what we did with the laundry chute??!!?? You can probably guess.
We filled up the big bin in the laundry room with a bunch of towels and sheets. Then we'd run up stairs squealing with glee and we'd drop ourselves down the chute, and crash into the big bin. Wash, rinse, repeat.
(And I wonder now, where were my parents when all this rigamarole was going on?!)
I digress.
I'm so grateful for my uncle, who painstakingly has uploaded and emailed all of us many of the pictures from and of her several homes. Including this photo of her kitchen.
I love it. I love her kitchen. I love the look of it. I love the smells that I never really smelled that came out of it. I just love it.
Do you have a favorite memory from your grandmother's kitchen?!