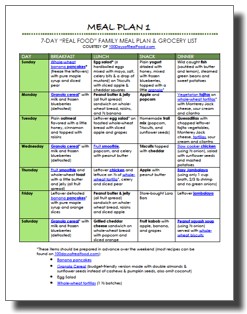 Two FREE "Real Food" Meal Plans
A little over a year ago I radically changed my family's diet from "average" and "normal" to strictly "real food." When we initially made the transition I lost sleep over what I would feed my family if I could no longer rely on the processed packaged foods from the center aisles of the grocery store. But after a year of living without Goldfish, Fruit Snacks, and Wheat Thins this new way of life has finally become our new normal. I know there are many other families out there that want to transition from highly processed to real, wholesome, local, organic, fresh food as well, which is why I created two detailed meal plans to help.
Here's what you can expect from these FREE 100 Days of Real Food Meal Plans:
Two 7-day practical "real food" menu plans designed for busy families
Complete meals listed each day for breakfast, lunch, snack and dinner
Food quantities calculated for a family of four
Corresponding grocery lists showing what to buy (in order of the store) and total cost for each item
Budget-friendly prices compatible with what a family of four would receive on full food stamp (SNAP) benefits – $167/week – with additional cost saving opportunities because…

Coupons were not used
Sales prices were not used
Prices for organic items were used in most cases

All underlined recipes are available on 100DaysofRealFood.com – check out the Recipes & Resources Page for a full list
All recipes are working mom/dad-friendly, including tips on what to make in advance over the weekend
Almost every item listed follows our strict "real food" rules (including no white flour or refined sugar!), with just a few minor exceptions to keep the plan realistic for those busy working parents
Here's the scoop on how to download these two FREE meal plans:
Go to the "Meal Plans" link on the 100 Days of Real Food Facebook Page
Click "like" if you are not already a fan
Click on the image you would like to download. The top image is "Meal Plan 1" and the bottom image is "Meal Plan 2"
A stay-at-home mom of two, Lisa Leake, radically changed her family's diet by cutting out all processed food and refined ingredients earlier this year. With growing popularity she chronicles their real food journey through a processed food world on 100daysofrealfood.com.