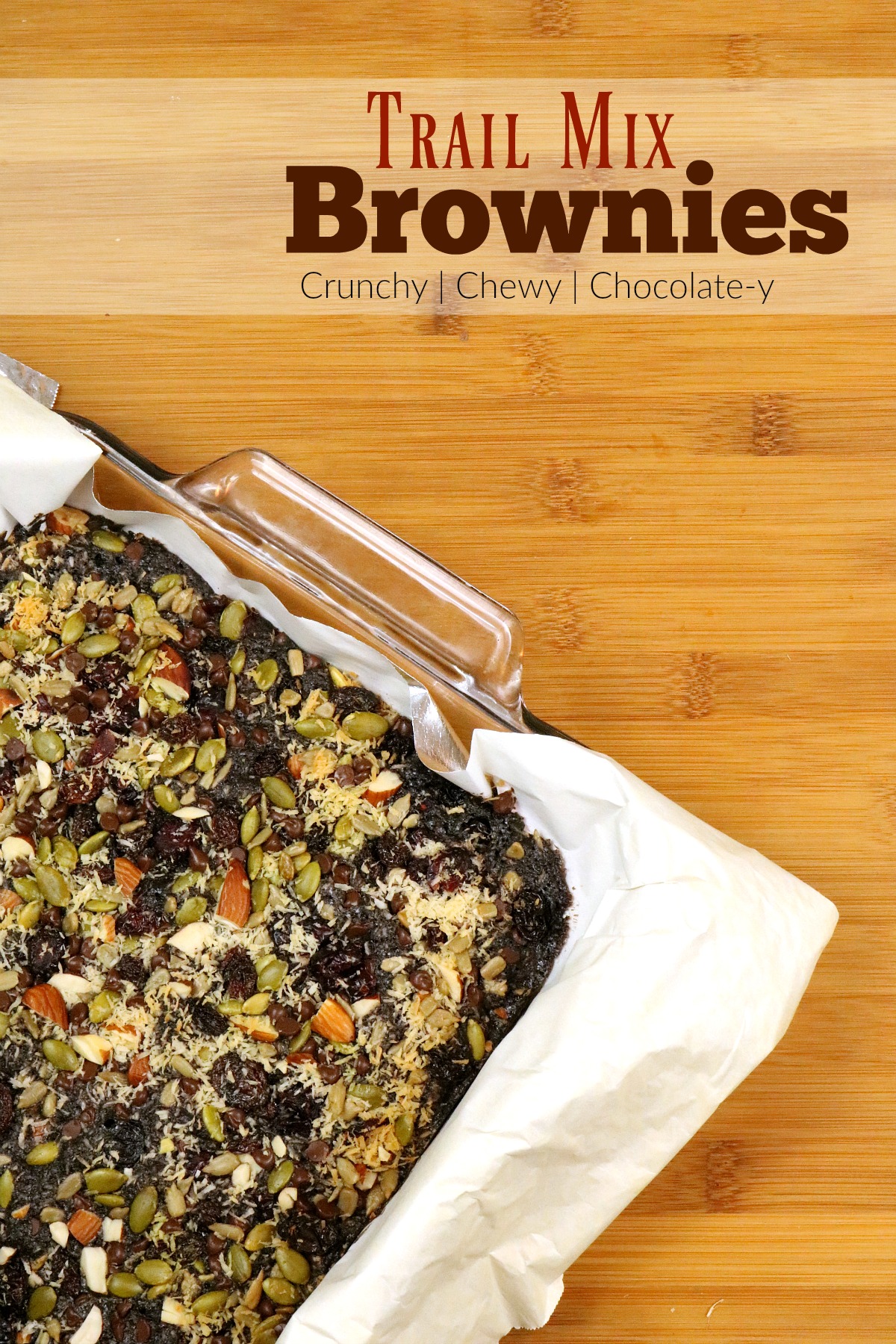 I am a HUGE fan of "dumping" together fun baked recipes like this! I love mixing and matching dried fruit, nuts and seeds into trail mixes…especially after the holiday baking season.
(Now is the best time to save on baking ingredients – so STOCK UP!)
This resulted from a fun mix and match of goodies I had in the baking cabinet, and a fun homemade fudgy recipe on my friend Toni's website!
<3 -ing these trail mix brownies, and I hope you do too!
Ingredients
1/2

cup

unsalted butter, melted

1/2

cup

melted coconut oil

2 1/4

cups

sugar

5

eggs

2

tsp

vanilla extract

3/4

cup

all-purpose flour

1

cup

cocoa powder

1 1/2

tsp

salt

1

cup

chocolate chips

1 1/2

cups

trail mix, divided
Instructions
Heat oven to 350 F.

Prepare a 9 x 13 inch pan by lining it with parchment paper. Spray the parchment with nonstick cooking spray.

In a medium bowl, combine the butter, coconut oil, sugar, eggs, and vanilla. Stir to combine.

In a small bowl, combine flour, cocoa powder, and salt. Stir.

Pour the dry ingredients into the wet ingredients. Stir just until they pull together. There will still be a few clumps.

Add the chocolate chips and 1 cup of trail mix and stir.

Pour the batter into the lined pan and sprinkle evenly with the remaining trail mix. Press the trail mix into the batter a little.

Bake for 32 minutes. The batter will be barely set in the middle. Do not do a toothpick test. If you jiggle the pan and see the middle move, then put it back in the oven for about 2 minutes.

Allow the brownies to cool in the pan for 15 minutes. If you remove them too early, they'll fall apart. Let them set up in the pan a little while.

Remove the brownies from the pan by using the parchment as handles. Move the brownies and parchment to a cooling rack.

Serve Trail Mix Brownies warm or cool.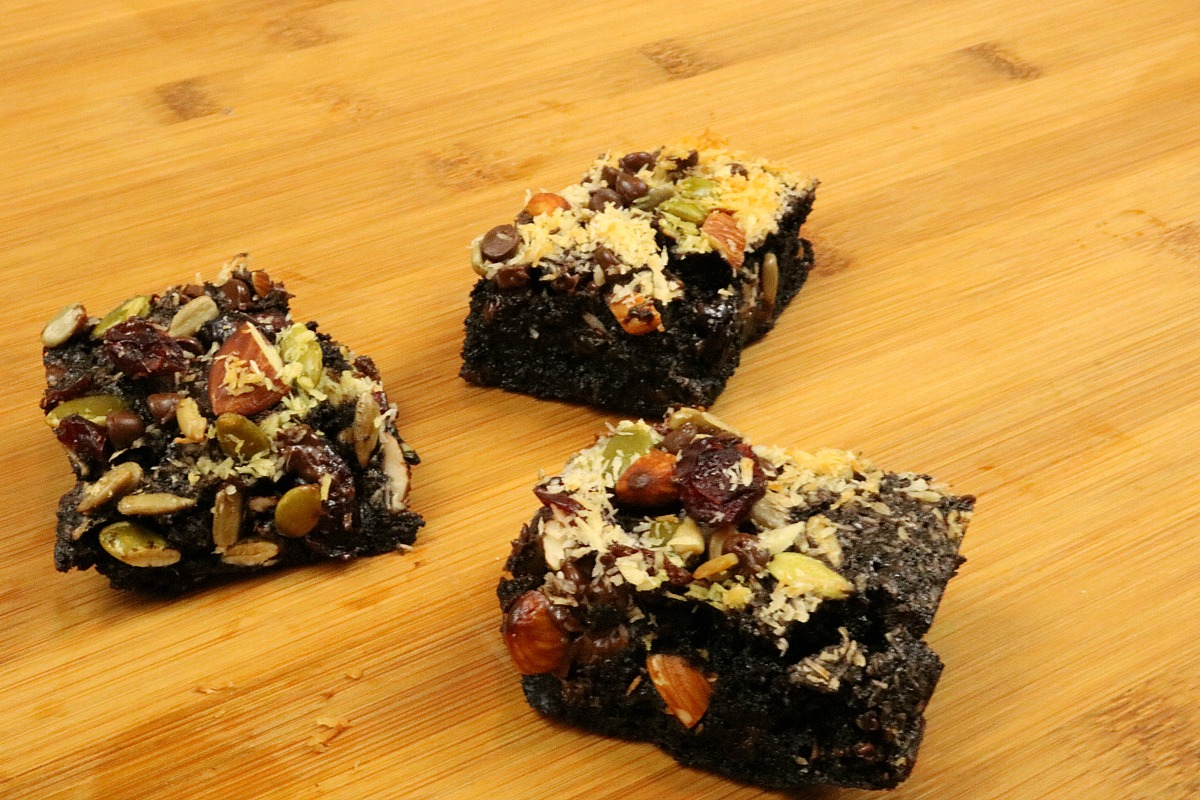 Pin all of our 31 Days of Kid Friendly Recipes here!
Erin's Personal Recommendations for Supplies to Help Make these Recipes: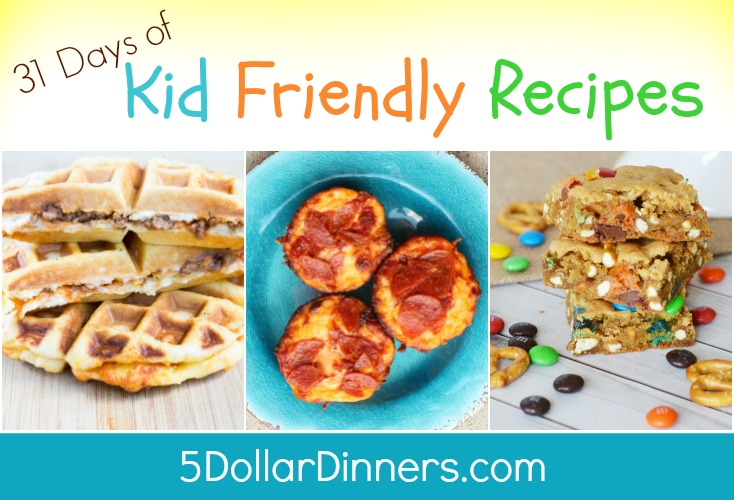 Other 31 Days of Series to check out:
Disclaimer: As an Amazon Associate, I earn commissions on qualifying purchases. Reviews, opinions are my own.