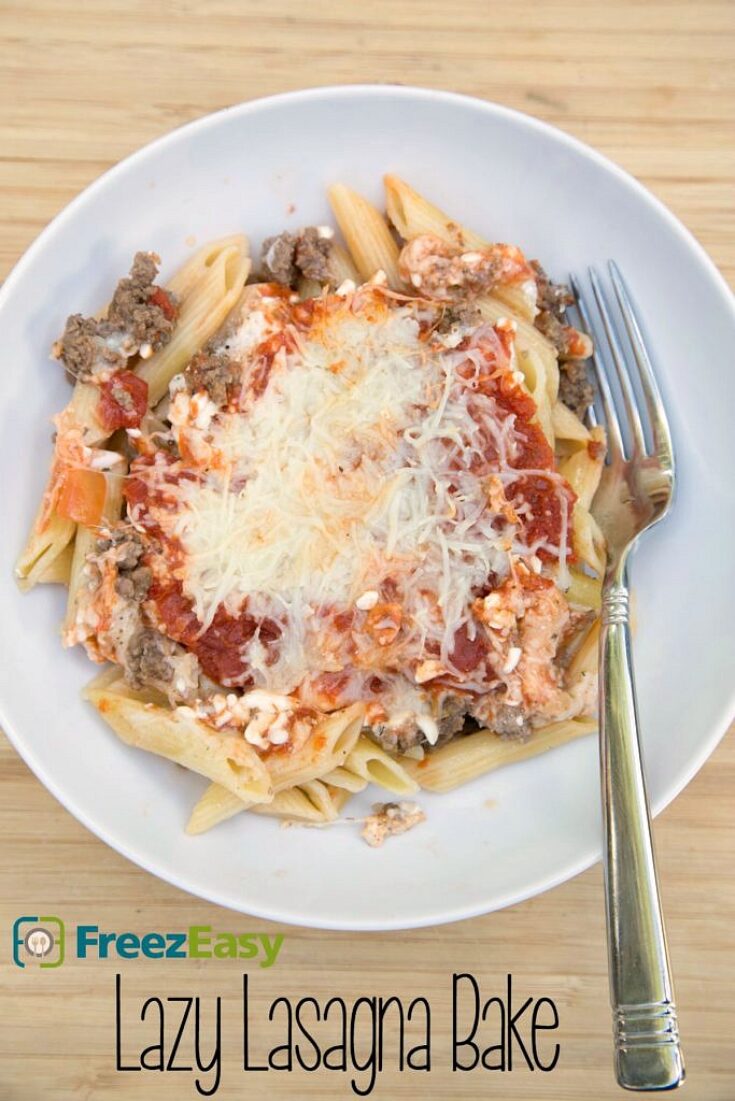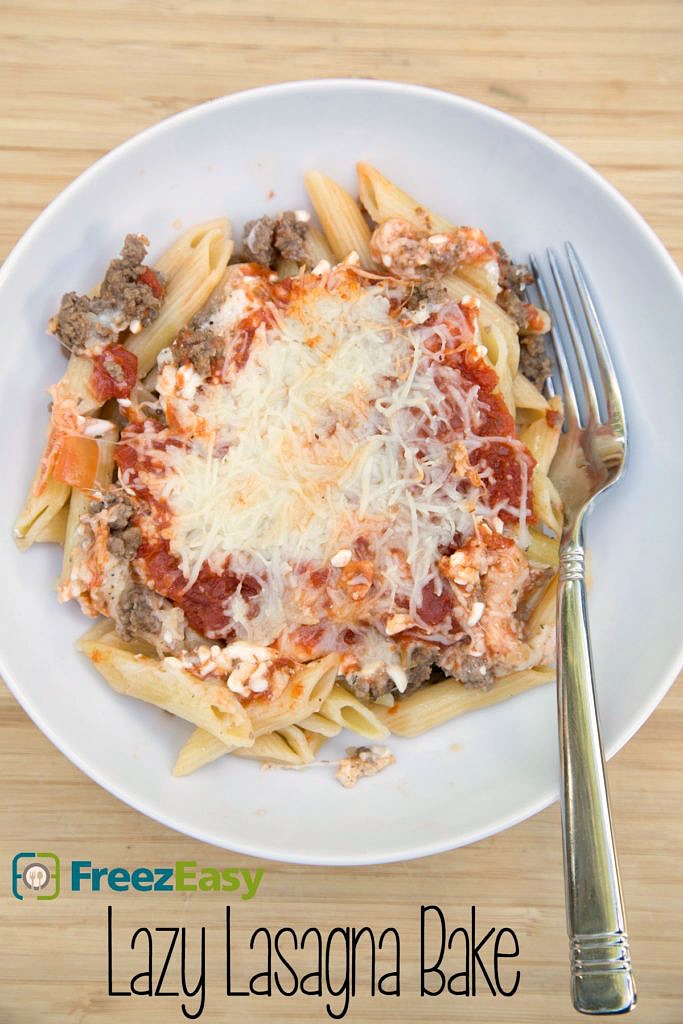 I heart lasagna. Specifically, I heart the end result of lasagna.
I don't heart the creating of lasagna. I just have a mental block on lasagna…which is why there aren't that many lasagna recipe on this here little website. There are a few, but not many. I think lasagna is pretty budget friendly…it makes a lot, it's filling and it freezes well (in case you have leftovers – I recommend cutting into single serving squares and freezing individual portions in small plastic container…easy peasy lunch right there!)
Anywhoo…
I'm just lazy I guess. It's the layering, I think. Which is funny because I don't mind making layered enchiladas or even tray after tray after tray of rolled enchiladas.
Well, we can be glad for my mental block…because it resulted in this. A pasta bake…with all the flavors of lasagna. Less layering, same delicious end result.
It looks like this…
Layer of cooked (to al dente) small shell pasta.
Layer of meat sauce.
Layer of cottage-cheese-y goodness. (I use cottage cheese because it's cheaper than ricotta. Do a 1-to-1 sub of ricotta in the recipe below, if you prefer!)
Layer of sauce.
Layer of cheese.
Boom.
Yes, it's still layers, but it's easier and faster to prep. (At least in my head!)
And the KIDS LOVE THIS TOO!!!!!
P.S. Make gluten free with small shell gluten free pasta. Tough to make this dairy free, sorry!
P.P.S. I shared this recipe with our MyFreezEasy members last month and it quickly made it's way to the "top of the charts" into the #3 spot! I suspect by the end of this month, it will be the most popular MyFreezEasy recipe! (Don't know what I'm talking about, learn more here.)
Buon appetito!!!!
A pasta bake...with all the flavors of lasagna. Less layering, same delicious end result.
Ingredients
16

oz.

small shell pasta

1

lb

ground beef

1

Tbsp

minced onion

1

tsp

garlic powder

24

oz.

cottage cheese

4

cups

shredded mozzarella cheese

1/2

cup

Parmesan cheese

2 -

egg

s

2 -

Tbsp

Italian seasoning

26

oz.

jar spaghetti sauce

Salt and pepper

Side: salad
Instructions
Preheat the oven to 400 F.

Cook the pasta to al dente, about 7 minutes. Drain and add to 9x13-inch baking dish.

In a large saucepan, brown the ground beef with the minced onion, garlic powder, salt, and pepper. Drain and gently toss with the pasta in the baking dish.

In a large mixing bowl, combine cottage cheese, half of the shredded mozzarella cheese, all of the Parmesan cheese, eggs, and Italian seasoning.

Spread the cheese mixture in and around the pasta in the baking dish. Top with spaghetti sauce and add the remaining shredded mozzarella cheese.

Cover and bake in the preheated oven for 45 minutes, then uncover and bake another 10 minutes.

Prepare the salad.

Serve Lazy Lasagna Bake with salad.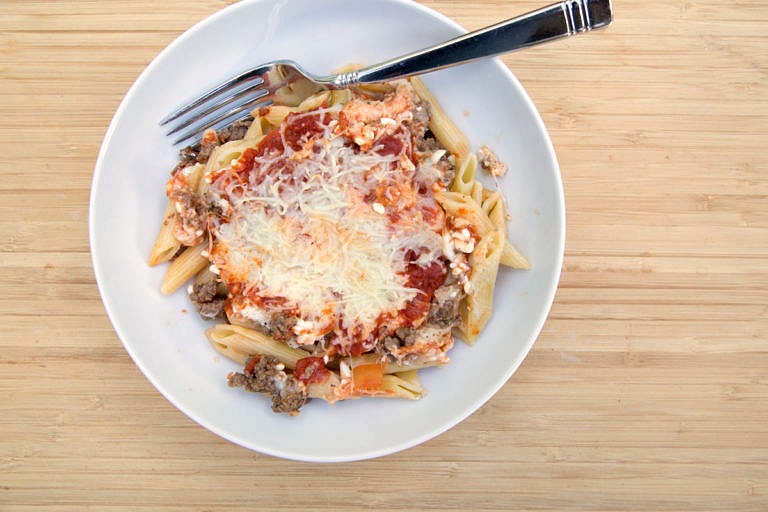 Pin all of our 31 Days of Kid Friendly Recipes here!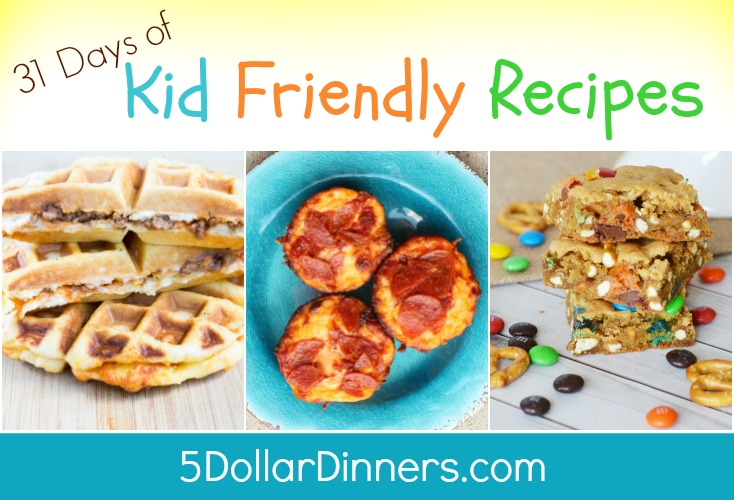 Other 31 Days of Series to check out: