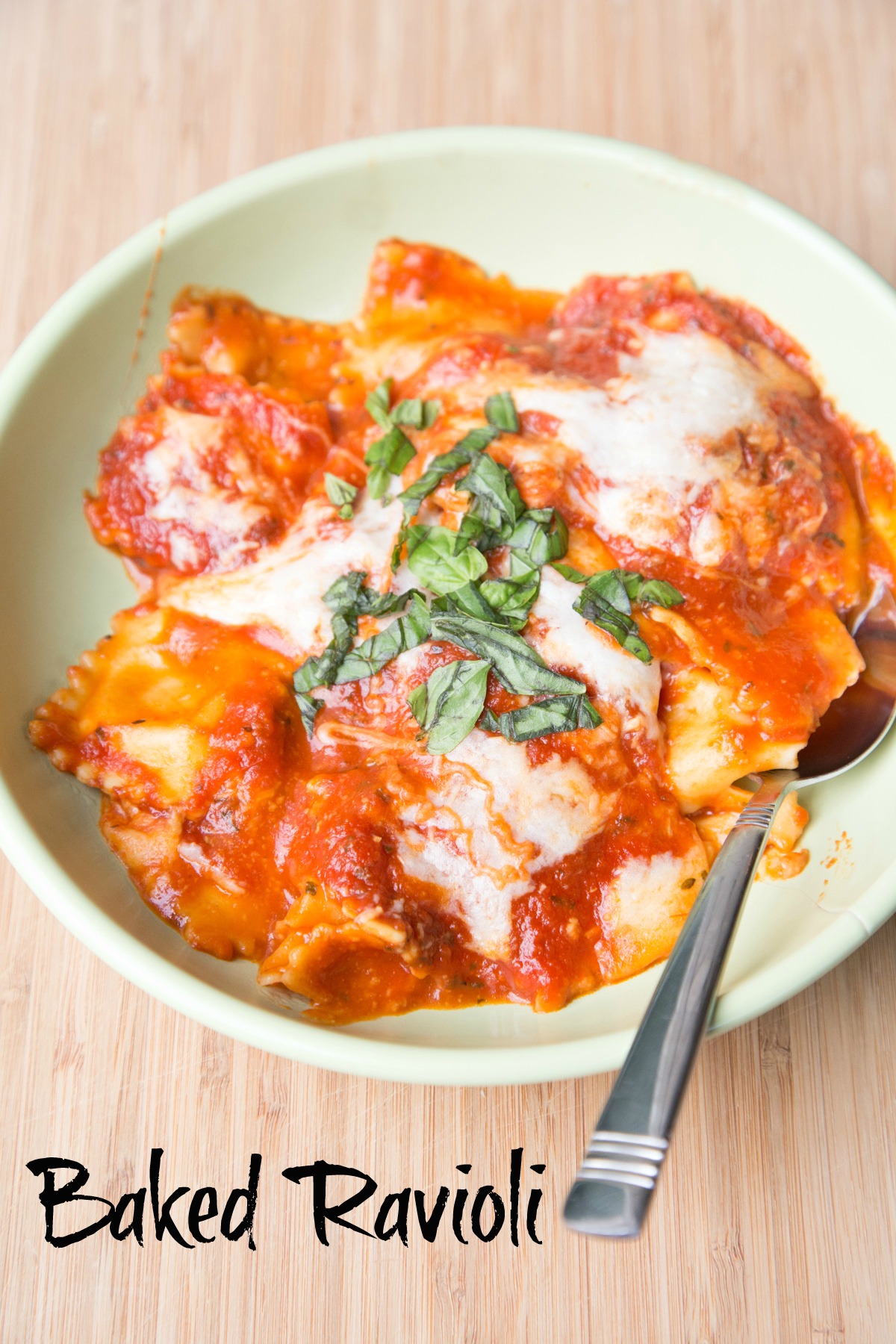 So…baking ravioli. Let's chat about this for a minute.
I've seen a number of recipes that call for boiling the ravioli ahead of time and then baking it with the sauce. But I don't have time for that. I really don't…I'd forget that you need to do that…then I'd run out of time. (What I mean by that…is that my boys would end up having to wait an extra 15-20 minutes for dinner…and when they are hungry and antsy and waiting for dinner, I can't afford to have to wait any longer than need be!)
You can absolutely add water to the baking dish and it will bake perfectly. The ravioli will take on the water that you add and take some liquid from the spaghetti sauce and the end result: Perfection, as you can see above.
This is a FreezEasy freezer friendly meal…but if you're going to freeze it, do NOT add water before you put it in the freezer. Make a note on the tray/lid that you need to add 1 cup of hot water before baking. Pour the water around the edges so it gets to the bottom and the ravioli that's under the sauce.
Another reason I love this meal – besides the fact that it's ridiculously delicious, is a "5-ingredient meal" and is freezer friendly…it takes like 5 minutes to prepare. Actually, more like 3 minutes.
Place ravioli in dish. Add water to dish. Pour sauce over the top. Sprinkle Parm. Sprinkle mozz. BAKE.
S.O. E.A.S.Y.
AND…it makes amazing leftovers too!
Buon Appetito! (That would be Italian for ENJOY IT!)
Easy, fast, and only five ingredients!
Ingredients
20

oz.

package fresh or frozen ravioli

26

oz.

jar spaghetti sauce

Salt and pepper

1/2

cup

grated Parmesan cheese

1 1/2

cups

shredded mozzarella cheese

Garnish: fresh basil

Side: veggies or salad
Instructions
Preheat oven to 350 F. Lightly spray a 9×13-inch baking dish.

Place the ravioli into the base of the baking dish and pour 1 cup of hot water over the top. Then pour the spaghetti sauce over the top and then sprinkle with salt and pepper.

Sprinkle the grated Parmesan cheese on top and then the shredded mozzarella cheese over the top.

Bake in the preheated oven for 25 minutes, or until ravioli in the middle is softened and the cheese on top is golden brown. Chop the basil for the garnish.

Prepare the veggies or salad.

Serve Ravioli Bake with fresh basil garnish, veggies or salad.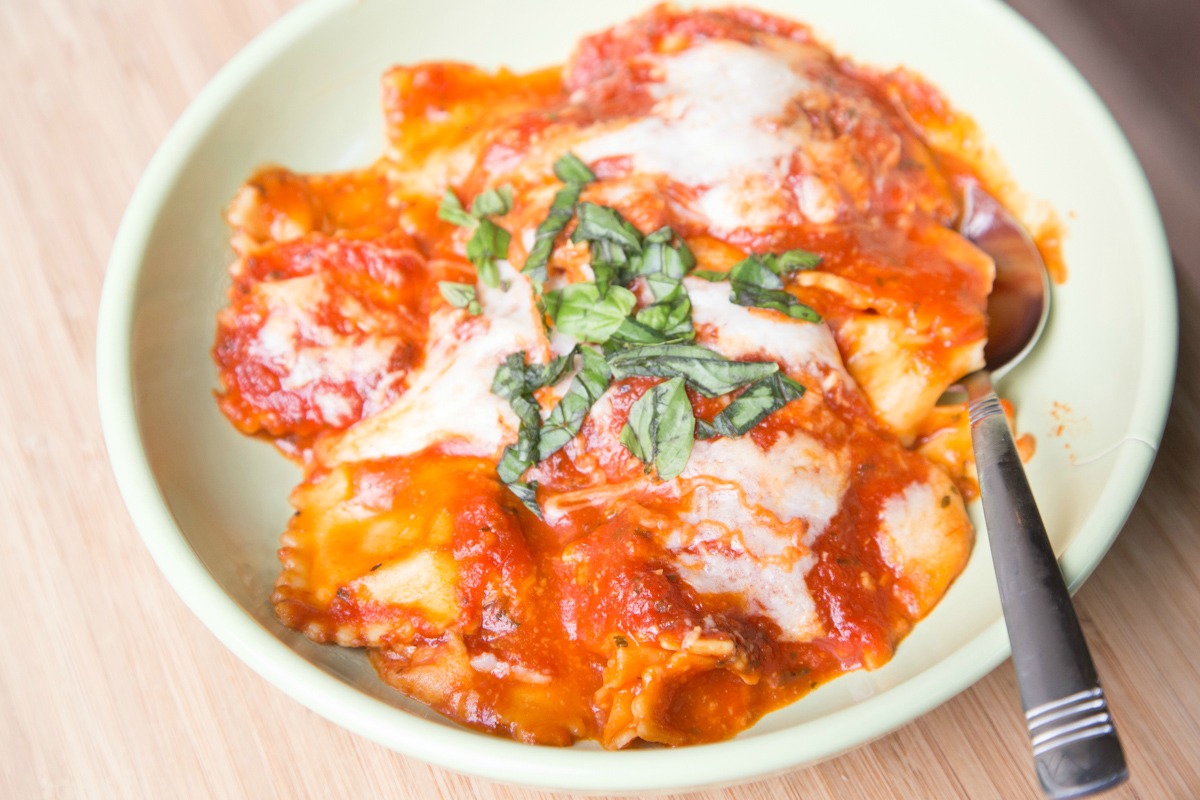 Erin's Personal Recommendations for 5-Ingredient Meal Supplies: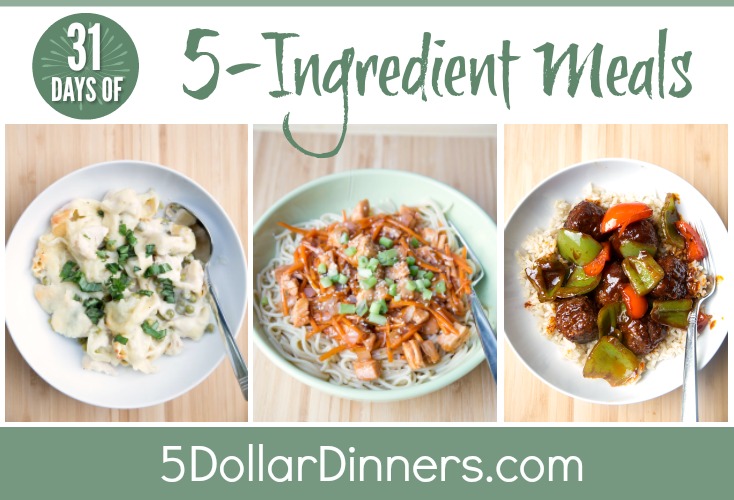 Other 31 Days of Series to check out:
Disclaimer: As an Amazon Associate, I earn commissions on qualifying purchases. Reviews, opinions are my own.