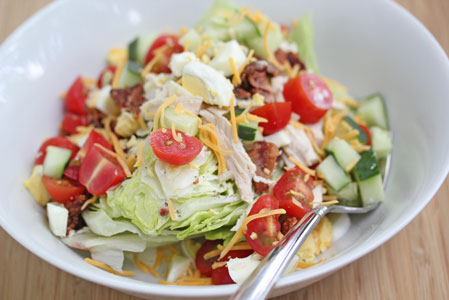 Gosh…as we continue to move through this series on recipes that use rotisserie chicken, I'm continually reminded of how quick and simple meals can come together easily when using pre-cooked and shredded chicken. (Remember, it's easy to make your own shredded chicken…here's how I recommend doing so.)
Whenever we go out to "fancy-schmancy" restaurants (which is not all the often and usually for a special occasion), I love ordering the blue cheese wedge salad. Crisp lettuce, blue cheese dressing, blue cheese crumbles, sometimes bacon and/or red onion. And loads of fresh cracked pepper. This wedge salad is such a great start to a fancy-schmancy meal.
I love that with this Wedge Cobb Salad…you get the "feel" of that fancy-schmancy restaurant…without the hefty price tag. And with a complete meal on one plate. (At least a complete meal for me!)
This Wedge Cobb Salad starts with lettuce and then whatever "cobb toppings" you have on hand go on top…shredded rotisserie chicken, crumbled bacon, tomatoes, cukes, hard-boiled eggs, cheese, and LOADS of ranch dressing. Or blue cheese dressing. Or vinaigrette. Or whatever.
The possibilities are somewhat limitless here…
Pin all of our 31 Days of Rotisserie Chicken Recipes here!
Follow $5 Dinners' board 31 Days of Rotisserie Chicken Recipes on Pinterest.
Erin's Personal Recommendations for Rotisserie Chicken Supplies: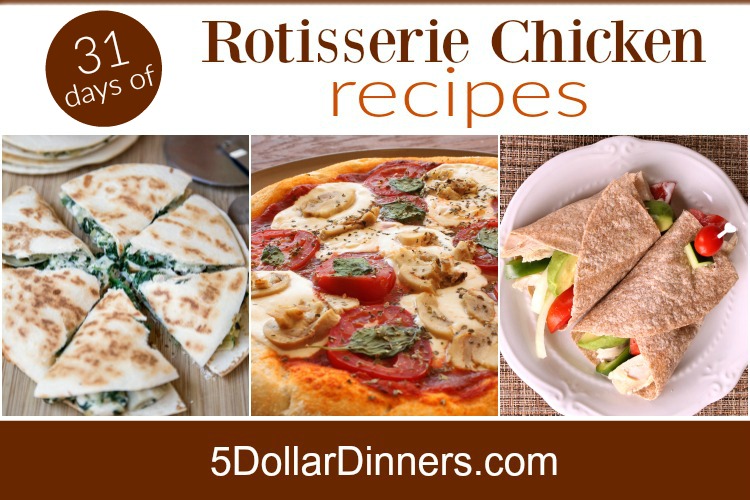 Other "31 Days of" Series to check out:
Disclaimer: As an Amazon Associate, I earn commissions on qualifying purchases. Reviews, opinions are my own.