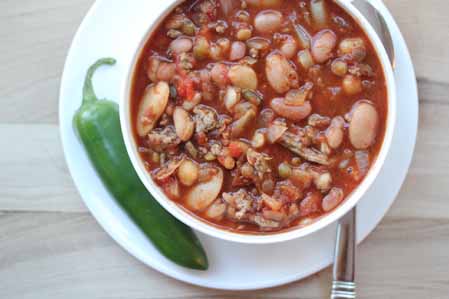 Holy jalapeño!
I love a delicious bowl of chili with a kick.
Did you know that you can turn down the heat in the pot by adding sugar? Or if you take a bite of chili that's got a chunk of hot pepper, you can drop sugar on your tongue to tame the burn? 
If you're make this chili for littler people with more sensitive palates, you could use a milder pepper like poblano, serrano, or even just a green bell pepper. Heat level is up to you. 🙂
My older boys are totally into football right now and I've made it part of my weekend routine to make a big pot of chili that we can have for game night, or just to snack on during Saturday afternoon college games or Sunday afternoon pro games.
Chili is so delicious and cheap…especially when you're using dried beans like this recipe does. Add it to your football game watching menu…
Pin all of our 31 Days of Chili, Soups & Stews here!
Follow $5 Dinners' board 31 Days of Chili, Soups & Stews on Pinterest.
Erin's Personal Recommendations for Chili, Soup & Stew Supplies: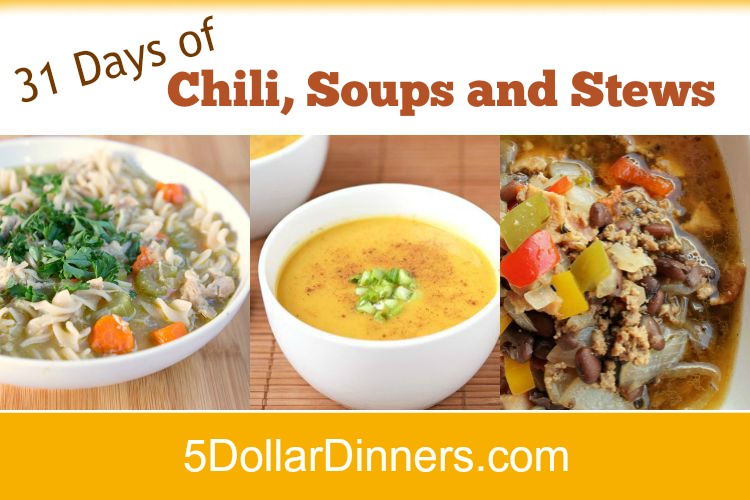 Other "31 Days of" Series to check out:
Disclaimer: As an Amazon Associate, I earn commissions on qualifying purchases. Reviews, opinions are my own.