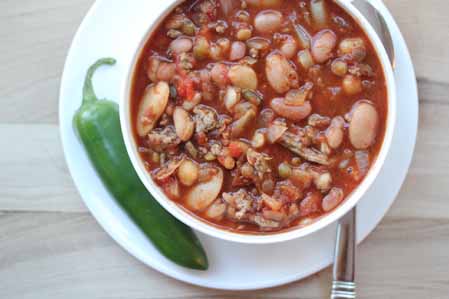 You know what I love about chili.
Everything, really.
The versatility. The simplicity. The "fill-icity." (How filling it is…and how it satisfies the bottomless pit bellies that sit around my dinner table every night.) The cost effect-icity.
(Yay for making up new words!)
See why I love it so much. So many needs met in just one bowl!
This Spicy 15 Bean Chili recipe is a spin off of the Original 15 Bean Chili recipe from Hurst Beans. I just spic-ified it a bit…making it just spicy enough for my husband to enjoy, but not so hot that it burns the boys' tongues. (Feel free to throw in an extra jalapeno and/or crushed peppers for some more heat!)
And it makes for fabulous lunch, snack or dinner leftovers! Repurpose by loading it on top of baked potatoes, serving it over some bread, or even in tacos (if you drain the liquid off some!)
Hurst Beans Recipes Recap
Helpful Dried Beans Recipes
Hurst Bean Handmade Clay Pot Giveaways are still live…enter quick! They end today!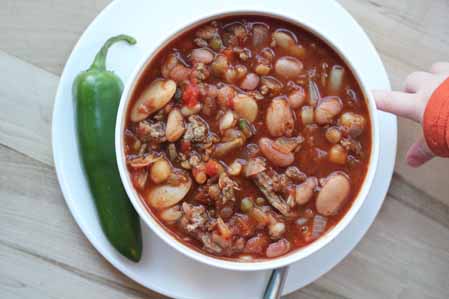 Tyler really, really, really wanted to pick a bean out of the chili for a little pre-dinner snack!
Hope you enjoy it as much as we did!
Ingredients
1

bag

15 bean soup, chili flavor ($1.79)

1

small

onion, chopped ($.40)

1 jalapeno, chopped ($.49)

1 pound ground beef ($1.79)

1 28 oz. crushed tomatoes ($.99)

1 tsp garlic powder ($.05)

1

Tbsp

chili powder ($.15)

Salt and pepper to taste
Instructions
Soak the beans in large bowl with water overnight. Or in a bowl with hot water for at least 2 hours.

Cook the beans as directed in a large pot for about an hour with the chili flavoring. Drain once beans are tender, saving 3 cups of the liquid the beans cooked in. (I just didn't drain it completely, leaving some of the liquid in the pan to then pour in with the cooked beef.)

In a large pot or Dutch oven, add the chopped onion, chopped jalapeno and ground beef. Brown the beef and drain if necessary.

Return to the pan and add the cooked beans plus reserved liquid, the crushed tomatoes and the spices. Let simmer for 10 to 15 minutes.

Serve Spicy 15 Bean Chili with side of favorite veggies.
*Disclosure: This recipe is part of the Hurst beans campaign. I am receiving compensation as part of the campaign. Hope you enjoy the recipes and the giveaways!

This recipe is featured on SouthernPlate.com's Meal Plan Monday #40.