Stretch your grocery dollars when you learn how to cook whole chicken in the slow cooker to make shredded chicken and homemade chicken broth.
Learn how to cook a whole chicken in the slow cooker, and you'll end up with a double dose of $$ savings and chicken for dinner or your freezer!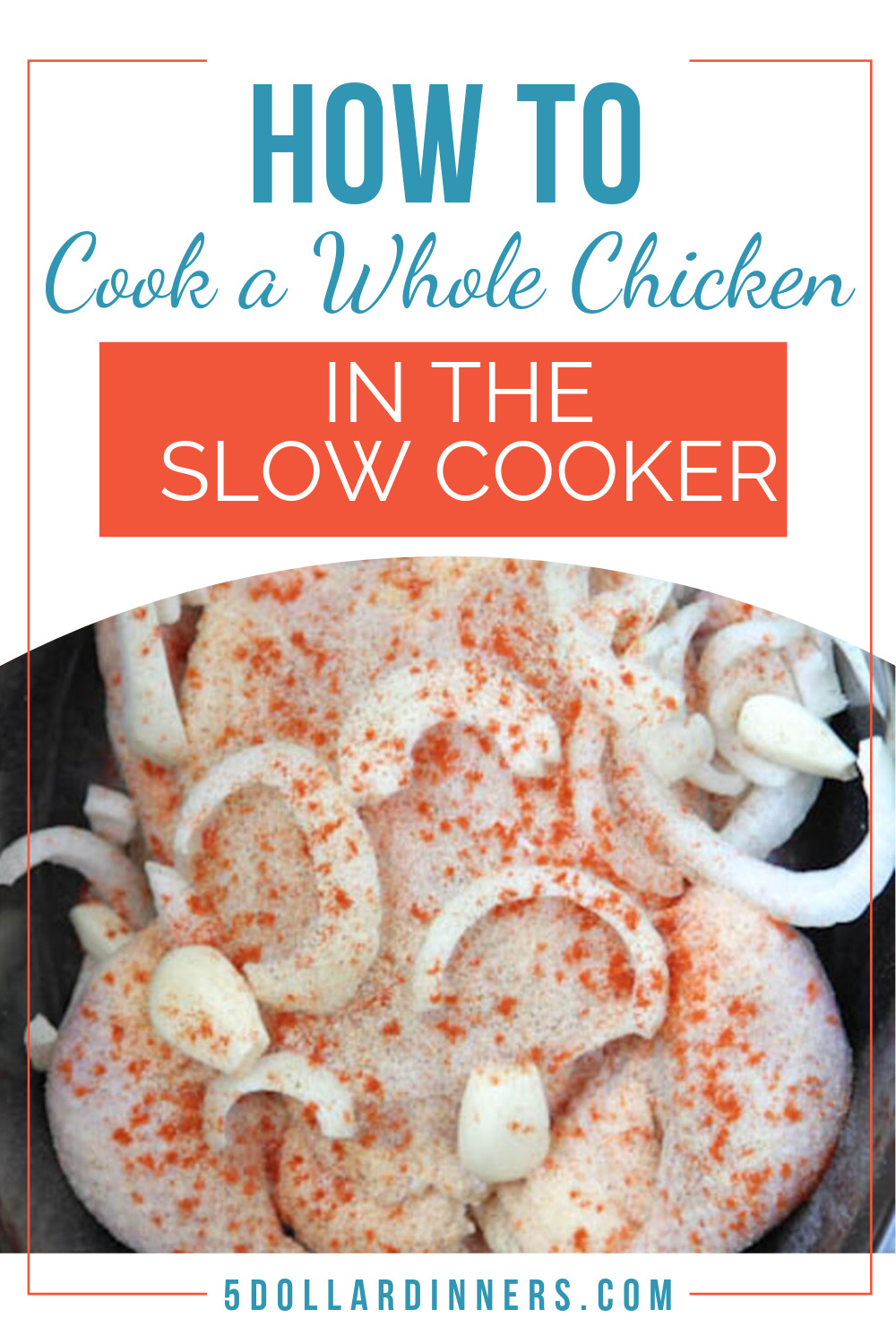 Welcome to the first post in the "31 Days of Freezer Cooking Recipes" series!
This is our 4th "31 Days" series and I love that we are going to share what feels like a bazillion recipes, concepts and ideas with you this month!
I am a 'freezer shopper'…meaning that I often times shop from my freezer when it comes time to prepare dinner. I am quite the bargain grocery shopper and prefer to never pay full price for anything at the store.
And as a result, I've learned the fine art of stockpiling food in the freezer…just about everything goes (minus a few things!)…from sandwich bread to fresh fruit to blanched broccoli heads to meat sauces to meatballs to shredded chicken (more on that below) and lest we not forget the cookie dough.
(Freezing cookie dough is generally a failed attempt at keeping myself from eating it. Because I think I prefer to snack on it right out of the freezer. I'll just keep trying to fool myself!)
The reason that I wanted to start with the 'cooked, shredded chicken concept' is because I always have some on hand in the freezer because it can be used in so many different recipes, doesn't add any prep time to meals on busy weeknights and really has a small 'hands-on' time when you're picking the meat off the bones.
AND…because you get homemade chicken broth from the chicken too. (See below for the deets.)
Let's get to it shall we…
How to Cook Whole Chicken in Slow Cooker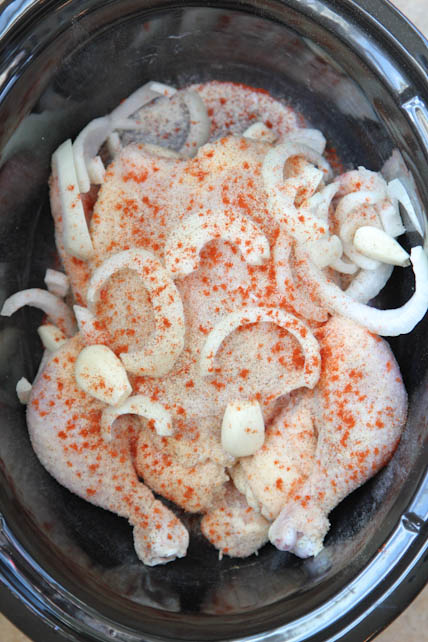 Drop the nekkid bird into the base of the slow cooker. No need to add any liquid…it will release plenty of juices and we will dilute them later for homemade broth!
Season as you wish.
I usually use garlic powder, onion powder, salt, pepper, paprika, whatever!
Add some onions, garlic, carrots, celery…which will give the broth more flavor.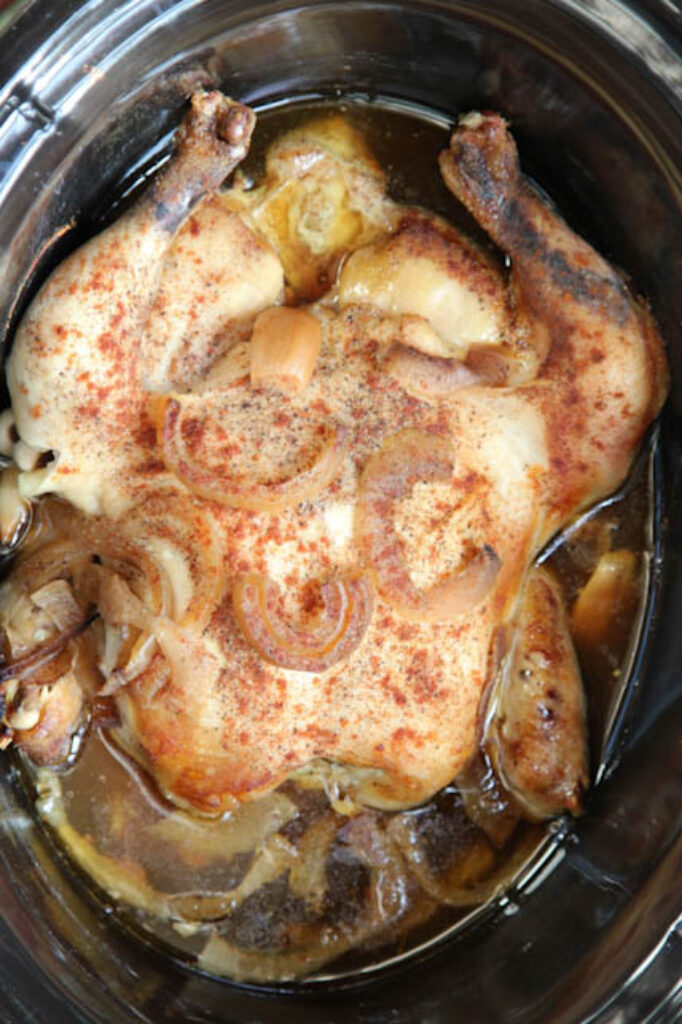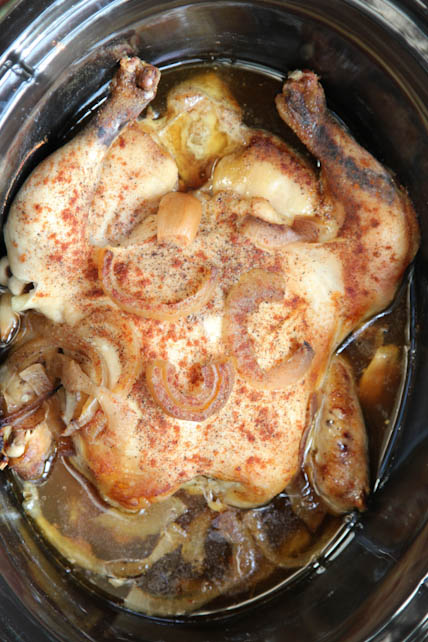 Slow cook on low for 8 hours.
See how much liquid it releases. Don't discard that, you can use it for broth!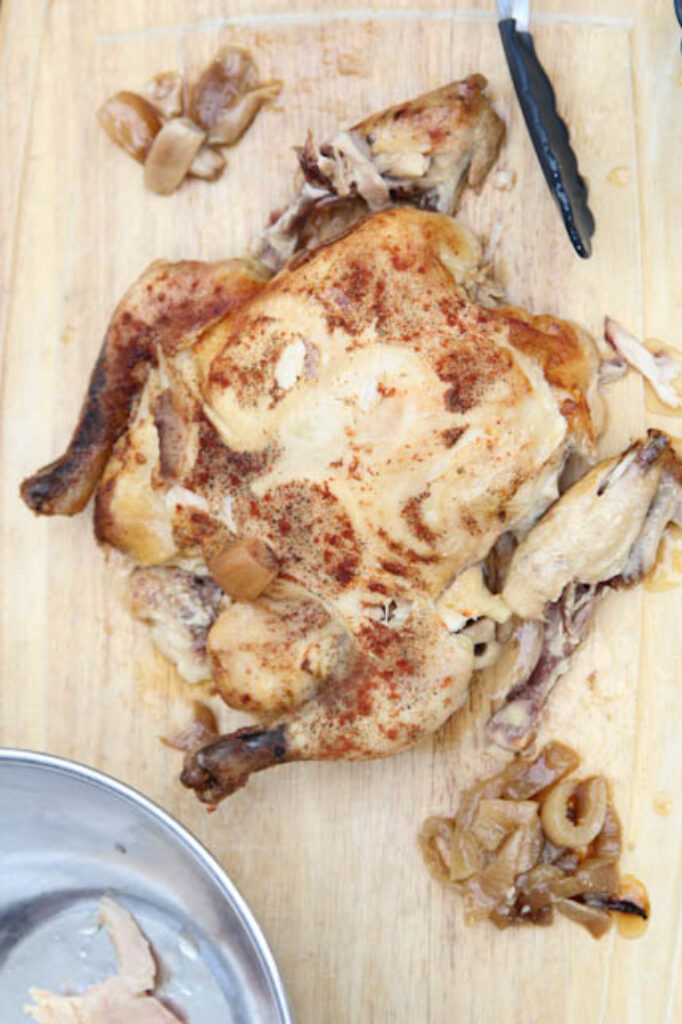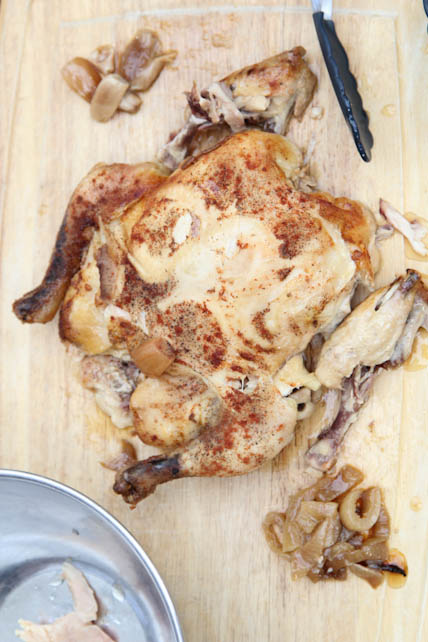 Remove bird, onions and garlic.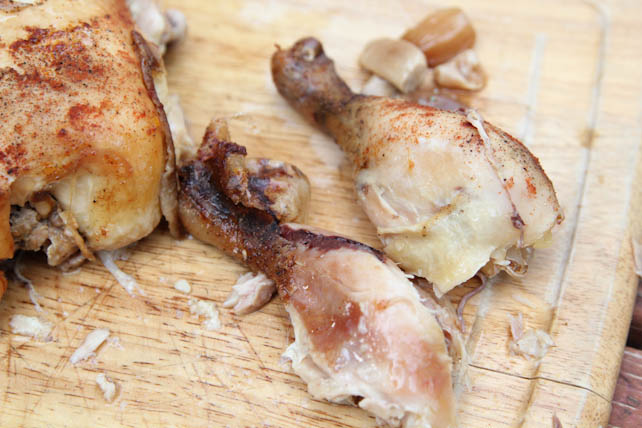 Pull skin off, pull drumsticks off, pull meat off.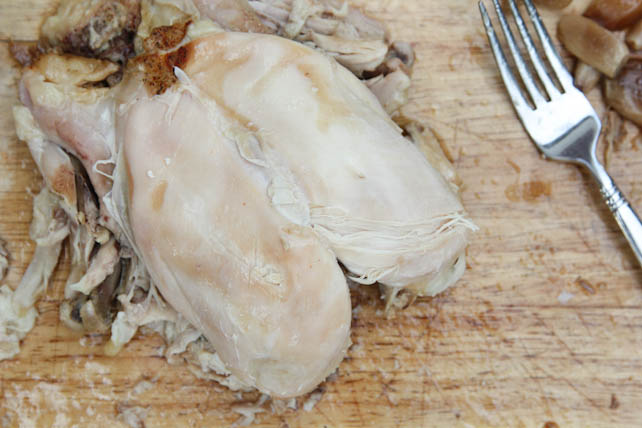 Run your knife down the center breast bone and pull the breast and tenderloin off. Pull off as much meat as you can.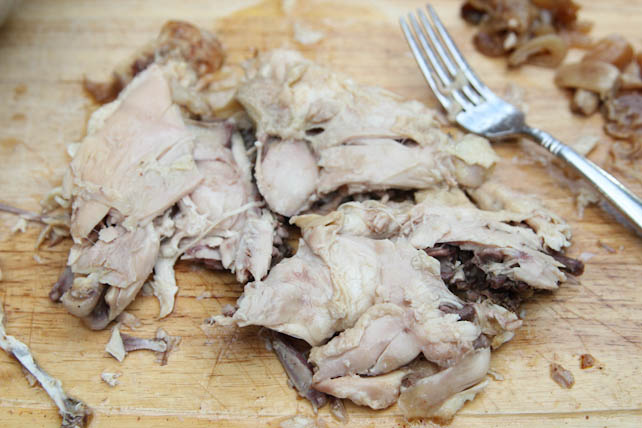 Flip the bird and pull off the thighs and any meat from the back.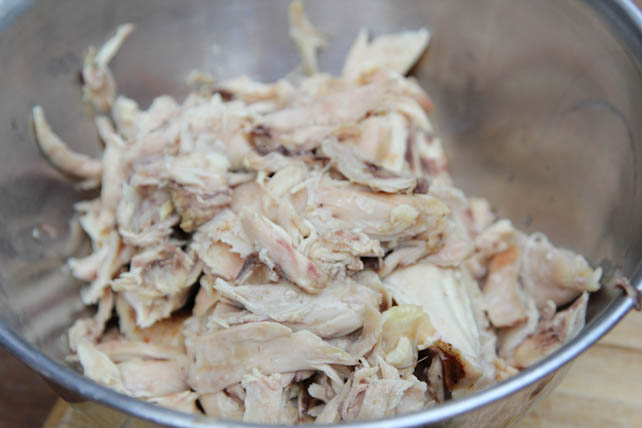 Pile the meat you want to shred all up!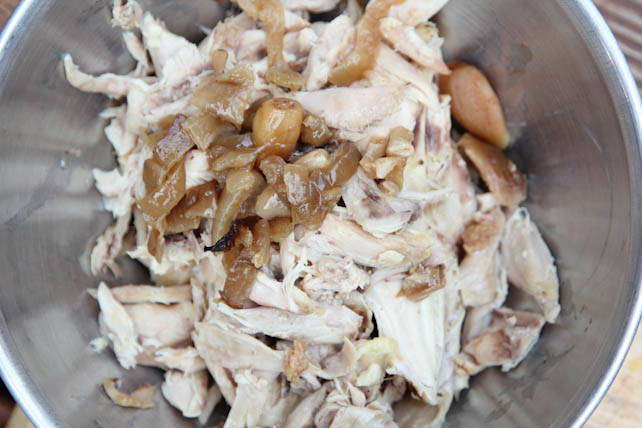 Toss in the onions and garlic for added flavor. They are really soft and will almost 'melt' in with the chicken!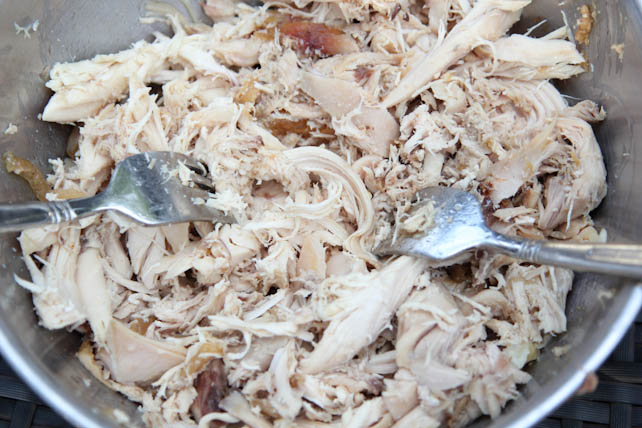 Using 2 forks or your stand mixer, shred the chicken.
Kaboom.
You have shredded chicken to use in any of the recipes below.
I can usually get 2 or 3 meals worth from 1 whole chicken, depending on the meal!
To Freeze: Let the shredded meat cool completely before adding in 2-3 cup portions in a plastic freezer baggie or container.
Thaw in a bowl of warm water before reheating or using in the recipe.
Recipes Using This Shredded Chicken
How to Make Chicken Broth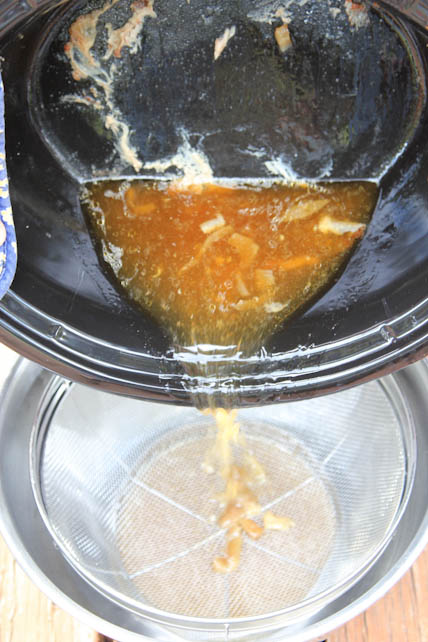 Strain liquid.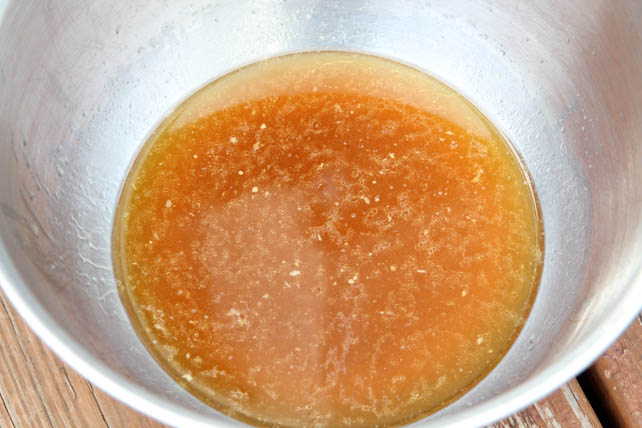 Let sit for a few minutes.
Skim off the fat, and then…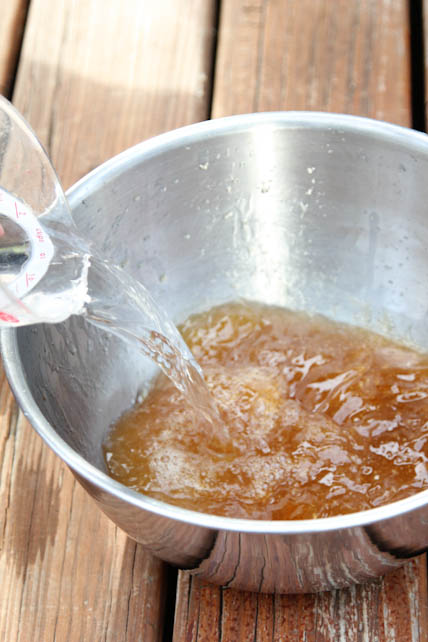 Dilute with about the same amount of water that you have liquid.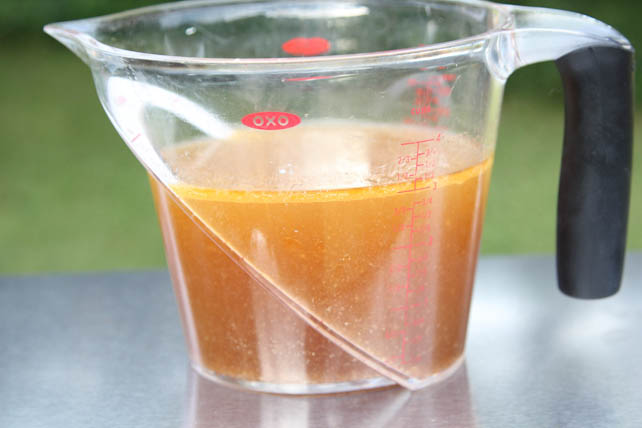 Let it sit for a bit and then skim off the fat again, and dilute to your preference/taste. I generally dilute to get about 5-6 cups per whole chicken.
To Freeze Homemade Broth: Pour the cooled broth into a plastic container or freezer baggie in 2 cup portions to use in recipes that call for chicken broth.
Recipes that Use Chicken Broth
There you have it…a whole chicken becomes multiple meals of shredded chicken and homemade broth!
A simple, seasoned whole chicken cooked in the slow cooker - makes the best shredded chicken and homemade chicken broth.
Equipment
slow cooker, 6 quart or larger
Ingredients
1

whole chicken

1

small

white onion

sliced

1

tsp

garlic powder

1

tsp

onion powder

1

tsp

paprika

Salt and pepper

celery, carrots

optional
Instructions
Place the whole chicken in the base of the slow cooker. Add the sliced onions on top.

Sprinkle the garlic powder, onion powder, paprika, and a few pinches of salt and pepper.

Set on low and cook for 8 hours.

Once cooked, remove the chicken from the slow cooker carefully.

Let cool and then pull the white and dark meat from the bones. Place in a bowl and shred.

Add the liquid from the slow cooker into a measuring cup or small bowl. Skim off the fat.

Dilute with water to taste.

To freeze broth: let cool completely and freeze in 1 or 2-cup portions, or add to ice cube tray and make homemade broth ice cubes.

To freeze shredded chicken: let cool completely and add to freezer baggie. Label and freeze.
Follow $5 Dinners' board 31 Days of Freezer Cooking Recipes on Pinterest.