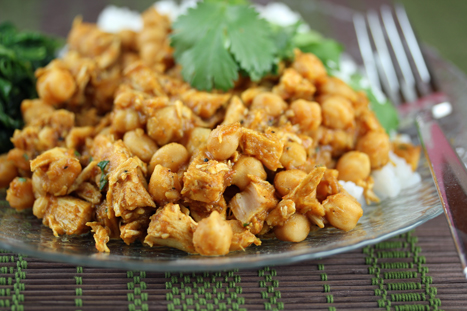 This would be one of those recipes that evolved as I put it together.
I started out making chickpeas in the slow cooker with a tomato based curry sauce. I set the slow cooker on high. And 4 hours later, when it was done…I decided that I should add some chicken, as I didn't think that Ryan would eat any of it…and he needed some protein. I found a bag of batch grilled chicken and dropped it in with the already cooked chickpeas and let it soak up the juices as the slow cooker sat on the "warm setting" for the rest of the afternoon.
I intended to make brown rice with this…but ended up chatting with Jessica for a little longer than originally anticipated. (You'd think I'd have learned by now that anytime I talk with another blogger on the phone, it will inevitably be a 45 minute long conversation!) So brown rice was out…didn't have time to make it…and the little natives were getting quite restless.
So white rice would have to do, and in just 20 minutes…dinner was on the table.
And just as I suspected, Ryan picked out and ate all the chicken. But he did make me proud and tried a few chickpeas. While he wasn't begging for more, he also didn't make "that" face. You know "that" face.
Overall, we all really enjoyed this.
A superb slow cooker meal!
Ingredients
1

lb.

dried chickpeas

2

cups

vegetable or chicken broth

8

oz

tomato sauce

1

Tbsp

curry powder

2

chicken breasts, diced

Couple dashes of garlic salt

Couple dashes of pepper

1

cup

white rice

1

box

frozen spinach

Cilantro, an optional garnish
Instructions
Soak the dried chickpeas overnight. Drain and rinse, then add to the base of the slow cooker. Add the broth, tomato sauce and curry powder. Stir together. (At this point you could add the cooked or uncooked chicken pieces and let them cook with the chickpeas.) Season with a few dashes of garlic salt and pepper. Set on high and cook for 4 hours, or until chickpeas are soft and chicken is cooked, if using raw chicken at the start. Let sit on warm, until ready to serve.

Prepare rice as directed on the package.

Cook the spinach as directed on the box.

Serve Curried Chickpeas and Chicken over rice with side of spinach, or other vegetable.