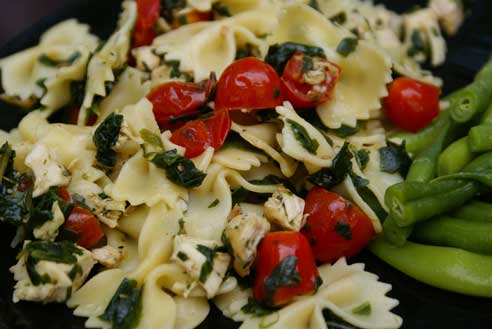 Lindsay emailed this recipe for a yummy pasta dish that uses cherry or grape tomatoes!
I used the $3.55 Tyson split chicken breasts that I bought this morning. I baked them with some seasonings and then cut off all the chicken…gave me 4 cups total! Used 2 cups for this recipe and 2 cups went into the freezer! (Read more here about what to do with split chicken breasts.) I then took the bones and made chicken broth. Good thing it's a cool, rainy day today…otherwise the kitchen heat might have done me in!
Ingredients
1

lb.

bow tie pasta ($1) On sale this week!

1/4

cup

canola oil ($.20)

2

cups

grape or cherry tomatoes, cut in half (free from garden)

2

cups

frozen spinach ($.63)

2

cups

shredded chicken ($3.55/2) On sale plus coupon this week!

2 tbsp Italian seasoning (free) McCormicks grinders on sale for $1, used $.50 coupon doubled!

Salt, pepper, and chopped fresh parsley, to taste

Green Beans (free from the garden) Picked yet another batch this morning!
Instructions
In medium saucepan, cook pasta noodles according to package instructions. Drain pasta.