Easy Way to Cook Brown Rice in the Oven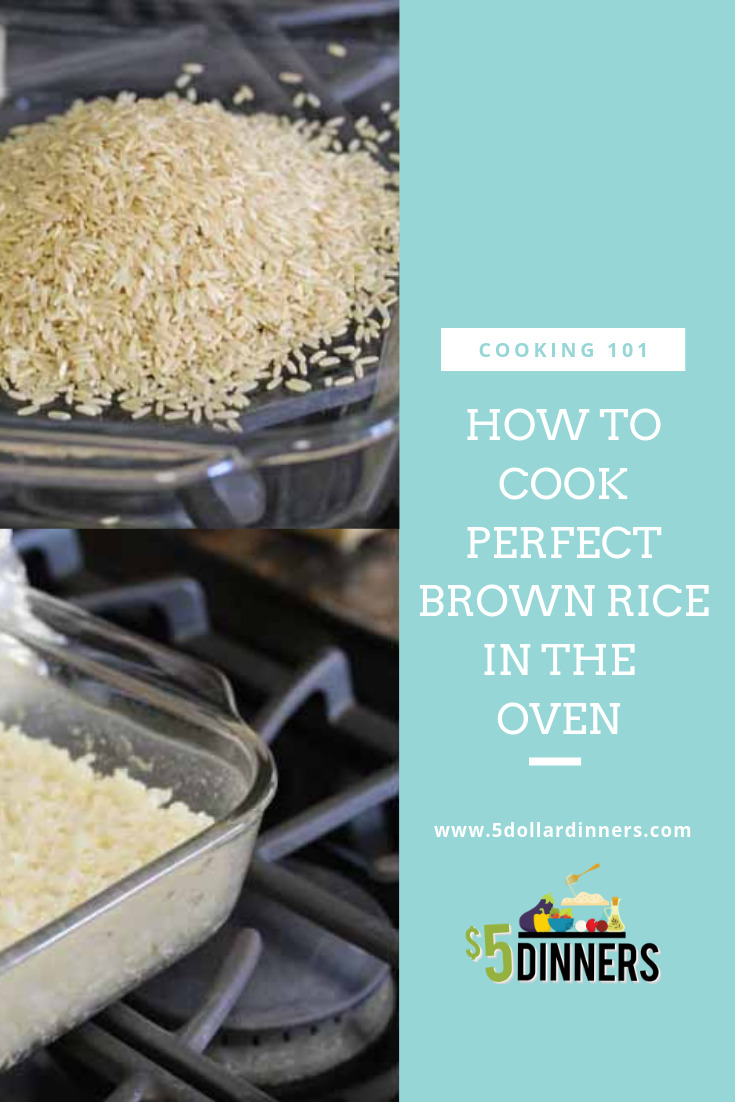 Friends…I'm baking brown rice these days. For years, I'd made it on the stovetop, as that's how I learned how to cook rice when I lived in the Dominican Republic years ago. Then I discovered the rice cooker. I've only been using my rice cooker for a few months, but I love it. It cooks the rice so beautifully, and the clean up is way simpler than cleaning (and sometimes scrubbing out) the saucepan.
But I loaned my rice cooker to my sister.
And I didn't want to go back to the stovetop. (Not that I won't ever cook rice on the stovetop again!) But…even if I set the timer, I might not get there in time… for it to be perfectly cooked. These early days with a baby make it difficult to commit to being at any one time…even if the timer is set and the rice should be cooked perfectly. We could be in the middle of a fuss-fest, and diaper change and outfit change, or in the middle of a nursing session. Cooking brown rice on the stovetop is a fine art, and requires a bit of attention towards the end, to make sure you get that perfectly cooked and fluffed brown rice to serve for dinner.
So I've turned to the oven.
Baking brown rice. There are a number of "rice bake" recipes in my One Dish Dinners cookbook. But today, I thought I'd share a basic how to cook brown rice. Feel free to experiment with mixing in different spices and veggies.
Here's the easy, side-dish, basic way to bake brown rice…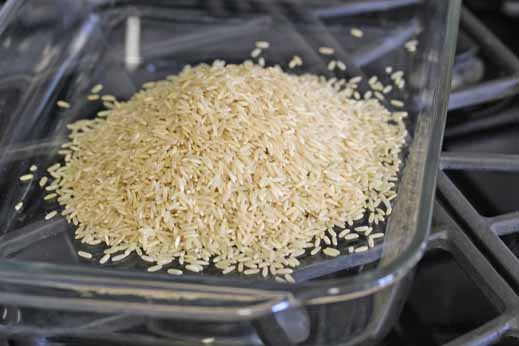 Add 1 1/2 cups raw brown rice to bottom of a 9×13 inch glass baking dish.
(Or do 1 cup in an 8×8 glass baking dish.)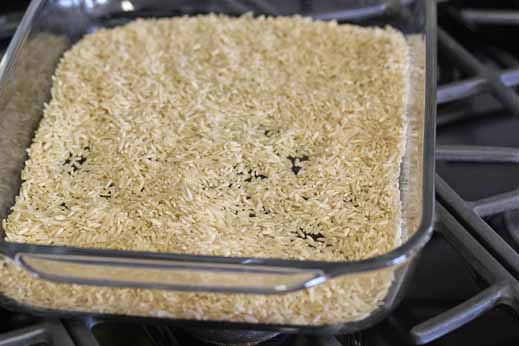 Spread evenly over the bottom of the pan.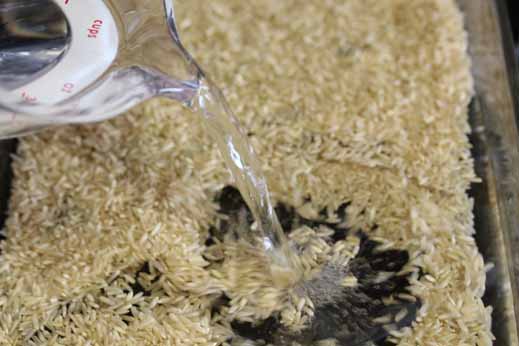 Pour in liquid at ratio of 2 1/4 times the amount of rice you used. I generally do water, but if I want it a bit more flavored, I will do half water and half chicken or vegetable broth.
(2.25 * 1.5 = 3.375, or 3 3/8 cups of water for what's pictured.)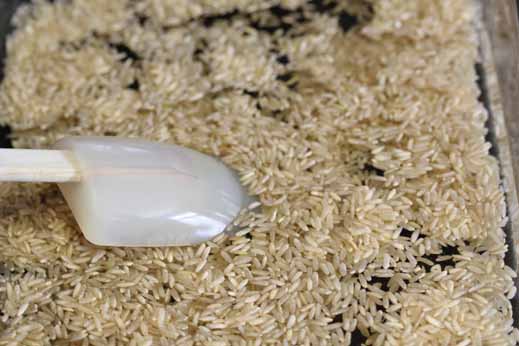 Press down any floating rice with a flat spatula.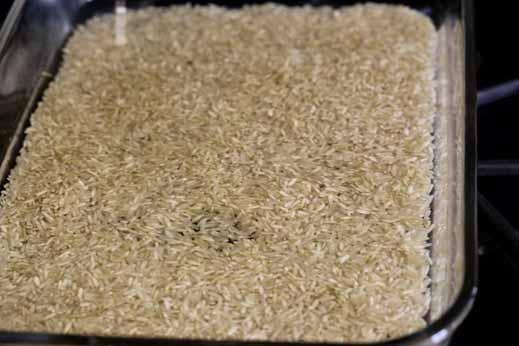 Once all the rice is at the bottom and not longer floating…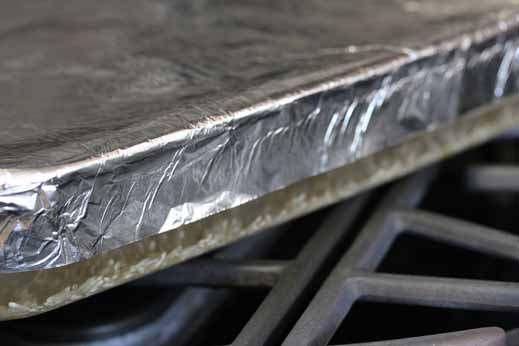 Wrap tightly with foil.
Bake at 350 for 1 hour.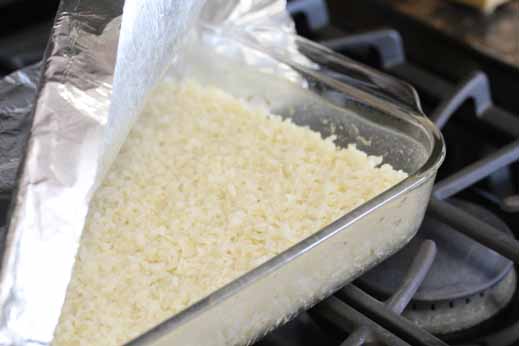 Let cool slightly before removing the foil…there will be lots of steam and you don't want to get a steam burn!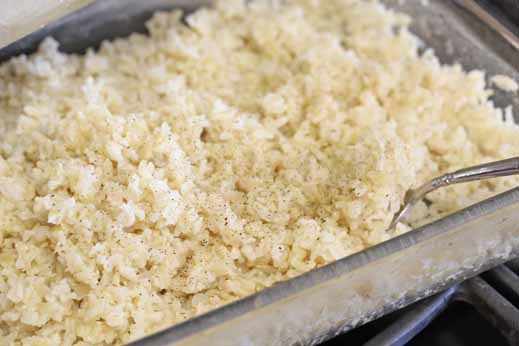 Fluff with a fork, season with salt and pepper and serve.
And that's how you do it friends!
Simple, deliciously perfect brown rice, baked in the oven!
No more water boiling over, or rice sticking to the bottom of the pot! Perfectly fluffy brown rice, every time!
Ingredients
1 1/2

cups

brown rice

3 3/8

cups

warm water

2

Tbsp

butter

salt and pepper

to taste
Instructions
Add the brown rice to the bottom of a 9x13-inch baking dish. Add the water, and then spread the rice into the water so it's covered completely.

Wrap the baking dish tightly with foil. Bake in the preheated oven for 1 hour.

Once cooked, add butter, salt and pepper and stir to combine. Serve brown rice, as side dish.