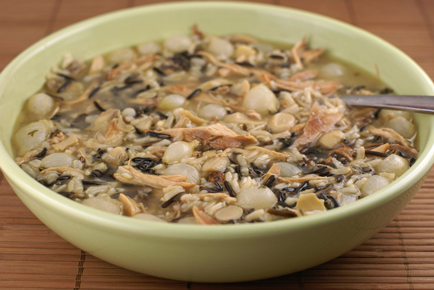 My December "clear out the pantry" challenge continues.  Tonight in the form of Chicken and Wild Rice Soup with Pearled Onions. I pulled a whole chicken from the freezer and cooked it in the slow cooker on Saturday.  My plan was to then use half the cooked and shredded chicken for this soup, and the rest for BBQ chicken sandwiches for lunch yesterday.  I also saved the broth from slow cooking the whole chicken and used it in the soup.
When I was getting the chicken out of the freezer on Saturday to defrost and then slow cook, I noticed a bag of pearled onions.  I bought them a few weeks ago when on sale for $.88/bag, with a $.60/3 store coupon.  To be honest, I really didn't have anything in mind when I bought them…and I wasn't entirely sure how or when I would use them…but thought they'd be a fun ingredient to have on hand.  For something.
And that something was this soup. As I was planning out the month's menu and what I could make to use up the items in the pantry and freezer, I had in mind that I'd use up a plain old yellow onion for this soup.  Until I spotted that bag of pearled onions.
You might not think it would have made much of a difference in the taste, but pearled onions have a distinct, almost sweet, flavor…that was perfect in this soup.  Wild rice has a bland, yet somehow bold, and distinct taste…and I really liked how the pearled onions brought a new dimension…I thought the sweet pearled onions provided a nice balance, and contrast, with the wild rice.  Toss in some chicken and mushrooms slices and you've got a great dinner…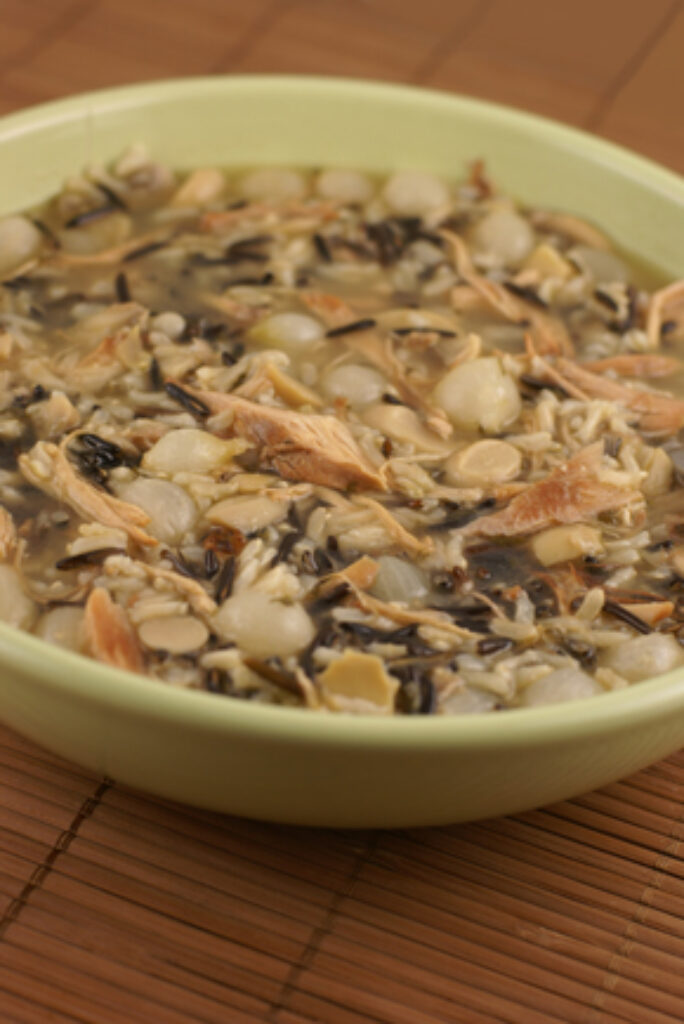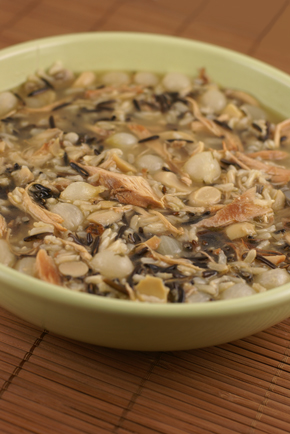 Chicken and Wild Rice Soup with Pearled Onions

Ingredients

2 Tbsp olive oil ($.20)
1 1/2 cup frozen pearled onions, about 1/2 bag ($.37) $.88 sale plus $.60/3 coupon
1 4 oz. can sliced mushrooms, drained ($.39) Super sale at Walgreens
2 garlic cloves, crushed ($.10)
4 cups homemade or store bought chicken broth (free to $2)
4 cups water
1 cup brown rice ($.40)
1 cup wild rice ($1.99)
2 cups cooked and shredded chicken ($1.50)
2 Tbsp white wine vinegar ($.10)
1 tsp parsley ($.05)
Salt and pepper, to taste
Bread or side of frozen veggies ($.68) $.88 sale plus $.60/3 coupon

Directions

To a large saucepan or Dutch oven, add the olive oil.  Saute the frozen pearled onions with the mushrooms and crushed garlic.  No need to thaw…will take a few extra minutes to steam off the water that the frozen onions release while they saute…about 4-6 minutes.  Once sauteed and the water has steamed off, add the broth and water.  (Wild rice is a "thirsty" grain…it takes 4 cups of liquid to 1 cup of wild rice…twice as much as white and brown rice!)
Bring to a boil, then add the brown rice and white rice.  Stir in the cooked and shredded chicken, white wine vinegar, parsley and some salt and pepper, to taste. Bring it all to a rolling boil, reduce heat to medium and cook for 50 minutes, or until wild rice and brown rice are soft.  Cover if too much water boils off…or add more water/broth, to reach desired consistency.
Note: This could certainly be made with raw chicken…just slice or dice boneless skinless chicken breasts or boneless skinless chicken thighs and add when you would add the cooked and shredded chicken.  It will cook through as the rice cooks.
Serve Chicken and Wild Rice Soup with a slice of bread, or frozen veggies…in our case, corn. Serves 4-6.

Cost $5.78

(With plenty of leftovers for lunch tomorrow!)