This homemade Broccoli Cheese Soup is going to knock your socks off.
I'm not going to lie. I couldn't stop eating this soup. I had it for dinner. For lunch again. And pretty much anytime I was hungry until it was gone.
And then I might have shed a tear.
You're not going to want to skimp on the calories with this one. You need to use the cream. And all the cheese. It really is too bad that the broccoli calories don't counter balance the cheesy-creamy calories.
But this is comfort food. Not calorie counting food.
And one last thing. Definitely get the sharp cheddar cheese that the recipe calls for, or even extra sharp cheddar cheese. Mild cheddar just won't cut it.
This soup will warm your tummy, your heart and most importantly, your taste buds.
Comfort food at it's finest!
Ingredients
1/2

cup

butter

1

white onion, diced

2

medium

carrots, finely diced

2

stalks of celery, diced very small

4

cups

chicken broth (or vegetable broth)

2

heads fresh broccoli, chopped

1

cup

milk

2

Tbsp

cornstarch

1

tsp

garlic, minced

1/4

tsp

white pepper

1/4

tsp

dried thyme

1/2

tsp

salt

Dash of nutmeg

1

cup

heavy whipping cream

12

oz

white American cheese, cubed (not processed food slices)

16

oz

sharp cheddar cheese, shredded
Instructions
In a large soup pot, add the butter, onion, carrots, and celery. Cook over medium heat for about 4 - 5 minutes until carrots are tender.

To the pot, add broth and broccoli. Boil 10 minutes to soften the broccoli.

In a small bowl, add milk, cornstarch, garlic, and all seasonings. Stir well until all cornstarch lumps are dissolved. Pour the cornstarch mixture into the soup pot and bring to a very low simmer.

Add in cheese and cream. Stir continually to melt. Stir until cheese is smoothly blended.

Serve immediately.
Erin's Personal Recommendations for Chili, Soup & Stew Supplies: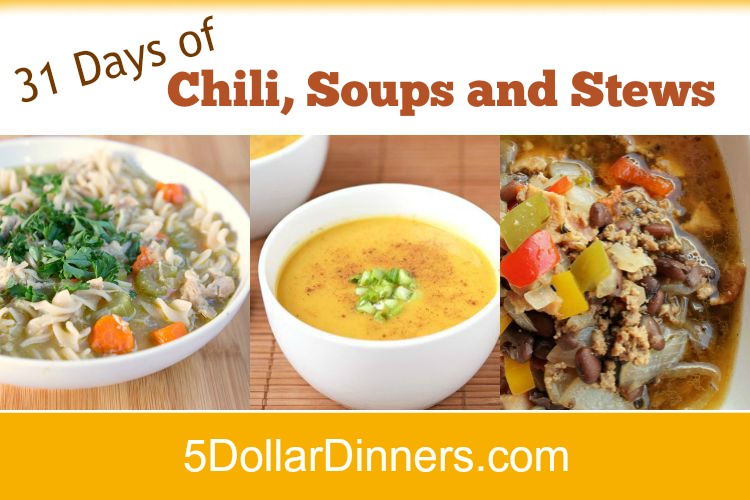 Other "31 Days of" Series to check out:
Disclaimer: As an Amazon Associate, I earn commissions on qualifying purchases. Reviews, opinions are my own.