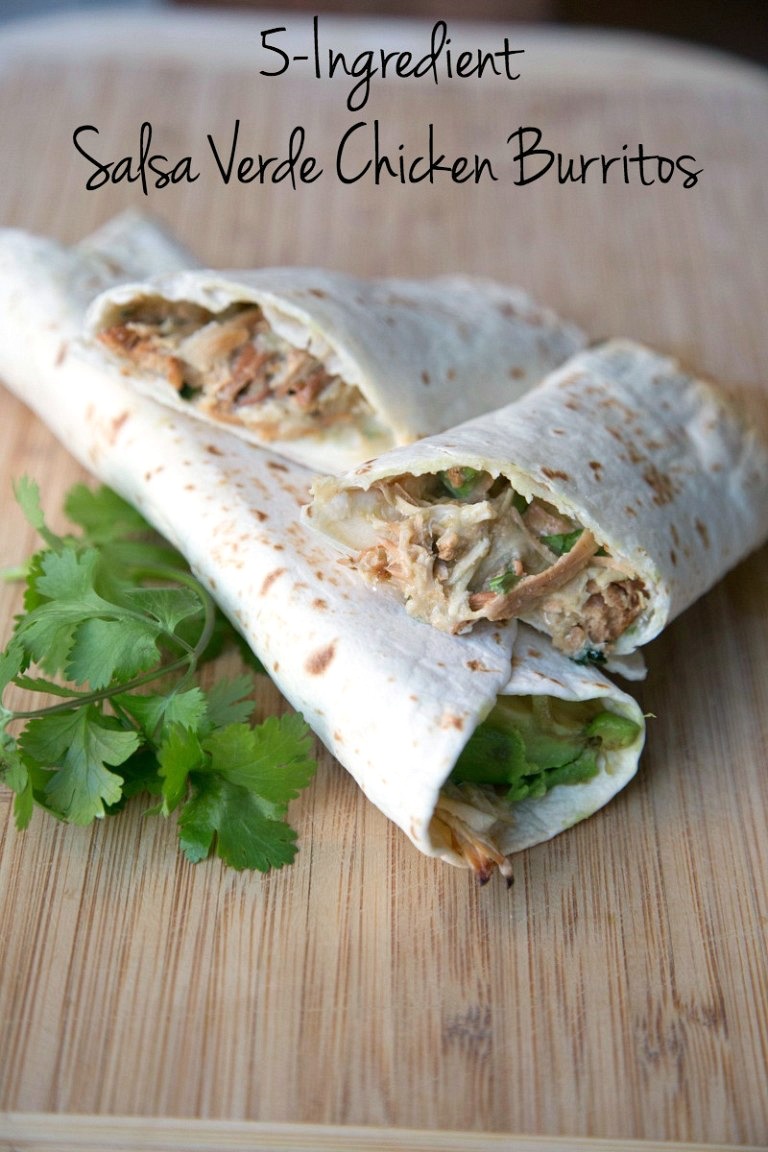 5 Ingredients.
Yes, that is all.
Here they are, in no particular order…
Large tortillas, preferably burrito-size.
Salsa verde sauce.
Avocado slices.
Shredded cheese…whatever Tex-Mex variety you prefer. I like to use jalapeno jack cheese for a little added "kick."
Shredded rotisserie chicken.
(Optional 6th ingredient…chopped cilantro. I'm calling this optional because I know there are many people who don't like cilantro. In fact, it tastes like you're eating soap. It's a gene thing. For real. No one in our family has that gene, so I included it in our burritos…but it's the optional 6th ingredient!)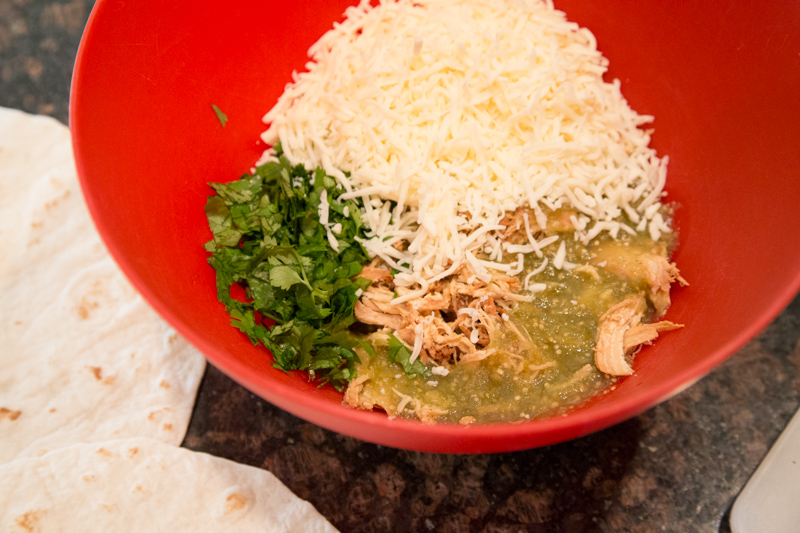 See.
3Â ingredients (plus the optional 6th) get mixed together in a bowl.
The spread out onto tortillas.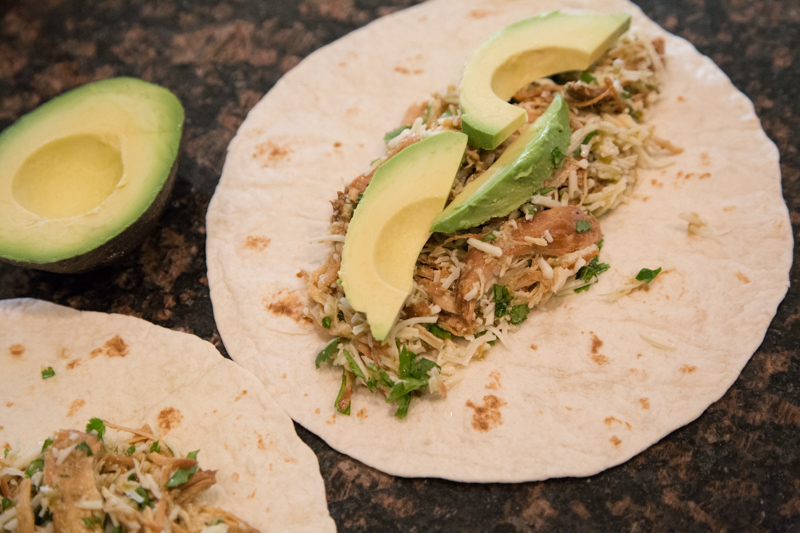 Avocado slices go on top.
Then they get rolled and placed into baking dish.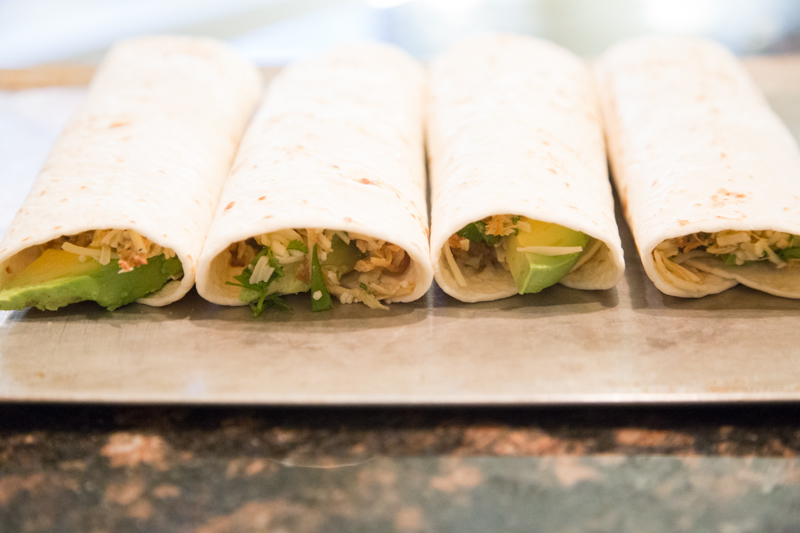 Then baked for a short time…just long enough to warm things up and melt the cheese.
About 15-20 minutes.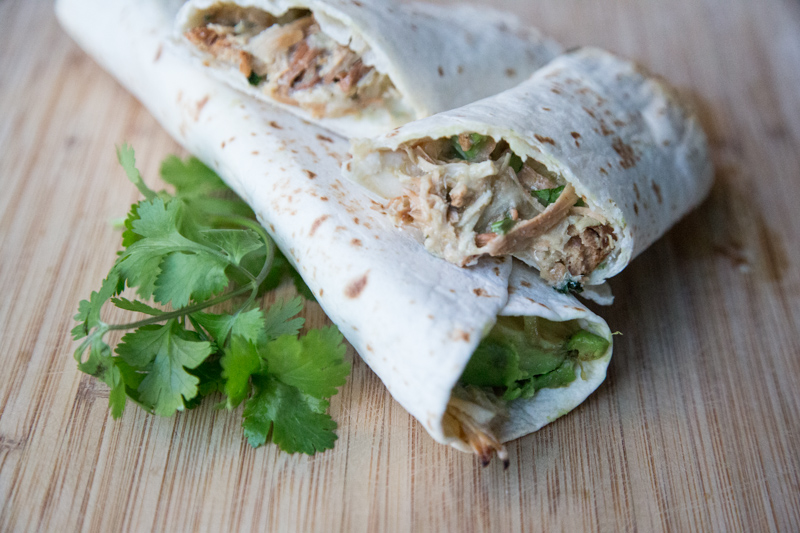 Boom…dinner is ready!
Hope your family loves these quick and easy Salsa Verde Chicken Burritos!
P.S. These would be great served with a sour cream dip or an avocado ranch dressing dip 🙂
With only 5 ingredients, this is a stellar and flavorful dish!
Ingredients
2

cups

shredded rotisserie chicken

1

cup

Salsa Verde sauce

2

cups

shredded Monterrey Jack or Jalapeno Jack cheese

2

avocados, seeded and sliced

Fresh cilantro, chopped (optional)

4

burrito-size tortillas

Fresh fruit or veggies, as side dish
Instructions
Preheat oven to 350 F. Lightly grease a 7x11 or 9x13-inch baking dish with non-stick cooking spray.

In a large mixing bowl, toss together the shredded chicken, salsa verde sauce, shredded cheese and cilantro (if using.)

Spoon evenly onto all 4 of the tortillas. Add avocado slices to each and roll them up. Place them seam side down in the prepared baking dish.

Bake in the preheated oven for 15-20 minutes, or until cheese has melted and tortillas begin to golden.

Serve Salsa Verde Chicken Burritos with fresh fruit or veggies.
Pin all of our 31 Days of Rotisserie Chicken Recipes here!
Follow $5 Dinners' board 31 Days of Rotisserie Chicken Recipes on Pinterest.
Erin's Personal Recommendations for Rotisserie Chicken Supplies: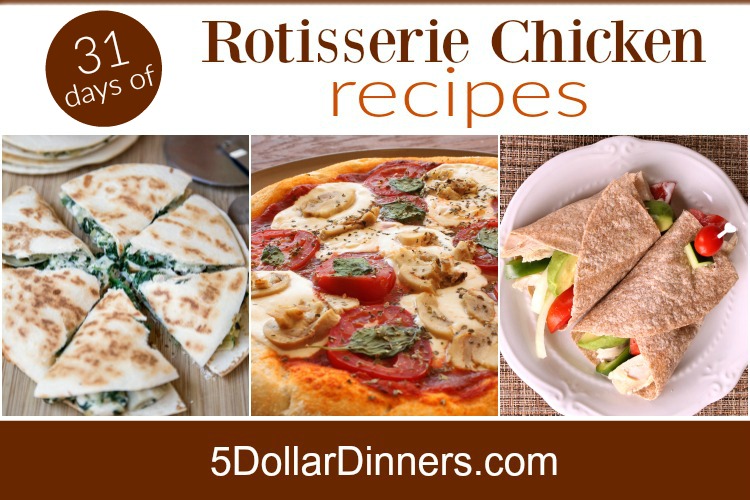 Other "31 Days of" Series to check out:
Disclaimer: As an Amazon Associate, I earn commissions on qualifying purchases. Reviews, opinions are my own.