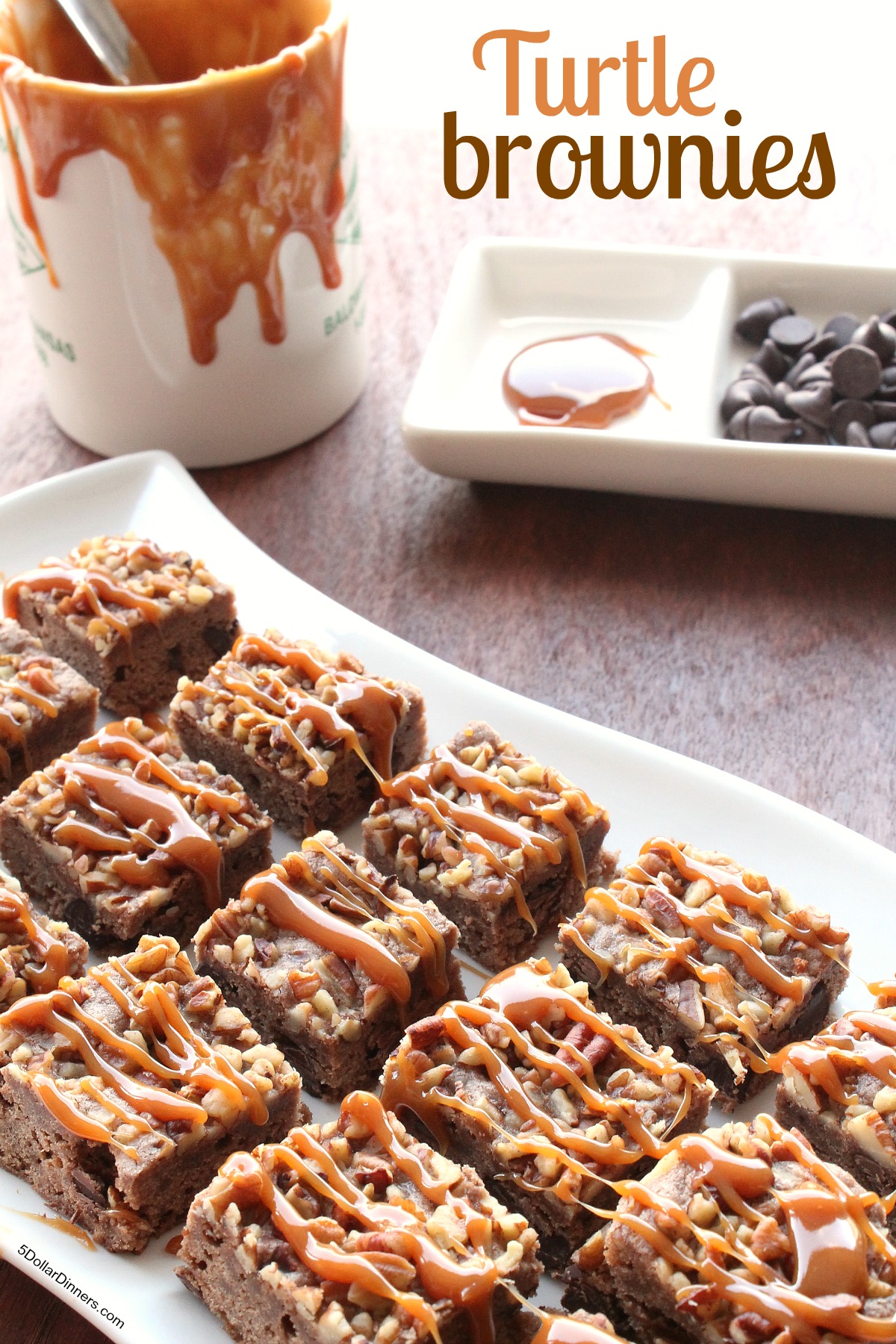 Go ahead…take a lick of that caramel sauce that's dripping down the mug. No one will judge. At least I won't…because I was doing the same thing! (hehehe)
These bad-boy-brownies are divine. They have all the right flavors, textures and they are simply perfect! The creaminess and sweetness from the caramel sauce with the chocolate-y brownies with a little crunch from the pecans…see, perfection!
I want you to make these, set them out on a plate…then see how long they last…and come back and tell me how quickly they flew off the serving plate 😉
Happy Holidays my friend!
Indulgent and delightful. The perfect holiday treat!
Ingredients
2

cups

chocolate chips, divided

1 1/2

cups

firmly packed light brown sugar

3/4

cup

butter, softened

3

eggs

1

Tbsp

vanilla

1 1/4

cups

all-purpose flour

1/4

tsp

salt

1

cup

chopped pecans

1

cup

caramel bits

2

Tbsp

evaporated milk
Instructions
Heat oven to 325 degrees. Prepare two 9 inch square pans by lining them with foil and spraying the foil with non-stick cooking spray. Make sure the that foil overhangs the edges by about an inch on all sides so you can use them as a handle at the end of the recipe.

In a microwaveable bowl, add 1/2 cup semi-sweet chocolate chips. Microwave on high for 30 seconds. Remove and stir. If the chips are not completely melted, microwave for another 10 seconds and stir again. Remove from microwave and set aside to cool.

In a large bowl, combine the brown sugar and the butter. Mix for a few seconds and scrape the sides to make sure it all gets integrated. Beat on high until the mixture is light and fluffy.

Add the eggs one at a time and mix well after each addition. Add the cooled chocolate and the vanilla, and mix well.

Pour in the flour and salt and stir to combine. Stir in 1 1/2 cups chocolate chips. Pour the batter into the prepared pans. Sprinkle evenly with pecans.

Bake at 325 degrees for 20 - 25 minutes or until the top is firm to the touch. Do not do the toothpick test since the middle will be fairly chocolatey with all the melted chocolate chips throughout. Allow the brownies to cool for at least 30 minutes.

In a small saucepan, combine the caramel bits and evaporated milk. Stir over low heat until the caramel is smooth. Drizzle the caramel over the brownies and cool for another 30 minutes. Remove the brownies from the pan using the foil handles. Discard the foil and cut into squares.

Store in airtight container at room temperature for up to 5 days.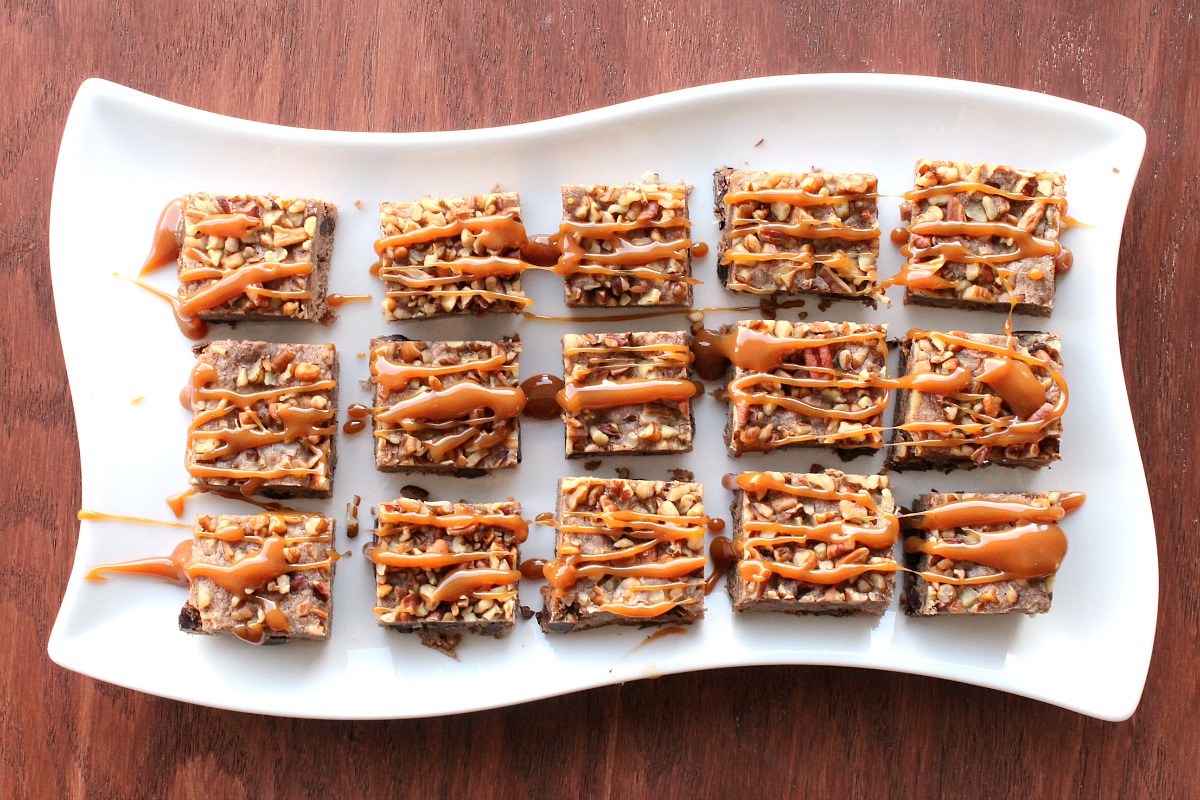 Erin's Personal Recommendations for Sweets & Treats Supplies: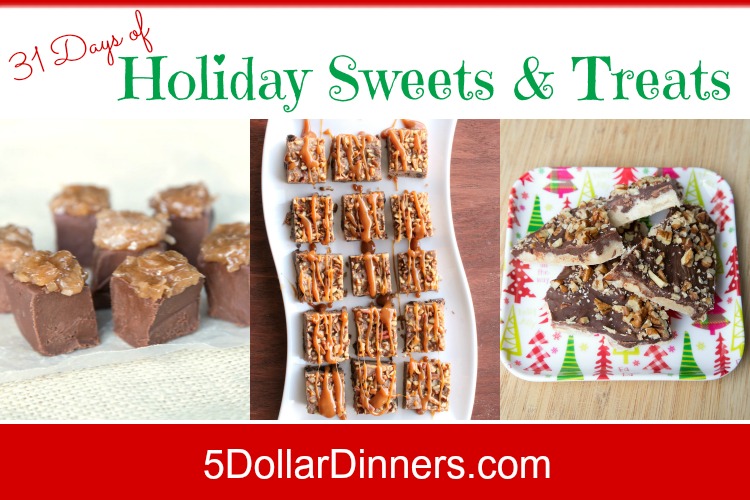 Other "31 Days of" Series to check out:
Disclaimer: As an Amazon Associate, I earn commissions on qualifying purchases. Reviews, opinions are my own.