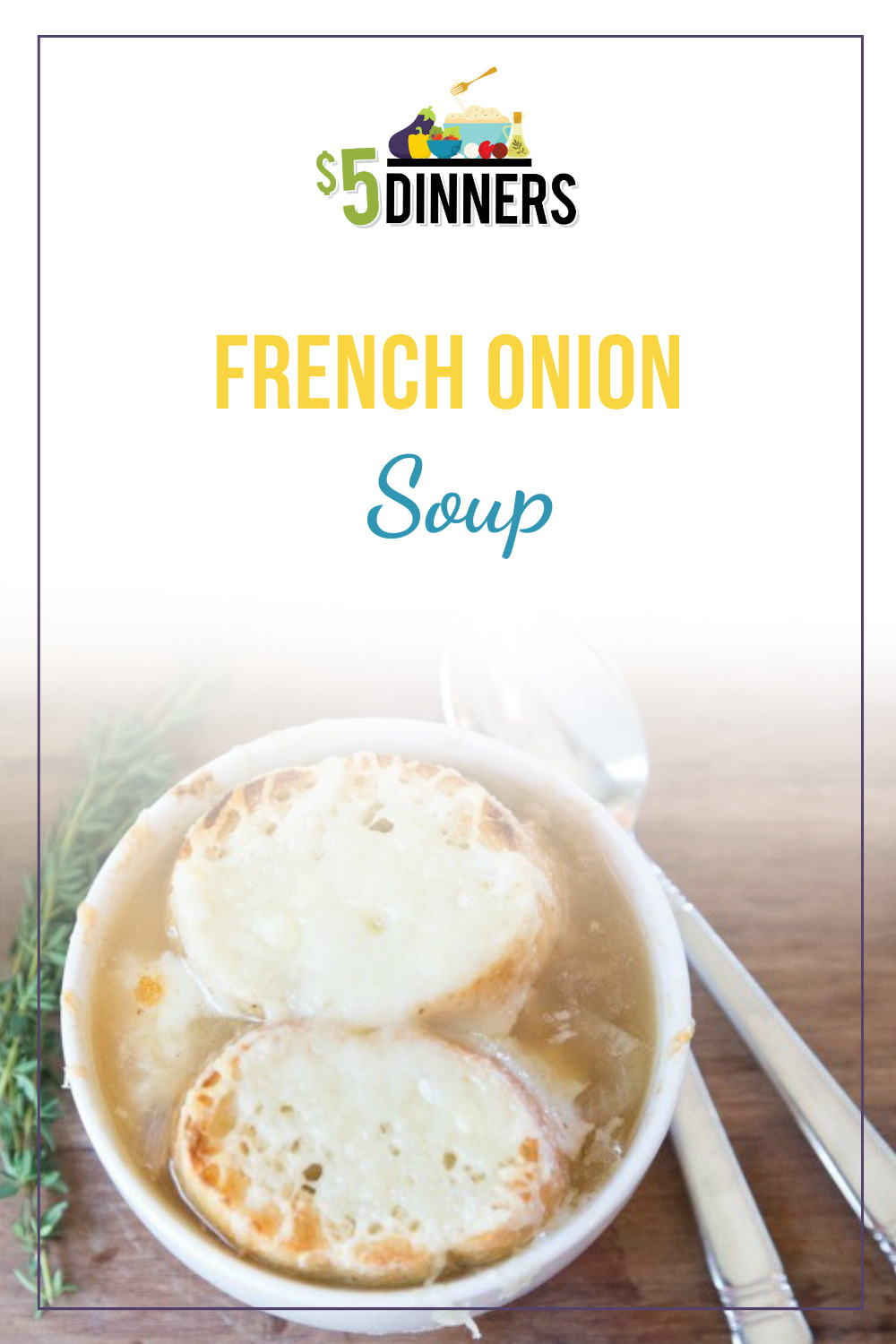 I have a bit of a caramelized onion problem. So much so that I take sizzly-videos and post them on Instagram with the wish that I could pass the smell and flavor from my phone to your phone.
Tttzzzzzzzzzzzz.
So I've been making French Onion Soup for years and I've learned a few things in my attempt to perfect my homemade version. I want to share this with you so you too can make the perfect bowl for your family.
First. Let the onions caramelize a long time…even up to an hour!
Second. Use a mix of beef broth and white wine.
(I don't often cook with wine, but in this case it's absolutely crucial as it adds a depth of flavor that you can't get without it. The broth-wine duo makes it perfect. I recommend a dry white wine.)
Third. Splurge on the cheese.
(I realize that this might push you over (or way over) the $5 Dinner mark…but it's okay to splurge every now and again. I highly recommend getting a block of Gruyere cheese to slice and add to the top of the bread. You can also find shredded Gruyere cheese if you don't trust your cheese slicing abilities. And if you need a more budget friendly cheese, grab a package of sliced Provolone cheese to use.)
Last. Broil, but 1 level lower that you normally would broil.
(Cheese is super sensitive under the broiler and I've found that it's best to broil food with cheese on top on a rack that's 1 level lower than you normally would broil. So drop that rack and broil that cheese to perfection!)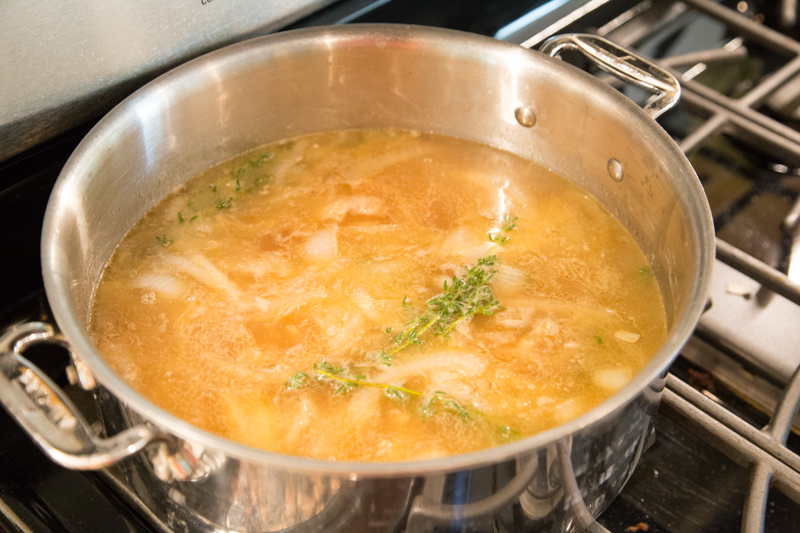 Simmer, simmer, simmer!
This is my favorite French Onion Soup recipe….I hope you love it as much as I do!
So hearty and filling and comforting! You need this soup in your life!
Ingredients
3

large

white onions, sliced

3

Tbsp

olive oil

3

Tbsp

white sugar

6

cups

beef broth

2

cups

dry white wine

3

sprigs fresh thyme

or 1 tsp dried thyme

French loaf or baguette, sliced

4

slices

Gruyere or Provolone cheese

or 1 cup shredded

Salt and pepper to taste

Fresh veggies, as side dish
Instructions
In a large skillet, add the sliced onions, olive oil and white sugar and bring to sizzling saute over medium heat. Then reduce heat to low and caramelize for 30 minutes to 1 hour. Stir often as the onions soften and caramelize/turn brown.

In a large saucepan or soup pot, bring the beef broth, white wine, fresh or dried thyme to a rolling boil. When the onions are done caramelizing, slide them carefully into the broth and continue to simmer over low heat for another 10-15 minutes to allow onion flavors to seep into the soup.

Ladle the soup into oven-safe serving bowls and add a slice or two of bread and a slice or pinchful of shredded cheese over the top.

Broil (1 rack lower) for 1-2 minutes, or until golden brown but not burnt. Do NOT walk away from the oven while broiling. You don't want to forget they are in there! Remove from the oven and let cool slightly before serving.

Serve French Onion Soup with fresh veggies.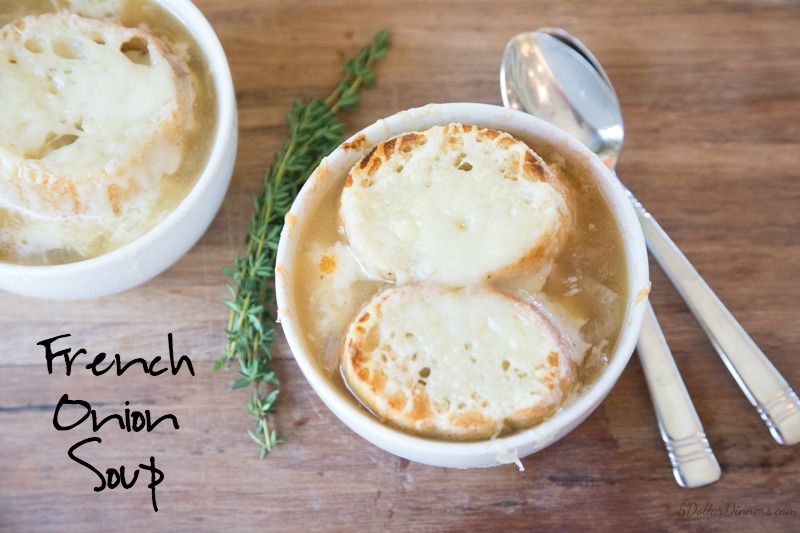 Erin's Personal Recommendations for Chili, Soup & Stew Supplies: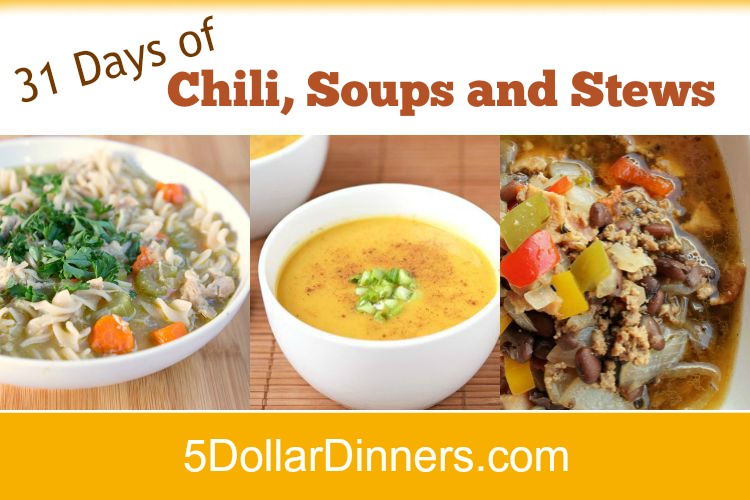 Other "31 Days of" Series to check out:
Disclaimer: As an Amazon Associate, I earn commissions on qualifying purchases. Reviews, opinions are my own.