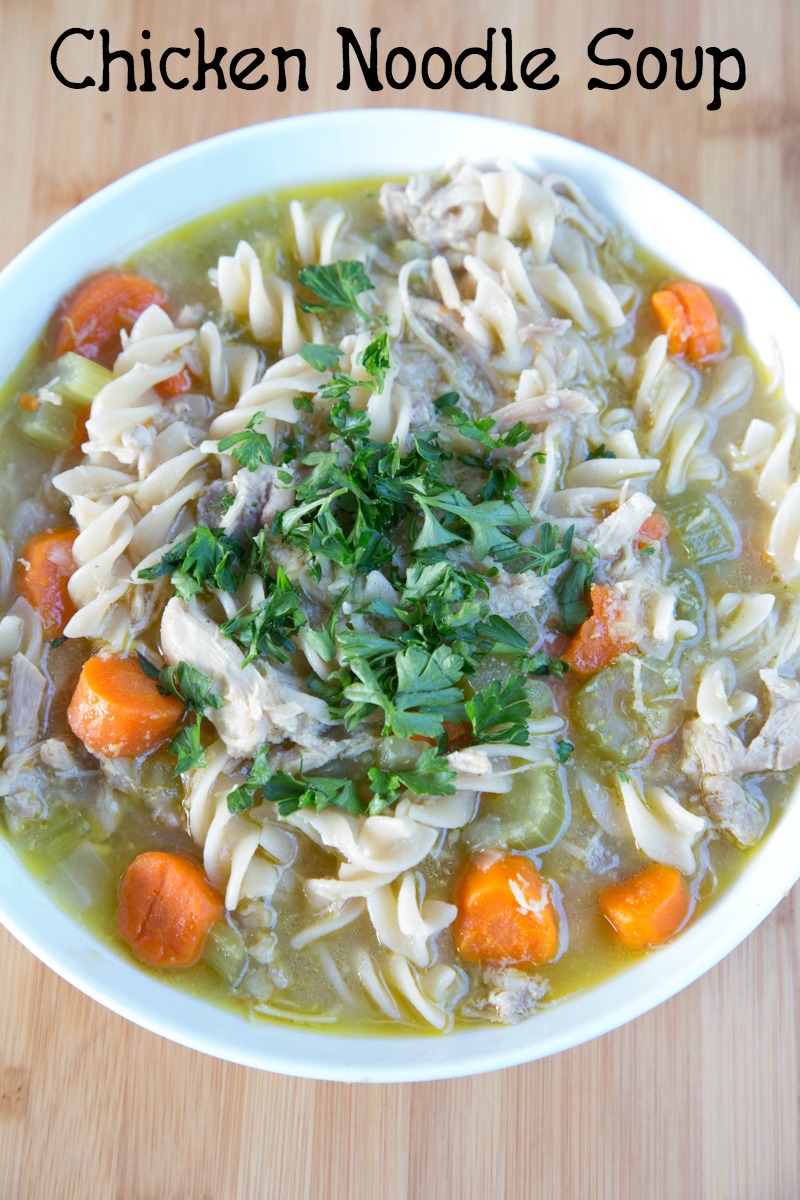 I love a great bowl of chicken noodle soup. And not just when I'm not feeling well. (Although, it certainly does make me feel better when I'm under the weather.)
Now that we're coming up on the winter months, I'll be getting a 'stash' of onions, celery and carrots into the freezer so that I'll have them handy when I need to make another round of this delicious-wonder-pot. It's easy to freezer carrots, celery and onion when you know you'll use them later in a soup, stew or chili. Simply combine a batch's worth in a plastic container or baggie and freezer them to use later. There's no need to give them an special pre-freezer treatment…just toss them in and freeze them.
When you're ready to use them, you can just drop them partially frozen or mostly frozen into the cooking liquid and let them melt into whatever it is you're making.
Ok…so back to this recipe…it starts with the carrots-celery-onions. Then moves to the stock and chicken. And at the end we introduce the pasta just before serving.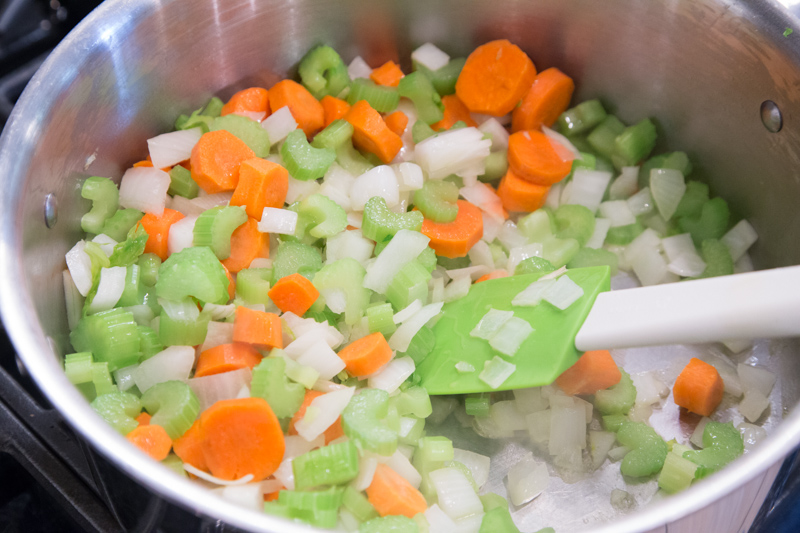 Saute these veggie-babies together for a few minutes, until the onions start to sweat.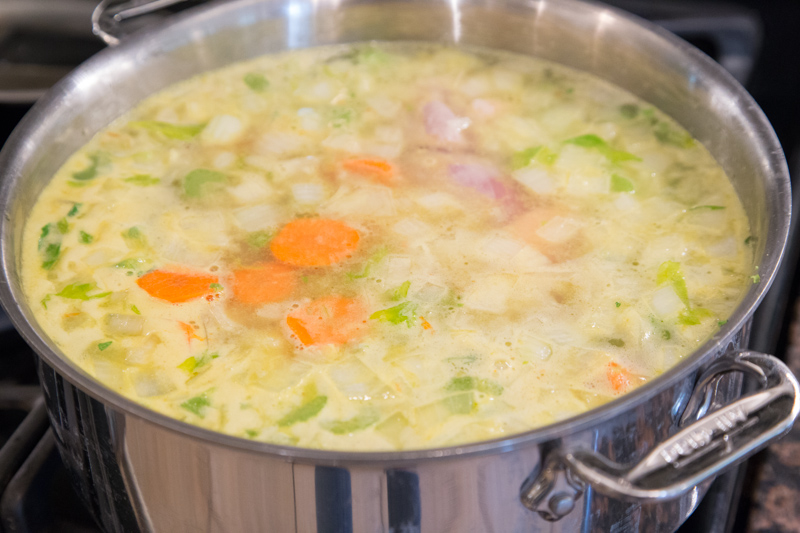 Then pour in the stock and add the chicken.
(I added partially frozen chicken thighs, so I let them cook all the way through with the lid on.)
Then…
I removed the cooked chicken from the pot and added it to my stand mixer to shred. Once shredded, I added the chicken back into the pot.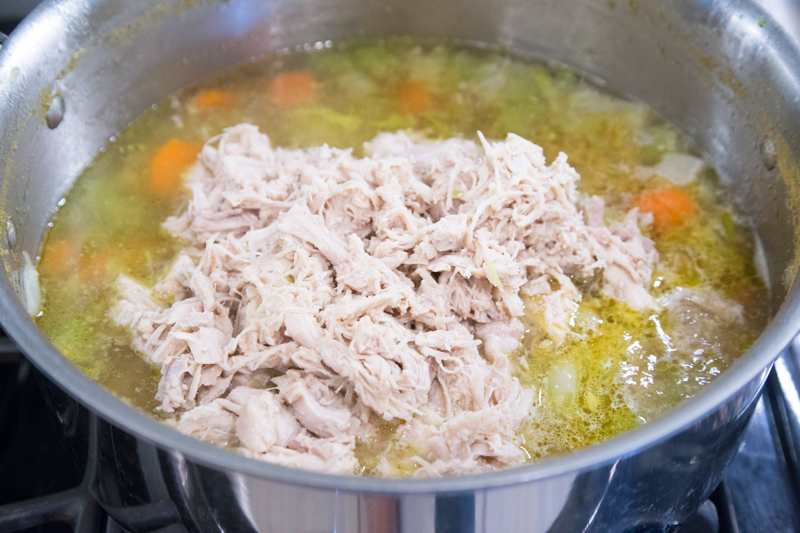 Add the pasta.
If need be, add 1 cup hot water.
Simmer, simmer.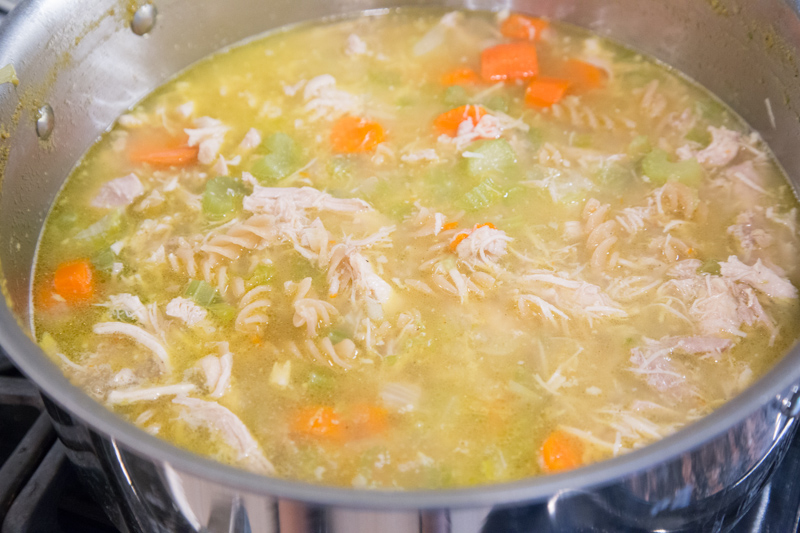 Let cook for 8 to 10 minutes, or until pasta is al dente.
Remove pot from the heat.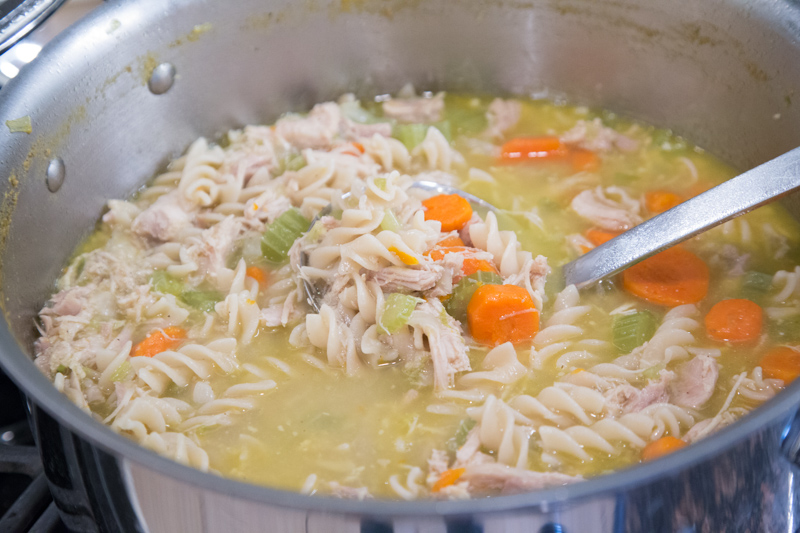 You don't want the pasta to overcook by letting the pot sit on the stove too long.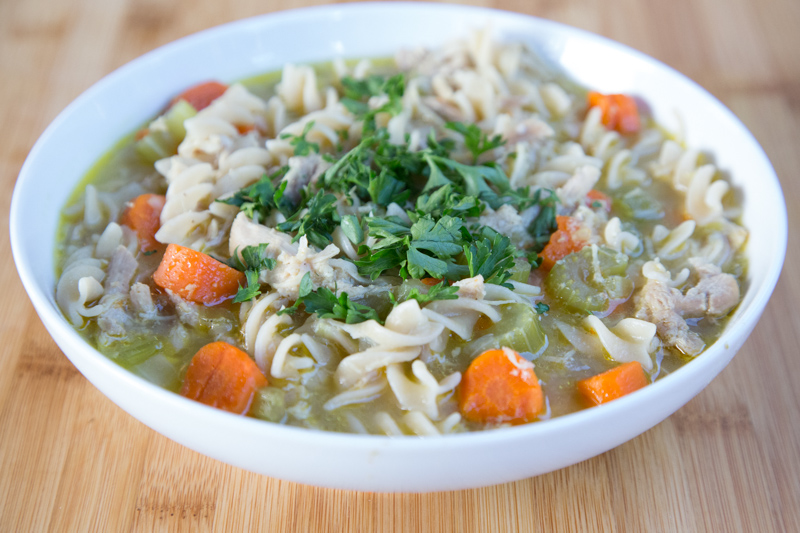 Serve Homemade Chicken Noodle Soup with fresh parsley garnish.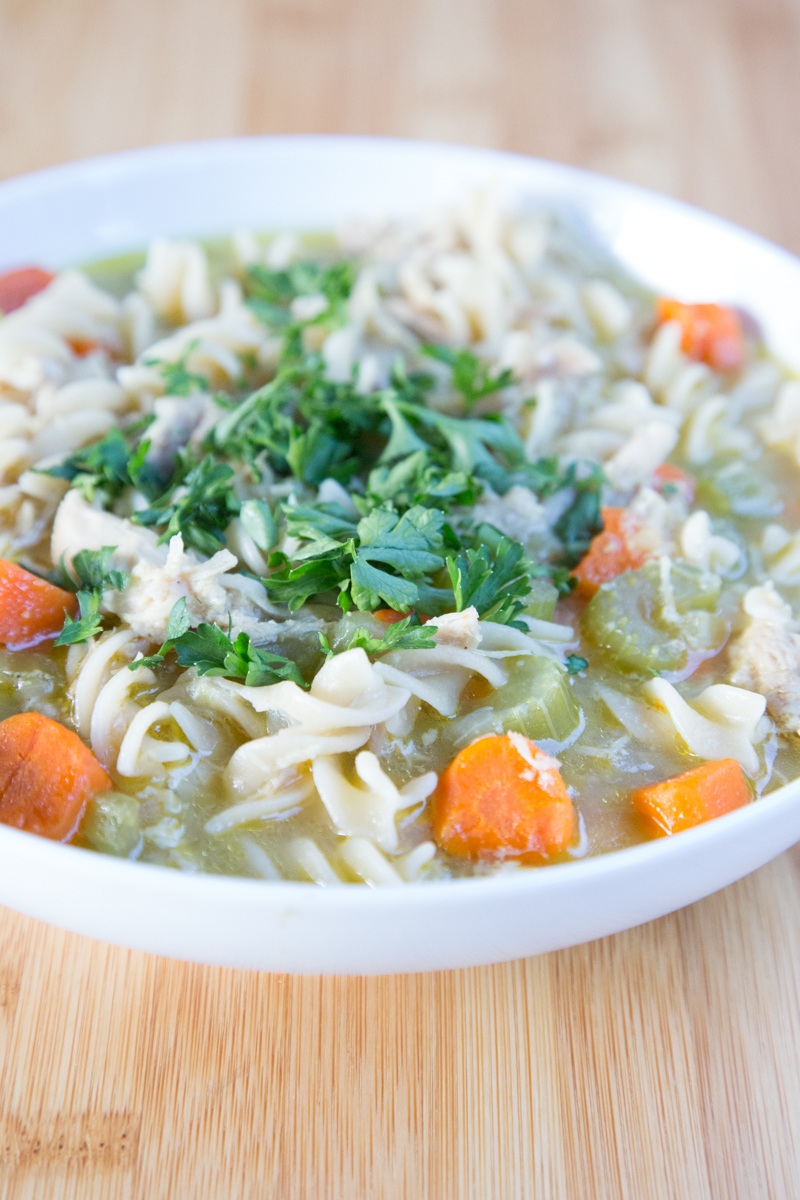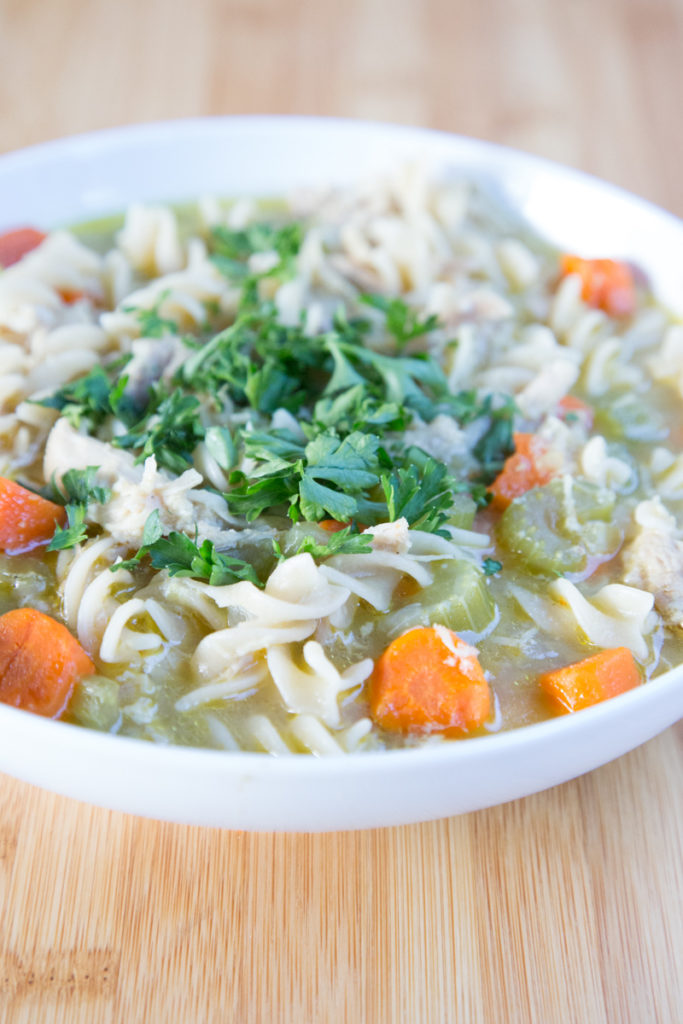 Happy slurping 🙂
I love a great bowl of chicken noodle soup. And not just when I'm not feeling well.
Ingredients
2

Tbsp

olive oil

4

carrot sticks, peeled and cut into circles

2

celery stalks, chopped

1

small

white onion, chopped

6

cups

chicken stock

1

lb.

chicken thighs, cooked and shredded

8

oz.

small shell pasta noodles

1

tsp

garlic powder

1/2

tsp

dried thyme

Salt and pepper to taste

Fresh parsley, optional garnish
Instructions
In a large saucepan or stockpot, add the olive oil and saute the carrots, celery and onions until the onions begin to sweat. Pour in the chicken stock and bring to bubbling. Cook the chicken thighs in the stock, with lid covering the pot. Once completely cooked, remove the chicken thighs and shred with 2 forks, or in a stand mixer. Return the shredded chicken to the pot with the veggies.

Return to simmering/slow boil and add the pasta noodles. Add in the garlic powder, dried thyme and salt and pepper to taste. (If it appears that most of the pasta is sticking out of the liquid, add 1 cup of water for the pasta to absorb.) Cook at a rolling boil for 8 minutes, or until al dente.

Remove the pot immediately from the stovetop and ladle soup into serving bowls.

Serve Homemade Chicken Noodle Soup with parsley garnish.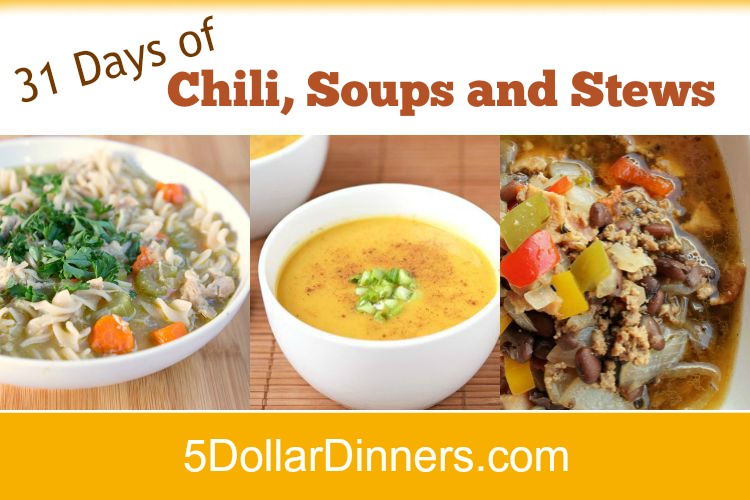 Other "31 Days of" Series to check out: