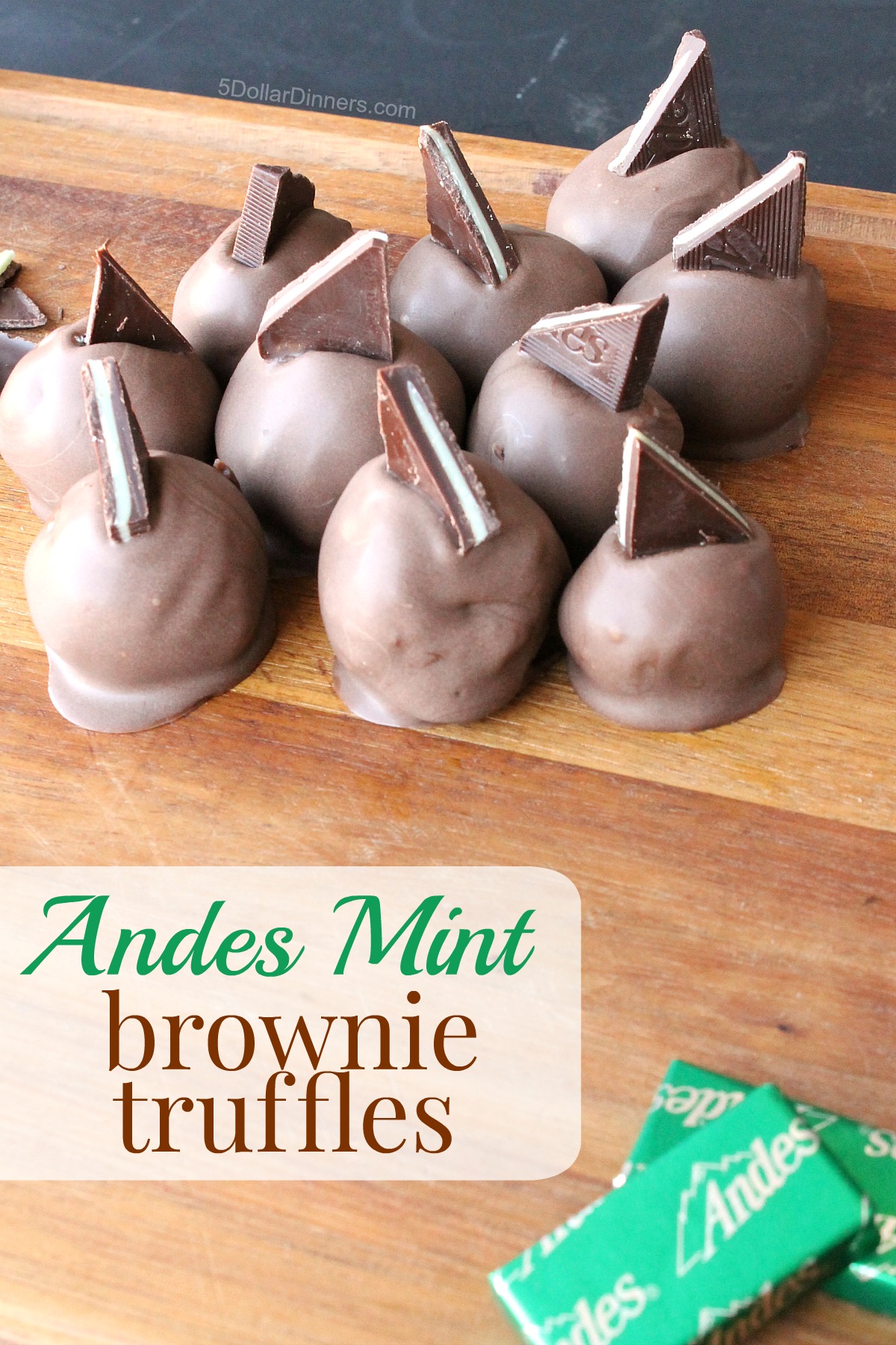 Did someone say truffles? Brownie truffles?
Brownie truffles with those yummy little Andes mints thrown into the mix?
Mmmmmmmmmmm.
My sweet tooth is really loving all these amazing recipes that we are featuring in this month's 31 Days of Sweets & Treats series.
If you really want to impress the guest at your holiday cookie exchange, I HIGHLY recommend taking 2 dozen of these for everyone!
Happy brownie truffle making! *brownie-truffle-cheers*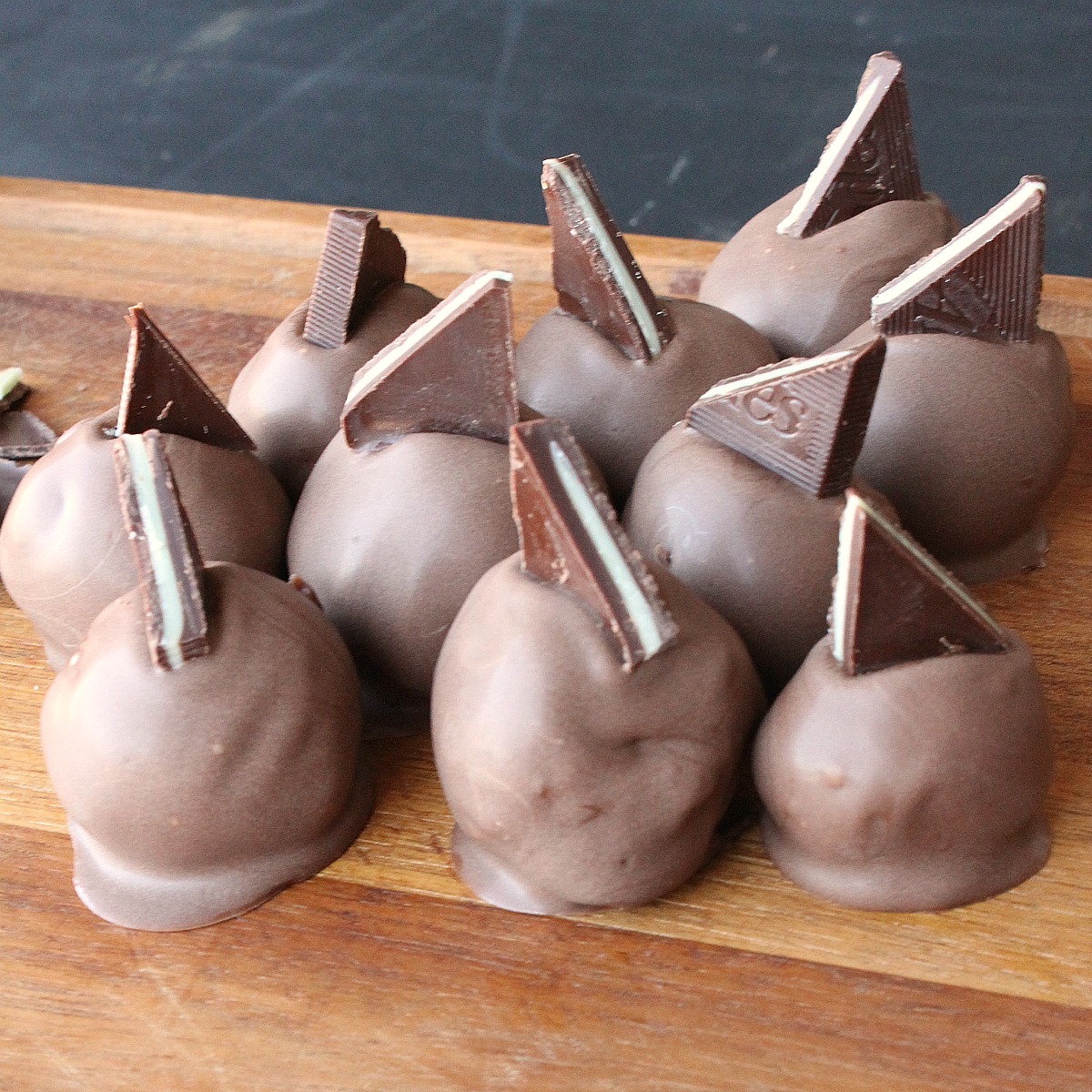 Ingredients
1 1/4

cups

all-purpose flour

1

cup

granulated sugar

1/4

tsp

baking soda

1

cup

Andes creme de menthe baking pieces

1

cup

semi-sweet chocolate chips

1/2

cup

(1 stick) butter or margarine, cut into pieces

1

tsp

1 tsp vanilla extract

3

eggs

4

oz

cream cheese, softened

8

oz

8 ochocolate candy coating

1

Tbsp

coconut oil

12

Andes mints, unwrapped and cut into triangles
Instructions
Heat oven to 350 degrees. Prepare a 9 inch square pan with non-stick cooking spray.

In a medium mixing bowl, combine flour, sugar, and baking soda. Stir to combine.

Add in Andes baking pieces. Stir. Set aside.

In a medium saucepan over low heat, combine chocolate chips and butter. Stir until melted and remove from heat.

To the chocolate mixture. add vanilla and eggs. Stir well.

Add dry mixture to the chocolate mixture and stir.

Place the batter in the prepared pan.

Bake at 350 degrees for 30 minutes. Allow to cool for 30 minutes on a cooling rack. This is a great time to take the cream cheese out to soften at room temperature.

Dump the brownies into a bowl along with the cream cheese. Blend until the mixture is a smooth color and texture. Refrigerate the brownie mixture for about 20 minutes.

Remove from the refrigerator and scoop the mixture into 1 tablespoon balls. Smooth them with your hand and place them on a parchment lined pan. Place them back in the refrigerator to chill for another 20 minutes.

When the balls are almost chilled, heat the candy coating along with the coconut oil in a microwaveable bowl. Microwave on high for 1 minute. Stir. Microwave on high for 30 seconds. Stir. Repeat this until the mixture is smooth with no lumps.

Remove the balls from the refrigerator and dip them one at a time in the candy coating. Place the dipped ball back onto the parchment paper and top with an Andes mint triangle.

Allow these truffles to cool at room temperature. Serve immediately or chill in an airtight container for up to a week.
Erin's Personal Recommendations for Sweets & Treats Supplies: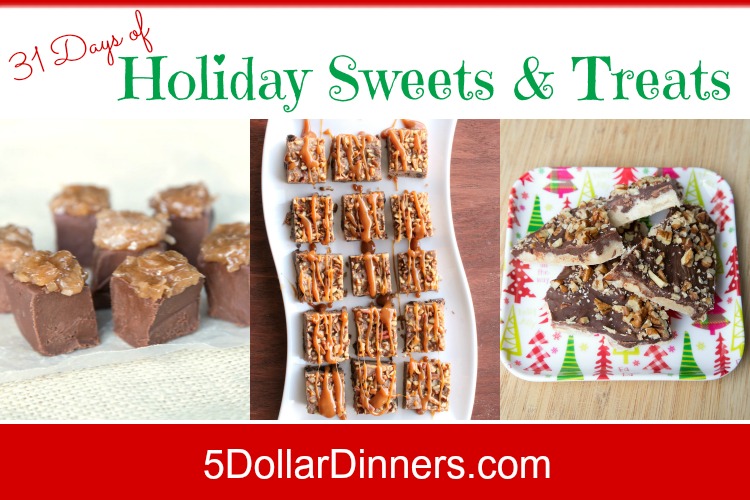 Other "31 Days of" Series to check out:
Disclaimer: As an Amazon Associate, I earn commissions on qualifying purchases. Reviews, opinions are my own.