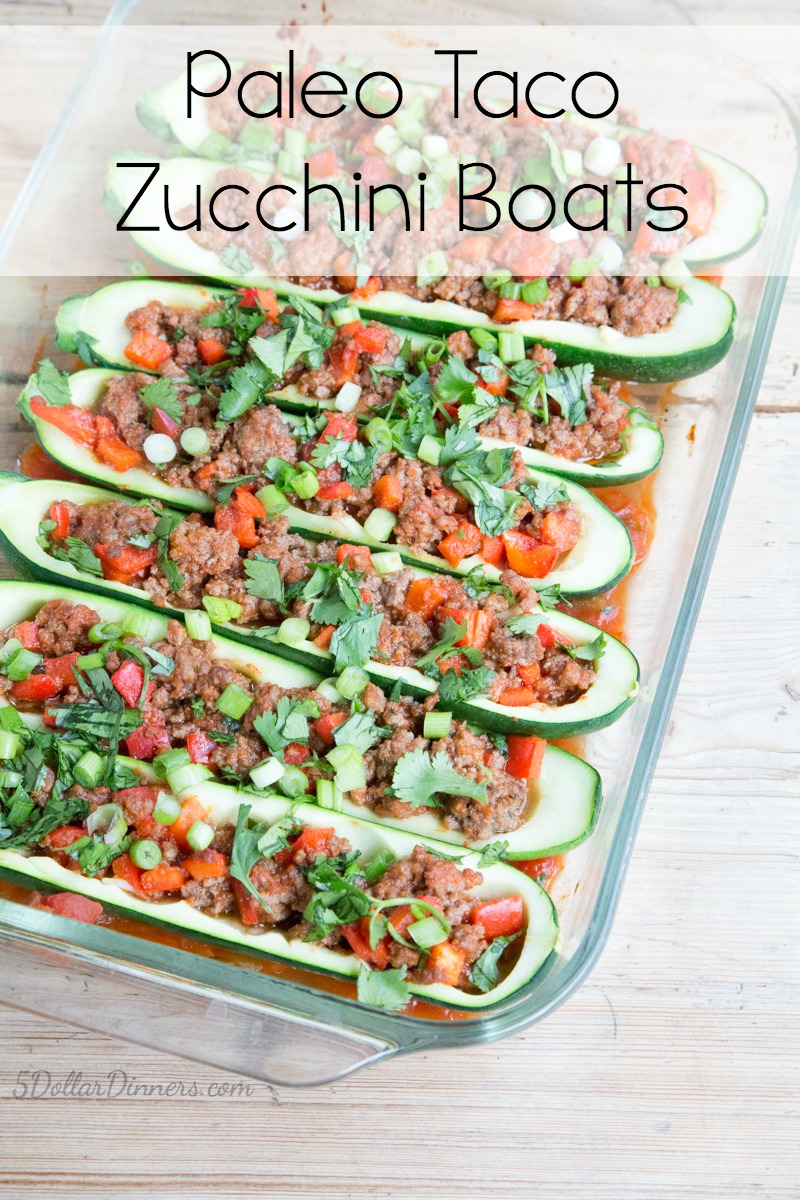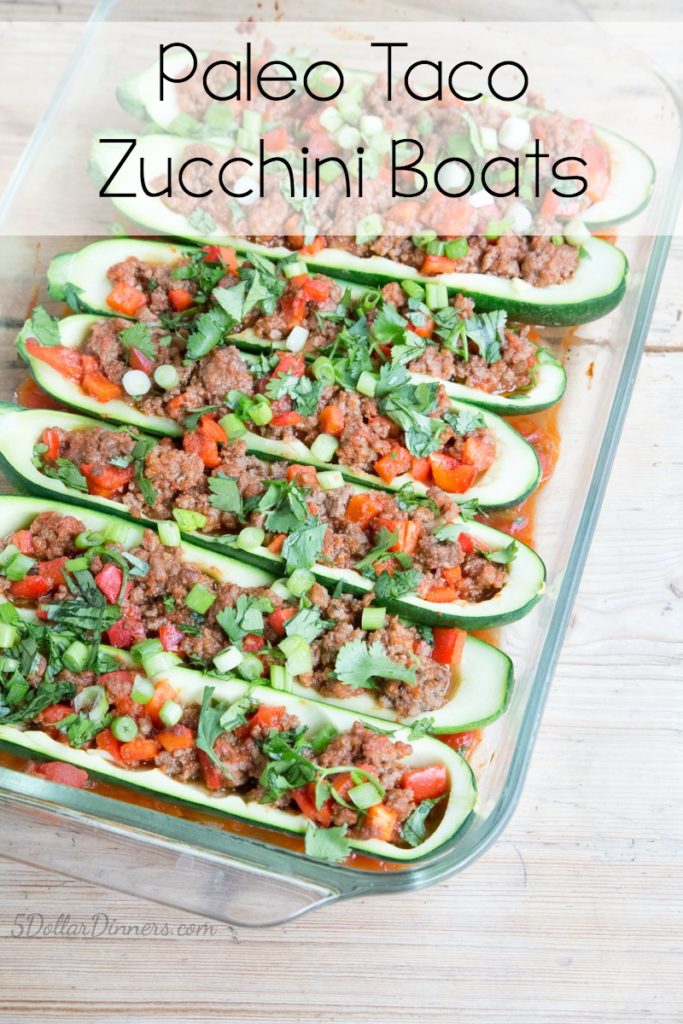 I think it's fair to say that this meal would cost just the same as a regular tacos meal. This could be one of the few regular turned Paleo meals where I could say that with confidence, the price wouldn't be different.
Here's why…
Box of taco shells = $2
4 zucchini = $2 (maybe less, depending on sales…summer is coming up and zukes get crazy cheap!)
Rest of the ingredients would be the same…ground beef, bell pepper, taco seasoning (in this case, I made it homemade), cilantro and green onion garnishes.
So yeah, I think it's fair to say that this meal might be the epitome of budget-friendly Paleo meals.
Here's how these babies come together…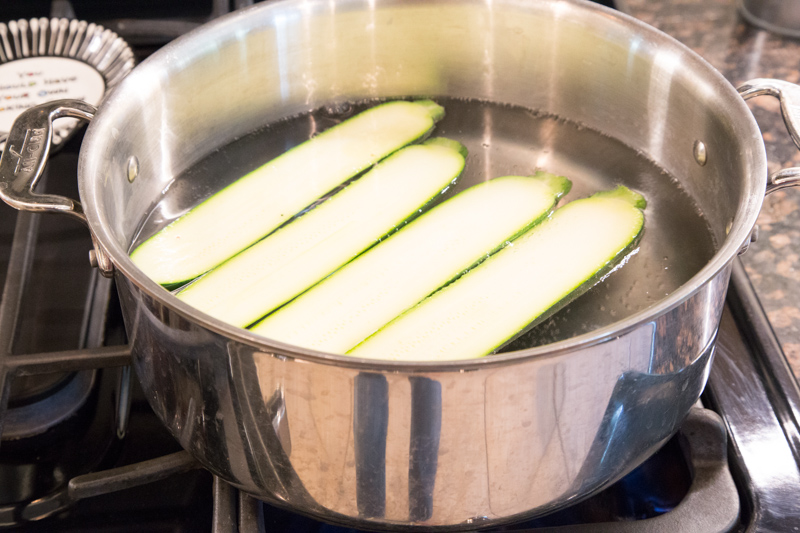 Boil the zukes for a minute.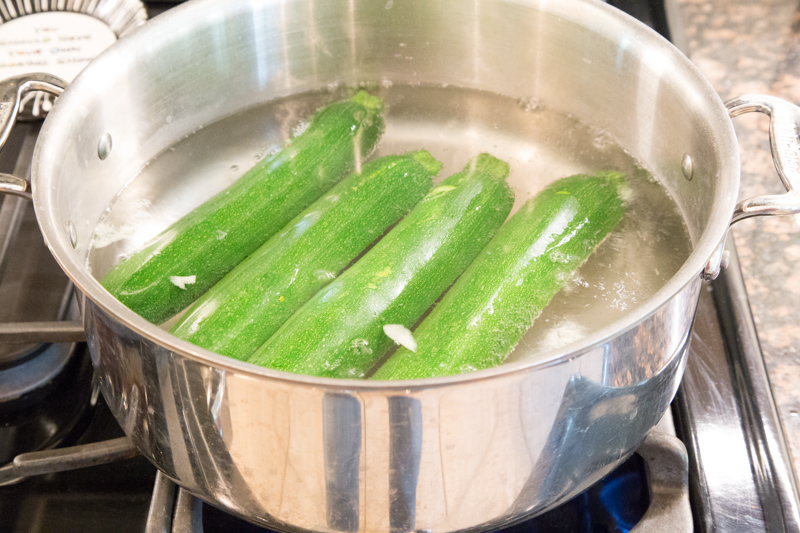 …on each side.
2 minutes total.
Just long enough to soften up the insides, making it easier to scoop out the flesh.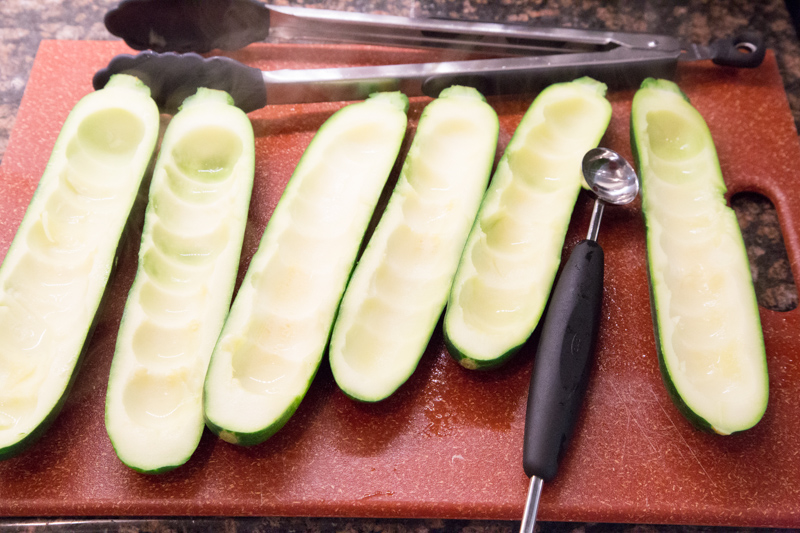 Spoon, melon baller. Whatever works.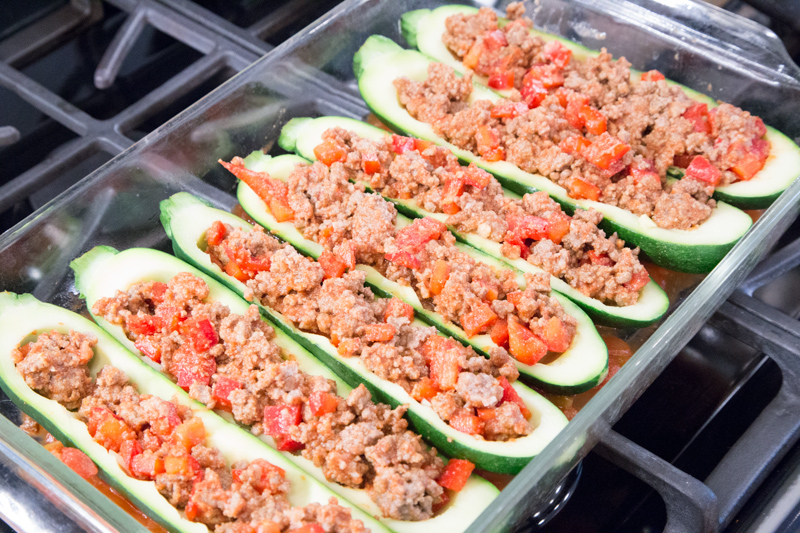 Fill with the taco mixture.
Bake.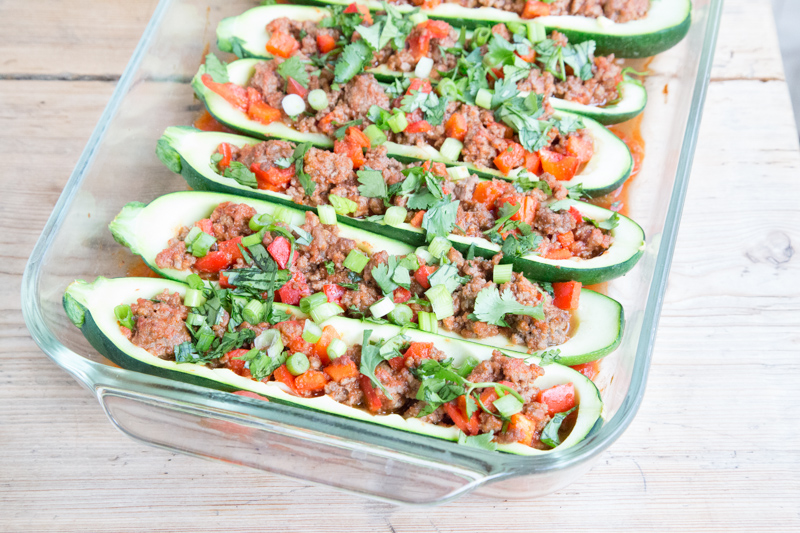 Garnish.
Devour.
A budget-friendly and Paleo-friendly meal!
Ingredients
4

large

zucchini

1/2

cup

salsa

3/4

lb.

ground beef, browned

1

Tbsp

minced onion

1

tsp

garlic powder

4

oz

tomato sauce

1

small

red bell pepper

seeded and diced

1/2

Tbsp

chili powder

1/2

tsp

ground cumin

1/2

tsp

garlic powder

1/2

tsp

onion powder

Salt and pepper

Sliced green onion, chopped cilantro, as optional garnish

Fresh fruit, as side dish (we had watermelon...and Cuatro came up with an interesting way to eat it!)
Instructions
Preheat oven to 350.

Bring a pot of water to boiling. Slice the zucchini, lengthwise and then drop into the boiling water for 2 minutes. Remove carefully with tongs and place on towel to dry. Add the salsa to the bottom of a 9x13-inch glass baking dish and nestle the zucchini into the dish.

If necessary, brown the ground beef with the minced onion and garlic powder. Drain and return to the pan. Stir in the tomato sauce, diced bell pepper, chili powder, ground cumin, garlic powder, onion powder and some salt and pepper. Bring to simmer, then remove from heat.

Once the zucchini has cooled some, use a spoon or melon baller to remove the insides of the zucchini. (You can save it to use for zucchini bread or muffins. Just run your knife through it to make it seem 'shredded' and then let it cool before freezing to use for bread/muffins.)

Spoon the taco meat into the zucchini and bake in the preheated oven for 10-15 minutes.

Prepare the fruit.

Serve Taco Zucchini Boats with cilantro & green onion garnish and side of fresh fruit.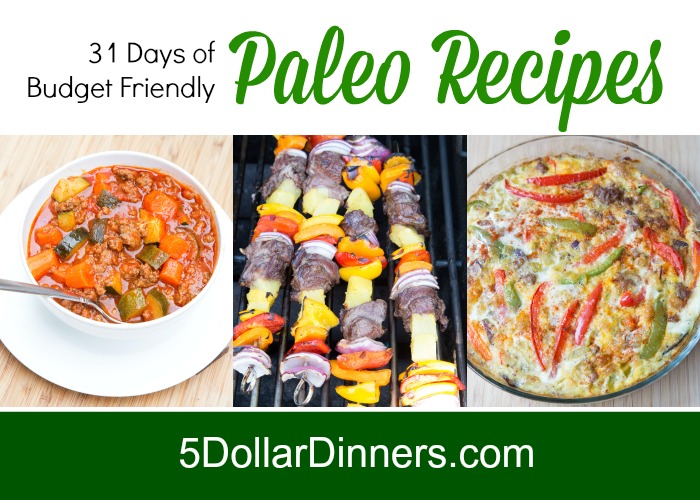 Other "31 Days of" Series to check out: