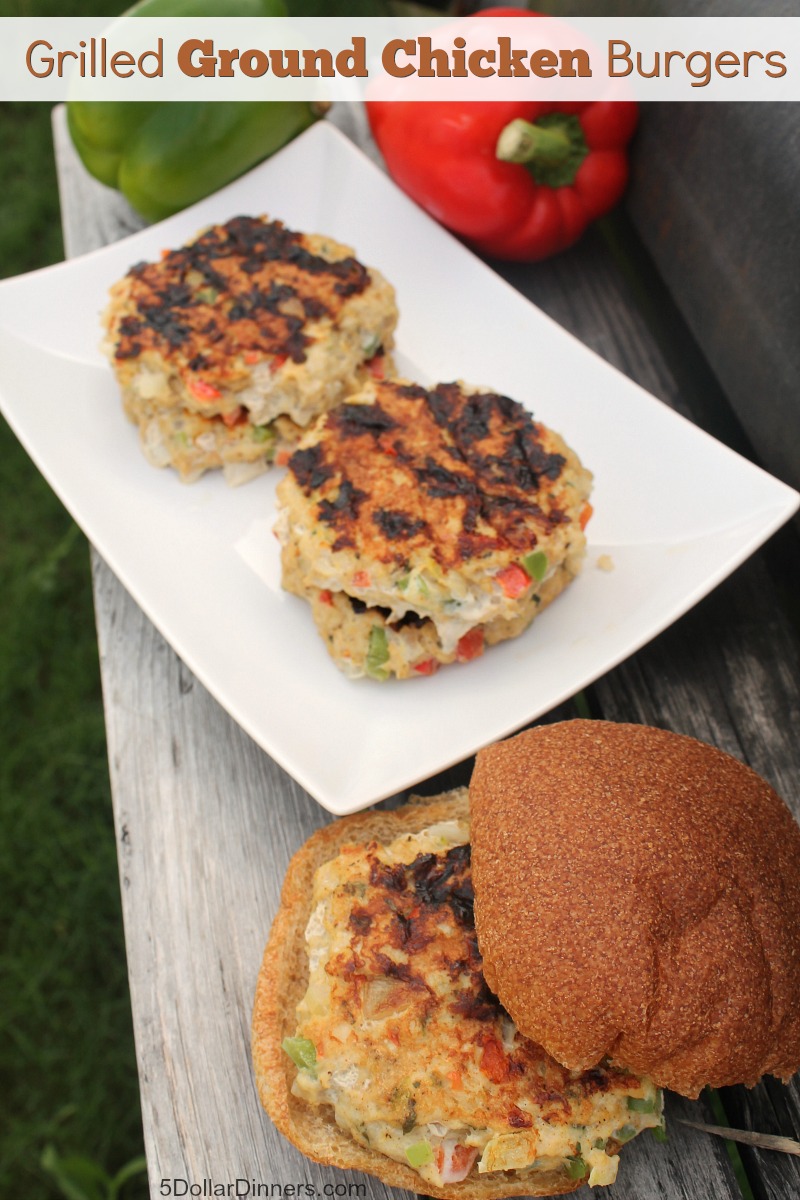 Hello gorgeous.
Not only is this chicken burger gorgeous to look at, it's got a gorgeous taste too.
(Can you use the word gorgeous to describe how something tastes??? I think so. Don't you.)
These burgers call for ground chicken, bits of chopped bell peppers and onion and an amazing set of spices and herbs to kick the flavor to that 'gorgeous taste' dimension.
You could absolutely use ground turkey or even ground beef…but I think the flavor combos in the homemade patties would work best for ground poultry.
Also, please note the details about how to grill these ground chicken burgers. Ground chicken tends to be more moist than some ground beefs, so the patties might be a little softer than what you're used to when grilling beef burgers. Another idea would be to wrap the patties in plastic wrap and toss them into the freezer for 30+ minutes, then grilling after you flash freeze them and remove the plastic. 🙂 They will hold their shape better if you don't have a veggie basket/tray that you could use.
That's what I know about these gorgeous looking and tasting burgers…
These Grilled Ground Chicken Burgers are the next hit for your summer dinners! They are full of flavor and quite pretty too!
Ingredients
1

lb

ground chicken

1/4

cup

green bell pepper

chopped (about 1/2 pepper)

1/4

cup

red bell pepper

chopped (about 1/2 pepper)

1/4

cup

sweet white onion

diced

1

tsp

garlic

minced

1/2

tsp

dried mustard

ground

1

tsp

salt

1/2

tsp

parsley

dried

1/2

tsp

cilantro

dried

1/4

tsp

smoked paprika

1/4

tsp

black pepper

ground

dash turmeric

dash basil, dried

Fresh fruit and/or chips, as side dish
Instructions
Heat your grill to a medium high heat. Note: I like to use this grill tray to keep the delicate patties from falling through the grill. The tray is really meant for vegetables, but it works great for these chicken patties. I heat the grill tray when I heat the grill so the burgers get a nice seared exterior.

Combine all ingredients in a medium mixing bowl. Form into 4 patties. They'll be very delicate. You can prepare them in advance and chill them to help them hold their shape better.

Place the patties on the grill tray. Cook on each side for 5 - 6 minutes.

The internal temperature should reach 165 degrees. If you need to cook the patties a little longer then you can move them to a cool part of the grill until they're done. For another option, you can wrap the seared patties tightly in foil and place them in a 350 degree oven for about 5 - 10 minutes until the desired temperature is reached.

Serve Grilled Chicken Burgers with fruit and/or chips.
Erin's Personal Recommendations for Grilling Recipe Supplies: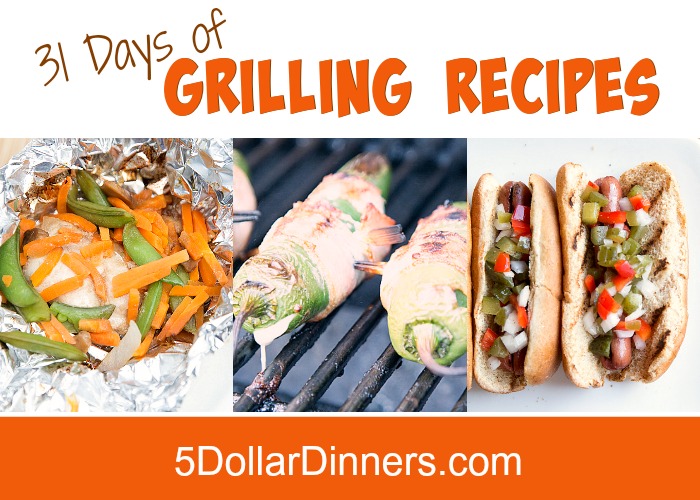 Other "31 Days of" Series to check out:
Disclaimer: As an Amazon Associate, I earn commissions on qualifying purchases. Reviews, opinions are my own.