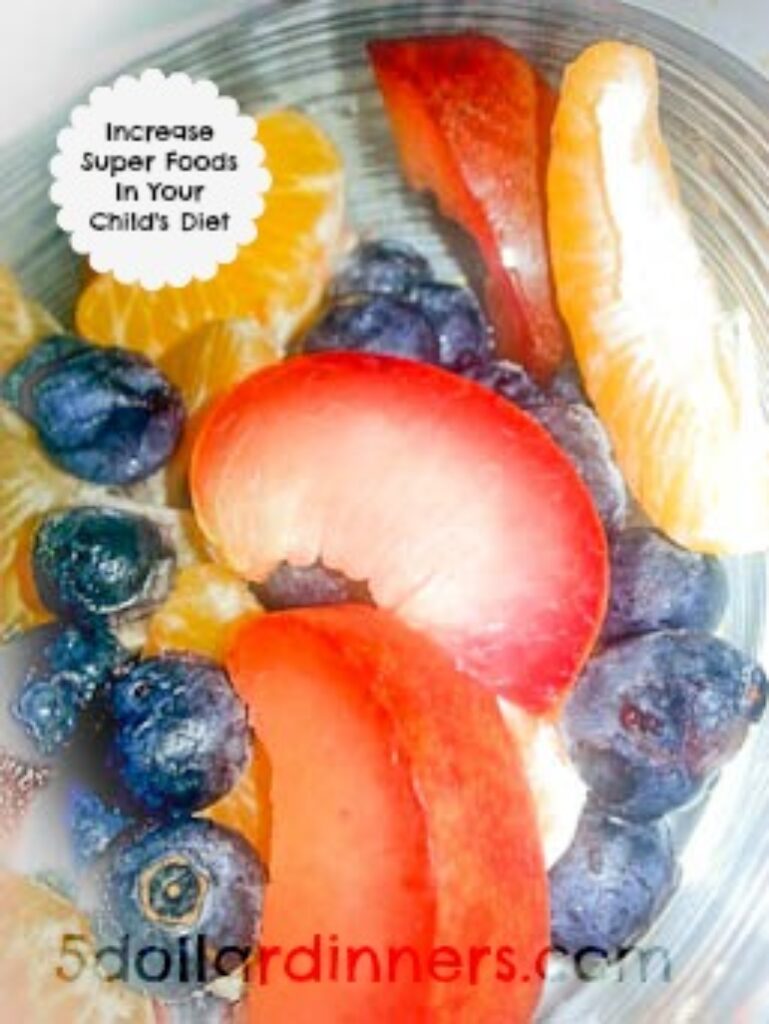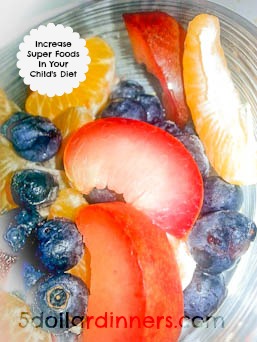 As parents we want our children to be as healthy as possible and we strive to be good examples to them in our food and exercise choices but it can still be tough to encourage them to eat foods that are good for them.  It is surprisingly easy to find ways to Increase Super Foods in Your Child's Diet.  Many of the common "super foods" are things easy to adapt and fit into meals for even the pickiest of children.  Below you will find a list of great options that appeal to the younger crowd yet provide the much needed antioxidants, proteins and calcium needed for optimum health:
(1)    Increase protein with healthy options like Egg Whites.  On the go breakfasts can be made when you scramble egg whites with low fat cheeses, seasonings and any vegetables your children like (mine like mushrooms, bell peppers and tomato) and wrap in a corn or flour tortilla.  These can be made in bulk, wrapped individually and frozen for easy school morning breakfasts that heat up in seconds in the microwave on your way out the door. Try these Spinach Frittatas that can be made with egg whites and lean turkey.
(2)    Snack on portion controlled homemade trail mix.  In an airtight container store 1 cup Chopped Walnuts, 1 Cup Roasted Sunflower Seeds, ½ Cup Golden Raisins and ½ Cup chopped prunes along with a sprinkle of flax seed.  If they prefer a "sweet" blend, you can add ¼ cup finely chopped dark chocolate to the mix.  Serve in 1/3 cup portions.  High in Omega-3 Fatty Acids, Protein, Antioxidants and Vitamin E this blend is both filling and a healthy choice over chips or sweet treats after school.  Homemade Trail Mix is so easy since it can be made with anything in your pantry!
(3)    Send homemade baked sweet potato fries for lunch with the traditional turkey sandwich in their lunch box.  Wash and slice raw sweet potatoes into fries, lightly sprinkle with salt and pepper and bake at 375 degrees for 20-25 minutes or until cooked through.  Can be sprinkled with confectioners' sugar for a dessert taste.  This is a great source of Vitamin A which is an immune system booster.  Especially important as the kids go back to school around other children this Fall.  If you want a little sweeter variation, then try these Sweet Potato Oven Fries.
(4)    Serve Fresh Fruit for Dessert with a drizzle of raw honey.  Blueberries, strawberries, blackberries, oranges and kiwis all have great benefits in your diet.  Antioxidants, Vitamin C and high levels of cancer fighting agents as well as the great sweet flavor you look for when thinking of dessert.  This is possibly the easiest way you can increase super foods in our child's diet.  Need more berry recipe ideas, check out my Very, Berry, Berries: The Ultimate Berry Recipe Round-Up!
(5)    Make homemade frozen yogurt popsicles.  Using Greek yogurt blended with blueberries or strawberries and a dash of your favorite sugar substitute create your own homemade yogurt popsicles.  Great for after school snacks that combine high protein, calcium and antioxidant rich fruits.  See more popsicle recipes and my favorite popsicle molds!
(6)    Serve Fresh Salmon Once a Week.  If your kids are picky about fish, you can make salmon cakes similar to crab cakes and a zippy tartar sauce made with Greek Yogurt, Dijon mustard and a dash of pickle relish for them to dip them in.  My kids love these Grilled Citrus Salmon Packets.
As you can see you may already be sneaking in super foods into your child's diet without realizing it.  The most important thing you can do for your children is to be a good example in what you eat and how you care for your body.  If you like it and eat it, they are much more likely to follow suit and pick up your healthy habits.
What super foods do you struggle getting your kids to eat?