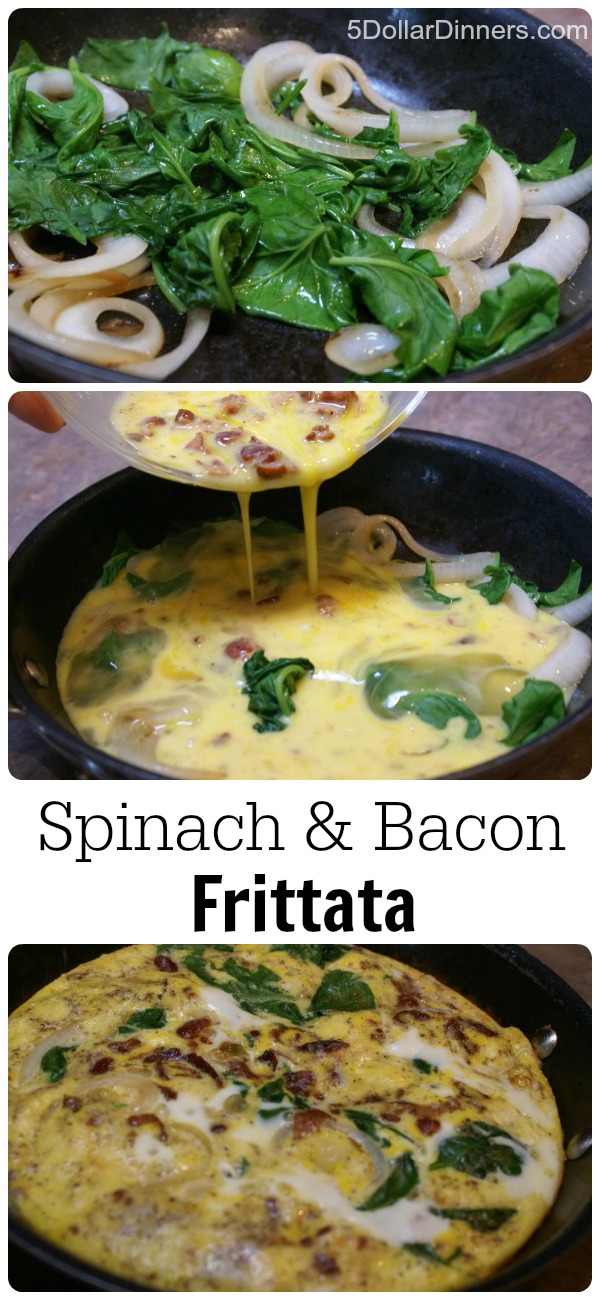 We love breakfast for dinner. Really anytime, but especially for fast and easy dinners on busy weeknights!
NOTE: Skillet is HOT when it comes out of the oven. Do NOT attempt to grab the handle without a hot pad. Not that I have personal experience 🙁
Ingredients
4

slices

bacon, crumbled ($.83)(Try cooking bacon in the oven.)

8 eggs ($.80)

1/4

cup

milk ($.03)

1 tsp salt and pepper, each

1/2 onion, sliced into circles ($.15)

2 tsp olive oil ($.05)

about 3 cups spinach (free from garden)

1/2 - 1 cup shredded cheddar cheese ($.75)

6

pieces

of bread ($.40)

2-3

Tbsp

(dairy free) margarine ($.20)

Serve with fresh bananas ($.20)
Instructions
In bowl, whisk bacon crumbles, eggs, milk, salt and pepper.
P.S. Yes, I was distracted by 2 screaming toddlers and was not paying attention when I grabbed the handle without a hot pad. I burned (first degree) all 4 fingers and part of my palm. I'm taking good care of it, under the supervison of my sister who is an MD! (So thankful she answered when I called!)