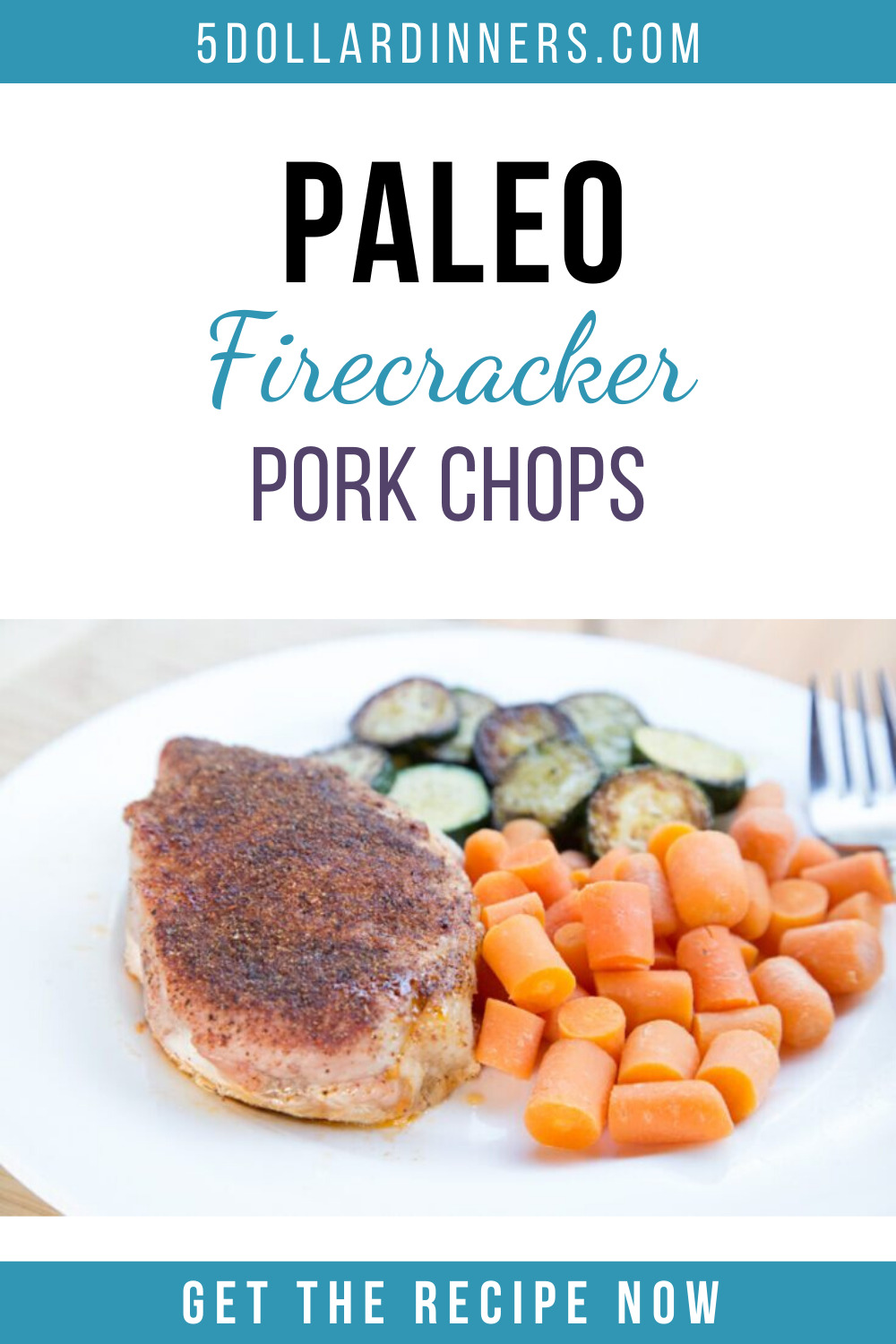 Yes, yes, yes…we have another 31 Days series for you this May!
(Can you believe it's May already? I know I say that at the start of every month, but it feels like April Fool's Day was yesterday.)
I started our 31 Days series this very day, one year ago with the 31 Days of Gluten Free recipes. I had no clue that you'd love them as much as you do…which is why we continue to do them! It gives me the opportunity to bring you great new recipes, centered around the theme for the month, and share with you older recipes that we have as well.
I'm kicking things off with a "bang" with an outstanding 'firecracker rub' on some pork chops…with a Paleo twist.
Most firecracker rubs use brown sugar (which you can totally do if you aren't Paleo!), but I've worked a little magic with some honey and a dry rub on these pork chops…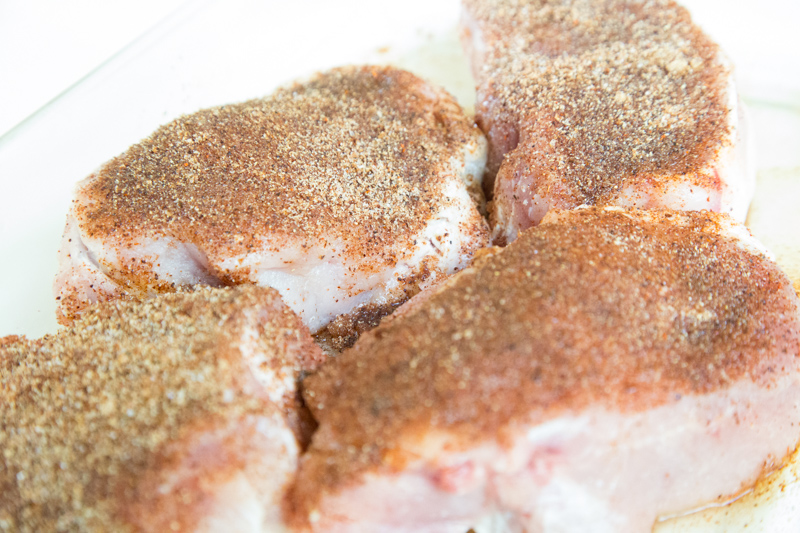 You see the chops are coated in this rub and the end result is a phenomenal cut of pork, loaded with the perfect amount of sweet and spice.
I made this a complete Paleo meal by adding 2 veggie side dishes…boiled carrots and sauteed zukes.
One of the great things about my 'style of cooking' is that it's super easy to adapt meals to be Paleo for some in the family, but not everyone.
Like…let's say, Dad recently started Crossfit and is die-hard Paleo…he can eat what you see below, but mom and their 2.4 kids could have a side of rice or dinner rolls to go with the meal too. Or mom is trying to lose those last pesky 10 post-partum pounds and has decided to go Whole 30/Paleo/low-carb/South Beach (whatever!) and she doesn't want the carbs…so she eats what you see below and everyone else gets a simple starchy side.
You get the idea…we'll be sharing more "adaptable" recipes throughout the month!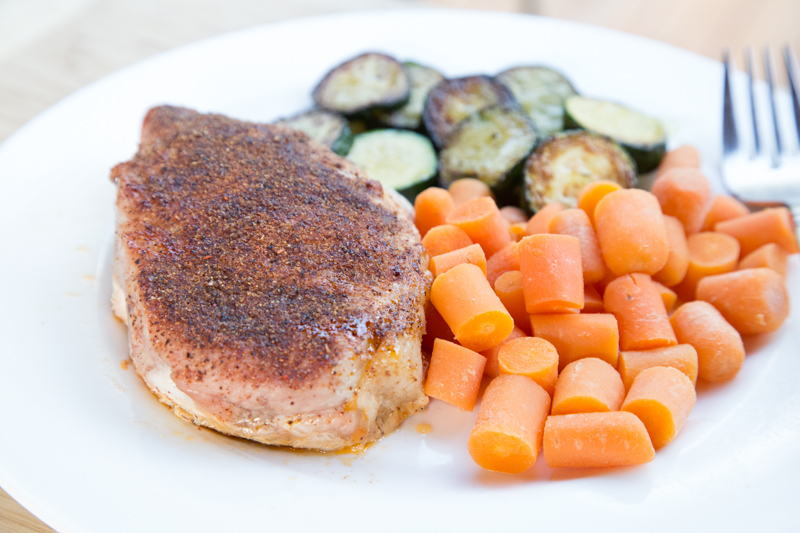 Bang, bang, bang…firecracker pork chops kicking off the 31 Days of Budget-Friendly Paleo fun for us this May 🙂
Chops coated in this rub and the end result is a phenomenal cut of pork, loaded with the perfect amount of sweet and spice.
Ingredients
4

pork chops

Salt and pepper

2

Tbsp

honey

1

tsp

paprika

1

Tbsp

chili powder

1

tsp

garlic powder

1

tsp

onion powder

1/2

tsp

crushed red pepper, optional

Fresh veggies, as side dish
Instructions
Preheat the oven to 350 F. Lightly spray a 9x13-inch glass baking dish with non-stick cooking spray.

In a small mixing bowl, combine the paprika, chili powder, garlic powder, onion powder and crushed red pepper. Sprinkle a little of the dry rub into the base of the baking dish and place thepork chops and rub into the dry rub in the baking dish. Then sprinkle a little salt and pepper over the pork chops and drizzle a little honey onto each of the pork chops.

Press the rest of the dry rub onto the pork chops, coating them well.

Bake in the preheated oven for 25to 40 minutes, depending on the thickness of the chops. Thinner chops can take as little as 25 minutes, and thicker chops up to 40 minutes. Check to make sure there is no pink in the middle before serving.

Prepare veggies, as side dish.

Serve Paleo Firecracker Pork Chops with veggies.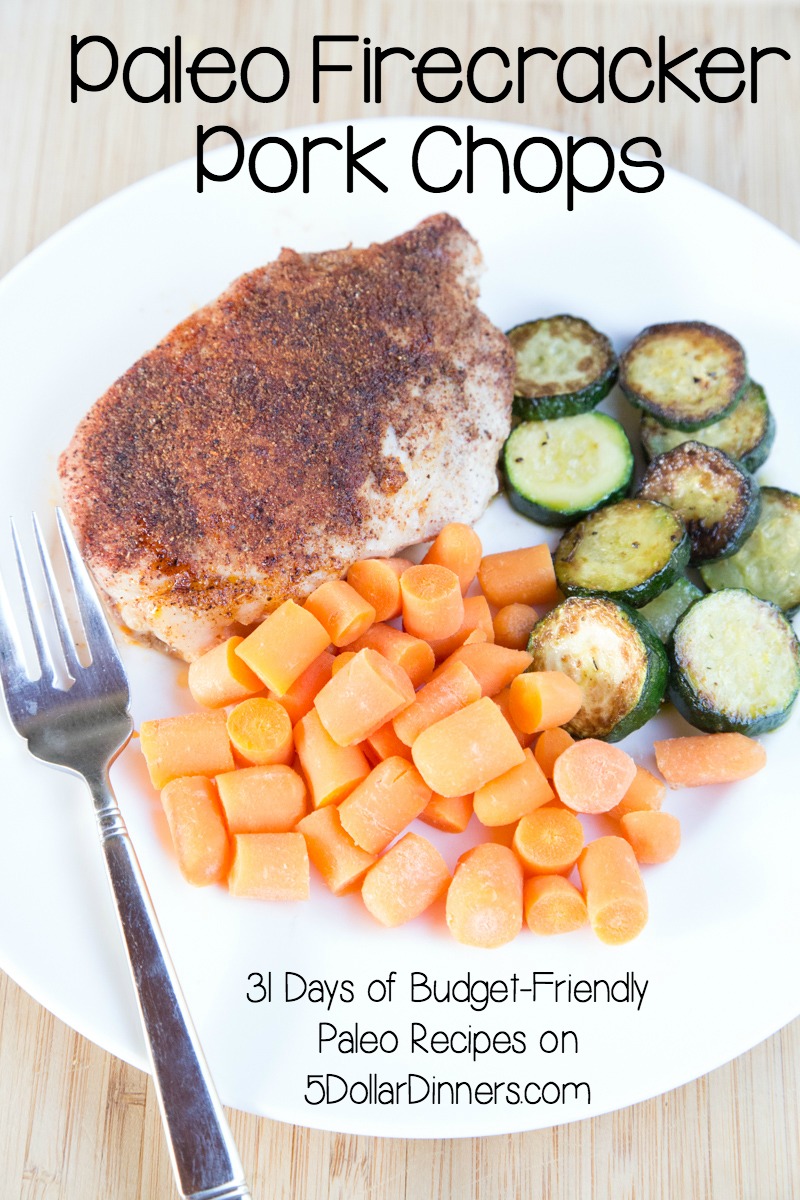 Stay tuned for the entire month of May as we feature a budget friendly Paleo recipe each day! You can check out all of them here (new ones will be added each day.)
And don't forget to check out the 6-Week Paleo Meal Plan!
Erin's Personal Recommendations for Budget Friendly Paleo Supplies:
Other "31 Days of" Series to check out:
Disclaimer: As an Amazon Associate, I earn commissions on qualifying purchases. Reviews, opinions are my own.