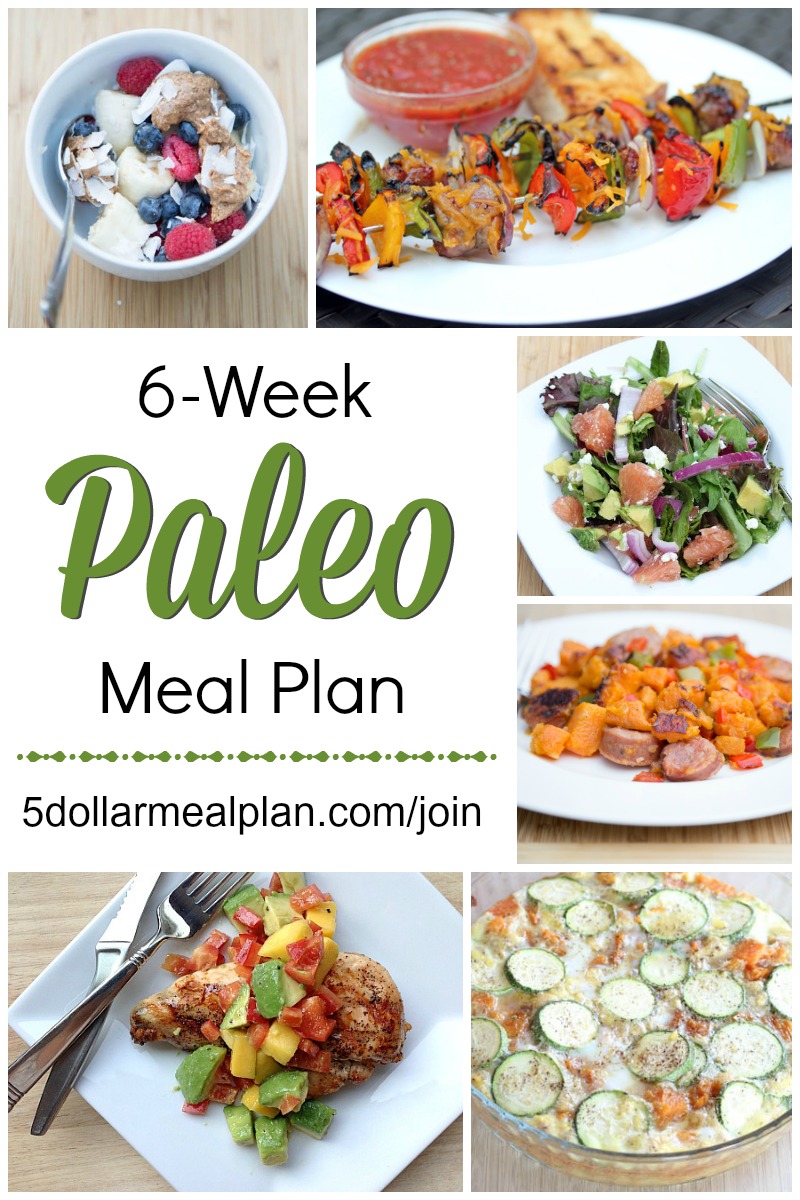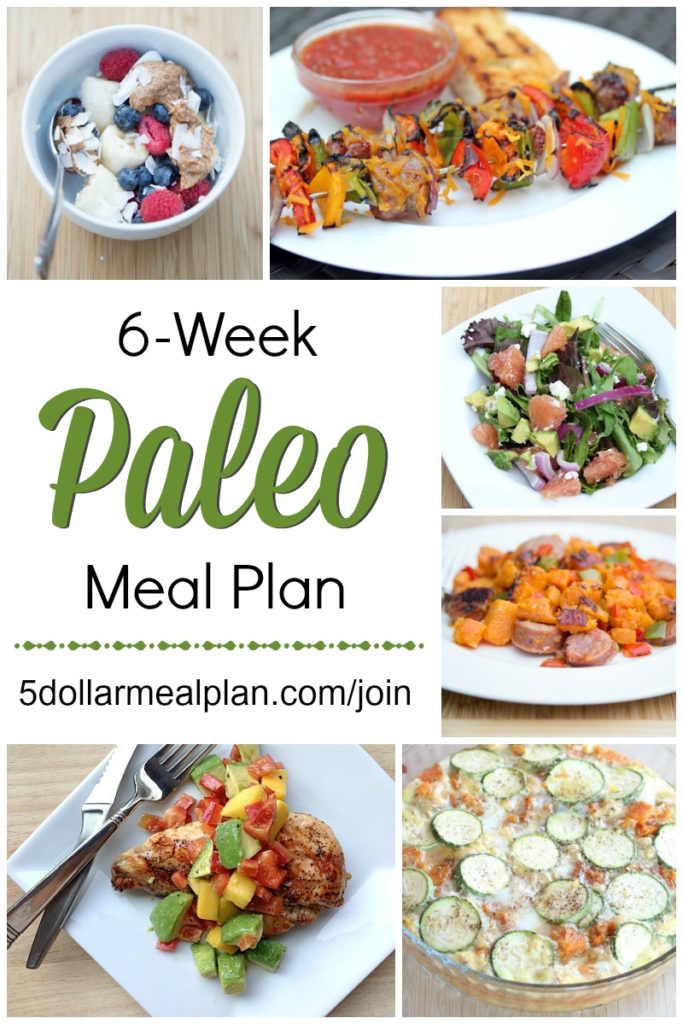 Whew…it's finally here! Thank you so much for your patience. I know you've been asking for this for what feels like forever and it's done. Finished. And ready to be saved to your computer!
The Paleo and Whole30 eating plans have taken the world by storm and I'm delighted to say that it is totally possible to 'do them' on a budget. I've pulled together some phenomenal and simple recipes that fit the criteria for both eating plans, since they are so similar.
I wanted to share a brief note about these "restrictive diets"…not to scare you away, but to just let you know that I believe that when it comes to eating, it's "all things in moderation"…unless of course, you are severely allergic, intolerant or made ill by a specific type of food! You should definitely stay away from those foods. I did the Whole30 diet very strictly in December (yes, in the middle of the holidays!) and I learned how my body responded to different foods, as I reintroduced them after the 30 days were up. I did not (and do not) plan to stay on the Whole30 permanently, but I'm much more mindful about the food that I eat and how it affects my body (and my arthritis.)
I know that food is fuel for our bodies and the better the fuel, the better we feel. There are many people who have had success with changing the way they feel by changing their diet, and following a Paleo or Whole30 eating plan. If you're wanting to journey into better understanding of how food fuels you, and you're needing to do all of this on a budget, you're in the right place 🙂
So…I present to you…
The 6 Week Paleo Meal Plan
What is a Paleo or Whole30 eating plan?
You might have already done some research into what the Paleo or Whole30 eating plan entails, but in case you haven't…here is a super, super short description.
Eating Paleo or Whole30 basically means you are limiting your diet to certain food groups, mainly proteins, vegetables and fruits. The 2 eating styles (Paleo vs. Whole30) have slight differences, but for the most part both do not allow you to eat any grains, any dairy, any soy or legumes. Whole30 calls for zero sugar or sweeteners, Paleo allows some.
What does that leave then (I'm sure you're thinking!)…
It leaves proteins, vegetables, most fruits and some nuts and seeds.
(You can learn more about the very specific 'yeses and noes' on any Paleo/Whole30 website.)
What matters is…I've taken the 'approved' foods and pulled together recipes that call for those foods and compiled them into this meal plan for you!
Who is this 6-Week Paleo Meal Plan for?
This plan is for anyone who is looking to try the Paleo (or Whole30 diet) without breaking the bank. Yes, the meals might be a little more expensive than my typical $5 meals because it's all protein/veggie/fruit based. Rice and bread are very inexpensive parts of a dinner plate, so eliminating them will change the cost make-up of each meal. But it's still very budget friendly!
It's also for anyone who has been on the Paleo diet and is looking for new recipes, ideas and ways to save $$.
I should also note that I felt 'full' much faster when I wasn't eating bread/starches/sugar on the Whole30 plan. A simple chicken breast with veggies was plenty to fill me up!
Is this a diabetic plan?
No. But it would work well for those looking to stabilize their blood sugar. (See disclaimer below. Diabetics should consult with their doctor or dietitian before making changes to their diet.)
Is this a low-cal plan?
I am not a calorie counter…because if I had to count dollar amounts and calories, my head would probably spin off my neck and/or explode. I just can't do both.
I can tell you that when I followed a strict Whole30 diet back in December (with the exception of a square of Christmas day fudge!), I lost 10 pounds in a month. I exercised a few times throughout the month, but not my normal '3 runs a week' – so I attribute most of that weight loss to the changes in what I was eating. I say that 'every penny counts' – but I really learned that 'every calorie counts' too when I was eating strictly Whole30.
I don't expect or endorse that you'll experience the same results, as everyone's body and metabolism are different. (See disclaimer below.)
Who is this plan is NOT for?
This plan is not for everyone. I have a friend who tried to eliminate grains with a new fitness routine and it did NOT go well for her. Her body revolted, she added back in whole grains and she returned to her normal self and lost 30 pounds over a few months.
Remember, that it's most important to listen to your body and talk with your physician when making changes!
How many portions are in each recipe?
As always, the meals in this Paleo plan are portioned out to 4 servings. Because of the way that I cook, it's super easy to add a starch-y side dish (like whole wheat bread or brown rice) for those in your family who aren't eating Paleo/Whole30.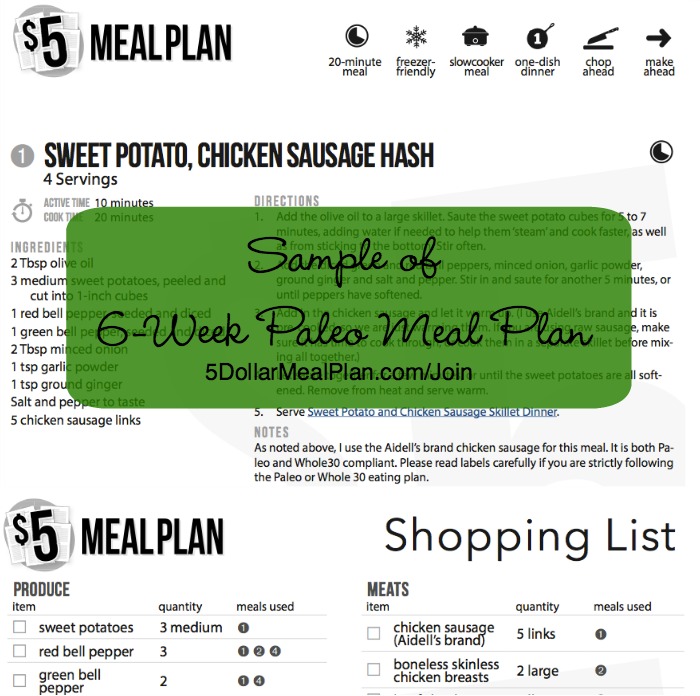 If you think the meal plan is right for you and you want to give it a try to help reset your body and learn more about how food impacts your health, then it's right here for you!
The plan has 6 weeks worth of meals with 6 meals in each week. There are 5 dinner meals plus a breakfast idea, lunch idea or snack idea, on each of the weekly lists. Some are recipes that we've featured on the site in the past and some are brand new recipes!
It also includes a short list of other ideas for breakfast and snacks to spur on your creativity as you dive into a new kind of eating because the key when on a new eating plan is knowing that you have on hand, what you can eat.
Here is a little taste of some of the recipes in the plan…
Curried Salmon
Balsamic Pot Roast
Slow Cooker Pulled Chicken with Apple Slaw
Cali-Club Lettuce Wraps
Carne Asada Burrito Bowls
Mexican Chicken Soup
Apple-Almond Butter 'Sandwiches'
Mango-Strawberry Green Smoothie
Roasted Vegetables (As side dish, or enough to be a complete meal!)
If you're wanting to shave $2 off the price, you can sign up to be a free trial member of our $5 Meal Plan weekly subscription service and get the plan for $8.
I hope this plan helps you stay on a budget while enjoying the Paleo/Whole30 eating plan! If you have any questions, please email us…we're here to help!
*mwah*
Erin
Disclaimer: I am not a physician. Nor do I play one on TV or the internet. I am not a dietitian. I am not a certified Paleo or Whole30 anything. (I don't even know if that exists.) My experience above was my own and not meant to be an endorsement of any kind. Consult with your physician anytime you are changing your diet or exercise routine.