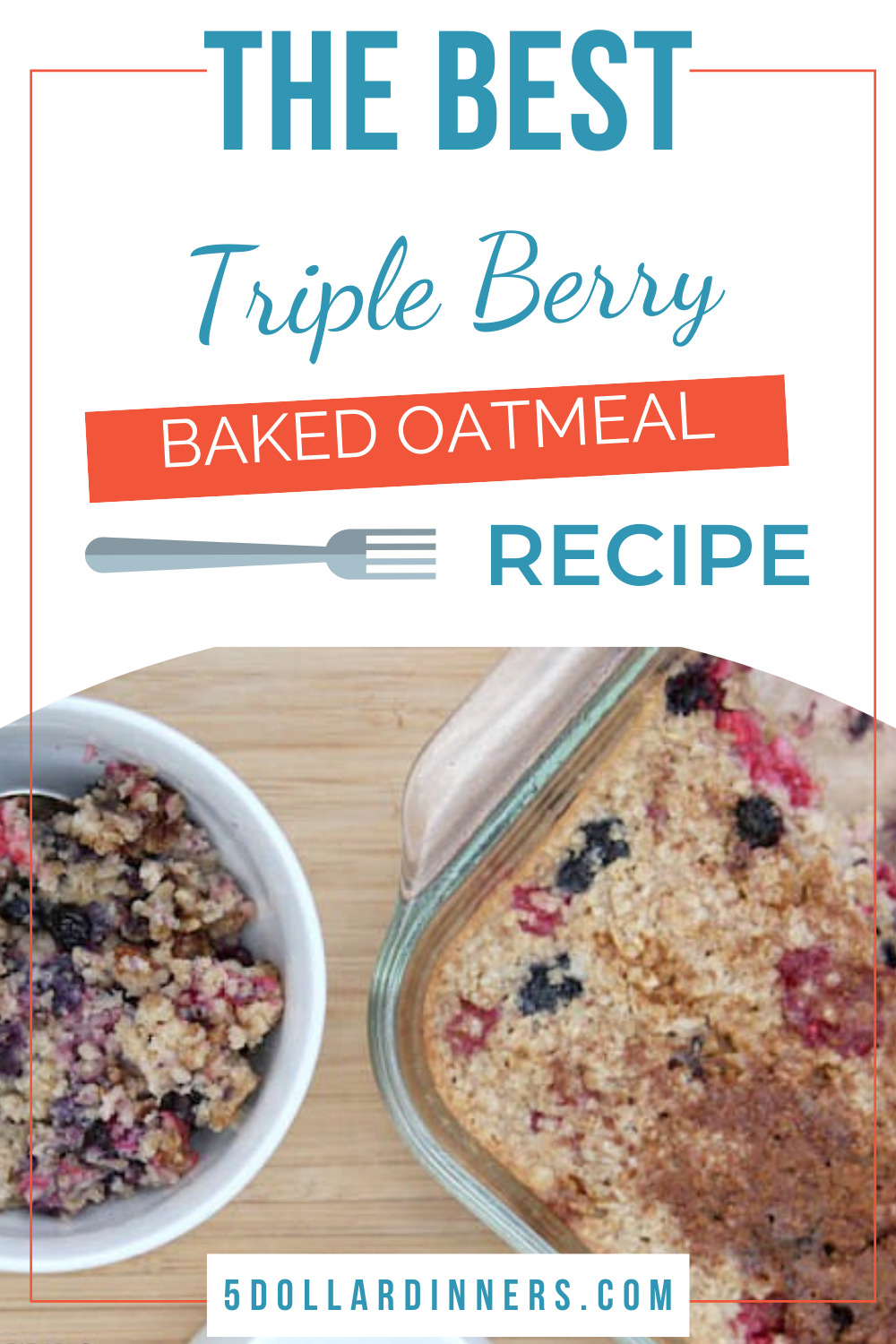 You've got to make this before the berries become obsolete for the winter. Down here in San Antonio, I'm still seeing good prices on berries every couple of weeks.
And if you see a great deal on berries…stock up and freeze. Now. You'll thank yourself in the middle of December or January when you are in desperate need of a taste of summer.
(Yes, same method/concept works for blackberries!)
I went for the all smaller berries in this one…but feel free to get crazy and add a 4th berry (our friend, the strawberry) into the mix…just cut them up into smaller bite size pieces.
Did you know that Baked Oatmeal freezes really well!?! Here's how I freeze ours…We usually eat about 1/2 – 3/4 of a 9×13 pan in one shot (whether for breakfast or for lunch), so I usually end up with a few 'pieces' that I freeze. After the baked oatmeal has cooled completely, I cut it up into individual single serving portions and freezer in plastic sandwich freezer baggies. Then I can quickly reheat them in the microwave or toaster oven if we are having for breakfast, or I can drop them frozen right into lunch boxes and they will thaw in time for the lunch hour. (Baked Oatmeal in School Lunchboxes Idea!)
See all of our Baked Oatmeal recipes here:
Because three berries is better than one berry, right?!
Ingredients
1

pint

blueberries

1

pint

blackberries

1

pint

raspberries

2

large

eggs

1/4

cup

applesauce

1/4

cup

canola or vegetable oil

1/2

cup

sugar

1 1/2

cups

milk

3

cups

quick cooking oats

1/2

cup

wheat flour

2

tsp

baking powder

1

tsp

salt

1/4

cup

brown sugar, for sprinkling

2

tsp

cinnamon, for sprinkling

1

tsp

nutmeg, for sprinkling
Instructions
Preheat the oven to 350. Spray a 9x13 baking dish with non stick cooking spray.

Toss the blueberries, raspberries and blackberriesin the baking dish.

In a mixing bowl, whisk together the remaining ingredients, except the brown sugar, cinnamon and nutmeg. Pour the batter over top of the fruit and stir gently to combine the fruit.

Sprinkle the brown sugar over the top. Then sprinkle the cinnamon and nutmeg over the top.

Bake in the preheated oven for 25 to 30 minutes, or until toothpick comes out clean in the middle.

Serve Triple BerryBaked Oatmeal with milk, cream, or yogurt for breakfast, or drop in a lunchbox, or for a fun weeknight 'brinner.'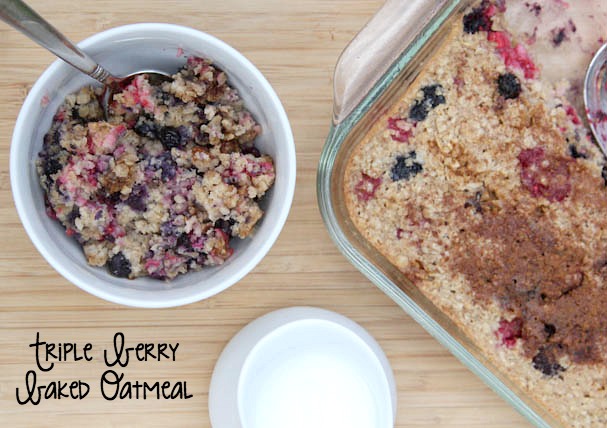 This recipe is featured on Meal Plan Monday #210.