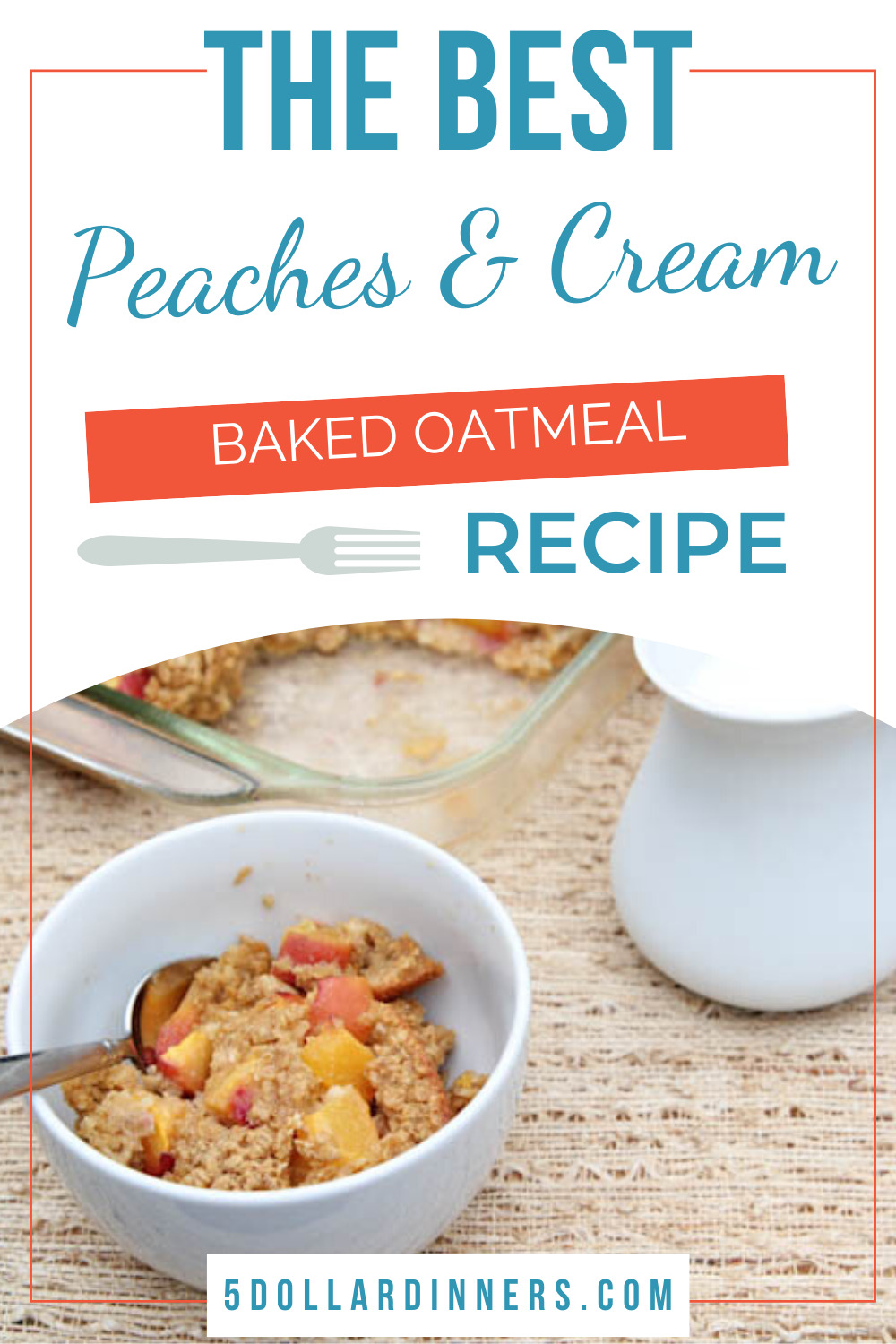 Please. I beg of you.
Stop what you are doing right now and run to the store to buy some ripe peaches. They must be ripe, slightly soft to the touch with a bit of give when you gently squeeze it. Buy a bunch of them.
And then make this.
And then come back and thank me. (Kidding! Sorta!)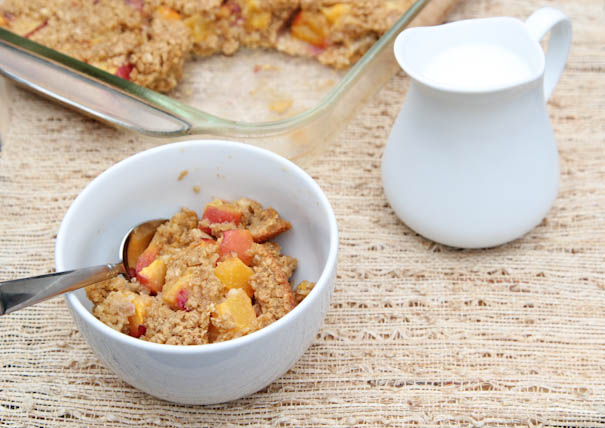 This stuff is like the flavor packets you get at the store…except it tastes 8,967 times better…and it's made with all real food…and it's not gritty. (Is it just me or do those oatmeal packets have a bit of grit to them?!) Well, there is nothing gritty about this peaches and cream baked oatmeal. It's perfectly smooth and delicious.
Tyler declared this the best food he had ever eaten and I quote, "Mom, can I have this at my birthday? I love it so."
Yes sir…you certainly can have this for breakfast on your birthday.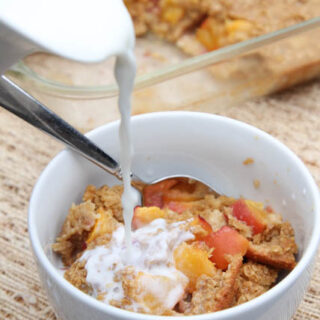 You can use real cream in this recipe if you're looking for extra creamy texture and flavor, or if you already have it on hand for your coffee or other recipe. I would not however, add cream to your shopping list, just to make this baked oatmeal. (Unless you are feeling especially nostalgic and wish to walk down memory lane with the most authentic real flavors possible in recreating the bowl full of peaches n cream packet oatmeal!) 2% or whole milk will work just fine…or whatever milk you are drinking!
If you wish to use cream, I would use half cream/half milk in the baked oatmeal recipe, then top with cream, or even plain yogurt. The recipe written just calls for straight milk…it works perfectly!
To make a gluten free version of this, simply substitute 1 for 1 the oats and flour with gluten free certified oats, and gluten free baking mix.
Other Baked Oatmeal Recipes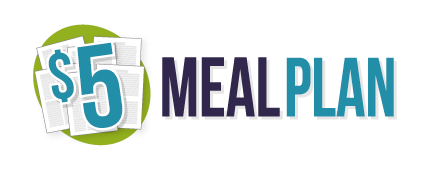 This Baked Oatmeal is a $5 Meal Plan Member's Choice Award Winner. Learn more about the $5 Meal Plan!
Take breakfast to the next level with this Peaches and Cream Baked Oatmeal recipe! It is all real food, and tastes like a decadent treat!
Ingredients
3

cups

quick cooking oats

2/3

cup

brown sugar

1/3

cup

whole wheat flour

1

tsp

ground ginger

2

tsp

baking powder

1

tsp

salt

2

eggs

2

cups

milk

1/4

cup

canola or vegetable oil

1

tsp

vanilla (or use homemade vanilla extract!)

3

ripe peaches

diced (peel them if you wish!)
Instructions
Preheat the oven to 350. Lightly grease a 9x13 inch glass baking dish with non-stick cooking spray.

In a mixing bowl or stand mixer, whisk together all of the ingredients, except the peaches. Gently fold in the diced peaches and pour into the prepared baking dish.

Bake in the preheated oven for 25-30 minutes, or until set in the middle.

Serve Peaches and Cream Baked Oatmeal with milk or cream.
Disclaimer: As an Amazon Associate, I earn commissions on qualifying purchases. Reviews, opinions are my own.