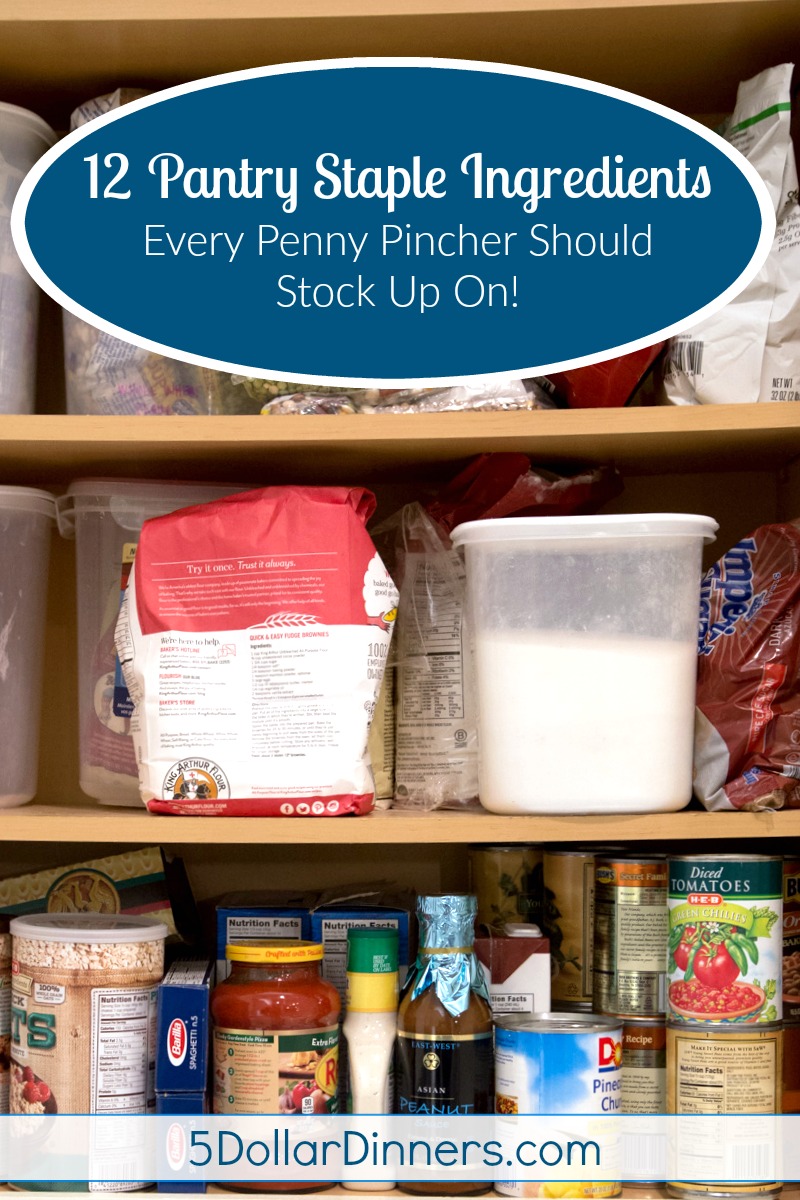 Whether you are a prepper or a penny pincher, a savvy shopper or frugalista, stocking up on canned goods and other pantry staples is always a wise move. Canned goods can typically be purchased cheap, and as you know they have an excellent shelf life. If you are curious about which canned goods to stock up on in order to save some cash and stretch your food budget, take a look at these 12 Pantry Staple Ingredients every penny pincher should stock up on.
1. Whole potatoes.
Whole potatoes are perfect for adding to soups and stews, for mashing, or for adding to oven bakes and casseroles. Potatoes are so versatile, making this item a must buy. Keep canned whole potatoes on hand which are peeled and ready to eat when you need them.
2. Refried beans.
Refried beans are excellent as a side dish, a taco filler, burrito filler, or even for taco salads and dips. Beans are a great source of protein as well so this is a product that can be used in place of meat. Consider stocking up on refried beans for those Meatless Monday dishes.
3. Green beans.
Green beans are a healthy side dish that is low in starch, salt and sugar. You can use them in salads, soups, stews, or enjoy them as a side dish. You might even enjoy snacking on them straight from the can.
4. Crushed, diced tomatoes. Tomato sauce and paste.
Crushed tomatoes and other canned tomatoes can be used in so many ways. Use them to make salsa, casseroles, pasta sauce, or even in taco salads and chip dips. They are a versatile food that is high in vitamins and nutrients and can really help stretch your budget.
5. Citrus fruits.
Consider stocking up on citrus fruits such as canned mandarin oranges, pineapple, and peaches. Opt for those canned in their own juices as opposed to those that are in heavy syrup. These are great for snacks, side dishes, to add to cottage cheese, or to even freeze in dessert dishes. They are high in vitamins and should be added to your pantry for that reason.
6. Chicken and beef broths.
Chicken and beef broths can be used in so many ways. Use them to marinate meats, to make gravy, soups, stews, or sauces. They are a great way to add flavor to just about any dish, and a little goes a long way. Choose a low sodium variety to make your meals a little healthier.
7. Canned chicken and tuna.
Canned chicken and tuna has come a long way and really tastes great. It is excellent when added to salads, and can be made into its own chicken or tuna salad as well. It is a great way to get protein and contains very little fat. It is a healthy choice that is budget friendly as well.
8, 9, 10. Sesame Oil, Rice Vinegar & Soy Sauce.
Fakeout, takeout…anytime you need it. I started keeping these 2 ingredients in the pantry and fridge and now I can make my own Asian takeout anytime I want. Saves me a TON on our overall food costs when I can make this at home for my family.
11, 12. Pasta and rice.
Never worry about what starch to serve with dinner when you always have pasta and rice on hand. When you see sales or coupons for pasta, grab a few different shapes and varieties and then have fun cooking with them later.
If you are ready to build your stockpile, give these 10 pantry every penny pincher should stock up on your consideration. You will find them to be budget friendly, healthy, and super helpful to always have on hand.
Now…what to make with these pantry staple ingredients. Here's a short list of my favorite pantry staple recipes:
Pantry Staple Recipes
And you can see all the recipes in our Pantry Staples Category here.
If you're interested in registering for my next Grocery Budget Makeover class, please drop your email below and I'll send you more information about the class and when registration will be open!